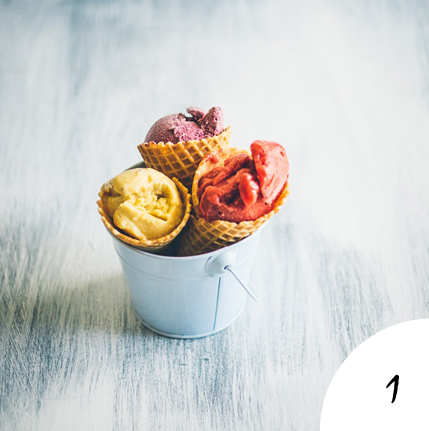 Searchable Saturdays
I woke up to the strangest thing just a few minutes ago. My boyfriend was not still sleeping next to me. I went into the living room and he wasn't putting around on his guitar. I went into our studio and he wasn't recording anything. I decided he must have left to go get deep fried donuts at the donut shack a block away. What a meanie – didn't even invite me. And then I walked into the kitchen to make some coffee and saw him standing over the stove – stirring gravy. I was so surprised and startled that I think my feet actually left the ground when I reacted. Wyatt…cooking…without me asking [begging]. What in the world is going on? Maybe Tuko chewed up my new shoes? Or maybe he crashed my car on the way to the donut shop. Something has to be up. But until the truth comes out, I'm going to savor the fact that I'm about to get homemade biscuits and gravy served to me in bed.
1. CRAVING /// Ice cream, Ice cream, Ice cream! We leave for our vacation tomorrow (!!!) and I think I'm more excited about munching on some cold ice cream in the hot sun than swimming or seeing the ocean. And speaking of ice cream, I cannot wait to make this vegan mango coconut version when it get's warmer around here.
2. LUSTING /// We have sooo many house plants already but I cannot help but wanting to collect more. We've got them crammed close to every window in the house but I'm already planning to reorganize and make more space
3. ADVENTURING /// Can you tell I have our trip on the mind? CANNOT WAIT TO SEE THE OCEAN IN 2 DAYS
4. CREATING /// So I may have done this to my hair yesterday. Go big or go home, right?
Well hope everyone has a wonderful weekend ahead of them! I'm off to sip on coffee and have breakfast brought to me in bed.