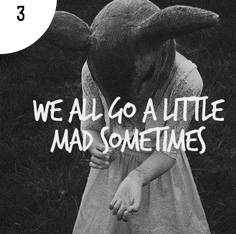 Searchable Saturdays – Edition 26
1. CRAVING /// Have you seen this Roasted Apricot Buttermilk Ice Cream with Almond Streussel from Reclaiming Provincial?! Yup – dayummm! Summer fever has hit me hard and I have began a ridiculously large collection of ice cream and popsicle recipes..
2. CREATING /// The Vanilla Bean posted some wonderful pictures of making lilac sugar. I love using flowers in baking (makes your baked goods so so fancy!) or perfect way to add some extra fragrance in your afternoon tea.
3. INSPIRING /// I don't usually save 'inspirational' quotes but this picture has stuck with me for some time. I often times get worked up over work and have problems letting it go – this picture reminds me that I often times get sucked into a situation and 'go a little mad'; getting creative with doing something out of the normal helps reminds me I can remove myself from this funk. My way of removing myself is by hiking, baking, cooking, camping, and being out in nature.
4. DREAMING /// My dream is to eventually own my own bakery. Until I have the money and find a wonderful town lacking fresh breads and treats, I can only dream and prep. I've contemplating taking some bread baking and pastry classes to help expand my cooking knowledge.
Hope you have a wonderful weekend! I'm off to do some thrifting and pick up some fresh produce at the farmer's market.
PS Have you checked out my new logo in the top corner? It's totally different from all those 'minimalist' logos that are out in the food world right now and I love it. I asked Wyatt's brother to draw me a picture of two vegetables having fun canoeing together and this is what he came up with. It's a weird mix between a children's book cover and DIY zine style – I love it!