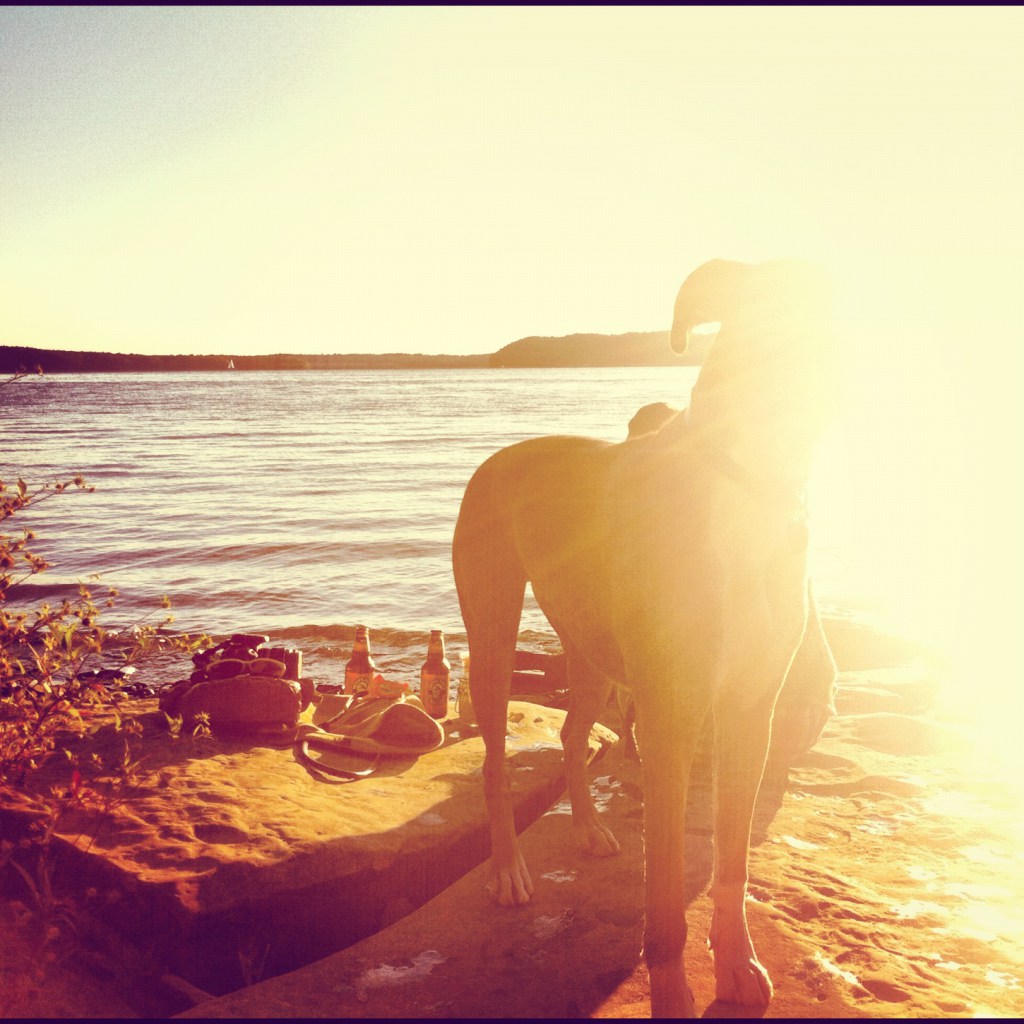 Searchable Saturdays
A picture of Tuko & Lake Monroe from our dinner picnic. We went on a hike/picnic Wednesday night which was the perfect cure for the mid-week blues.
Morning, Morning, Morning! Here are a few inspiring things I stumbled upon while enjoying my morning cup of chai:
1. My two favorite things have finally come together in a beautiful monthly package (and receiving surprises in the mail is up there as a favorite as well): music (more specifically- music on vinyl) and cooking. This adorably clever project sends you a monthly package filled with an exclusive 7″, recipe cards, and spices to accompany your dinner. How awesome is that?! Now if only I had come up with this idea…
2. I'm preparing for a blog facelift which means many hours spent looking at logos, fonts, and color schemes. Upon my 'research', I came across this font. SO cool!
3. I have such a weakness for cute typography and colorful visuals. Look at these adorable DIY birthday cards! Best part? You can print them out and give them to all those Fall birthdays you know!
4. Bon Appetit recently released an article on the science behind food pairing. Find it weird that there are some foods which seem to be absolutely irresistible together? There is probably a scientific explanation behind that!
5. Sprouting from a slight fantasy of wishing I had grown up as part of the Portland vegan food scene in the 90s, I have such a weakness for zines and hand drawn food photos. Not only does this Tea is Magical photo portray exactly how amazing tea is, it also looks like it could have been pulled from a 90's art magazine.
6. I know I already mentioned the newest edition of Chickpea Magazine earlier this week but take a look at these photos to get an idea of the types of recipes in the newest edition!
7. With the weather changing, I am already starting to stock up on fun things to do inside to keep me busy during the looooooong, cold months ahead. Hop on over to DesignSponge to check out this amazing looking DIY foot soak made out of honey that will be perfect after a long day in the chilly Midwest.
8. The reasons I love fall are absolutely endless but one that I must point out is that it's boot season. I am so. in. love. with. boots. My co-worker commented the other day that I've worn a different pair of boots every day this week. Guilty. I can't help it! I need a pair in every color, ankle and over the knee, with laces and slip ons. Speaking of boots, I may already have a dozen pairs but I think these would be a perfect addition to my collection.
Okay, enough lusting over the internet for one day. I am off to pour myself another cup of coffee and get working on some pumpkin cinnamon rolls!
View from my bike. Peddling to friend's house to make dinner together.