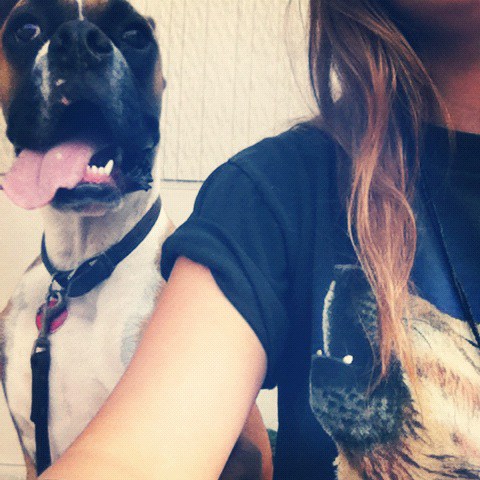 Searchable Saturdays
Tuko//Teekee//Taco and I waiting outside while Wyatt picked out a movie earlier this week. (ps- follow me on instagram: shellywest)
And here are a few things that inspired VV from around the web this week:
1. Made these tofu tacos for dinner the other night and they were FANTASTIC! The tofu was so flavorful and the avocado cream was smooth and filling!
2. This cute DIY on how to color dip your utensils is so adorable and simple! New weekend project? I think so!
3. This weekend we are sitting a cat who has more more instagram followers than Wyatt and I combined (x2). Totally weird.
4. Katrina did a store profile on a The General Store in San Fransisco and I want EVERYTHING in it. I LOVE the simplicity of the geometric wood blocks. How cool is that? And the abstract fruit and veggie posters? Yes, please!
5. One of my favorite recipe books 'Homemade' now has a sequel called 'Homemade Winter' which I CANNOT wait to get my hands on. I made these Gingerbread Muffins with Cream Cheese Frosting from it last year and they were absolutely irresistible!
6. Not that I've started my Christmas list already but… I kind of have. I am dying to get my hands on this new iphone case and this jacket. Ah yeah, I've got the fall clothing bug.
7. And lastly, why is everything Joy the Baker makes so freaking irresistible? I'm not even that big of a donut fan…