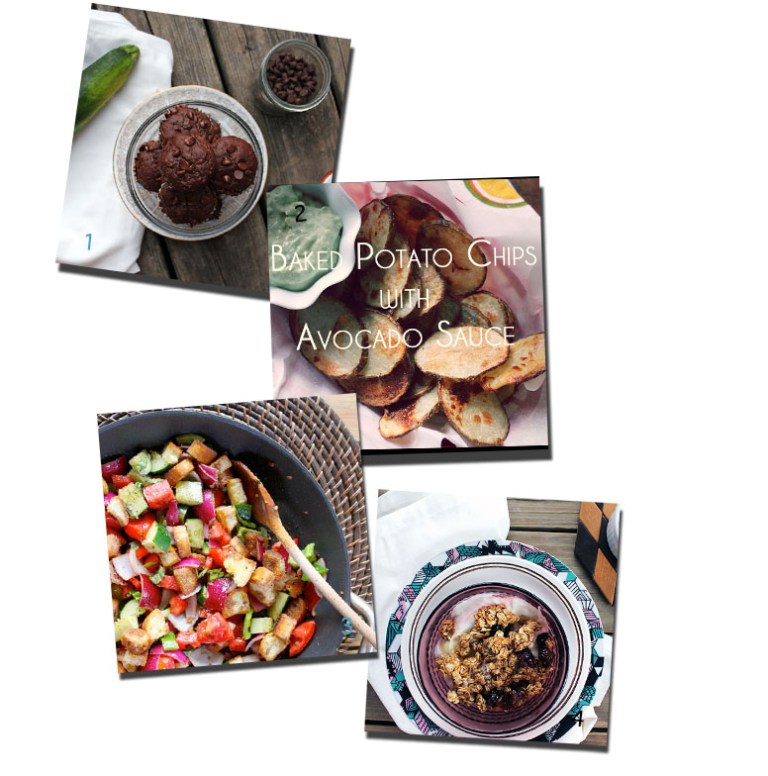 September Highlights
Heyyyaaa. Happy…Monday? And October…WOAH. weird. It seems like it was just yesterday that it was my birthday (September 4th). This month flew by but lots and lots of yummy things were made in the process.
Let's take a look at a few of our favorites:
1. At the beginning of September my CSA box was OVERFLOWING with zucchini. This meant we we made a new zucchini bread recipe almost daily. These dark chocolate zucchini muffins were probably my all time favorite (who doesnt like eating chocolate for breakfast?!). But I was also pretty impressed with the Savory Feta Zucchini muffins….
2. Everything is better with avocado! We learned that this summer when people start throwing avocados in things from baked sweets to smoothies. This dip is no different and makes everything you might stick in it irresistible. Oh, and the homemade potato chips aren't so bad either!
3. Mmmm…some of the last bits of summer in a bowl. I still firmly stand by the belief that the best kind of recipes are simple so that the delicious flavors of the ingredients can shine through. And this dish is a perfect example of that. Ripe tomatoes and crusty bread help to bring out all the flavors of summer in this Panzanella.
4. And finally, the last week of September I let myself give into fall and whipped up everything cinnamon, apple, and pumpkin flavored. Although the pumpkin cinnamon rolls and apple crisp were freaking amazing dishes, the pumpkin granola was my favorite because it was sooooo simple and I was able to enjoy it for days after.
Oh and the biggest excitement this month was seeing my article about the Midwest Vegan Food Scene in Chickpea magazine! I have been such a huge admirer of Chickpea magazine for so long that it was really great to be a contributor this time around!!
______________
And now let's take a look at October!
October is going to be an exciting and busy month. Wyatt and I will be heading to Denver at the end of the month to visit my brother and a few relatives, my blog make-over will [hopefully] be finishing up, and I have loads of recipes in store that consists of lots of root vegetables and fall squash!
Oh and how about a fall goal list? We posted one on the fridge a few weeks ago and I am happy to say we already have crossed a few things off the list. Here is what it looks like:
1. Go apple picking
2. Have horror movie nights
3. Finish my blog make-over
4. make homemade cheese (gonna happen this season!)
5. Go on a fall camping trip
6. Enjoy a bonfire
7. Make pumpkin flavored donuts and dog treats