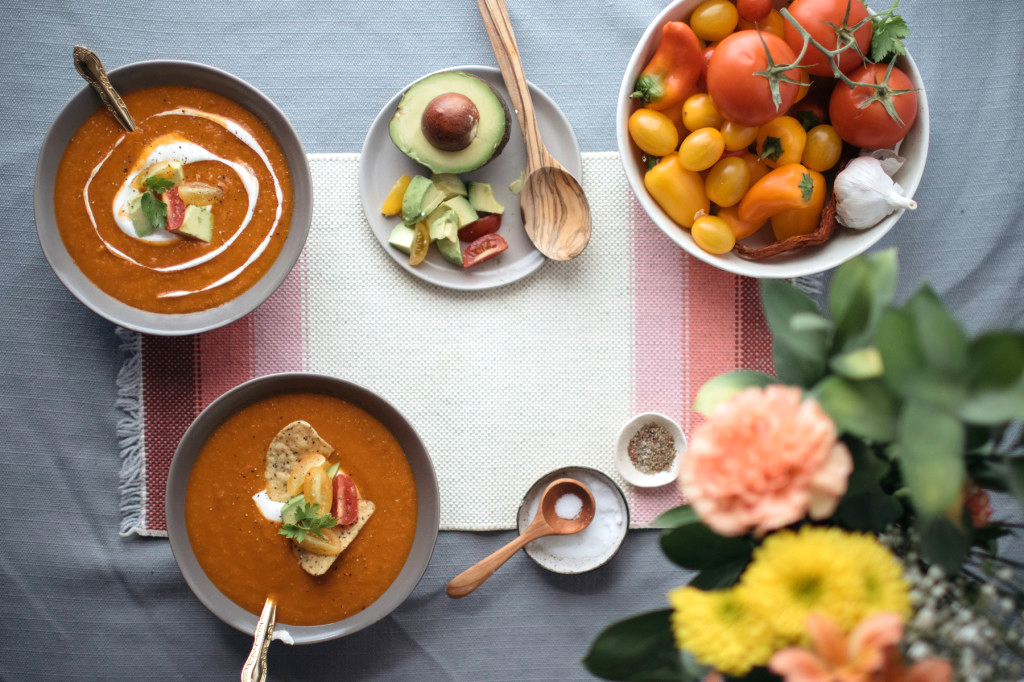 Smoky Tortilla Soup From Sprouted Kitchen's Bowl + Spoon
In a hurry? Click here to JUMP TO RECIPE!
It's getting to be that time of year where all the produce is so fresh and abundant but it's also so nice out that it feels like a crime to spend all day in my kitchen. We've been spending a lot of time going to the lake, lazily walking downtown for dinner, and staying out late to dance at the bars with our friends. All of these things are exactly what we needed after a long and dormant winter inside so it's most certainly a breath of fresh air but not good for my work ethic. To be honest, cooking hasn't been at the top of my mind at all these past few weeks and I've just felt kind of blocked on ideas when I try to drag myself into the kitchen. Luckily for me, there have been so many amazing cookbooks that came out this spring to keep me inspired that I've just been working my way through them instead of recipe developing a whole lot of new ones.
Today's recipe comes from The Sprouted Kitchen's newest cookbook, Bowl + Spoon. The book is absolutely stunning (no surprise there if you already follow their blog) and filled with loads of healthy but creative 'bowl' recipes. The recipes are simple enough for a week night meal but unique enough that you want to try them all. I've already begun eyeing the barbecue tempeh and herbed falefel bowl for easy dinner and lunch this week. I love how they have managed to develop their own style (in the intro Sara writes 'I'm mediocre at cooking meat. I am too unconventional for perfect baking and err on the side of health nut for classical dishes. What I do well is what I care most about, which is produce"); reading that sparked my interest and made me wonder what I excel at – where my cooking style falls and if I'll ever be developed enough to create a style unique to me.
I ended up swapping out the dried ancho chiles in the original recipe with jalapenos from my garden since that is what I had on hand. To be honest, I'm a pretty big wimp when it comes to spicy foods so the recipe I outlined below is pretty mild – you can, of course, add more heat with more jalapenos or chipotle chiles. I really love the addition of cornmeal in this recipe to give the soup an extra filling element that often times pureed soups lack in.
Smoky Tortilla Soup recipe below: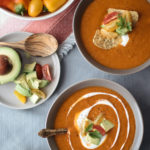 Smoky Tortilla Soup From Sprouted Kitchen's Bowl + Spoon
Ingredients
1

Tablespoon

olive oil

1

jalapeno pepper

, diced small

1

yellow onion

, coarsely chopped

4

garlic cloves

, chopped

2

pounds

of tomatoes

1

chipotle chili in adobe sauce

4

cups

vegetable stocks

2

Tablespoons

unsalted butter

4

Tablespoons

coarse cornmeal

2

cups

cooked pinto beans

Garnish options: cilantro

, avocado, tortilla chips, sour cream (omit for vegan)
Instructions
Heat olive oil in a large saucepan over medium heat. Add the onion, garlic, dash of salt, and jalepeno pepper and saute for five minutes or until softened. Next, core and half the tomatoes and then add to the saucepan along with the chipotle and vegetable stock. Bring to a simmer and let simmer for thirty minutes or until everything is softened.

Puree using an immersion blender and then return back to medium heat over the stove. Add in the butter and cornmeal and and stir until butter is melted. Add in the beans and simmer for another 5 to 8 minutes or until the cornmeal has softened. Season with salt and pepper.

Enjoy warm with cilantro, avocado, sour cream, and tortilla chips.
*DISCLAIMER: I received this book from Blogging for Books in exchange for an honest review.