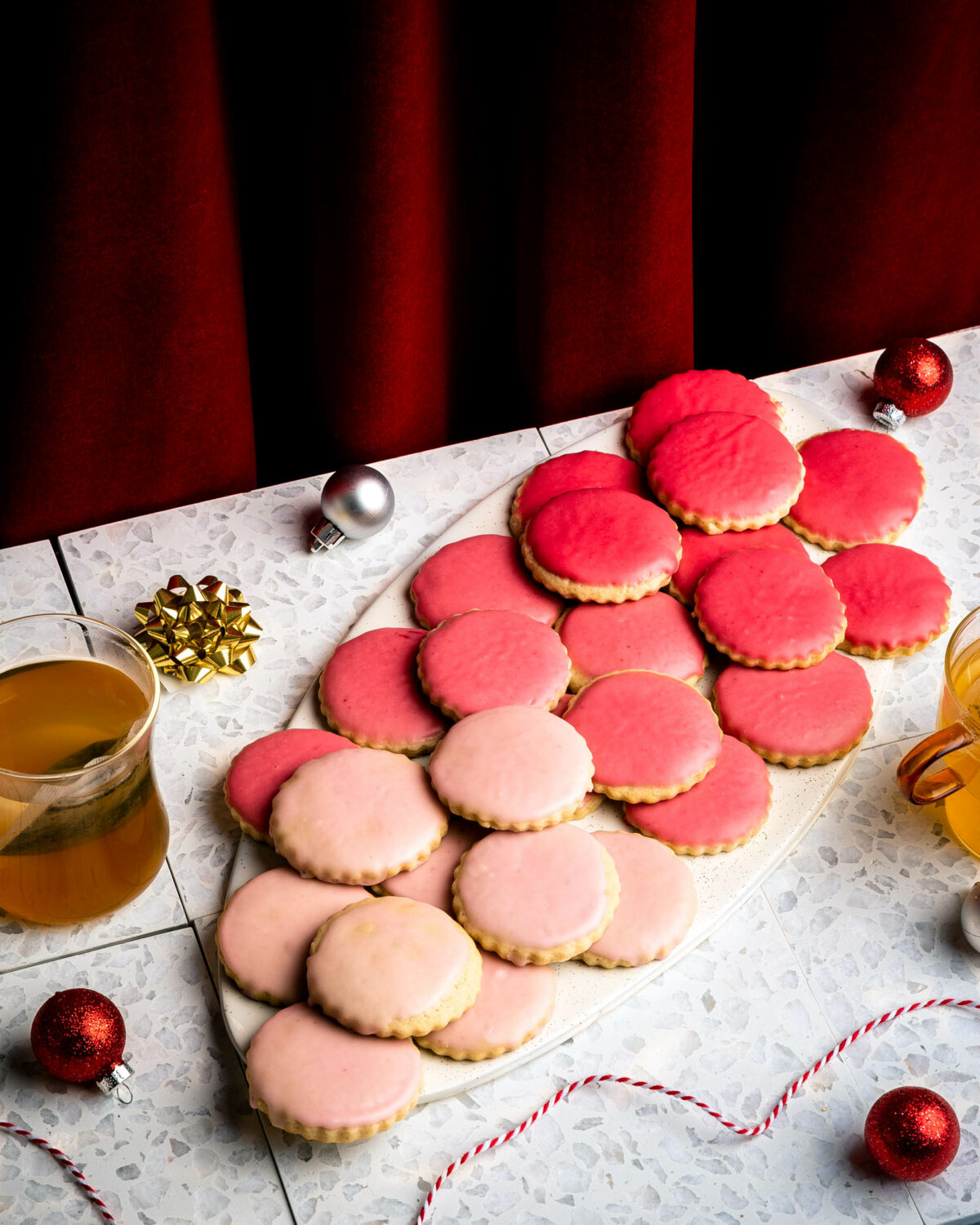 Sour Cream Cookies with Cranberry Orange Glaze
These sour cream cookies with cranberry orange glaze are soft with hints of nutmeg and cinnamon. They are an easy cut out cookie that requires no chilling so you can whip these up in no time!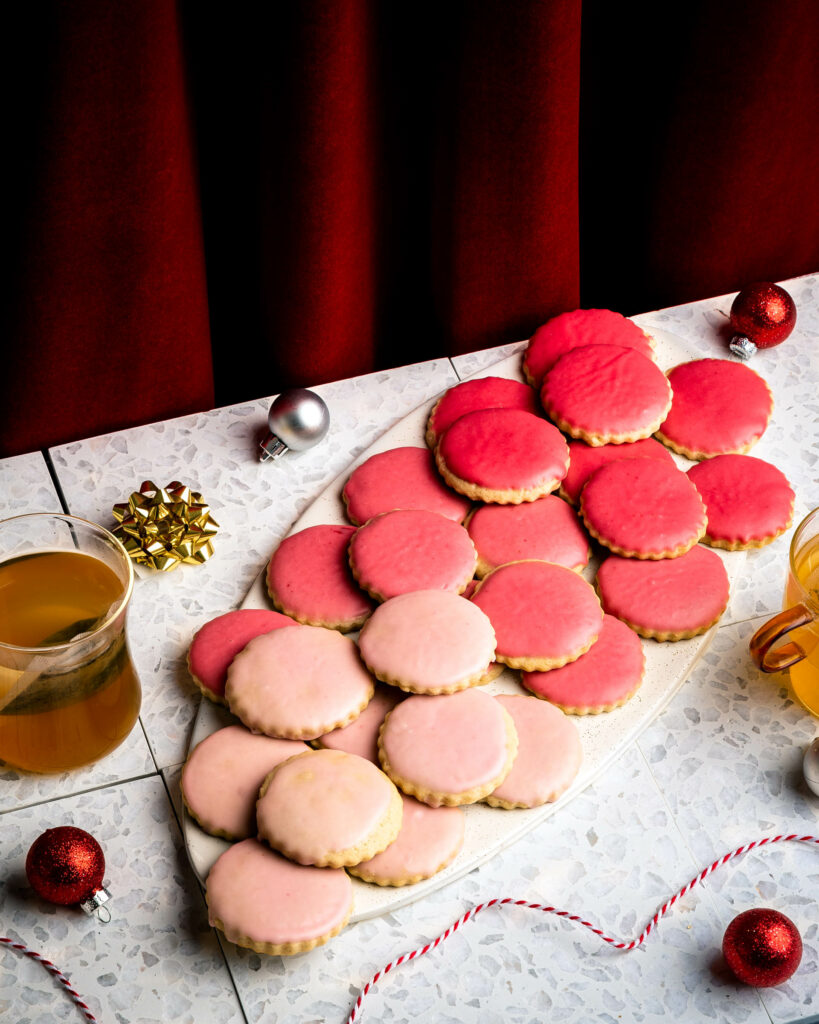 Two cookie recipes in one week?! Why not! I've started to call this week 'dessert week' to myself as I prepared these two cookie posts and have one more sweet post coming to you later this week.
Have you had a sour cream cookie before? I still remember the first time I made my first batch of sour cream cookies back in high school and I was amazed that someone like me (a teenager with no baking experience at all) could make something that was so simple but also so addictively soft and delicious.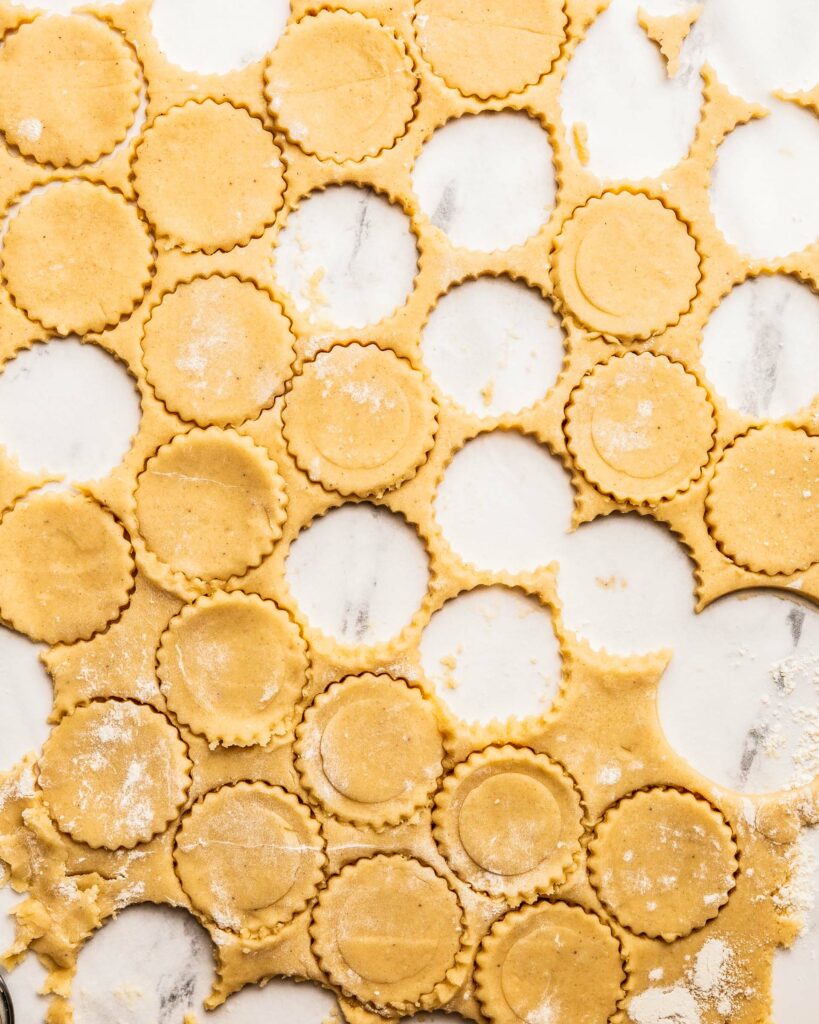 What Are Sour Cream Cookies?
Think of these sour cream cookies as a softer version of the traditional cut-out sugar cookie you might be used to. They have a similar flavor to sugar cookies but tend to be a bit softer and chewier and will end up puffing up a bit more when baking. I also add a little nutmeg and vanilla extract to my sour cream cookies for extra flavor.
Why Use Sour Cream In Your Baking?
Using sour cream in your baked goods create a moister cookie then if you were just to use milk. This helps the cookies from coming out of the oven dry and crumbly and instead you'll end up with a soft and light texture that will hold for a few days. If you've never baked with sour cream before, don't worry – this recipe won't come out tasting like sour cream or anything like that.
Tips for making These Cookies:
There are a few things I want to mention for you to keep in mind when making these cookies. First up, the dough can be a bit sticky so make sure you use a floured surface (or I read about people using powdered sugar instead of flour to keep the dough from sticking – genius!) when rolling out the dough and use a spatula to pick up and transfer the cut-outs from the counter to a prepared baking sheet.
These cookies do puff up a bit after they've baked so they aren't a great recipe for really intricate cookie cutter. I used a simple round cutter with a little bit of texture around the edges but a double shot glass would also work great if you don't have any cookie cutters on hand.
You'll notice in my photos that my glaze is a few different colors depending on which cookie you look at. This is because I wanted to test out making glazes with different amounts of the cranberry juice to see which would yield the best results. The recipe below is for the darkest colored pictured because I found the deeper colored glaze had enough flavor to stand out but still didn't overpower the cookie. You are welcome to use less cranberry orange juice in your glaze if you'd prefer the lighter color but keep in mind that you don't end up tasting the cranberry too much in the lighter versions.
Need some more cookie inspiration? I've got you covered: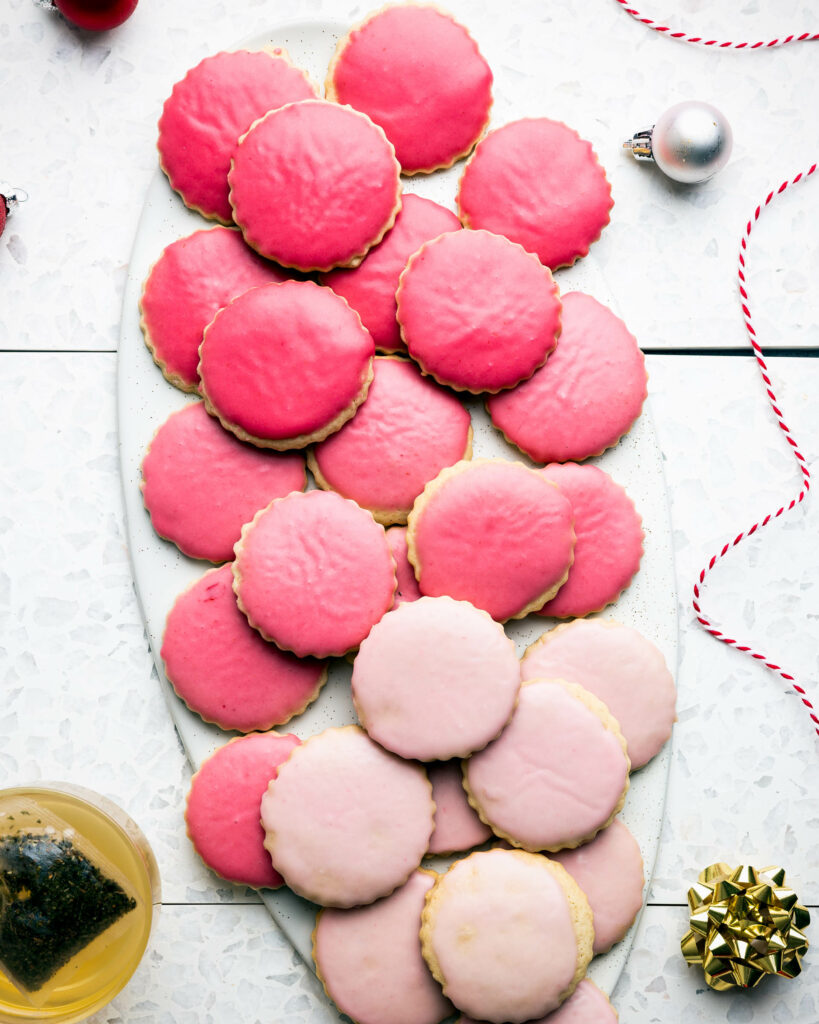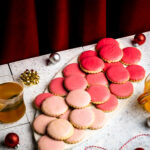 Sour Cream Cookies with Cranberry Orange Glaze
These sour cream cookies with cranberry orange glaze are soft with hints of nutmeg and cinnamon. They are an easy cut out cookie that requires no chilling so you can whip these up in no time!
Ingredients
1

cup

unsalted butter,

softened

1

cup

granulated sugar

1/2

cup

sour cream

1

tsp

vanilla extract

1

large egg

3 1/2

cups

all-purpose flour

+ more for dusting the counter

1

tsp

baking soda

1/2

tsp

ground cinnamon

1/2

tsp

ground nutmeg

1/2

tsp

salt
For the glaze:
2

cups

frozen cranberries

1/4

cup

fresh squeezed orange juice (from 2 medium oranges) + zest

2 1/2

cups

powdered sugar
Instructions
Preheat oven to 350 degrees and line 2 baking sheets with parchment paper.

In the bowl of a mixer fitted with a paddle attachment, cream together the butter and sugar until light and fluffy. Add the egg, sour cream, and vanilla and mix for another 3 minutes on medium or until fully incorporated.

Meanwhile, in a medium mixing bowl, whisk together the flour, baking soda, cinnamon, nutmeg, and salt.

Turn the mixer down to low and slowly pour in the dry ingredients until completely combined and a stiff dough has formed.

Transfer the dough to a floured surface and roll the dough out to 1/2 inch thick. Use cookie cutters to cut out desired shapes and transfer to prepared baking sheets.

Bake for 8-10 minutes (depending on the size of your cookies) and then transfer to a wire rack to cool completely.
To make the glaze:
While the cookies cool, transfer the cranberries and orange juice to a medium saucepan. Heat over medium the cranberries burst and release their juices. Remove from heat and stir in the zest from 2 oranges.

Strain through a fine mesh strainer into a medium mixing bowl (use the back of a spoon to scrape the pulp off the bottom of the fine mesh strainer) and whisk in the powdered sugar until completely smooth.

Dip the cookies into the glaze and then transfer back onto the cooling rack to let the glaze harden.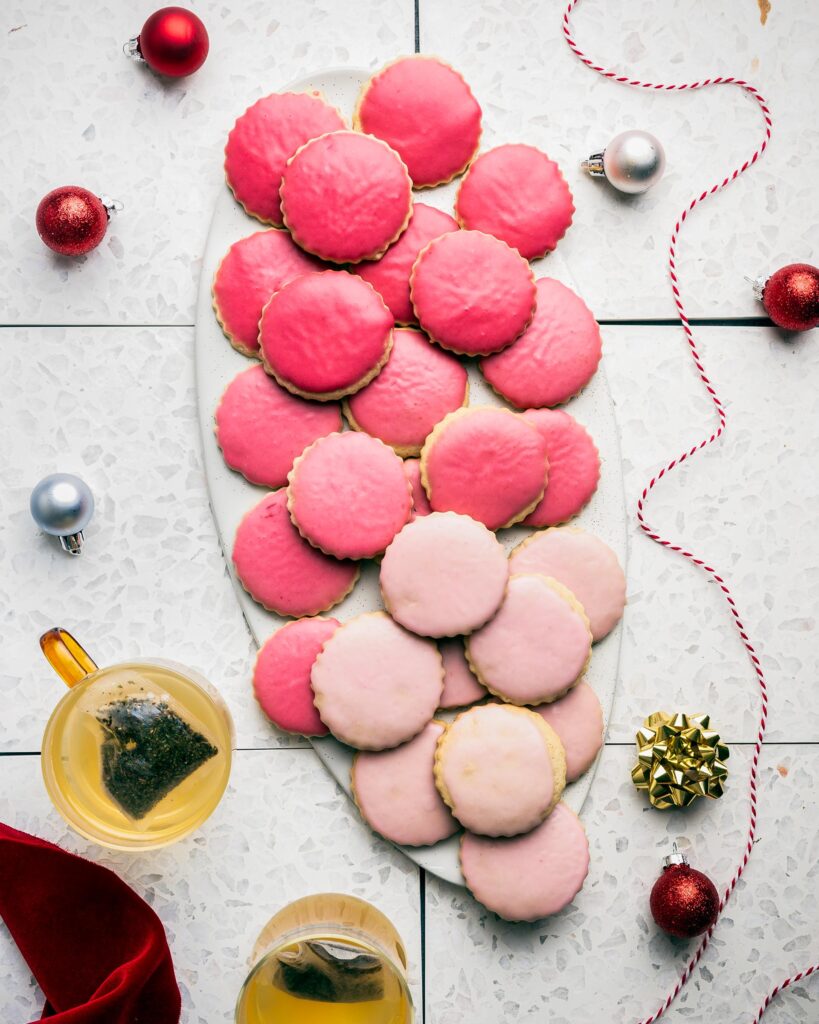 Make sure to tag Vegetarian 'Ventures on Instagram and use #vegetarianventures when trying this dish out!