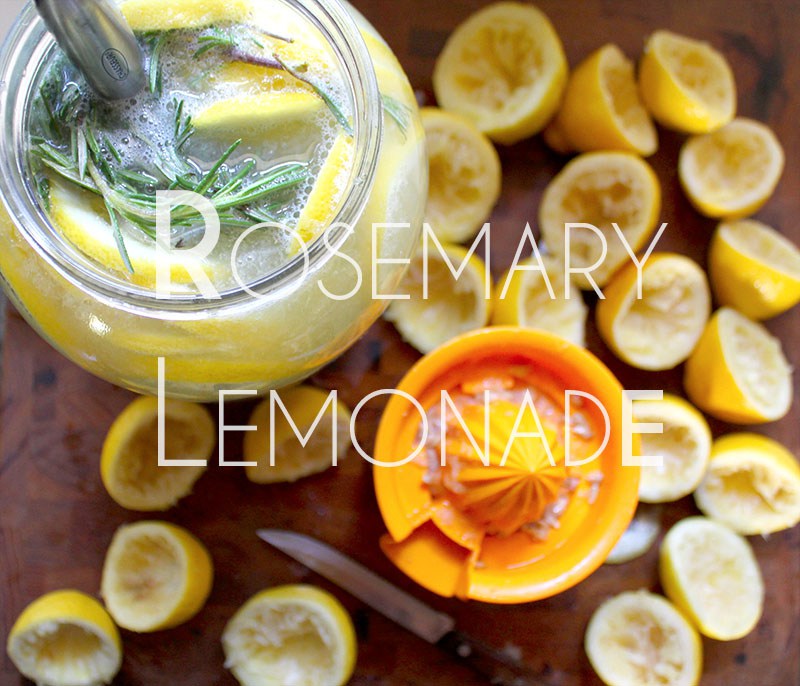 Sparkling Rosemary Lemonade
After making the blueberry simple syrup for The Blueberry Limeade Cocktail, I am obsessed! Simple syrups are soooo easy to make and they bring a whole new level to cocktail making. There is just something so elegant and old-fashioned about making your drink out of homemade syrup.
We have been having these 'ladies nights' at work once a month that have been super fun. Although social events are pretty common at my workplace because we all go out to shows/concerts when one of our artists are in town, it's not really the best environment (loud music, lots of drinking, dark lighting) to really get to know each other. We have four departments so you don't really think about how many ladies there are working here until you put us all in a room together.
The first two 'Ladies Nights' consisted of getting cocktails after work. Don't get me wrong…cocktails are awesome but getting sloppy with my co-works at 7 pm was a bit awkward at first. However, we had a third outing this week and mixed it up by having a vegan potluck in the park (it wasn't specifically vegan but there are several girls who are vegan so i didn't want to be that jerk that didn't consider other people's dietary needs). Anyhow, I had remembered Tracy from Shutterbug talking about her Rosemary Lemonade on an old Homefries podcast. Perfect! I had to tweak her recipe a bit to make it vegan but it turned out mighty fine (if I do say so myself).
Oh! and with the leftover lemonade, I added some gin and made a perfectly refreshing cocktails. Just sayin' – it was delicious and definitely took the edge off! Bring a whole new meaning to a flavored gin and tonic!
PS In my recipe below, I suggest that once the syrup is cool that you let it sit overnight in the fridge to bring out the rosemary flavor. However, if you are short on time then you can skip that part for a more subtle rosemary flavor.
Sparkling Rosemary Lemonade
Rosemary simple syrup:
2 1/2 cups sugar
2 cups water
4 sprigs of rosemary
For the lemonade:
10 lemons, juiced (+2 sliced for garnish)
2 liter bottle of sparkling seltzer water
1/4 cup agave nectar (or more to taste- I just left my bottle out so individual people could sweeten their servings to their likings)
Rosemary, for garnish
To make the syrup: Bring the water, sugar, and rosemary to a boil in a small saucer. Simmer for 5 to 7 minutes. Remove from heat, cover, and let cool. Once cooled, place in a sealed container and refrigerate overnight.
To make the lemonade: Juice the lemons whatever method you would like and cut the garnish lemons into thin slices. In a large pitcher, stick the fresh lemon slices, rosemary garnish, lemon juice, seltzer water, and agave. Adjust flavoring to your likening by adding more agave.
Serve chilled over ice or with a shot of gin!