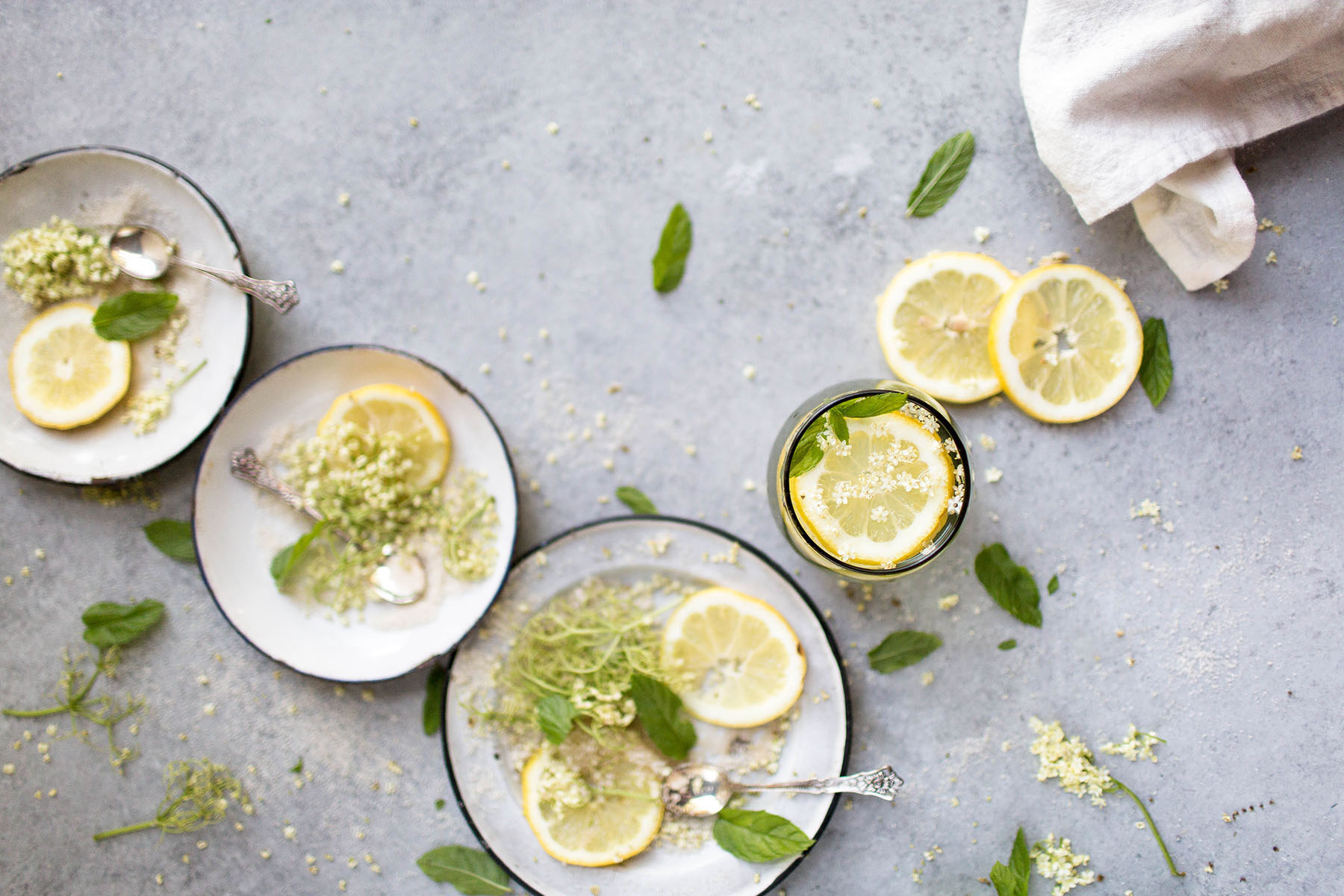 Elderflower Lemonade (+ Vegan Option)
This tart and floral Elderflower Lemonade is a refreshing homemade drink that can be made alcoholic by adding a splash of gin or St. Germain.
In a hurry? Click here to JUMP TO RECIPE!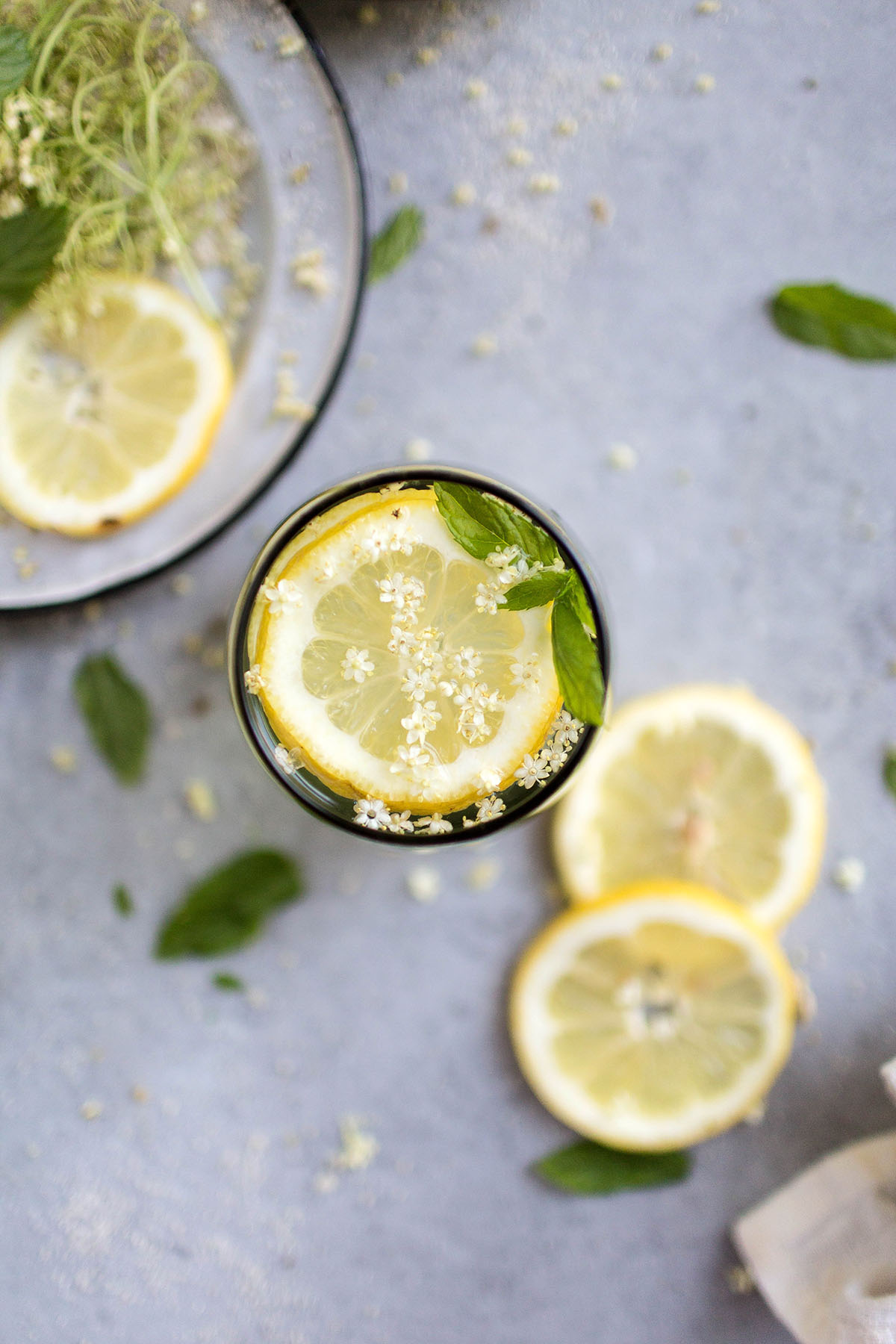 This past weekend, Wyatt and I took a quick trip up to Chicago. It has been too long since we went there without a work assignment and to just wander around. The main highlight was hitting up the Green City Market which made me feel like a little kid in a candy store; it had the best homemade bread I've ever tasted, rows of beautiful flower bouquets, edible flowers galore (yes!), and any berry or green you could ever want (plus some you didn't even realize existed). It really put our tiny town's market to shame and I'm already wondering if it's too ridiculous to move to a city just for their farmer's market? I think not?
It's no surprise that I have a thing for elderflower (I use the cordial constantly in cocktail recipes like this St. Germain Spritzer and this Garden Tonic) so when I stumbled upon the chance to purchase fresh elderflowers, I couldn't pass them up. The white flowers are tiny but abundant and grow in large bunches. Most recipes I found for using it where to make a cordial; it sounds delicious but I didn't want to seek out citric acid. So, instead, I went an easier route and created a simple syrup out of it that would still preserve its flavor but could be used for both non-alcoholic and alcoholic drinks.
The simple syrup adds a floral additional to refreshing lemonade, which is the recipe I provide below but would also work wonders in a gin and tonic or vodka soda.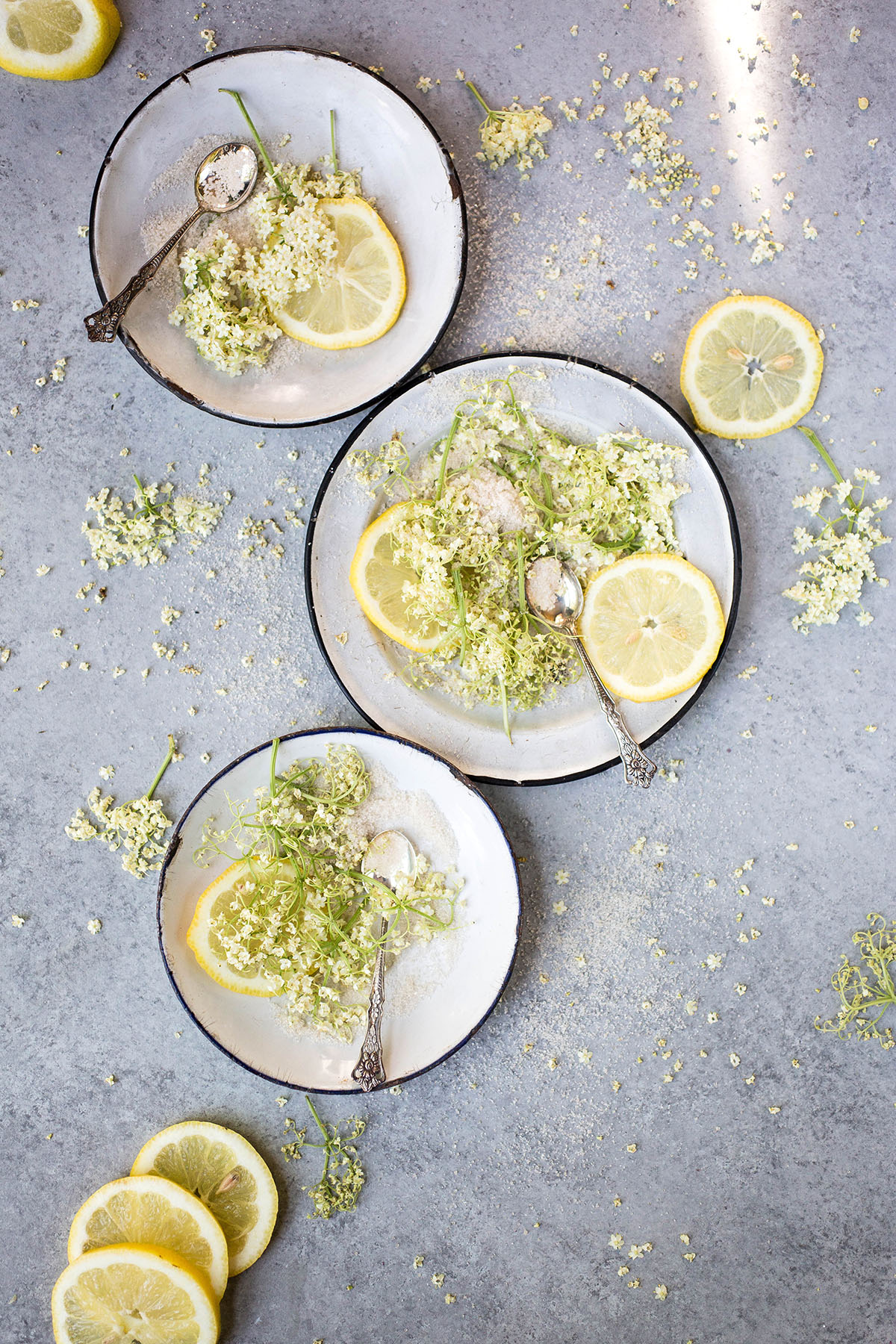 What is Elderflower?
Elderflower is the white blossom on an elderberry bush. Elderflower is a common ingredient in the UK and parts of Europe, and these delicate flowers are often made into a cordial. Elderflowers only bloom from May to June, so get your hands on some while you can!
What Does Elderflower Taste Like?
Elderflower tastes, well, quite floral. But it's not a super strong flavor. Elderflower is delicate in flavor and pairs nicely with citrus. Even if you're not a fan of floral flavors like rose or lavender, I encourage you to give elderflower a try. It's nowhere near as strong!
What's Needed for Elderflower Lemonade?
There are two key components to this elderflower drink recipe: the elderflower syrup and the freshly squeezed lemonade. Here's what you'll need to make this easy drink recipe:
Water
Honey
Elderflower bunches
Lemon juice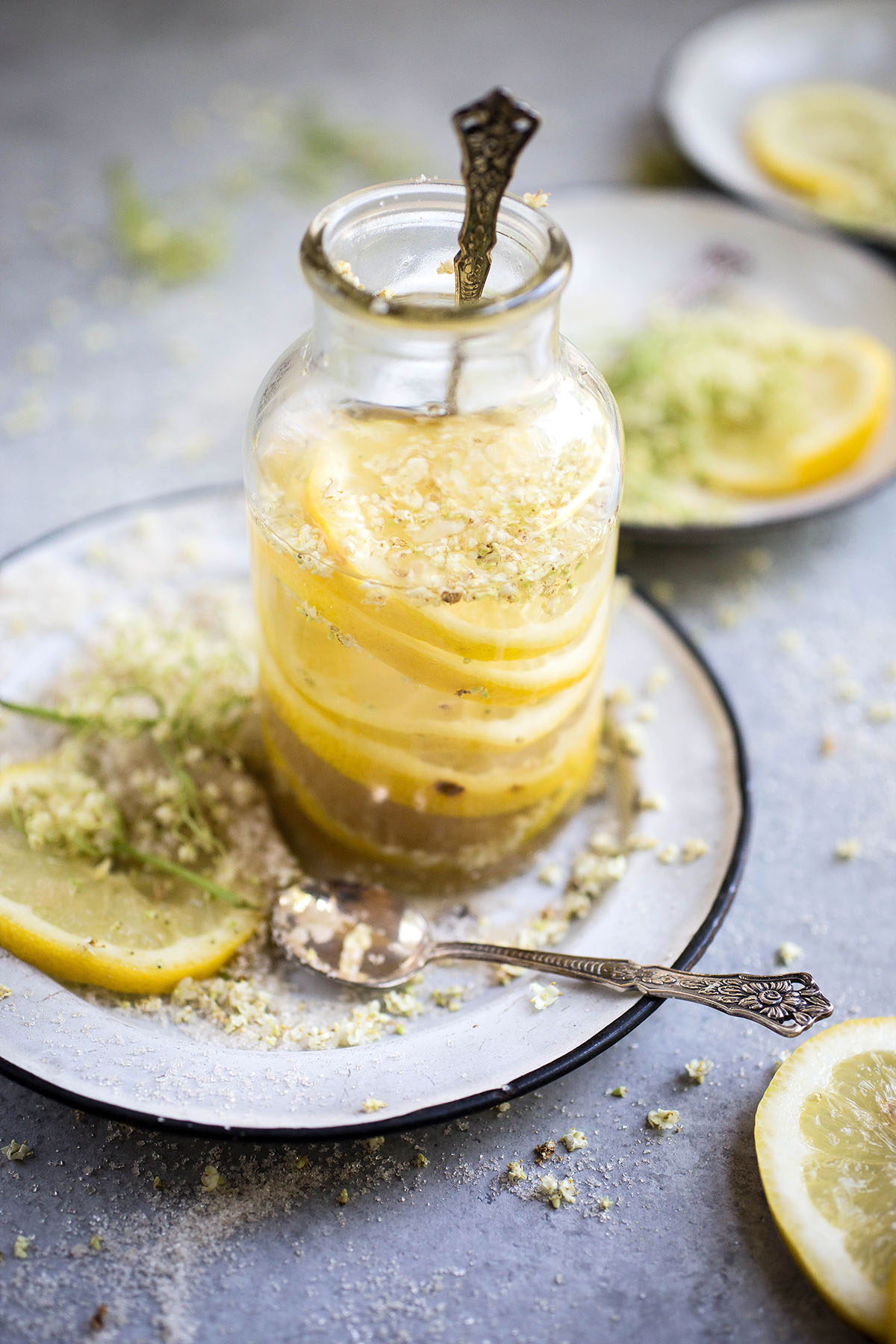 How to Make Elderflower Lemonade
The steps for this elderflower drink recipe are simple:
Make the elderflower simple syrup.
Let the simple syrup chill overnight, then strain and discard the elderflowers.
Make the lemonade. Stir in all of the prepared simple syrup.
Serve over ice and garnish with additional elderflowers and lemon slices, if desired.
Can I Prep Elderflower Lemonade in Advance?
Yes, the elderflower simple syrup can be made up to 48 hours in advance. I personally prefer serving the finished lemonade the day it's made, but it'll last a few days in the fridge.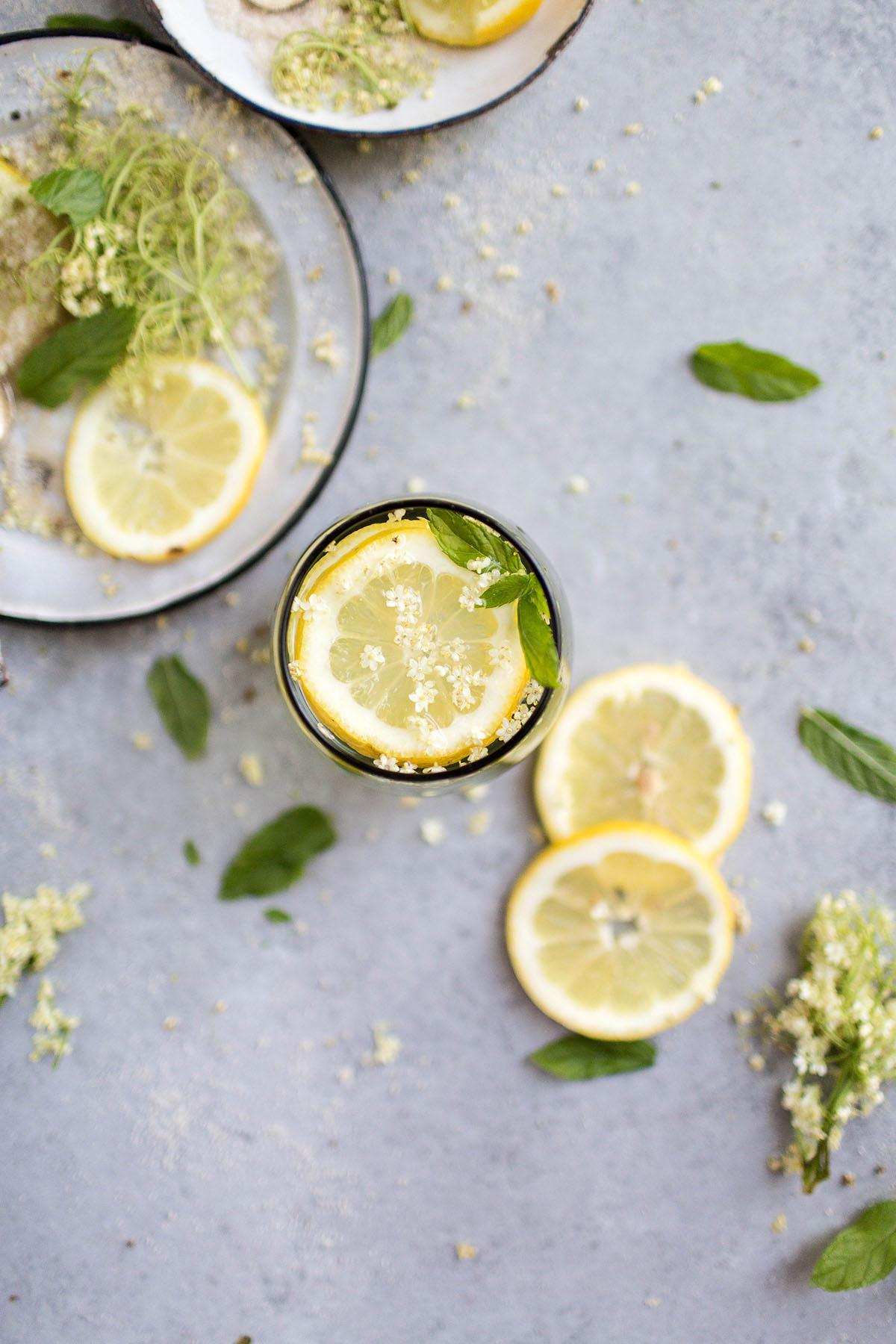 Tips for Making Elderflower Lemonade
If you are making this for the 4th of July coming up, feel free to make a batch of the non-alcoholic recipe below and then also make a pitcher of the lemonade with a little St. Germain or gin (or both!) for the adults. You'll have the fanciest drink at the cookout, no doubt!
I like my lemonade tart so I start with the simple syrup being the only sweetener and then leaving honey on the table so people can add more sweetener if they want it sweeter. You can also set out granulated sugar but I always have trouble with it dissolving so I prefer to stick with honey or agave nectar.
Please also note that you'll want to replace the honey for agave in the recipe below if you'd like to make it vegan.
Want More Easy Drink Recipes?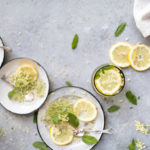 Elderflower Lemonade
This tart and floral Elderflower Lemonade is a refreshing homemade drink that can be made alcoholic by adding a splash of gin or St. Germain.
Keyword:
elderflower, lemonade
Ingredients
For the simple syrup:
1/2

cup

water

1/2

cup

honey

(use agave nectar to make vegan)

Flowers from 5-6 elderflower bunches

Juice from half a lemon
For the lemonade:
10

lemons

, juiced (+2 sliced for garnish)

2

liters

water

(or 2 liter bottle of sparkling seltzer water)

Honey

, for sweetening
Instructions
To make the syrup:
Bring the water, honey, elderflowers, and lemon juice to a boil in a small saucer.

Once boiling and the honey has dissolved, remove from heat, cover, and let cool.

Once cooled, place in a sealed container and refrigerate overnight. Strain and discard the elderflowers (or save them for garnish).
To make the lemonade:
Juice the lemons using whatever method you would like and cut the garnish lemons into thin slices. In a large pitcher, stick the fresh lemon slices, lemon juice, water, and simple syrup. Adjust flavoring to your likening by adding more honey or agave syrup.

Serve chilled over ice or with a shot of gin!