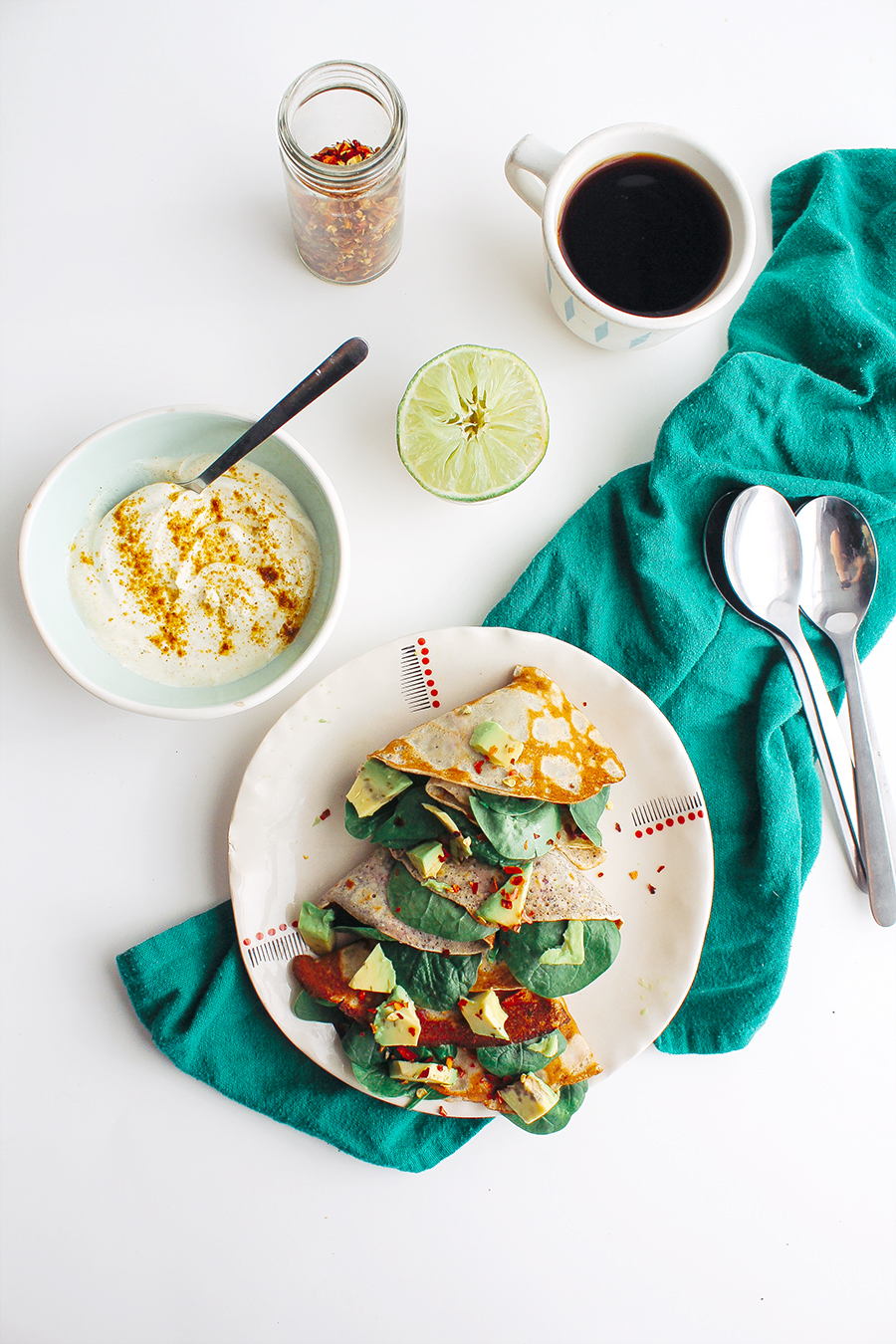 Spinach & Avocado Stuffed Cornmeal Crepes with Curry-Lime Cream
In a hurry? Click here to JUMP TO RECIPE!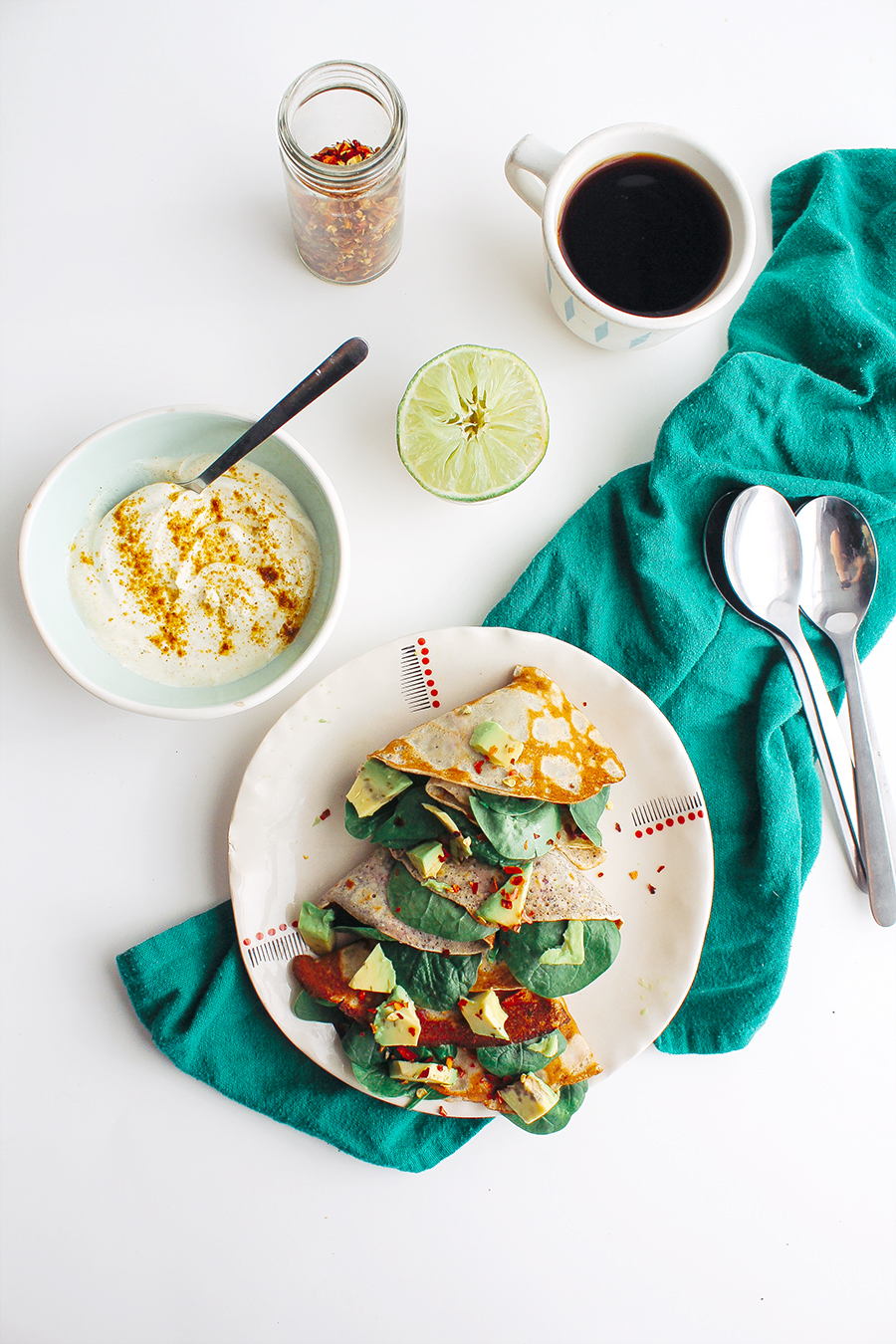 How is your 2014 so far? Are you finally feeling back to normal after a 3 day hangover from all that sugary champagne? I, surprisingly, did not drink that much on New Years this year and woke up feeling recharged and ready to start a fresh new year. My college self would be so bummed at how 'lame' I've already become at 24 but sometimes a girl just wants to snuggle inside with her dog and boyfriend to watch the ball drop with Carson Daly. Oh wait, or are you a Ryan Seacrest kind-of-person? If so, I feel so so so very sorry for you.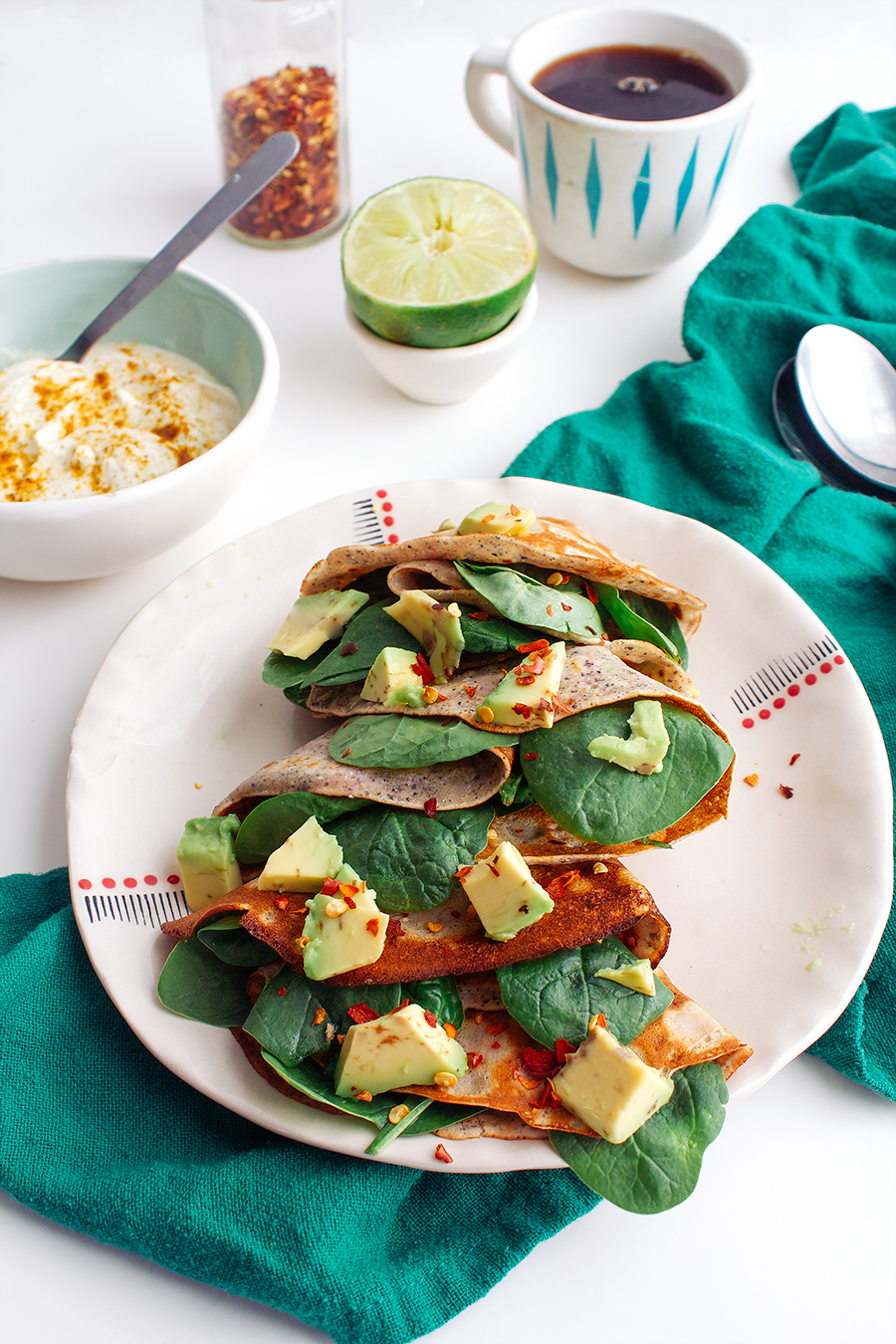 Just like every American this time a year, I'm taking another stab at eating health[ier]. I'd like to think we don't eat terrible around here (no heart-clogging meat, minimal processed foods, no sugary drinks) but there is always room for improvement. I'm particularly bad about incorporating fresh vegetables into our diets this time a year – a salad feels very unappetizing (and usually pretty unnatural when its 10 degrees out and the produce was shipped in from 5 states over) so most of our vegetable intake is in the form of stews and soups and curries. And because of that, I can't help but notice that our leafy green in-take has slowed down to a minimum. So alas, I decided to start the year off with a recipe that could highlight raw vegetables in another form other than smoothies and juice cleanses (since, you know, sometimes it's so cold outside and the thoughts of downing a ice cold smoothie is about as appetizing as eating yellow snow).
If possible, choose cornmeal that is whole and not degermed to gain as much nutrition of it as possible. Whole cornmeal is chocked full of amino acids, vitamins (b-6, K), minerals (potassium, zinc, copper), and have been linked to benefiting your colon.
These crepes can be stuffed with whatever you are feeling but I highly recommend trying out this savory version and picking a few favorite vegetables to chop up for the insides. I choose spinach because of it's well known benefits of having a high ratio of nutrients to calories (we are talking vitamin A, K, D, and E as well as omega 3 fatty acids and anti-inflammatory antioxidants).
I've also been on a curry kick lately but feel free to use whatever sauce you are feeling – perhaps a cilantro sirarcha sauce? Or even a peanut lime sauce for a protein boost?
Spinach & Avocado Stuffed Cornmeal Crepes with Curry Lime Cream recipe below: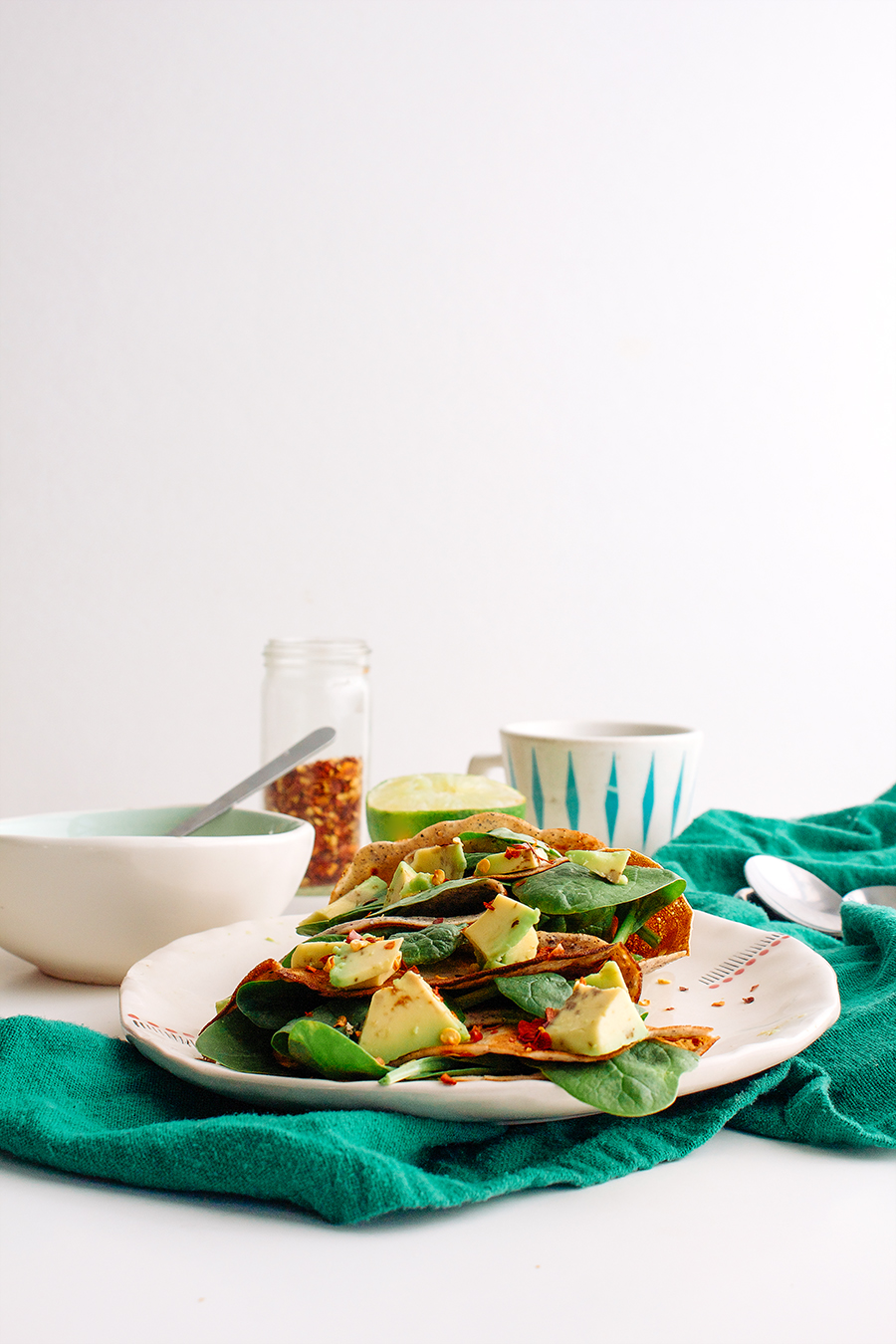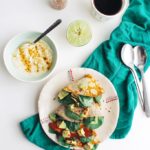 Spinach & Avocado Stuffed Cornmeal Crepes with Curry-Lime Cream
Ingredients
1

large egg

, lightly beaten

1/2

cup

milk

(I used coconut but cow's milk or any type of non-dairy would work just fine)

1/4

cup

cornmeal

1/4

cup

all-purpose flour

2

Tbsp

. sugar

(optional)

1/2

teaspoon

vanilla extract

1/2

teaspoon

salt

ghee

(or butter or oil), to coat the frying pan

1

cup

of spinach

1

avocado

, diced

chili flakes

, to garnish (use more or less depending on how spicy you like it)
For the Curry-Lime Cream:
1

cup

greek yogurt

(I used 2%)

juice from 1/2 small lime

2

teaspoons

curry powder

salt
Instructions
Whisk together the egg, milk, cornmeal, flour, sugar, vanilla extract, and salt. Transfer to the fridge and let chill for at least 30 minutes.

Whisk together the yogurt, lime, curry powder, and a little salt. Stick in the fridge until ready to use.

Heat a non-stick skillet with ghee or oil over medium heat. Add just enough batter so that you can coat the pan with a thin layer.

Cook until the sides begin to brown and the middle starts to bubble (just about 2 to 4 minutes, depending on how hot your skillet it).

Flip and cook for another 2 minutes or so.

Remove from heat and transfer to clean plate (cover with a dish towel to keep warm). Repeat with the rest of the batter.

Fill crepes with the spinach, avocado, and a few red pepper flakes (if you like your food hot). Top with the curry sauce and enjoy!