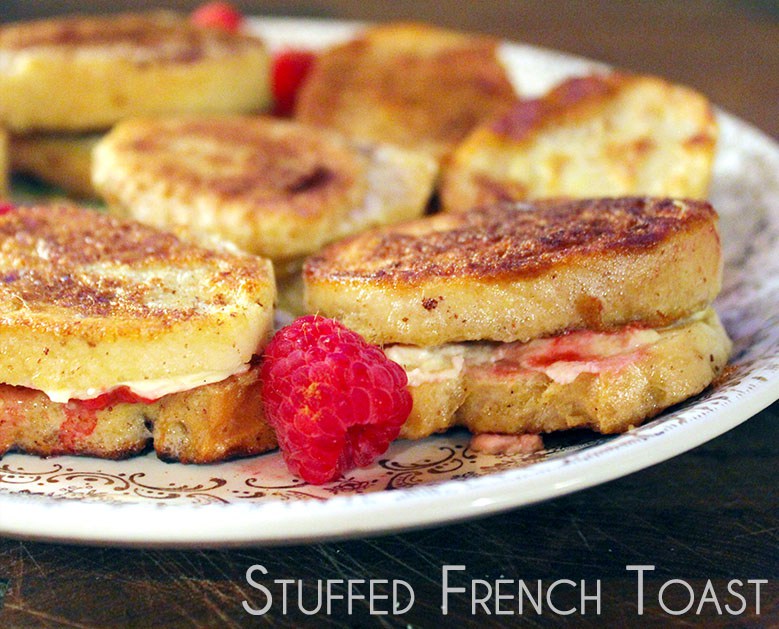 Stuffed French Toast
We live on a traffic-crazed road so behind our house there is an alley system that we use to drive up to our house or ride our bikes downtown or to take little Tuko for walks. I bring this up because although I am totally over 90 degree weather and being constantly sticky, I will greatly miss the foliage that decorates our long alley system once summer comes to an end. It gives us shade from the sun when we are biking and it's where I pick my wildflowers for our dining room table.
Last night I rode my bike down the alley to get to our local co-op. I went there to browse and pick out goodies for the 'Foodie Penpal' (more on this in future posts) group I joined this month. Basically, you are assigned one person who you send up to 15 dollars worth of goodies to and then someone else sends you things and you get a new person each month. I love this idea but it kind of makes me wish I had a real pen pal (one whom you contact more than just once) that I could send a box full of local goodies and spices to and say 'hey. make this!' and then we can text each other pictures of the recipe and geek out over food. You know…the kind of friend you never meet (because they live in Portland or Vermont) but you feel a silly connection with them anyways? Woah, this is quite the scenario I've come up with…perhaps I have been seriously listening to wayyy too many 'Joy the Baker' podcasts lately.
Anyhow, to do another 360 (is this already the 3rd time I've changed the subject?) Wyatt has been on a serious health kick lately (let me remind you this is the guy who used to need pizza and gravy in his life at least once a week). I am 100% behind him on this because I prefer to eat as healthy and organic as possible but sometimes a girl just needs to eat what she wants.
My craving for french toast started last Friday when I picked up some Michigan maple syrup and a fresh baguette for Saturday's breakfast. However, Saturday morning came and we had to clean our house in anticipation for Wyatt's parents coming and no french toast was made. And then his parent's stayed until Sunday and bought us some delicious local muffins on Sunday morning (which meant no french toast- AGAIN). So as I was sitting at my desk on Monday morning, I decided I NEEDED to make this french toast for lunch (I mean…in addition to my constant craving, the baguette was probably going to go bad if I waited any longer!) However, when I got home I was met with a very annoying 'I don't think I want that much sugar for lunch. I don't want any- thanks' response from Wyatt which made me feel guilty so I made us veggie sandwiches instead. Defeated, I decided that I would go to yoga on Monday night and if I still was craving it after (I usually only want huge salads after feeling amazing cleansed from yoga), I would make it regardless of any response from my sugar-hating boyfriend. And alas, yoga made me feel great but so great that all I wanted to do was continue to please myself. I ran home, didn't say a word to Wyatt, and created these little puppies.
Woah, this has been a rant of a post sort of day!
Stuffed French Toast (or French Toastie Sandwiches?)
1 stale baguette, sliced
4 ounces of cream cheese
1 pint fresh raspberries (or blueberries or blackberries or strawberries)
4 eggs
1/4 cup milk (soy or regular)
dash of cinnamon
dash of nutmeg
1 teaspoon vanilla
butter or oil (to coat the pan)
Spread cream cheese on one side of half of the sliced baguettes. In a shallow bowl, whisk together the eggs, milk, cinnamon, nutmeg, and vanilla.
Melt a tablespoon of butter in a large skillet over medium. Dunk the non-cream cheese side of the baguettes in the egg mixture and put on preheated skillet. Dunk all of the plain baguettes in the mixture and place in the skillet (you will probably have to do this in rounds because you don't want to crowd the pan! Just make sure you have an even number of cream cheese to non-cream cheese slices). Cook for 2-3 minutes (or until browned and flip the non-cream cheese slices on top of the others to make a sandwich (and so the cooked side is inside the sandwich). Flip all the "sandwiches" and cook on the other side for 2-3 minutes. Remove from pan and repeat with the rest of the baguette.
Lather in fresh butter, raspberries, and drizzle maple syrup. Enjoy with a Bloody Mary or Mimosas!