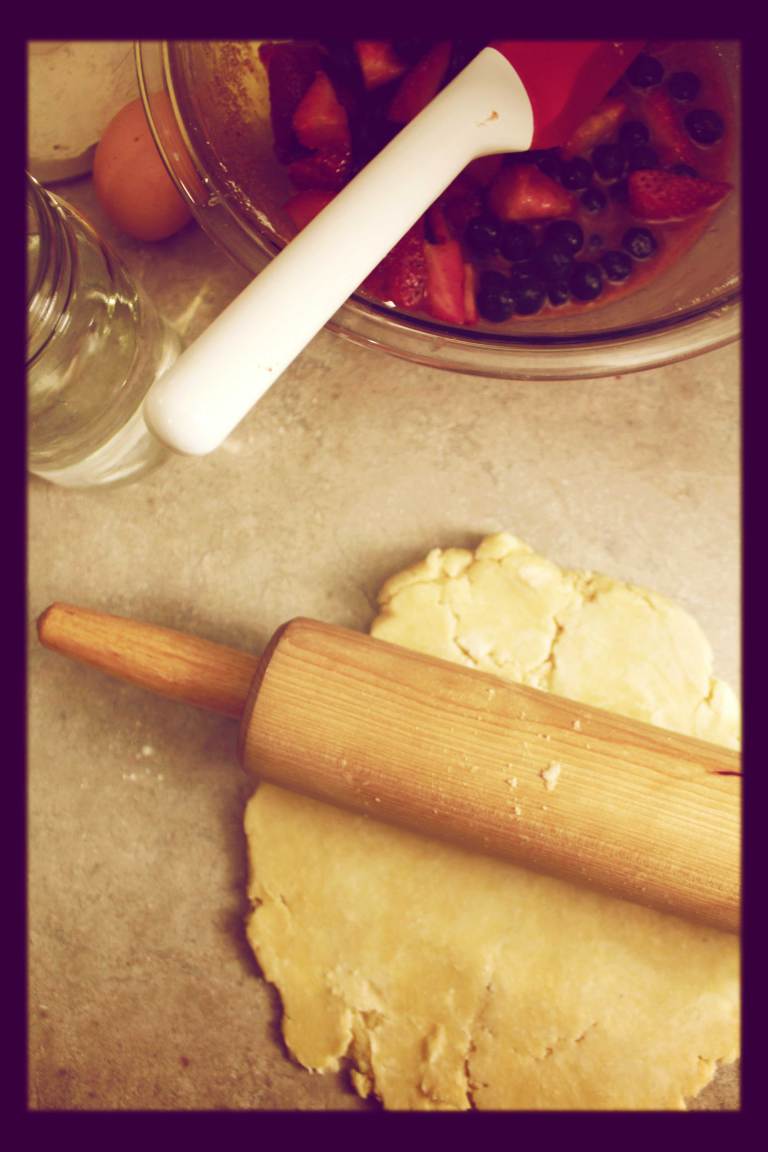 You can probably expect to see a lot of baking posts in the next month. Things are winding down with school which means stress is at an all time high as I finish this chapter in my life and begin to prepare for a new one. This entire year has been a game of decision making and I am constanly hoping I make the right ones. The time is nearling where I will begin to see where my decision takes me and I feel like I have been holding my breath waiting. In the meantime, I've turned to yoga and baking to cure my anxiety.
This tart was influeced by how beautiful I thought the Galette was that we made the other month and this could almost be considered a sweet spin on that recipe (although I am going to continue to call it a tart because I have a diffferent "sweet spin" in mind that I plan to recreate for a sweet Galette ASAP- stay tuned for that!).
Anyways, this tart did turn out beautiful and absolutely delicious! I have become  a big fan of these "free form" type crusts instead of the traditional because I just love the rustic look it gives to the pies; it just gives off more of a home cooked feel than standard pies that mimic the same kind you purchase in the store.
For the crust:
1 1/4 cup all purpose flour
2 tsp sugar
1/2 tsp salt
1 stick cold butter, cut into small pieces
3 tbsp ice water
Filling:
1 pint strawberries
1 pint blueberries
2 tbsp cornstarch
dash of lime juice
1 tsp cinnamon
1/2 cup sugar
1 egg + 1 tsp water, beaten together
1 tsp strawberry jam
1 tsp water
In a large mixing bowl, stir together the flour, sugar, and salt. Using your hands, rub the butter into the dry mixture until it all resembles coarse sand. Then, add in the ice cold water and form a ball of dough. Wrap in plastic wrap and place in the freezer for about 5 minutes or until chilled.
To make the filling, combine the berries, cornstarch, sugar, lime juice, and cinnamon in a large bowl. Let sit while you roll out the dough to help make a thick syrup.
Take the dough out of the freezer and use a rolling pin to make a 12 inch circular crust. Scoop the filling into the mixture and make sure to leave an inch or two empty to fold over. Next, fold over the edges and brush them with the egg/water mixture.
Cook for 15 minutes. Lower heat to 375 and cook for an additional 20 minutes or until the berries have softened and the crust has browned.
Combine the teaspoon of jam and water together and crush on top for a nice glaze.
Serve with ice cream or whip cream.
Make sure to share with your puppy and roommates!