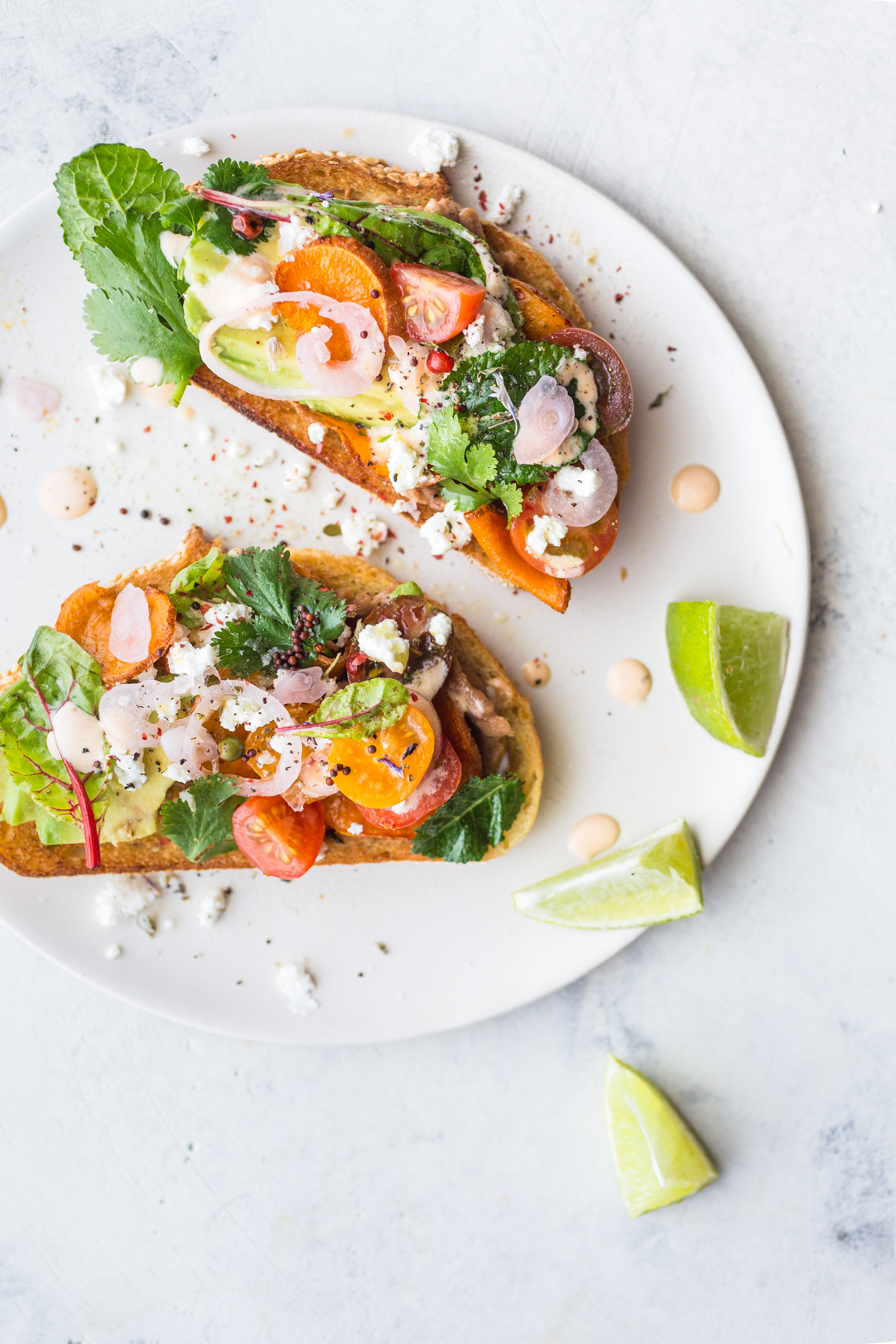 Open-Faced Sweet Potato Tortas
Serving this Sweet Potato Open-faced from The Minimalist Kitchen cookbook allows you to see the array of colorful veggies piled high on the crusty bread. This is a perfect vegetarian lunch or dinner option.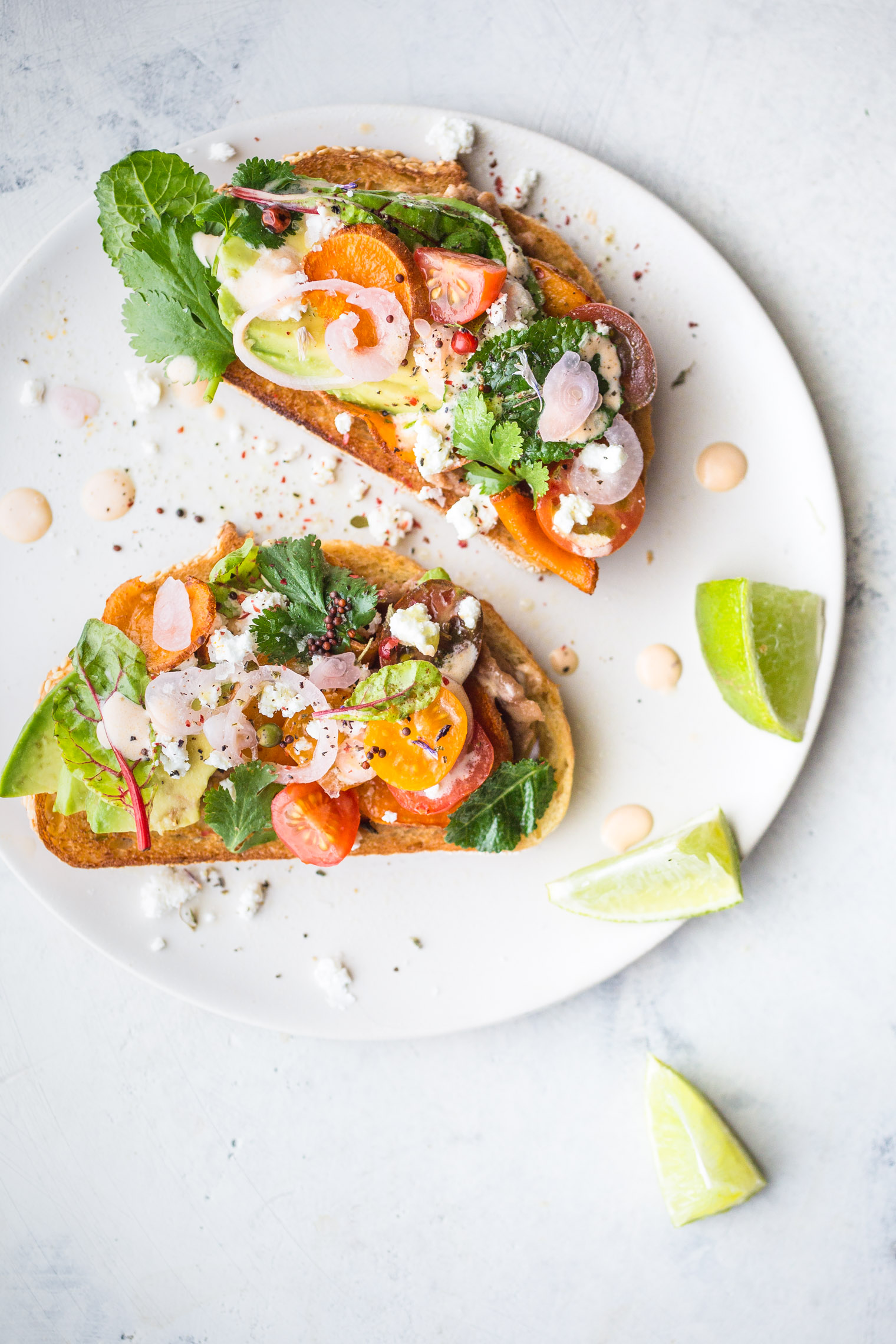 I've been so wrapped up in my own book promotion lately that I haven't taken a moment to tell you about all the other really fantastic cookbooks that have also come out this spring. Well, that changes today because today we are talking all about Melissa Coleman's The Minimalist Kitchen which includes 100 wholesome recipes plus guidelines on how to pair down your kitchen to just the essentials. Although the book is not 100% vegetarian, a large portion of it is and I've been loving the simple but flavorful meals she is able to whip up with pantry staple ingredients. The recipes in this book are very much in line with the quick dinners I tend to gravitate towards – tacos, sandwiches, egg dishes, etc. so I'm very excited to use this cookbook to mix up my weekly routine without it taking a ton of extra planning.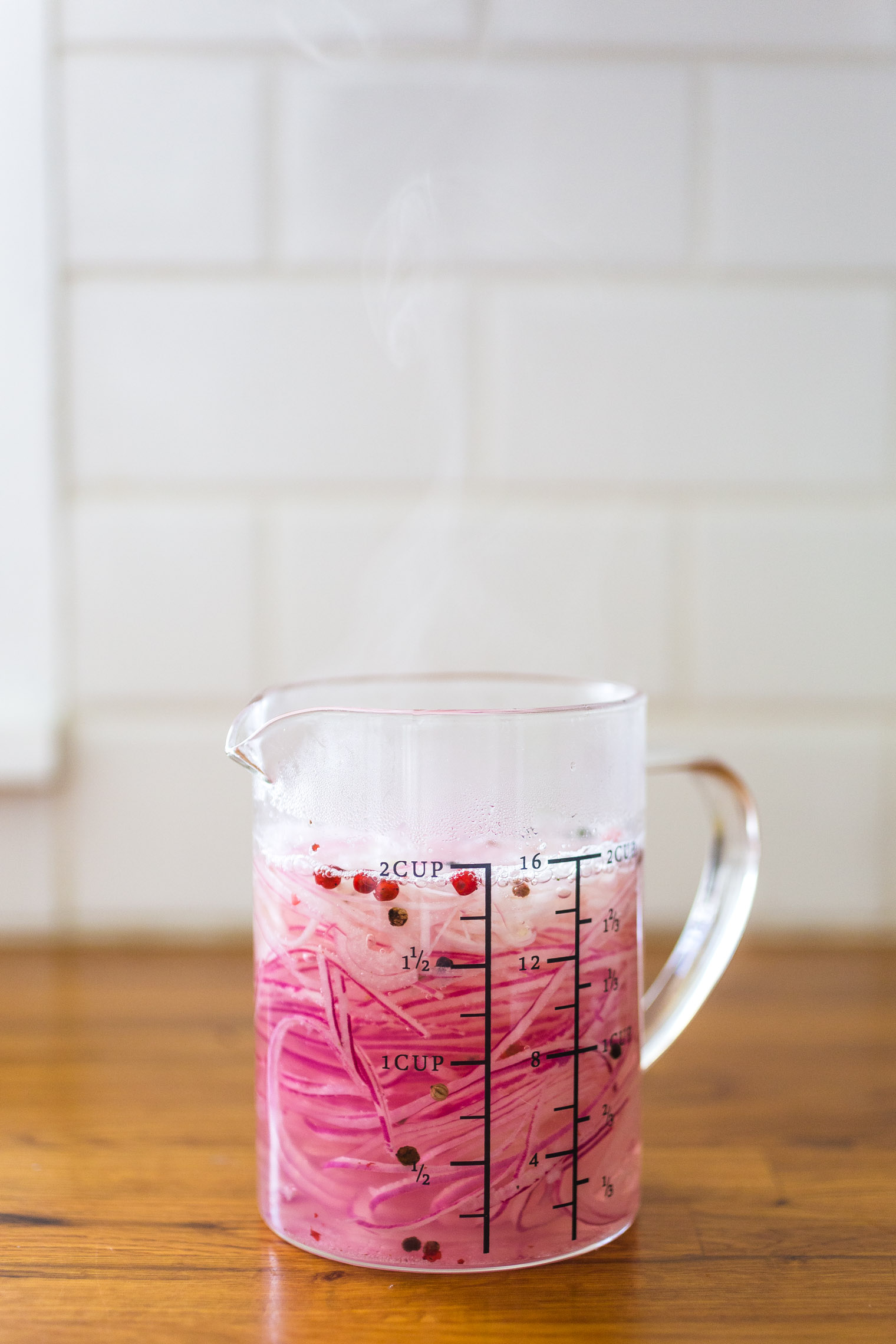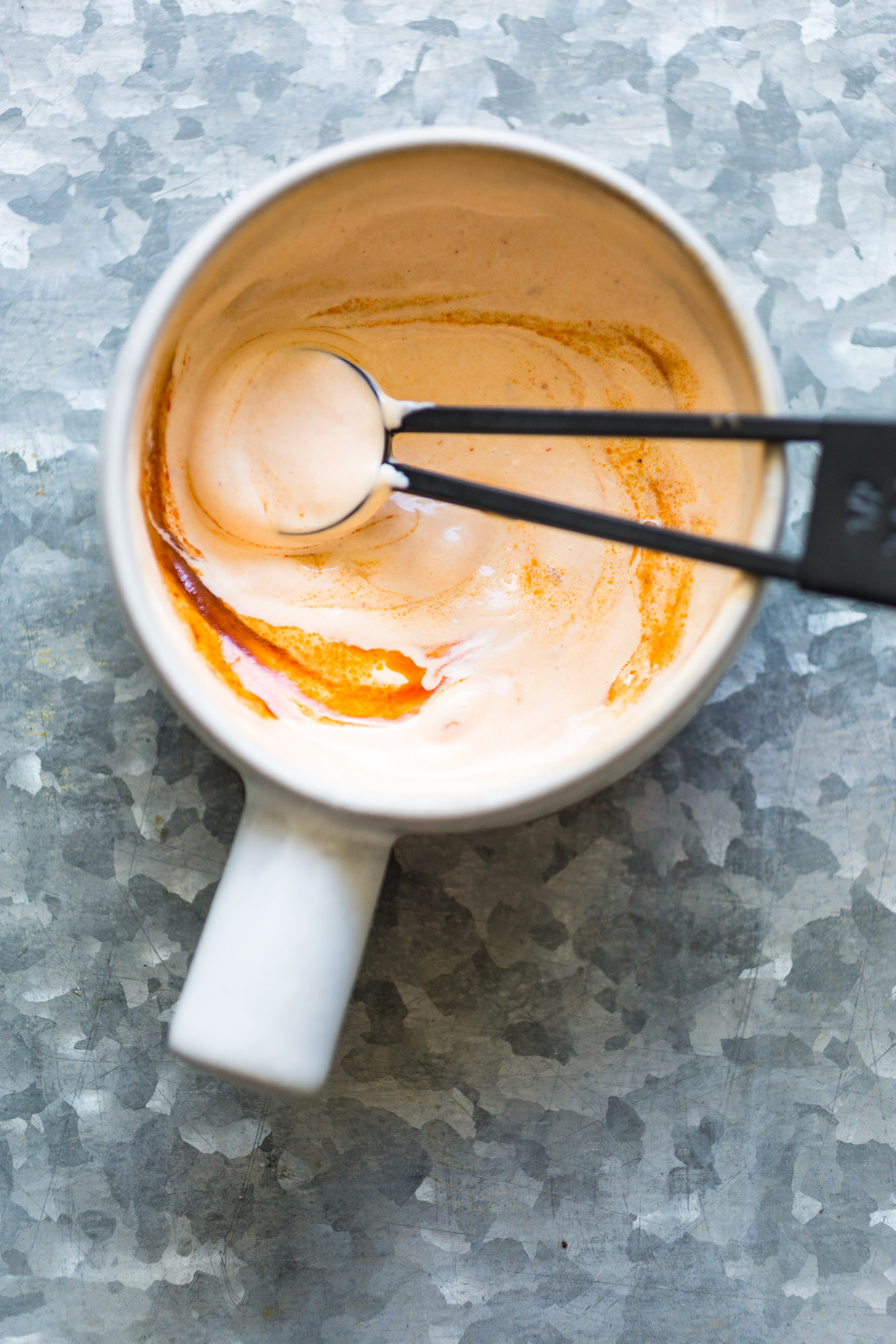 The first thing I whipped up from the book were these Open-Faced Sweet Potato Tortas and they were so so so good. The protein-packed beans were the perfect foundation for the hearty sweet potatoes, fatty avocado, and tangy quick pickled onions. I took a few creative liberties by adding some pickled mustard seeds (which I've been keeping on hand for weekly sandwiches), used the greens I had in my fridge instead of arugula, and added cherry tomatoes because (again) I had them on hand. The other thing that really makes these tortas is the creamy chipotle mayo – I made a double batch and dipped the leftover sweet potato rounds in them for a seriously addictive side. So freaking good! I made these for lunch over the weekend but I'm definitely going to add them to my weeknight dinner rotation.
I haven't explored too many other recipes from the book just yet but I'm excited to try out the Evergreen Frittata, Chilaquiles, and the Watermelon-Lime Aqua Fresca (when it gets warmer). If you are looking to expand your weeknight meal options, get this book!
Also, make sure you are following me on Instagram as I'll be giving away a copy of The Minimalist Kitchen soon!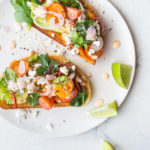 Open-Faced Sweet Potato Tortas
Serving this Sweet Potato Open-faced allows you to see the array of colorful veggies piled high on the crusty bread. This is a perfect vegetarian lunch or dinner option.

Ingredients
Quick-Pickled Red Onions
3/4

cup

water

1/2

cup

white distilled vinegar

2

tsp

granulated sugar

1

tsp

kosher salt

1/8

tsp

peppercorns

3/4

cup

thinly sliced red onions
Filling
1

cup

refried beans

1 1/2

pounds

sweet potatoes

cut into 1/4 inch thick slices

1

tsp

cornstarch

1/2

tsp

kosher salt

1/2

tsp

ground cumin

1/8

tsp

cayenne pepper

1

clove garlic

minced

2

Tbsp

olive oil
Chipotle Mayo
1

tsp

pureed chipotles in adobo

1/4

cup

mayonnaise
Tortas
4

slices

crusty bakery bread

1

cup

arugula or other leafy greens

1

sliced

avocado

1

lime

cut into wedges

2

Tbsp

chopped fresh cilantro

Sprinkle of Cotija

additional optional toppings: tomato pieces or pickled mustard seeds
Instructions
For the quick pickled red onions:
Bring water to a boil in a small saucepan. In a pint sized ball jar or small glass bowl, add vinegar, sugar, salt, and peppercorn. Add boiling water to vinegar mixture and stir until the sugar is dissolved. Submerge the onions in the pickling solution and let sit for at least 30 minutes.

For the sweet potato rounds:
Preheat oven to 450 degrees and line a baking sheet with parchment paper. In a medium bowl, toss the cornstarch, salt, cumin, cayenne, and garlic. Whisk in the olive oil until a paste forms. Toss in sweet potatoes until evenly coated and transfer to the baking sheet in a single layer. Bake for 25 minutes, flipping halfway through. Remove from oven and set aside.

For the chipotle mayo:
Whisk together the pureed adobe and mayonnaise until completely combined.

To assemble:
Lightly toast the bread and then spread a 1/4 cup beans onto a slice of bread and then top with sweet potatoes, greens, avocado, squirt of lime juice, cilantro, cheese, tomatoes (if using), pickled red onions, and mustard seeds (if using). Drizzle with mayo and season with black pepper. Repeat with remaining pieces of bread. Serve right away.