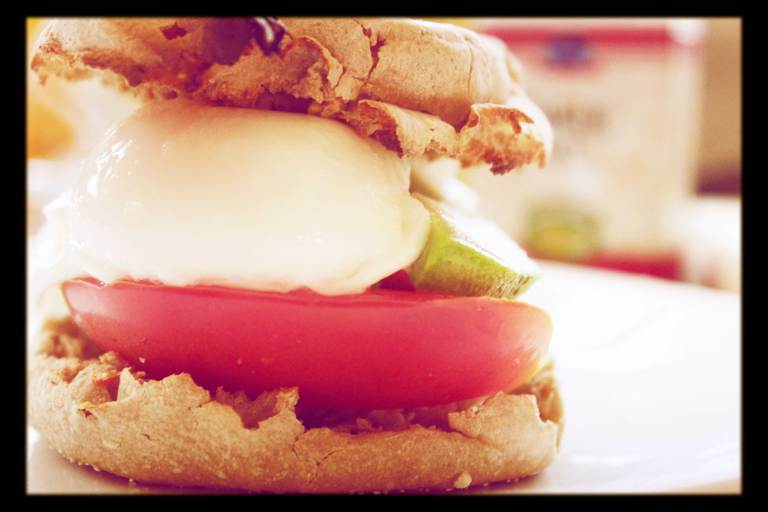 I get it. I totally know what you are thinking. You can't believe that I am posting about these HUGE breakfast sandwich topped with GRAVY while everyone is all excited about their breakfast juicers and green smoothies. And yeah, both those things will be much much healthier for you. Hell, that is what I usually consume for breakfast (although, I have not gotten my juice out yet this year- can't wait though!).
Here is the problem with that… I LOOOVE breakfast/brunch food. It's the best food genre ever to exist. So since I limit myself to healthy energy boosters in the morning, sometimes I like to splurge for dinner. And eating this ridiculously delicious sandwich for dinner hit the spot. I highly recommend you to transform your indulgent breakfast ideas into dinner plans. It's super fun to mix things up!
Also, this was extra exciting for me to make because it's the first time I've ever poached an egg. I know, crazy! I've managed to tackle homemade cheese and DIY pierogies but have never poached an egg… ridiculous, I know. Glad to say it was super easy and I am rather sad that I didn't tackle poached eggs sooner. Lastly, the gravy is vegan but obviously the egg is not. Feel free to make it vegan by omitting the egg or substituting with tofu.
Breakfast Sandwich
For Two
2 eggs, poached
2 English muffins
1 avocado, sliced
1 tomato, large slices
Peppered Sage Gravy:
1/4 cup flour
3 Tablespoons nutritional yeast
2 cups almond milk (or regular)
4 fresh sage leaves, finely chopped
1 teaspoon salt
1 teaspoon pepper
1 Tablespoon butter
To poach the eggs: Bring a small saucepan of water to a slight boil. Add a dash of vinegar and put the egg in a small bowl. Drop the egg into the water and turn off the heat immediately. Let sit for 4 minutes in the water and scoop out with a spoon.
To make the gravy:
In a large skillet, whisk the flour, nutritional yeast, and milk together. Once it is a smooth consistency, add all the spices. Place the skillet over medium heat and bring to a simmer. Next, add in the butter and reduce to medium low. This is when you recruit someone to continuously stir the gravy while you start prepping the scramble. Cook the gravy until it is thick and feel free to add more salt/pepper.
Assemble: Toast the muffin. top with butter, tomato, avocado, poached egg, muffin top, and then lather in gravvvvvvyyy. (or as my boyfriend says…"ride the gravy train"…although that has nothing to do with it).