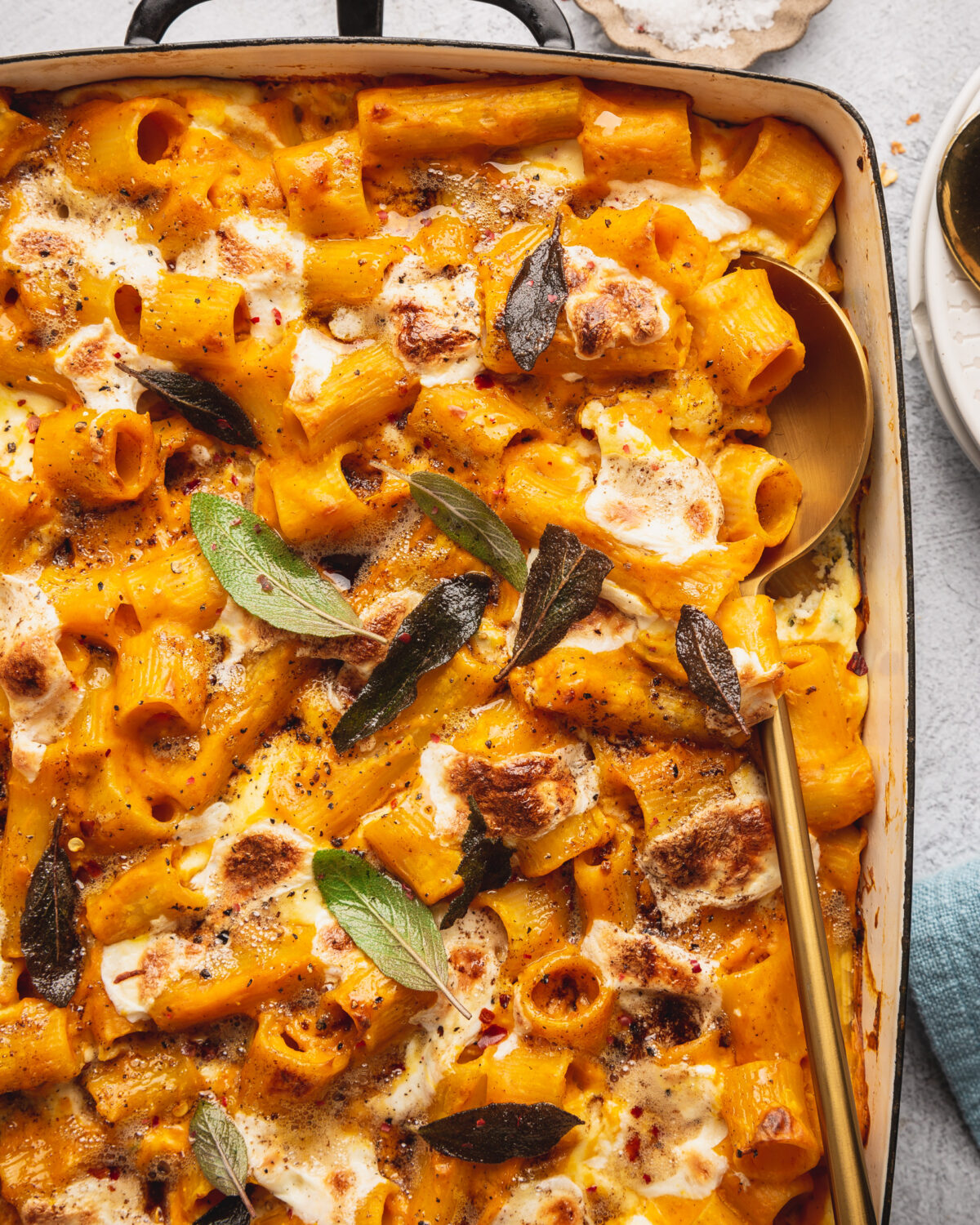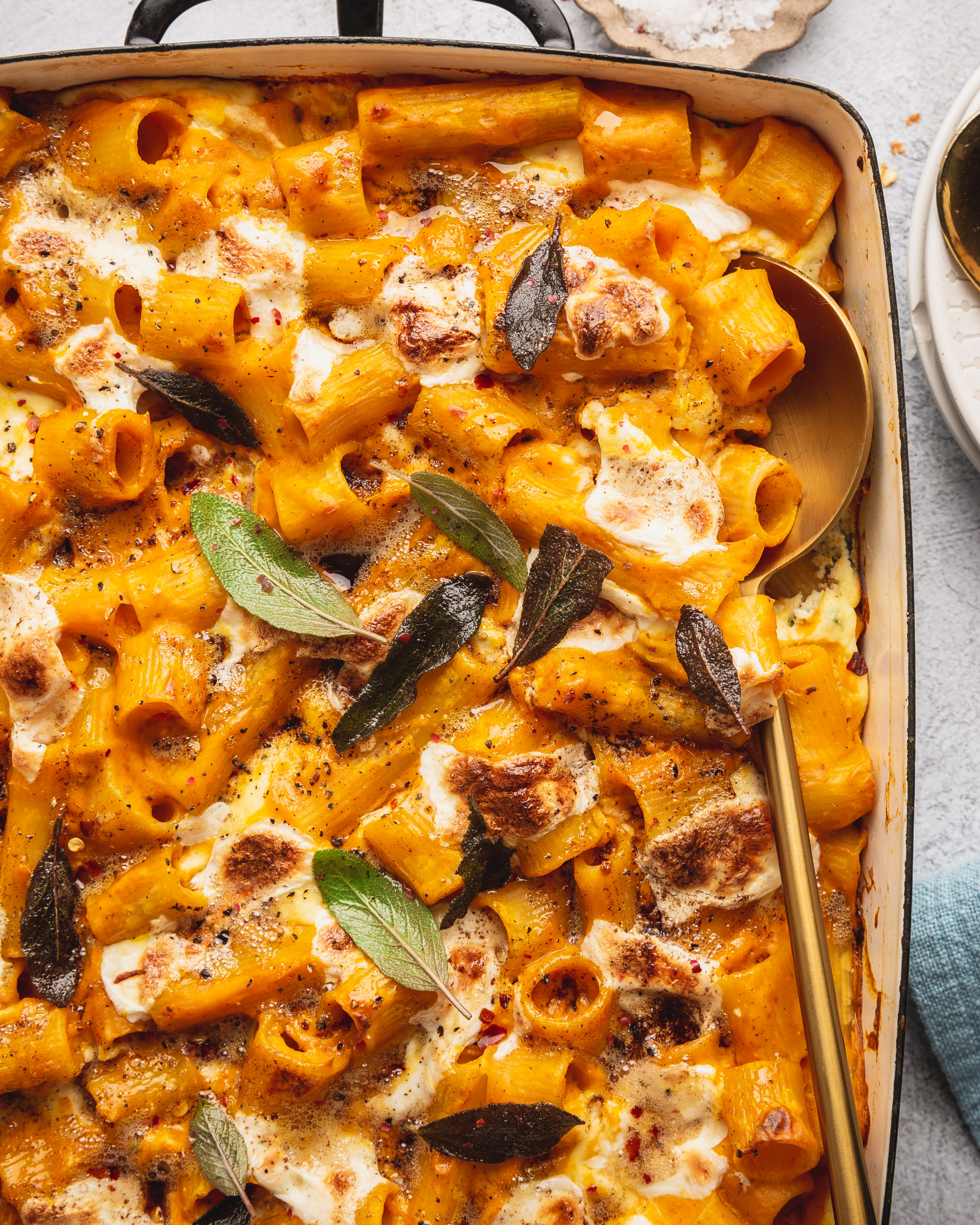 Vegetarian Baked Pumpkin Pasta with Crispy Sage and Ricotta
This Vegetarian Baked Pumpkin Pasta with Crispy Sage & Ricotta is the ultimate comfort fall food when you are craving something cheesy and carb-y.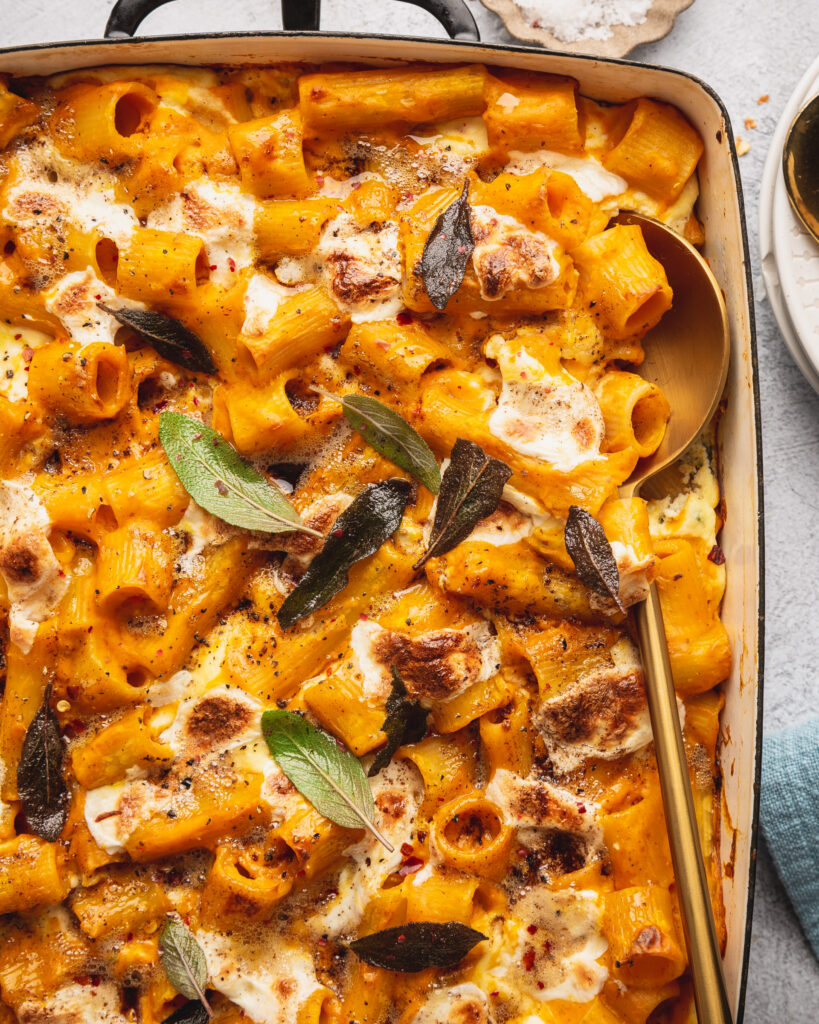 Comfort cooking is in full swing in my household and I couldn't be happier! Although I have a vegan pasta bake with similar flavors to this already on my site, I also wanted to develop one for my vegetarian friends who sometimes you really just want a big bowl of cheese-y pasta. I kept this simple as I wanted to serve it with a side salad but you could bulk this bake up even more by adding in some chopped kale or slices of vegetarian sausage (my vote would be for this sage flavored one).
To make this bake, you'll first cook the pasta according to the package direction. Meanwhile, you'll create a béchamel sauce on the stove-top (which may sound fancy but it's the same method you use to make homemade macaroni and cheese so I promise it's not complicated!). From there you fold in pumpkin puree, some spices, and pasta and then layer it all in a dish with mozzarella and a ricotta mixture. Then you pop it in the oven to warm up and brown some butter on the stove while the bake warms. Finally you drizzle the brown butter over the pasta and serve!
I made this vegetarian baked pumpkin pasta for just Wyatt and I and we were able to eat it for a few meals throughout the week (it makes great leftovers!) but this would also be perfect as an easy weeknight meal for a family of 4-10 (I'd say you could easily get 8-10 servings out of it) or as a vegetarian main dish for a special occasion like Thanksgiving.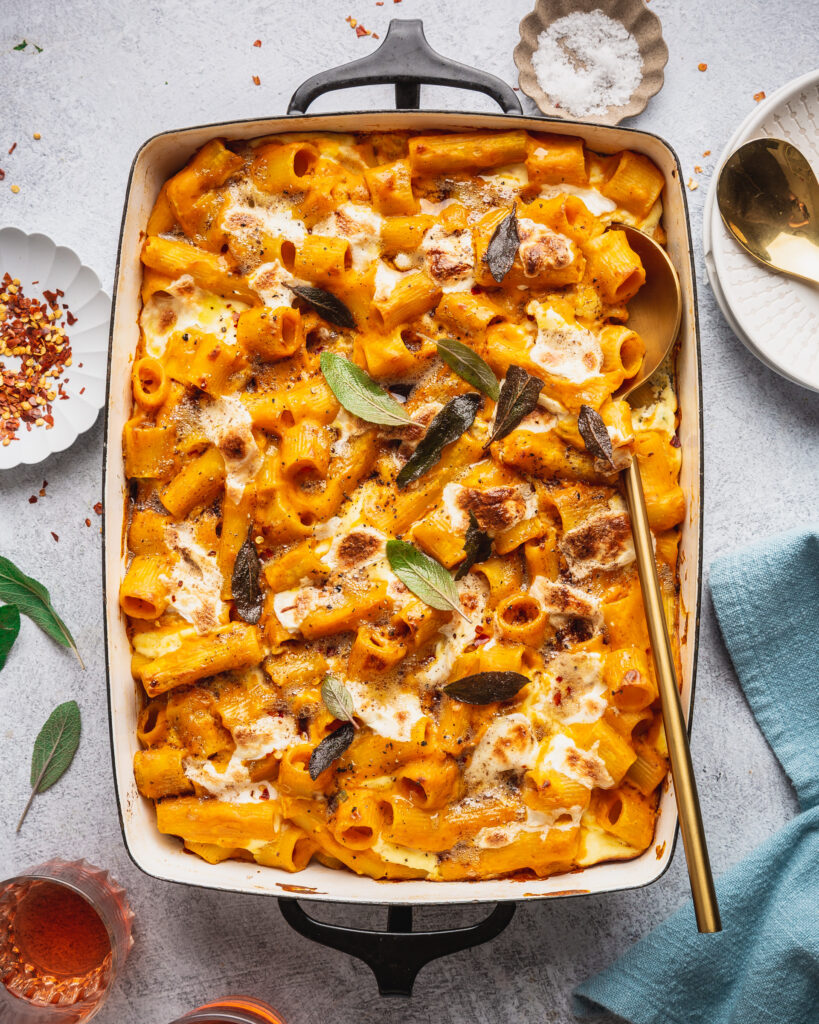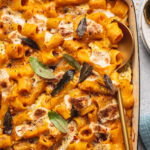 Vegetarian Baked Pumpkin Pasta with Crispy Sage & Ricotta
This Vegetarian Baked Pumpkin Pasta with Crispy Sage & Ricotta is the ultimate comfort fall food when you are craving something cheesy and carb-y.
Ingredients
1

pound

pasta (such as ziti, rigatoni, etc)
For the pumpkin sauce:
4

Tbsp

unsalted butter

4

Tbsp

all-purpose flour

3

cups

whole milk

2

tsp

brown sugar

1/2

tsp

ground nutmeg

1/2

tsp

salt

1

15 oz

can of pumpkin puree (make sure the only ingredient is pumpkin and no added spices!)
For everything else:
15

oz

ricotta

2

large eggs

1/2

tsp

salt

1/4

tsp

ground black pepper

3

garlic cloves,

minced

2

Tbsp

chopped fresh sage + 10 whole leaves,

divided

8

oz

mozzarella,

torn into small pieces or shredded

2

Tbsp

unsalted butter

red pepper flakes (optional),

to serve
Instructions
Bring a large stockpot of salted water to a boil over high heat. Cook the pasta just shy for a minute or two from what the directions say on the package (it'll finish cooking in the oven). Drain and set aside.

Preheat oven to 375 degrees and grease a 13×9 inch baking pan.

In a large saucepan over medium heat, melt 4 Tbsp butter and then whisk the 4 Tbsp all-purpose flour into the butter until a thick paste as formed. While whisking, slowly pour the milk into the mixture so that the butter mixture gets incorporated into the milk. Cook for about 10 minutes, stirring often, or until the mix has thickened enough that it coats the pack of a spoon. Remove from heat and stir in the brown sugar, nutmeg, 1/2 tsp salt, and pumpkin puree. Pour the cooked pasta into the pumpkin sauce and stir until coated (alternatively, if your saucepan isn't big enough, pour into a large mixing bowl and toss until all the pasta is coated).

In a medium mixing bowl, whisk together the ricotta, large eggs, 1/2 tsp salt, 1/4 tsp black pepper, minced garlic, and 2 Tbsp chopped sage.

Pour about 1/3 of the pumpkin pasta mixture into your prepared baking dish and smooth out into an even layer (no need to be exact). Using about half of the ricotta mixture, place large dollops of the mixture over the pumpkin pasta and then top with half of the torn mozzarella. Layer another 1/3 of the pumpkin pasta over that and top with remaining ricotta. Add the final layer of pumpkin pasta and finish with the remaining mozzarella.

Bake for 25 to 30 minutes or until the top is starting to brown.

Meanwhile, in a small skillet, heat the remaining 2 Tbsp unsalted butter over medium heat for a few minutes until brown specks start to form. Add the sage leaves and let them fry for 30 seconds or until just starting to turn dark. Remove from heat.

While the bake is still warm, pour the brown butter and sage over the top of the bake and serve. Feel free to sprinkle red pepper flakes on the top if you'd like a little extra heat.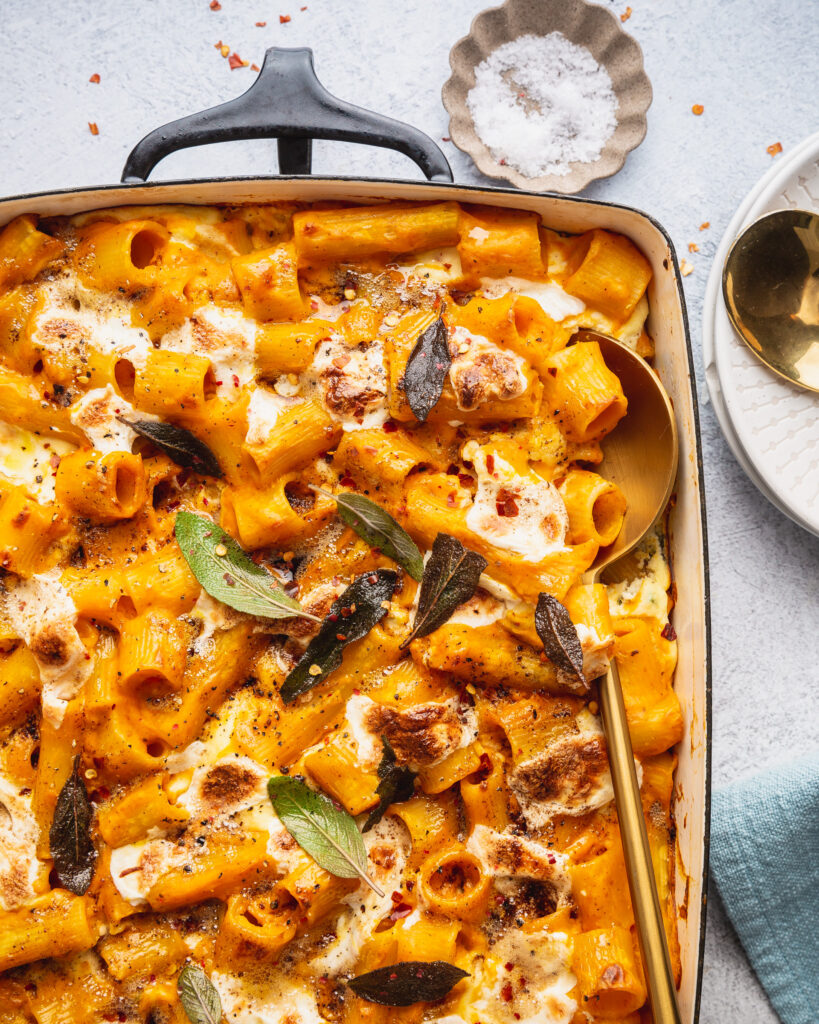 Make sure to tag Vegetarian 'Ventures on Instagram and use #vegetarianventures when trying this dish out!