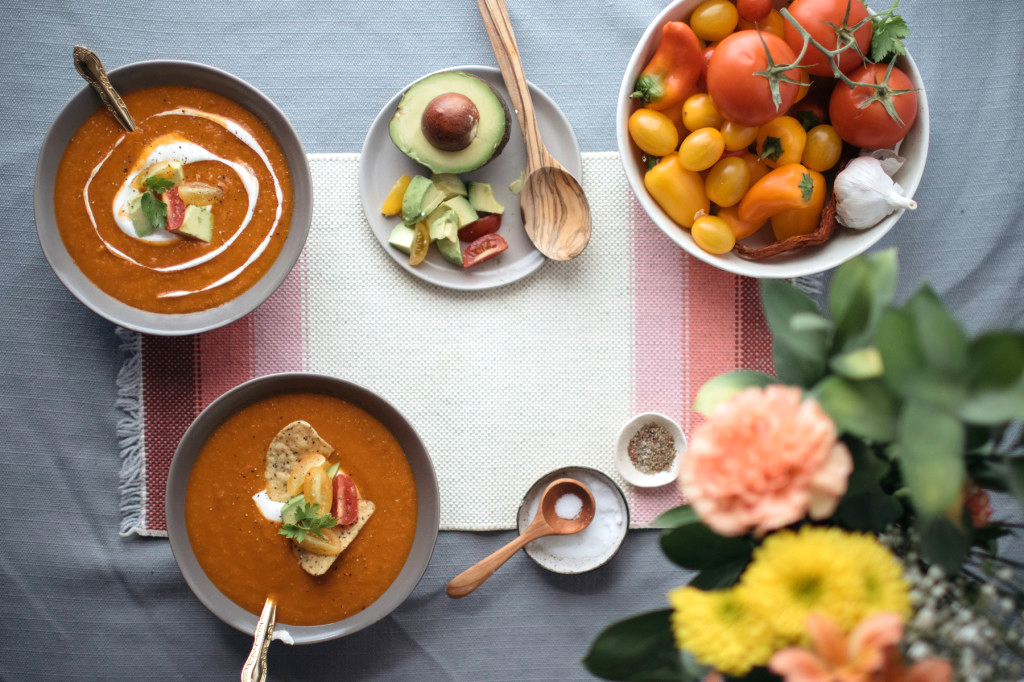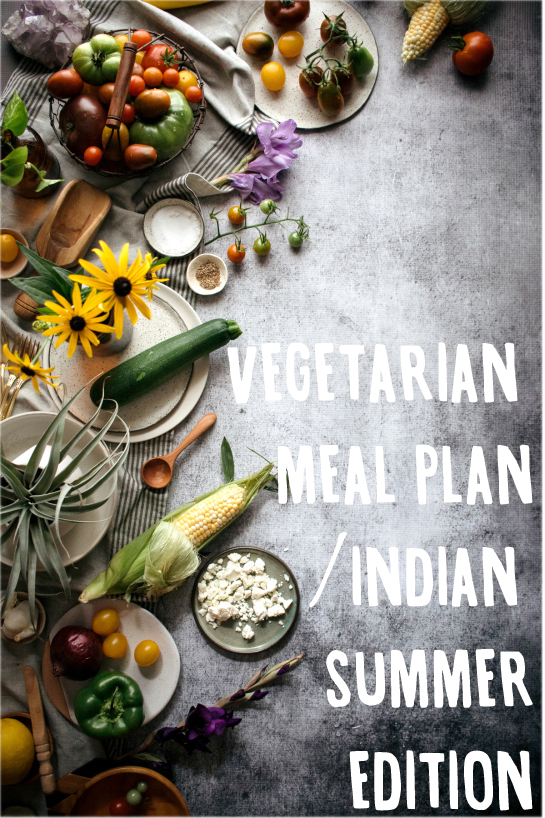 Hey friends! I am starting a new feature today that will be either weekly or bi-weekly (not looking to make any promises because I'm a heart breaker and often times get scattered and don't follow through on weekly tasks).
The feature was sparked by that pesky question I still get asked often, "What do you eat as a vegetarian?", despite having 4+ years of vegetarian recipes documented on this site. Also, I want this site to be more than just weekly recipe inspirations – I want it to be a resource for people looking to cut back on the meat they consume on a daily basis.
This feature is simple – it's going to be a one stop shop assembling three days of vegetarian meals with the last one being a special topic (this week's is fall feasting). Why three days instead of seven, you ask? Because let's be real – what is the fun in having every single meal planned out for every single day? This feature is meant to be a starting point to help you begin to get creative with planning out vegetarian meals in your own kitchen. Use these three days of meals as a guide for figuring out what you do and don't like (because we all know that we won't continue on with a lifestyle if we can't stand it. Don't like beets? Don't cook with them!). Also, I give a dessert option with each day but you obviously don't need to be making sweets everyday (unless you want to and if that is the case, all I have to say is treat yo self!) – treat those suggestions and pick out one or two favorites for the week.
Still with me? Cool! Let's start:
MONDAY OR TUESDAY: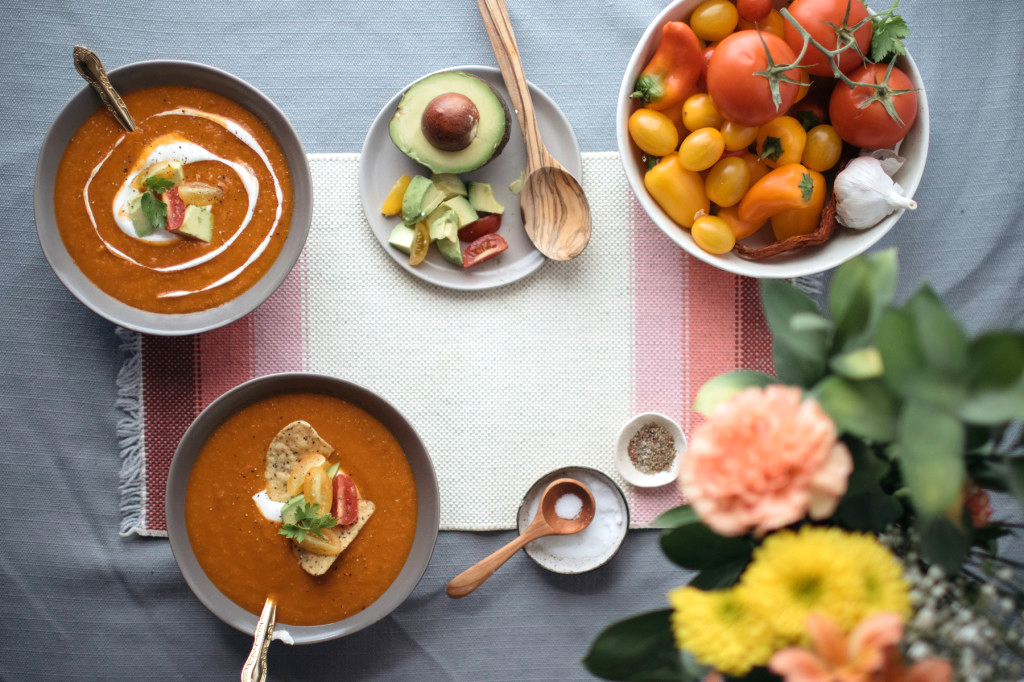 Breakfast – Maple Crumb Donuts / Healthy enough for breakfast and delicious enough to become a regular in your morning routine.
Lunch – Smoky Tortilla Soup / Tomato season is coming to an abrupt end so let's devour as many as we can before they are gone from the vines for another 10 months!
Snack – Caramelized + Roasted Eggplant Hummus With Parsley / Can we talk about how homemade hummus is the best thing you could ever eat or make? This recipe is perfect proof of that!
Dinner – eggplant meatballs with za'atar and kale pesto / Eggplants are about to go out of fashion (season) for another three seasons so get your fix in now!
Dessert – Raspberry-Almond Blondies / Everyone is already obsessed with apple picking but did you know it's also raspberry season here in the Midwest? Get 'em while they are fresh because they are a mushy mess the rest of the year!
WEDNESDAY OR THURSDAY: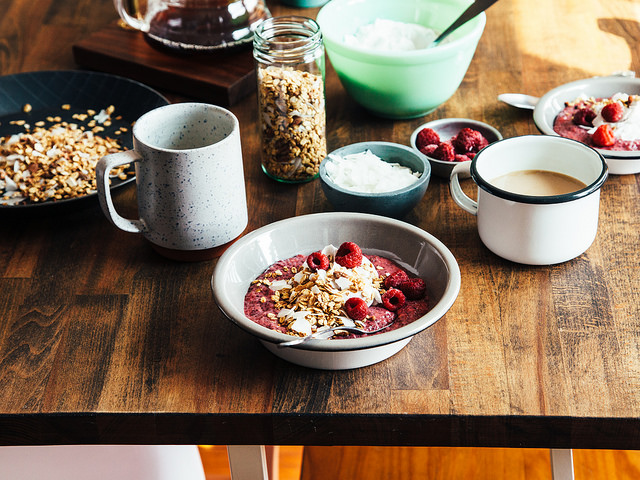 Breakfast – Overnight Chia Pudding With The Works / I'm not a morning person so I'm a sucker for recipes that allow you to do 90% of the work the night before.
Lunch – Vegan Cobb Salad With Coconut Bacon / Because I'm obsessed with coconut bacon and you should be too.
Snack –  Zucchini Refrigerator Pickles / who doesn't need a little zesty kick in their afternoon?
Dinner – Garden Tart With Roasted Red Pepper & Feta Spread / Perfect way to use up any leftover garden veggies!
Dessert – Hibscus Watermelon Granita With Ginger & Lime /
FRIDAY (Indian Summer – let's eat up that summer bounty before it's too late!):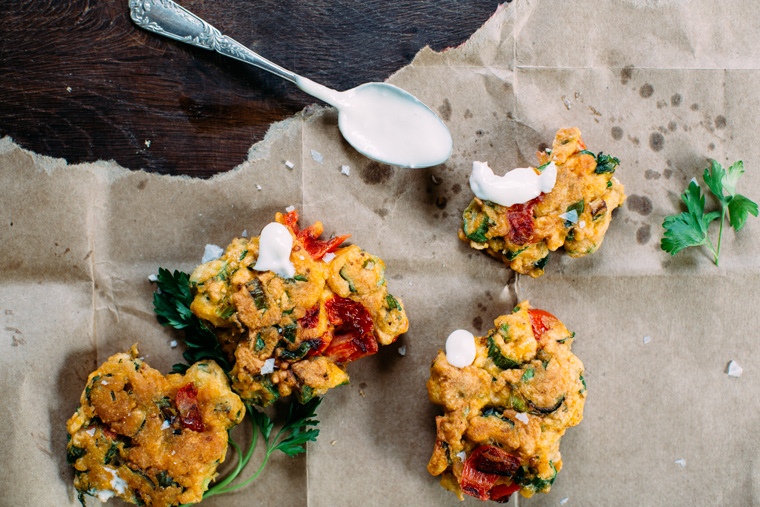 Breakfast – Summer Squash + Banana Loaf // No better way to hide your vegetables than in a deliciously moist loaf of sweet bread!
Lunch – Open Faced Heirloom Sandwich
Snack – Watermelon + Feta Bites / The simplest sweet and salty snack to get you through the afternoon!
Dinner – Tomato + Okra Corn Cakes with Roasted Garlic Aïoli // You'll still probably have tomatoes leftover from the Heirloom lunch sandwich so this recipe is the perfect way to use them up!
Dessert –  Strawberry + Watermelon Rosé Popsicles / Because boozy dessert is always a good idea on a Friday night!
Feel free to mix and match these recipes or spread them out over a whole week's worth of delicious eating!
Photo credit (in order they appear): 1 & 2. Vegetarian Ventures / 3. Oh, Ladycakes / 4. Earthy Feast