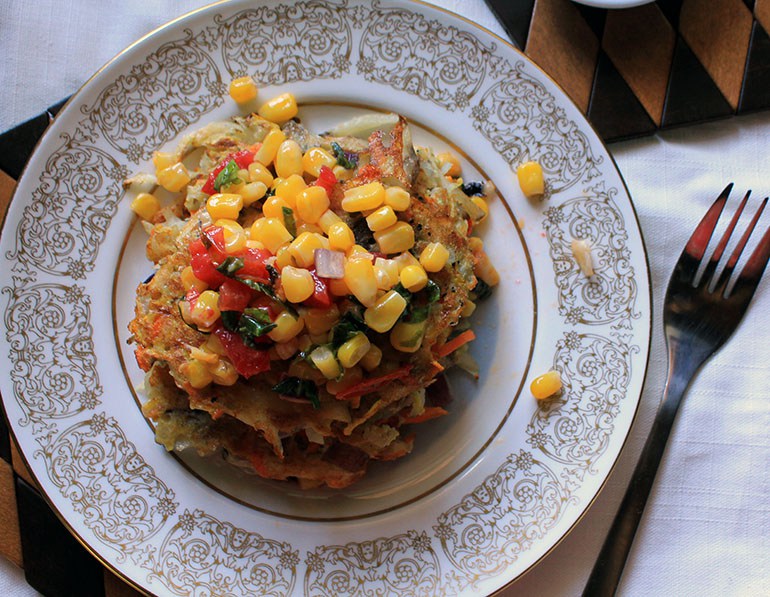 Veggie Fritters with Tomato-Corn Relish
This has been a very stressful Friday. Wyatt and I were suppose to go camping last weekend for my birthday but the weather forecast had other plans for us (in the form of lazy days consisting of DIY projects and Game of Thrones). Although our weekend ended up different from we had planned…it was still fantastic. Plus, we figured we would just try camping again this weekend. So as of Monday, we were thinking we would go camping this weekend. And then Thursday rolled around and no planning still had been done. And when we realized this…we decided it was just too much work to try to bother with. And then we packed the car today on our lunch break. And then on the way back to work from our lunch break we discussed maybe not going. So now…it's an hour until Wyatt gets off work and we will have no idea if we are going away for the weekend or not. Ah well…either way, it was be a spontaneous adventure or a productive weekend at home..both win, wins!
Anyhow, as a way to avoid thinking about the inevitable "no, you pick" conversation that is in my very near future, I am going to write to you guys about these delicious veggie fritters I whipped up for dinner the other night. These were a great way to use up a bunch of produce I had in my CSA box and I was able to only fried up half the batch (which was the perfect amount for two) and saved the rest for the next day.
We ate these as a main course but these would be great as an appetizer if you are having a party!
Veggie Fritters with Tomato- Corn Relish
Veggie Fritters:
2 russet potatoes, grated
2 large carrots, grated
1 large zucchini, grated
1 cup onion, chopped
1/4 cup all purpose flour
3 garlic cloves, minced
2 large eggs, light beaten
For the Relish:
3 cups corn
1 1/2 cups chopped tomato
1/2 cup chopped fresh basil
1/4 cup chopped onion
3 teaspoons olive oil
1 garlic clove, minced
salt/pepper
To make the relish: Mix all ingredients in a bowl and refrigerate until ready to use (make sure to do this first so that it has time to absorb all the flavors).
Wrap a towel around the grated potato, carrots, and zucchini and squeeze out any excess water. Transfer vegetables to a bowl and add in the onion, flour, eggs, and garlic. Season with salt and pepper.
Heat a tablespoon of olive oil in a large skillet over medium. Use a 1/4 cup measure to scoop patties onto skillet. Cook for 3 to 4 minutes on each side (or until browned). Remove from skillet and let drain on paper towel while you prepare the rest of the mixture.
Serve with delicious relish on top!