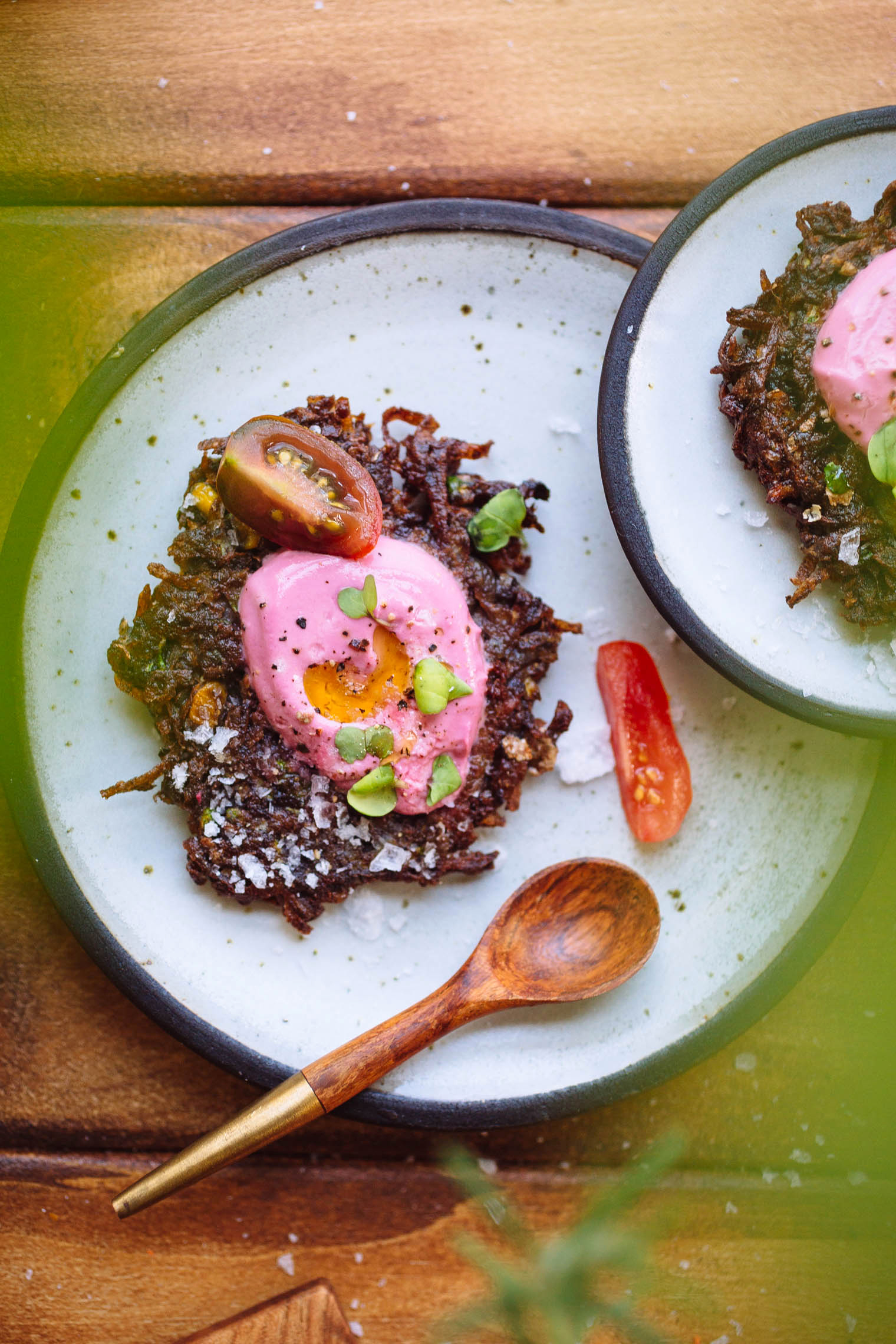 Purple Corn Veggie Fritters
In a hurry? Click here to JUMP TO RECIPE!
This Purple Corn Veggie Fritters recipe is so easy to make for weeknight dinner and can be altered to fit whatever ingredients you may already have on hand.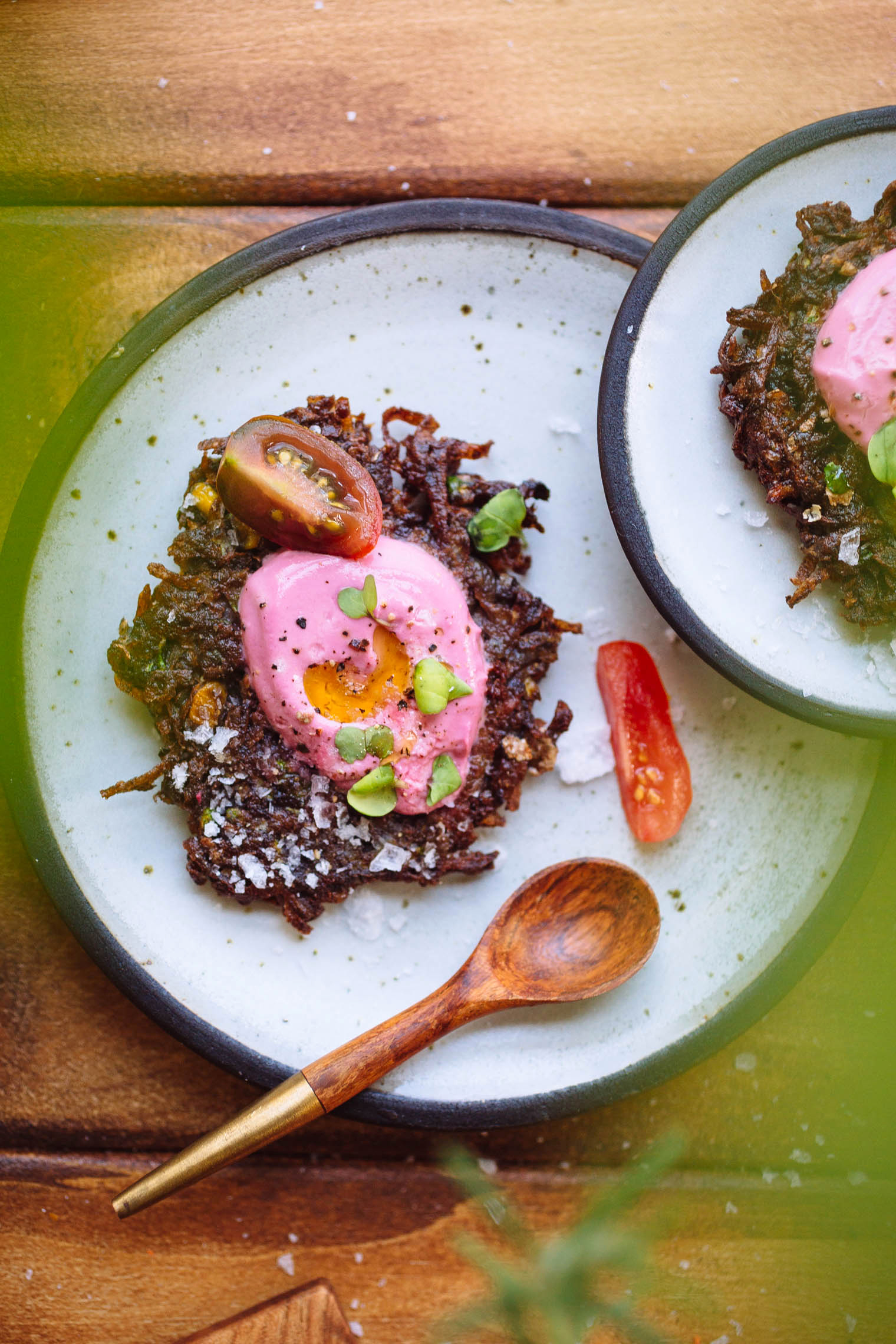 Checking in today before I start a rather exciting day. Today my copies of Vegetarian Heartland are supposed to come in the mail and I am beyond excited / gitty / reaalllllly nervous. I've day dreamed about the moment I would get to hold my own book in my hands for years and yet that day is finally here. What if it's not everything I want it to be? What if I cry in front of the mailman? What if it's perfect?
Another thing on the schedule today is a photoshoot for a local newspaper. I hate being photographed – I'm not good at it. I'm awkward. I have this weird wimpy chin that translates terribly in photos. I can't figure out how to smile with my eyes without having crazy eyes. For a photographer who has so much control over her food photos, I can't handle being in front of the camera. Any tips? Is covering my face with a cookie an acceptable pose?
Anyhow, let's talk about something else while I impatiently wait for the post to come. Living in a small city (large town?) has it's advantages – you can get anywhere in town within 15 minutes and almost everything is in walking distance. The cost of living is much more manageable than a big city but, as someone who freelances online, I can still charge similar rates. The "daily commute" is basically non-existent with most people walking a few minutes to work or hopping in the car for a 2 minute ride. It's all actually almost pretty perfect.
The downside? You aren't going to have Bon Appetit covering your local restaurants and you aren't going to be taken as seriously at first as an 'Indiana based photographer' (doesn't quite have the same sound as a 'New York based photographer', does it now?). And probably the biggest issue for a food writer / cooking fanatic, you aren't going to be able to hop on a train in hunt of that special ingredient needed for that new recipe you've been dying to try.
Luckily for me (and anyone else in smaller cities / towns), I was recently filled in on a site called Nuts.com. It's more than just nuts with literally hundreds (thousands?) of ingredients ranging from nuts to dried fruit to flours to almost any pantry staple you could think of. It's kind of amazing and once I started talking to people around town about it, it sounds like everyone is using it already for those hard to find ingredients BUT me. Where have I been? Organic wheatberries? Check. Blue cornmeal? check. Fancy fruit powders? Check. Any kind of flour you could ever think of? Check.
With this discovery, I naturally decided to partner up with them for today's post. They generously sent me a pantry box full of options and I settled on using blue corn flour, sea salt, and their crazy awesome beet powder for this post. I didn't include beet powder in the actual recipe below just because my favorite part about these veggie fritters is that they can usually be whipped up with whatever you already have on hand. I didn't want anyone to feel like they HAD to seek out beet powder in order to make these fritters so I am just going to talk about it here. If you are lucky enough to have beet powder on hand (or want to buy some) then just mix a teaspoon with 1/2 cup yogurt before topping on these warm fritters.
Purple Corn Veggie Fritters recipe below: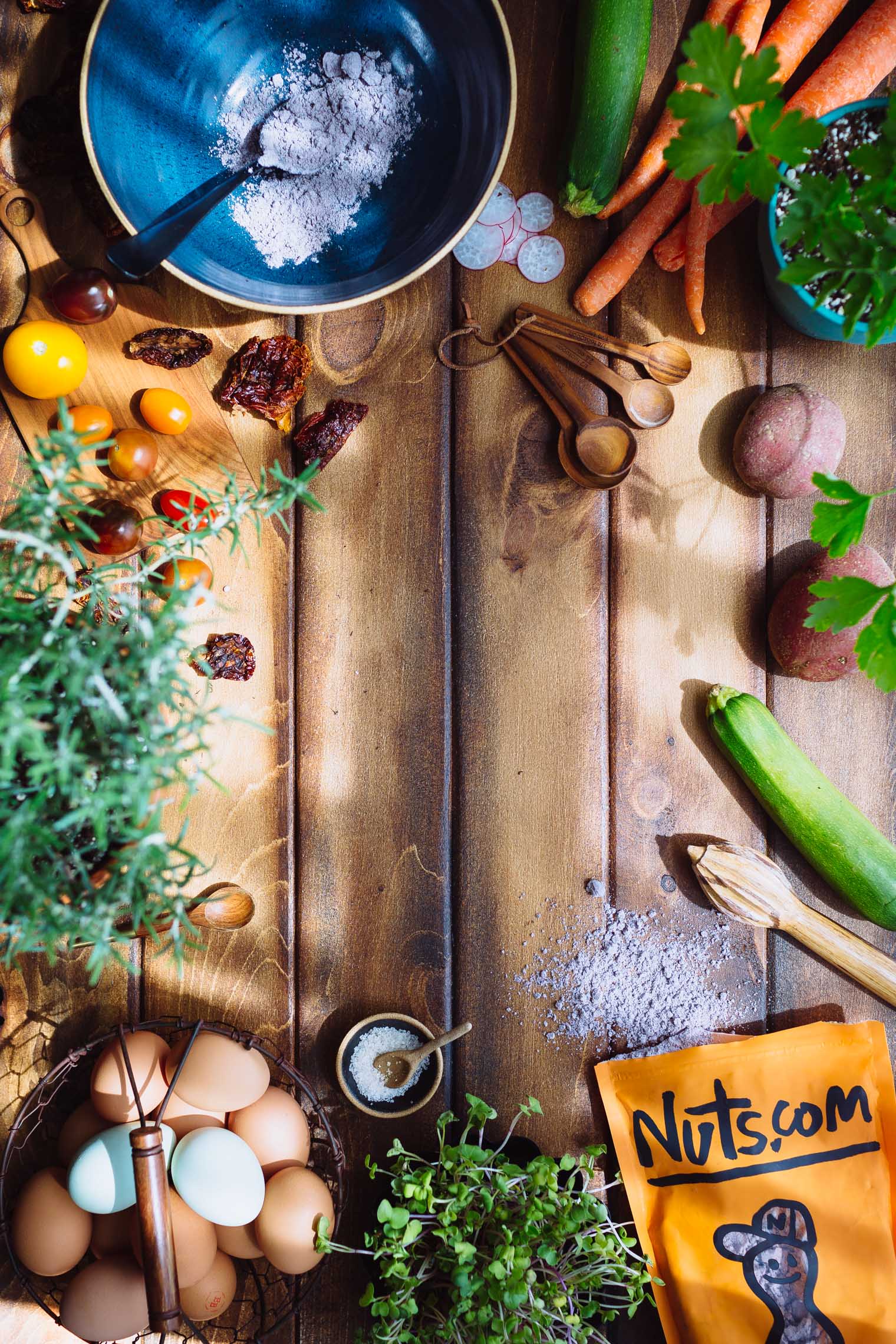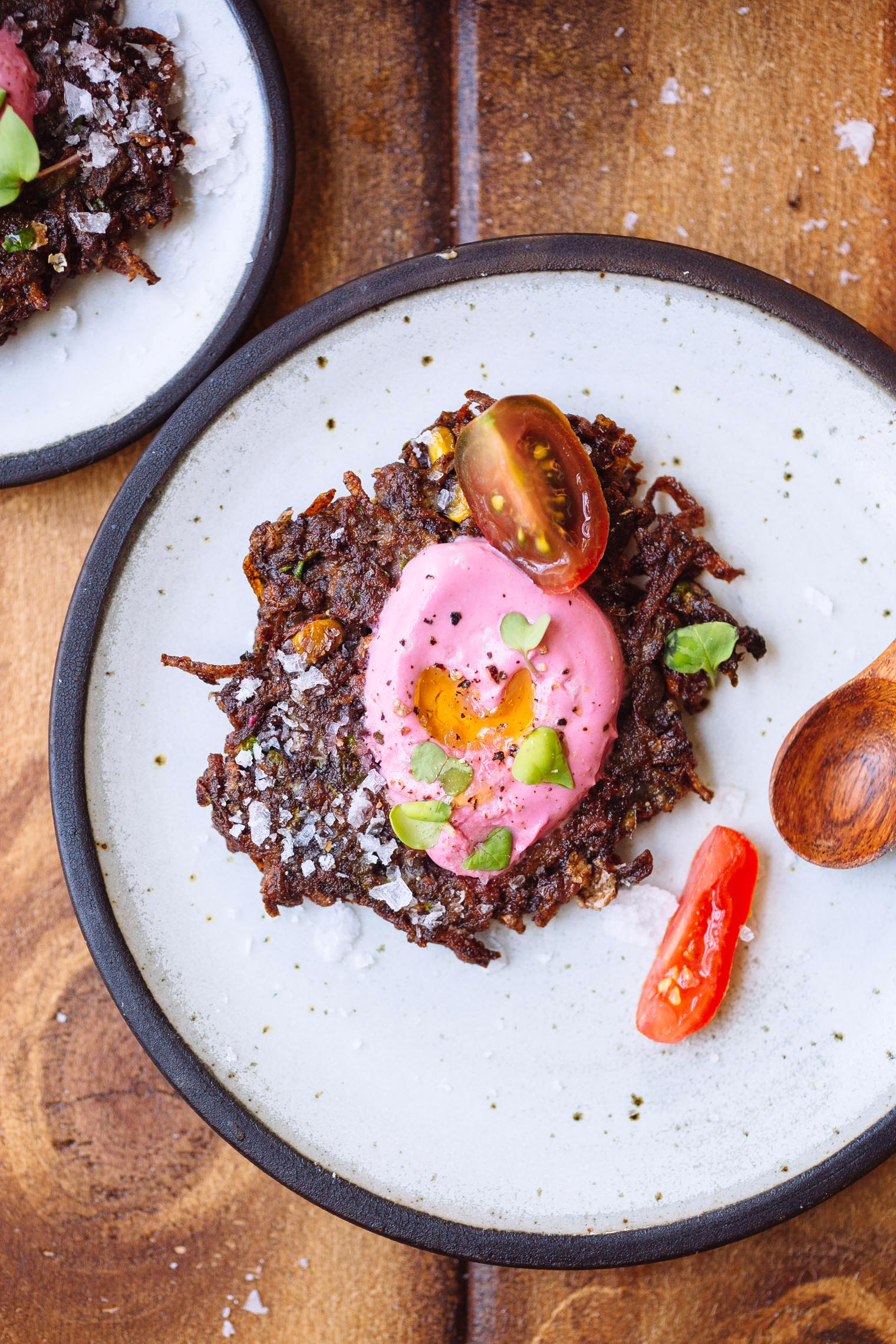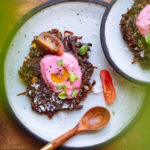 Purple Corn Veggie Fritters
This Purple Corn Veggie Fritters recipe is so easy to make for weeknight dinner and can be altered to fit whatever ingredients you may already have on hand.
Ingredients
2

medium russet or sweet potatoes

, peeled

½

large onion

2

medium carrots

1

cup

frozen corn

¼

cup

purple corn flour

(or cornmeal - I used this one from Nuts.com)

1/2

tsp

smoked paprika

1

tsp

fine sea salt

1

eggs

, lightly beaten

Peanut oil for frying

Topping options: yogurt

, sliced tomatoes, microgreens, fresh herbs
Instructions
On the large holes of a box grater, grate the potatoes, onion, and carrots into a large bowl. Wrap grated vegetables in a clean dishtowel and squeeze out excess liquid.

Transfer back to the large bowl and add the corn, corn flour, smoked paprika and salt and toss to coat. Fold in the eggs until the batter is fully combined.

Heat ½ inch of peanut oil in a small skillet over medium. Once hot, drop batter into pan, ¼ cup at a time, leaving enough room so no patties touch.

Cook for 2 minutes on each side, or until browned and cripsy. Transfer to a paper towel lined plate and repeat with the rest of the batter.

Serve warm with yogurt, fresh tomatoes, and fresh herbs (or micorgreens).
Nutrition Facts
Purple Corn Veggie Fritters
Amount Per Serving
Calories 167
Calories from Fat 9
% Daily Value*
Fat 1g2%
Cholesterol 40mg13%
Sodium 632mg27%
Potassium 693mg20%
Carbohydrates 34g11%
Protein 5g10%
Vitamin A 5280IU106%
Vitamin C 17.9mg22%
Calcium 51mg5%
Iron 4.1mg23%
* Percent Daily Values are based on a 2000 calorie diet.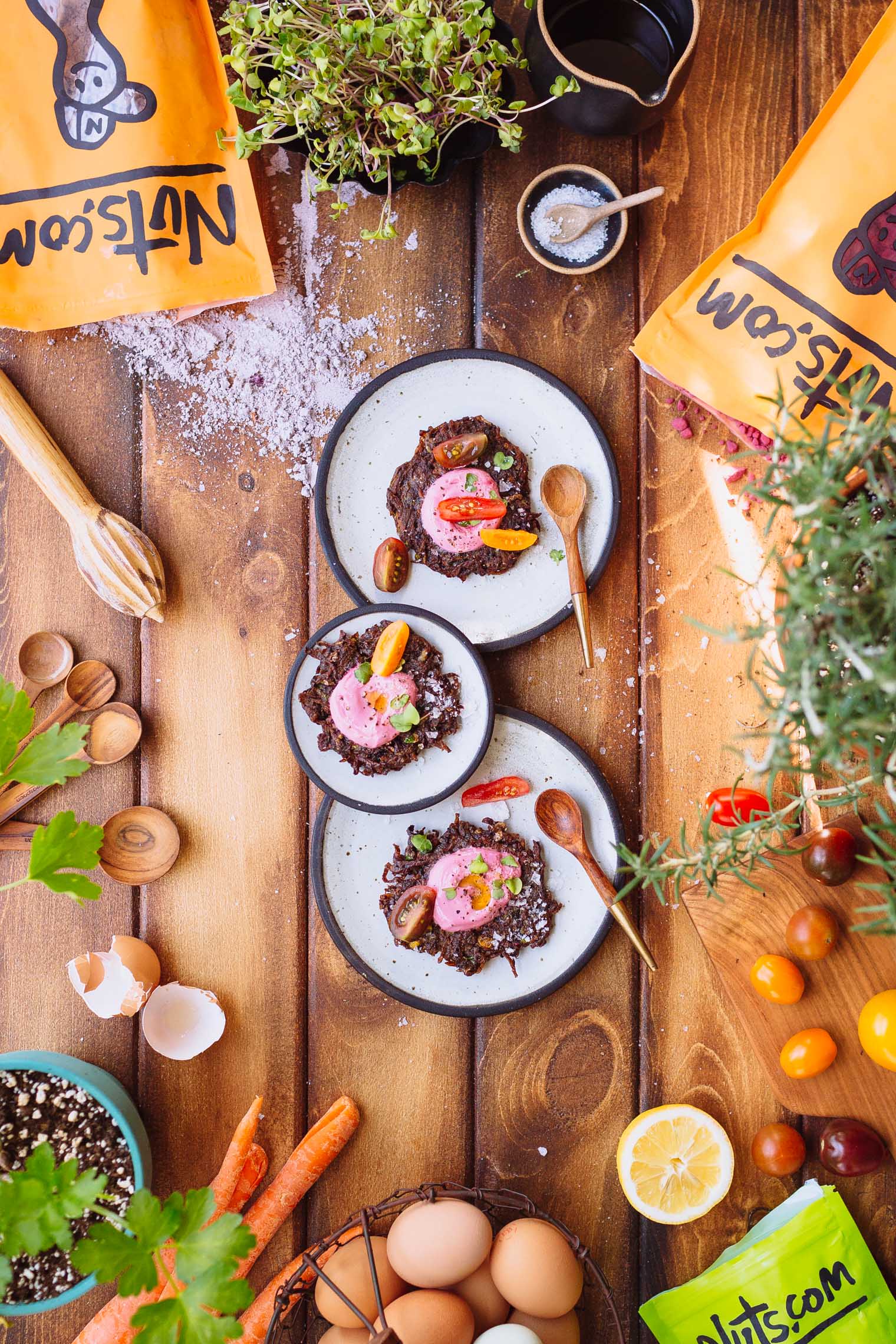 DISCLAIMER: This post was sponsored by Nuts.com but all opinions are, of course, my own. Thank you for supporting the sponsors that make VV possible.