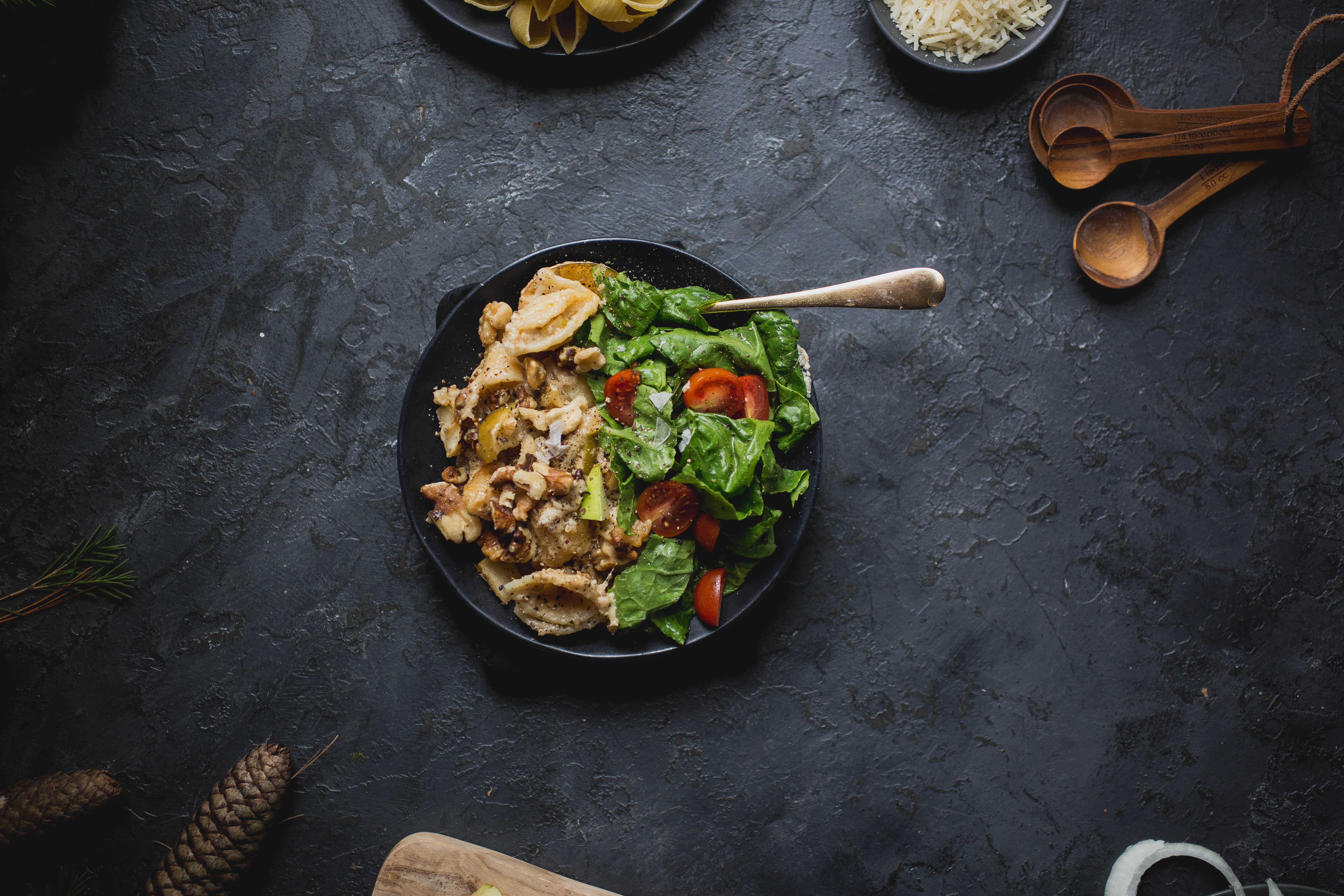 Walnut-Crusted Brie Mac and Cheese with Apples
In a hurry? Click here to JUMP TO RECIPE!
This Walnut-Crusted Brie Mac and Cheese with Apples is the ultimate cheesy, carby, and slightly tart comfort food for chilly fall nights.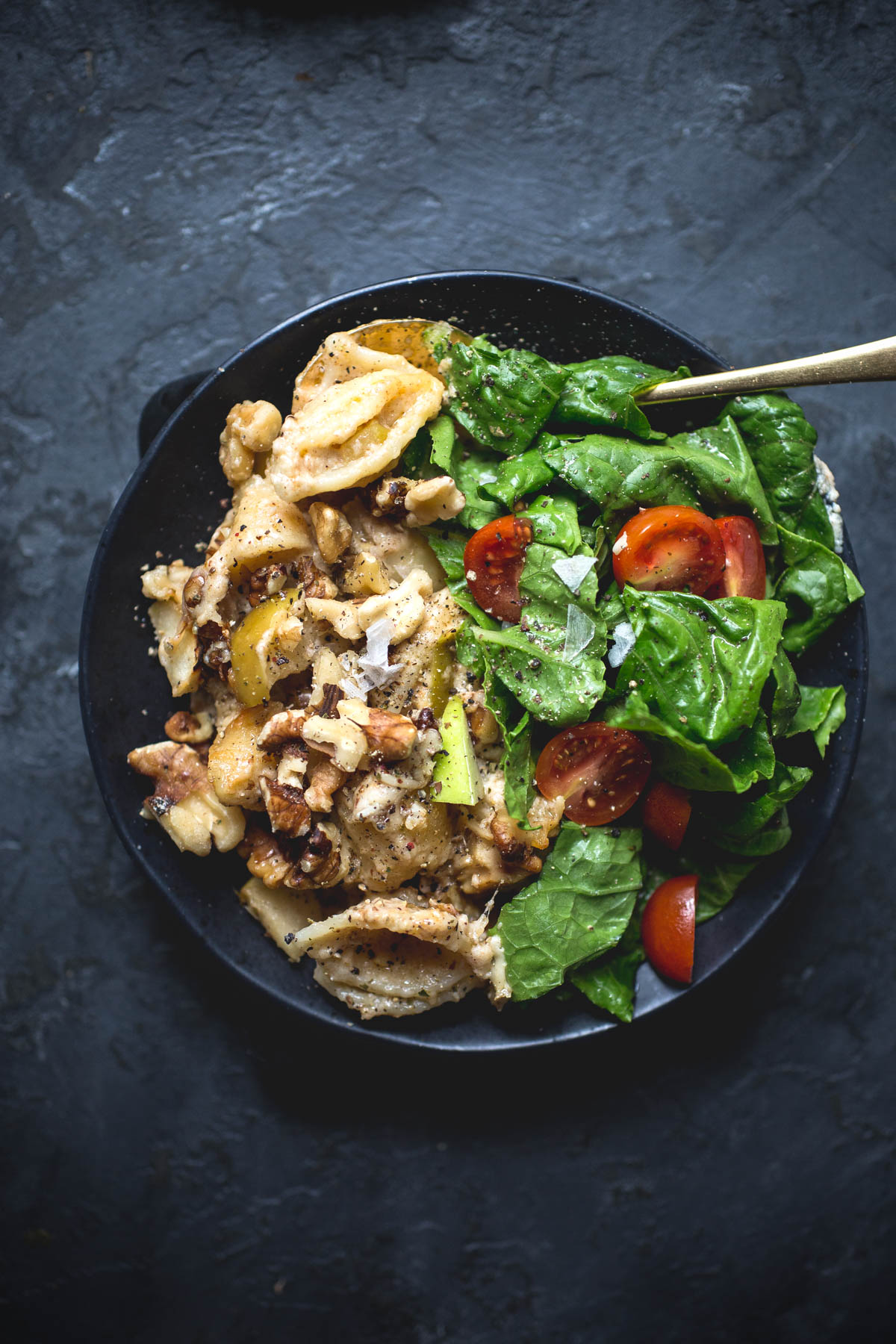 And my accidental fall virtual cookbook tour continues (three cookbook recipes in a row? Promise I have an original recipe coming next week)! This week, I whipped up a cozy comfort recipe for Walnut-Crusted Brie Mac and Cheese with Apples from Molly Yeh's new cookbook, Molly on the Range. I honestly don't even know where to begin with this book. I was expecting, based on the name of the book, another Pioneer Woman story about moving to a farm to build a country chic empire all while whipping up casseroles and ringing the cowbell for family meal time. Instead, it's an intimate look at Molly's city / country hybrid life in the form of funky illustrations, pie chart recipes, cleverly named cookies (Lindsay Lohan cookies, anyone?), and an entire chapter on cake. It's the most intimate cookbook I've ever owned (with chapters split up by her life events) which is exactly what  makes it so unique and approachable. It reads so casually that it makes you feel like you are sitting right next to Molly at a slumber party and she is revealing all of her silliest secrets to you.
The cookbook brought up so much nostalgia for me since I'm around the same age as Molly and grew up in a Chicago suburb as well (except across the border in Indiana). The way her illustrations intertwine the chapters reminded me of my favorite series growing up, Amelia's Notebook, which is the series that inspired me to start writing. I got all the 90's kid jokes and Lindsay Lohan references. This cookbook is so unique in that it definitely targets a younger audience (20-somethings) with it's witty references and simple recipes. I like that it's not telling you to grow up in the form of how to cook for a family or a crowd or any of that. It's just about being a really passionate person trying to find balance (in her case, balance between the city and country, between music and food, between her childhood pickiness and NYC food scene and between passion and burnout) and, obviously, about finding really great recipes. She really has managed to create something completely unique that none of us knew we needed until now.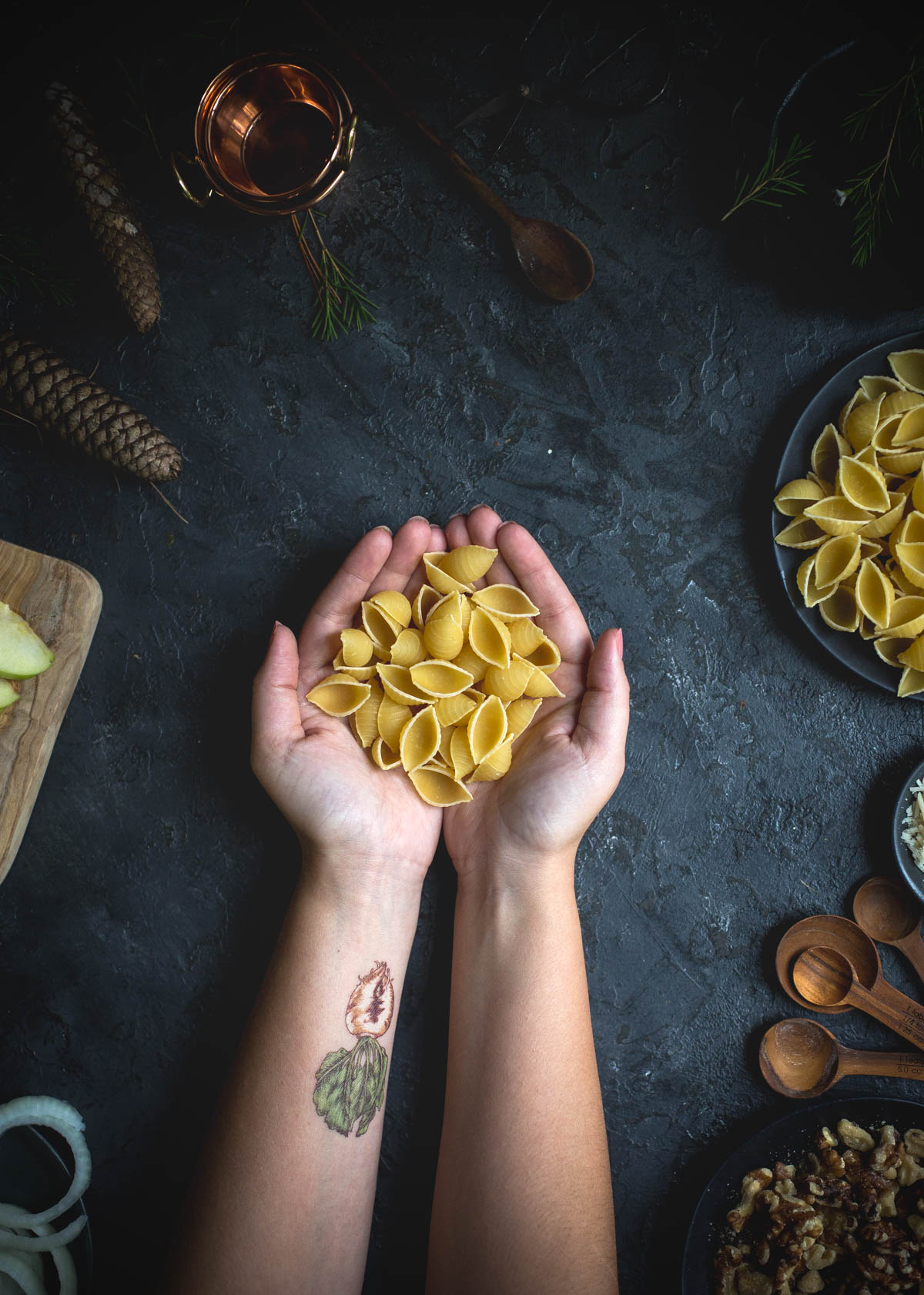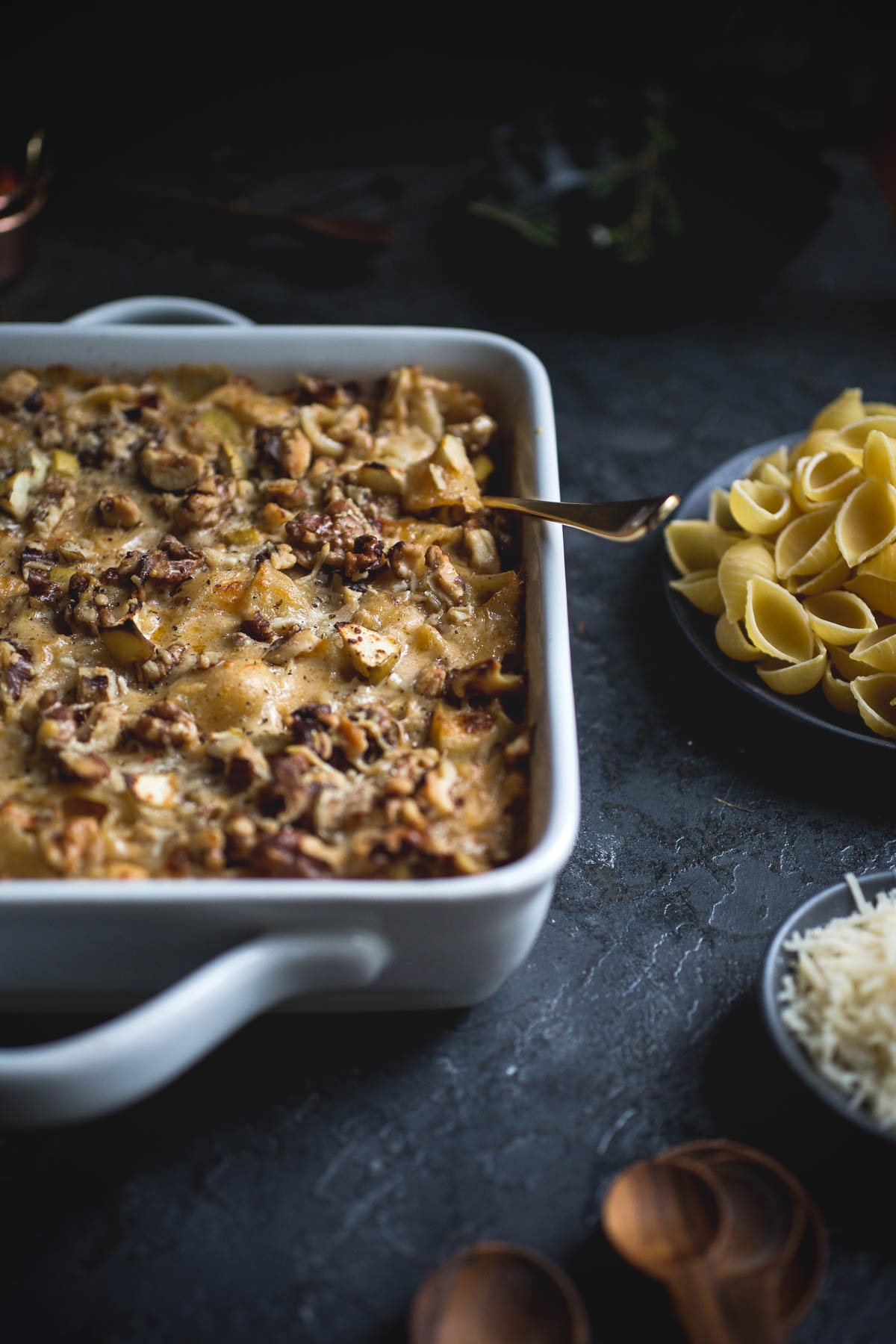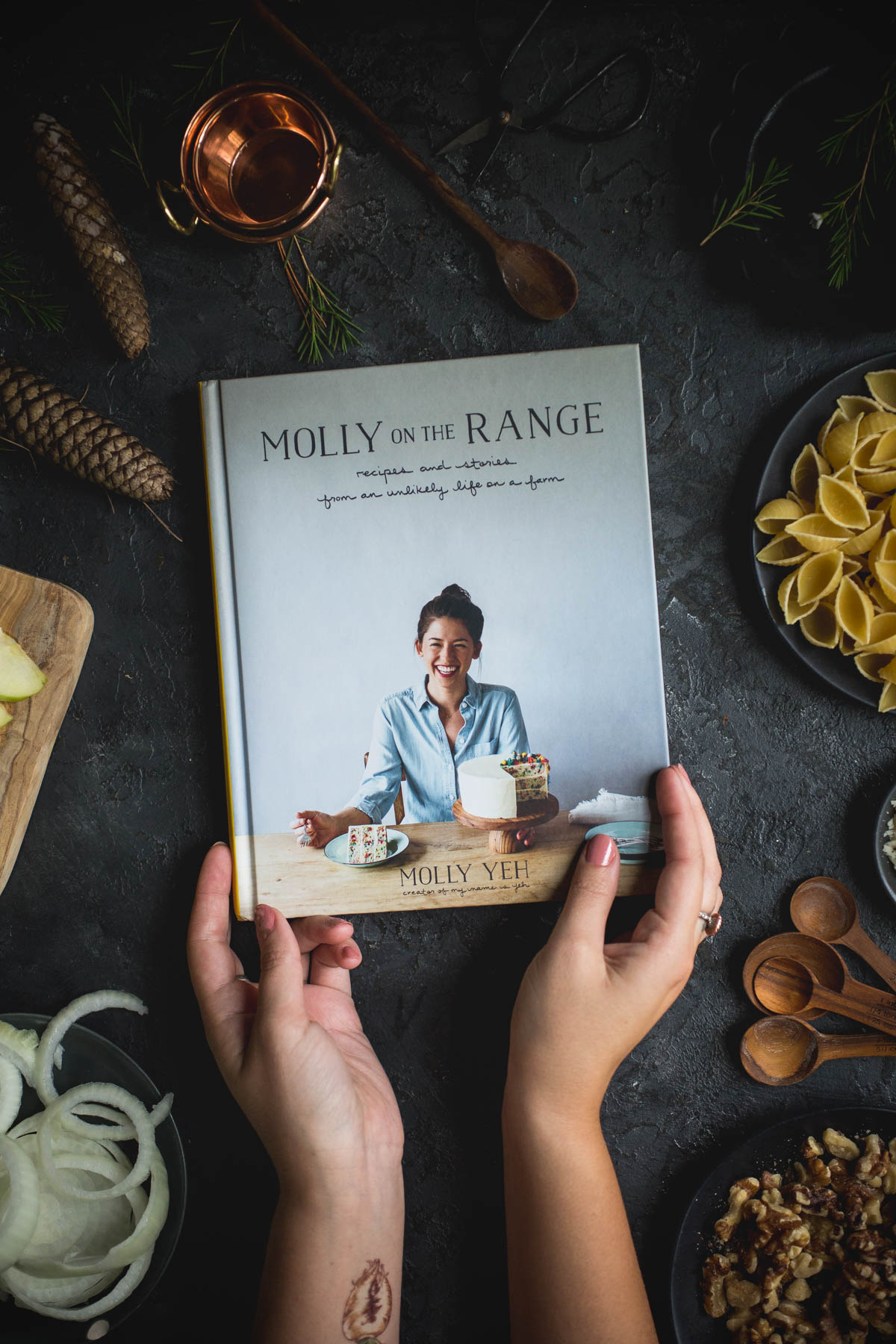 And then there is this Walnut-Crusted Brie Mac and Cheese with Apples; it is the definition of fall. Today, I opened all the windows, threw on my favorite sweater, and spent the afternoon whipping this up – it was the most glorious chilly afternoon. The nutmeg and baked apples made the whole house smell like fall. The original recipe in the book calls for Pancetta which I skipped (obviously) and it was still beyond delicious. I even thought about adding some coconut bacon in case it needed an extra kick but it really didn't – it was gooey, rich, and already salty from the Parmesan. The tart apples are a wonderful addition to the otherwise rich sauce. I served it all with a small salad to make it a complete meal (and for balance and all that good stuff. :p). All in all, a wonderfully comforting fall recipe that I will be making again.
Walnut-Crusted Brie Mac and Cheese with Apples recipe below: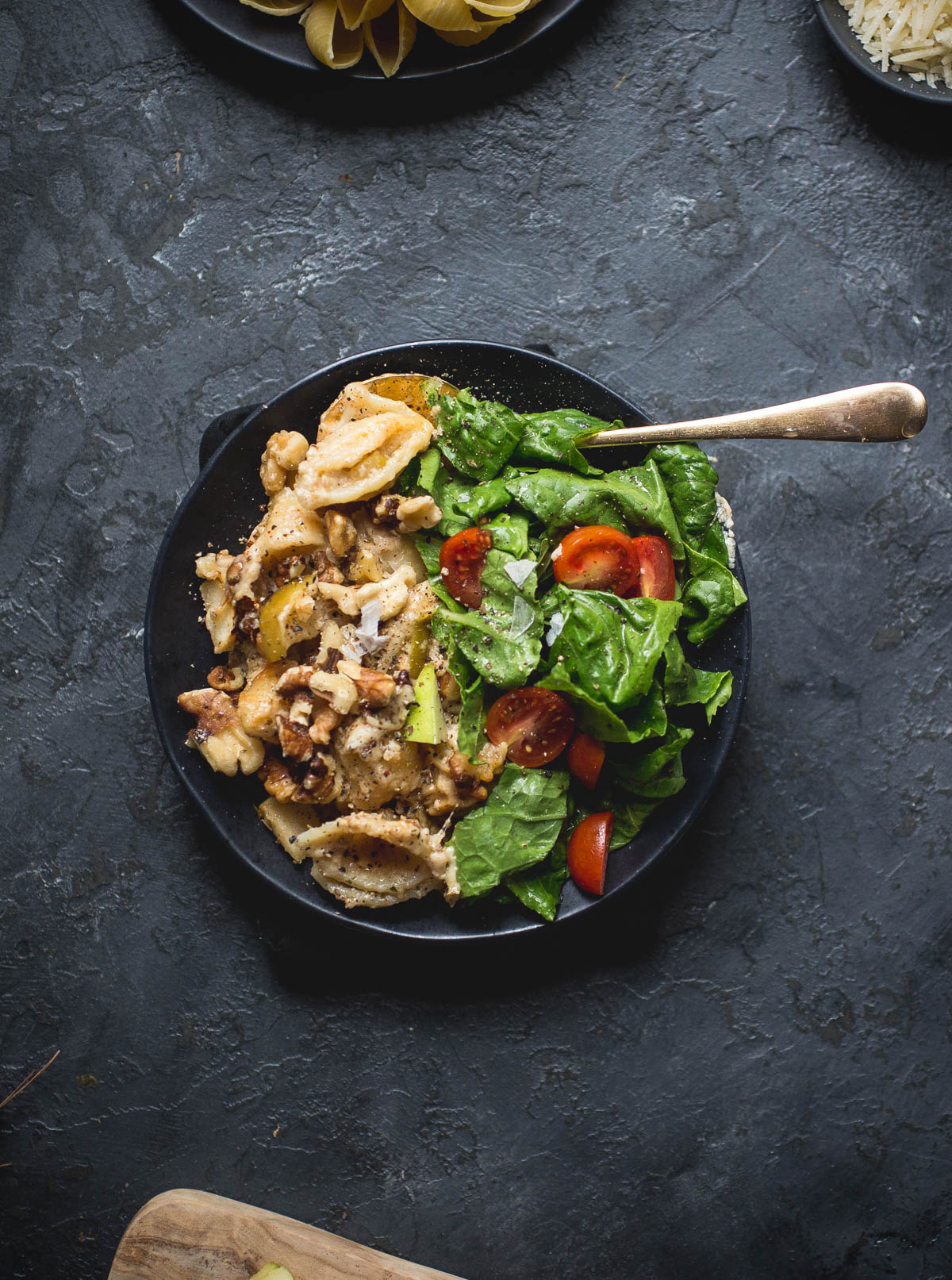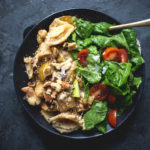 Brie Mac & Cheese
Ingredients
8

ounces

pipe rigate or medium shells

3

tablespoons

unsalted butter

½

small onion

, finely chopped

Kosher salt

¼

teaspoon

sweet paprika

¼

teaspoon

cayenne pepper

¼

teaspoon

ground nutmeg

⅛

teaspoon

ground allspice

Black pepper

¼

cup

flour

3

cups

whole milk

¼

pound

Brie cheese

, rind removed and finely chopped

¼

pound

Gruyère cheese

, shredded

1

large Granny Smith apple

, chopped into ½-inch pieces

½

cup

walnuts

, toasted and coarsely chopped

3

tablespoons

shredded Parmesan cheese
Instructions
Preheat the oven to 375ºF. Grease an 8 x 8-inch baking dish.

Cook the pasta according to the package directions, reducing the cooking time by 1 minute. Drain and set aside.

In a large saucepan, melt the butter over medium heat. Add the onion and a pinch of salt. Cook, stirring, until the onion is soft and translucent, 5 to 7 minutes. Stir in the paprika, cayenne, nutmeg, allspice, and a few turns of pepper and cook for 2 minutes more. Increase the heat to medium-high and add the flour, whisking until combined, then cook for 1 minute. Add half the milk, whisking continuously until thickened, about 5 minutes, and then repeat with the other half of the milk. Add the Brie and Gruyère and stir until the cheese is melted. Remove from the heat and add the pasta.

Set aside about one-quarter of the apple and stir the remaining into the pasta mixture.

Pour the mixture into the baking dish and top it with the walnuts, Parmesan, and reserved chopped apple. Bake until the top is browned, about 25 minutes. Cool for minutes and enjoy!
Nutrition Facts
Brie Mac & Cheese
Amount Per Serving
Calories 344
Calories from Fat 171
% Daily Value*
Fat 19g29%
Cholesterol 45mg15%
Sodium 221mg10%
Potassium 254mg7%
Carbohydrates 30g10%
Protein 13g26%
Vitamin A 525IU11%
Vitamin C 1.4mg2%
Calcium 241mg24%
Iron 0.9mg5%
* Percent Daily Values are based on a 2000 calorie diet.
***Reminder: Not all cheeses are vegetarian due to rinds. Make sure to check the package for notes on being vegetarian before purchasing (if you are looking to stick to a strict vegetarian diet).