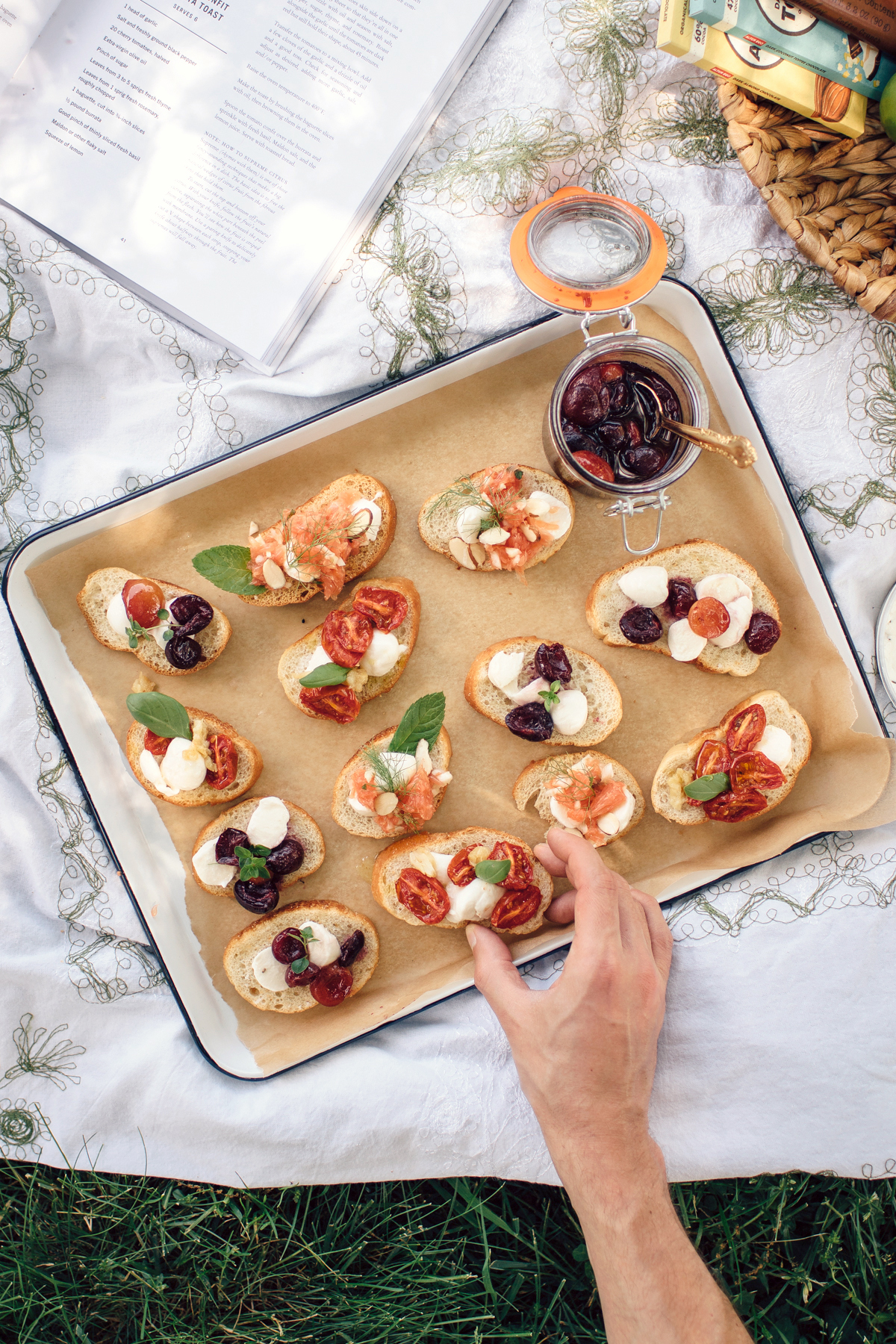 Whiskey'd Mozzarella Toast + Picnic With A Couple Cooks
In a hurry? Click here to JUMP TO RECIPE!
Last weekend, I had the pleasure of meeting up with Sonja and Alex from A Couple Cooks to have the most wonderful and relaxing picnic. This wasn't our first time hanging and we've managed to continuously find fun ways to hang out around cooking and nerding out over food. It's always such a joy to spend time with friends who have similar passions and get that you need to spend 20 minutes styling and photographing your food before you can eat it (hehe).
They came down for a wedding in Bloomington a few hours early so we could hang out at a nearby park basking in the sun, fending off caterpillars, and stuffing our faces with fresh food from the local Bloomingfoods co-op. Make sure to check out A Couple Cook's blog post to learn how to make the delicious drink we enjoyed all afternoon. Here are a few snapshots from our afternoon in the park:
The toast recipe I am sharing with you today is from Twenty Dinners, a cookbook from the bassist of Grizzly Bear. The book's layout itself feels like an extension of Kinfolk with it's minimalist layout and large dreamy photos of young people hanging out and eating delicious food. I found the cookbook to be rather inspiring as it was more than just your typical recipe and photo of the recipe; instead, the book is laid out by dinners (twenty of them, obviously) and there are side notes about how to pick out wines and in-depth details about coffee from experts; I found those side notes to bring it all together as throwing a dinner party is more than just about the food. Despite the spot-on modern aesthetic, not going to lie, I was a bit disappointed by the amount of meat meals in here (they couldn't make ONE vegetarian main dish in all twenty meals??). With that being said, the side dishes and cocktails look delicious enough to keep a vegetarian's attention and the gorgeous photos are sure to ignite a longing for hosting a dinner party in your near future.
The toast recipe I shared below is actually one of four in the book (they have one for each season) and I made three of them for our picnic last week: Whiskey'd Burrata Toast, Fennel & Grapefruit Burrata Toast, & Tomato Confit Burrata Toast. Also, we were at the mercy of a very small co-op grocery store near the park for our picnic food and they didn't have burrata so I had to substitute it with fresh mozzarella. I found the toast to be delicious with the mozzarella but I'm pretty sure you can't go wrong with either cheese as long as they are as fresh as possible.
Whiskey'd Mozzarella Toast recipe below: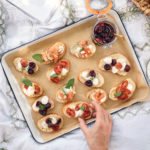 Whiskey'd Mozzarella Toast
Ingredients
1

baguette

, cut into 3/4 inch slices

Olive oil

1

to 2 sprigs of rosemary

1

bay leaf

1

tablespoon

whole black peppercorn

1

pound

sweet cherries

, pitted

1/2

cup

sugar

1/2

cup

bourbon or whiskey

pinch of salt

1/2

pound

mozzarella

(or burrata as the original recipe calls for)

grated zest of 1 lime

cheesecloth
Instructions
Preheat oven to 400 degrees. Make the toast by first brushing the baguettes with oil then transferring to a baking sheet and baking until just browned (2-5 minutes on each side).

Wrap the bay leaf, rosemary, and peppercorn in a cheesecloth and tie tightly to create a cheesecloth pouch. Place the wrapped herbs in a medium saucepan with the cherries, sugar, alcohol, salt, and 1/2 cup water. Bring to a boil over medium-high heat, reduce to a simmer, and let cook until the cherries burst and soften, about 10 minutes. Transfer the cherries to a bowl and continue to let the liquid mixture simmer until it reduces to a syrup, about 15 more minutes. Remove from heat and let cool slightly. Add the cherries back to the syrup mixture.

Top the mozzarella or burrata with the cherry compote and finish with lime zest. Serve over the freshly toasted bread.
*DISCLAIMER: I received this book from Blogging for Books in exchange for an honest review.