This Blood Orange Sorbet with Red Wine Hot Fudge Sauce recipe is perfect for Valentine's Day or to make after a romantic dinner at home.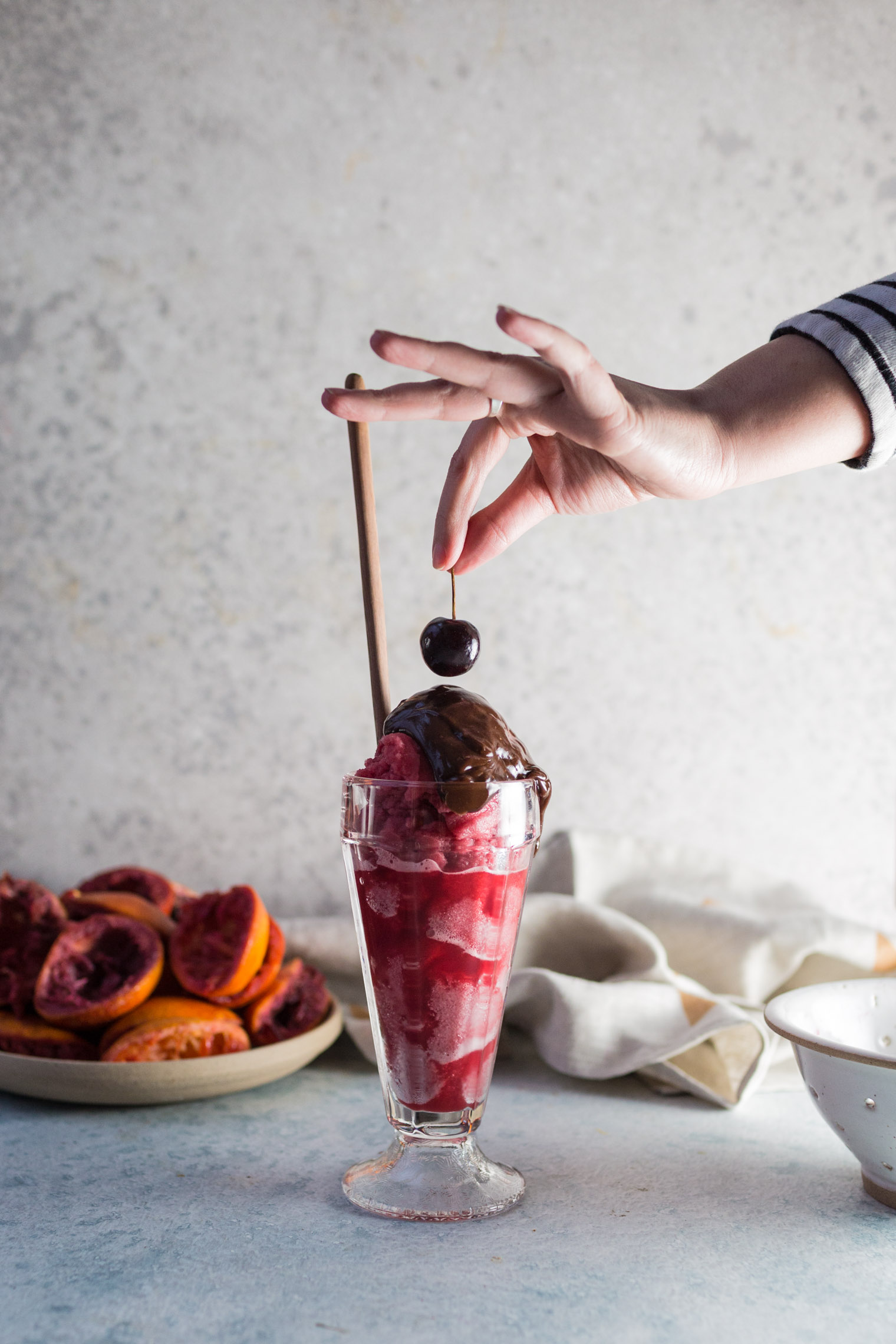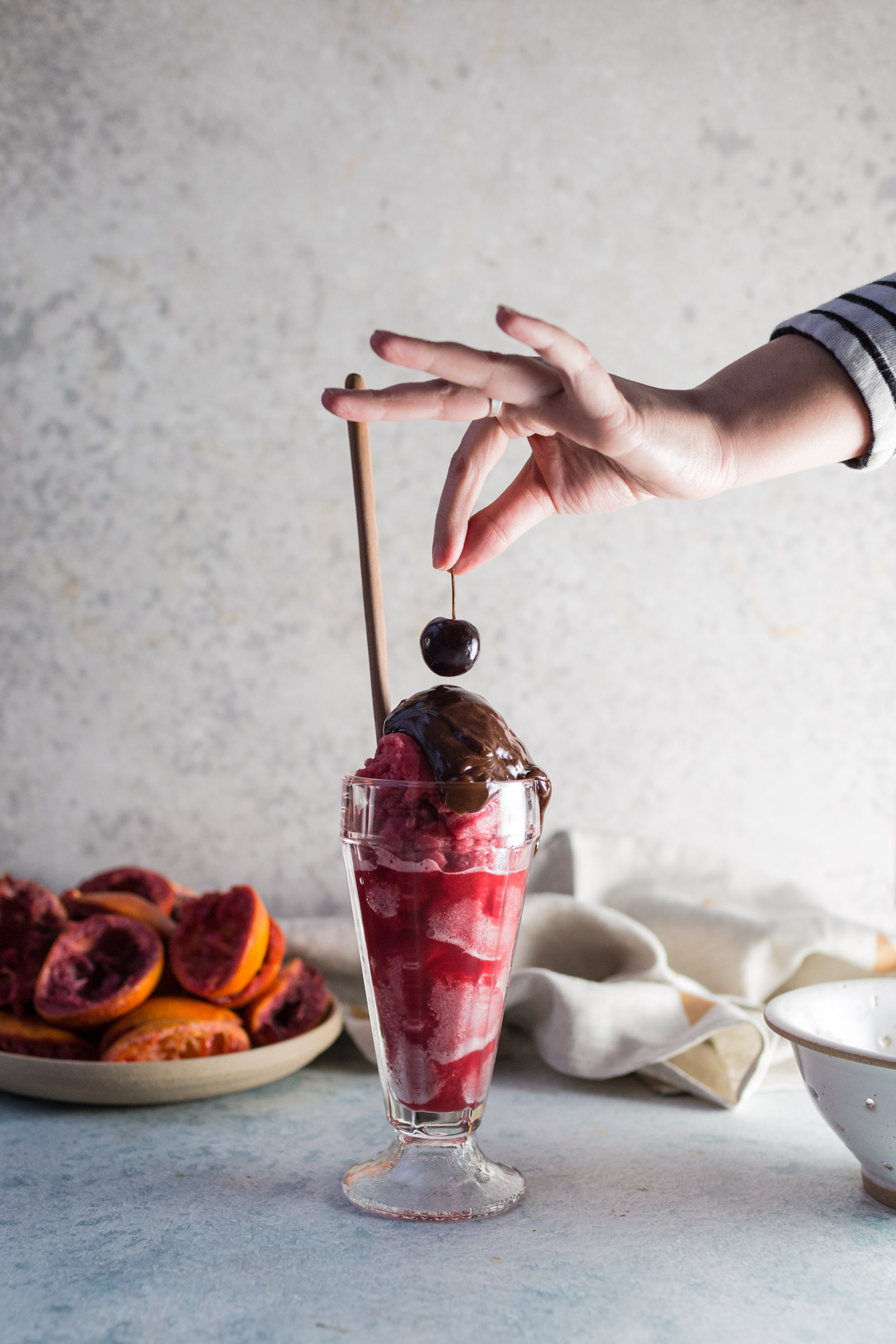 Let's talk about Valentine's Day! I'm obviously not the super cutesy, deck the house out in pink kind of person (as you can tell by my somewhat normal photos for this post). I do, despite not getting super into the spirit of it, enjoy setting aside an evening to just hang out with Wyatt. After being together for almost seven years, it's good to have a reminder to spend some romantic time together. For the first few years, we'd cook together on Valentine's Day. Then it turned into me cooking for him. And now we are at the point where we just get pizza from our favorite place (they make it heart shaped on Valentine's Day) and make a dessert together. I've really learned to love this routine – when I cook every night, taking a break and ordering take-out feels like such a wonderful treat.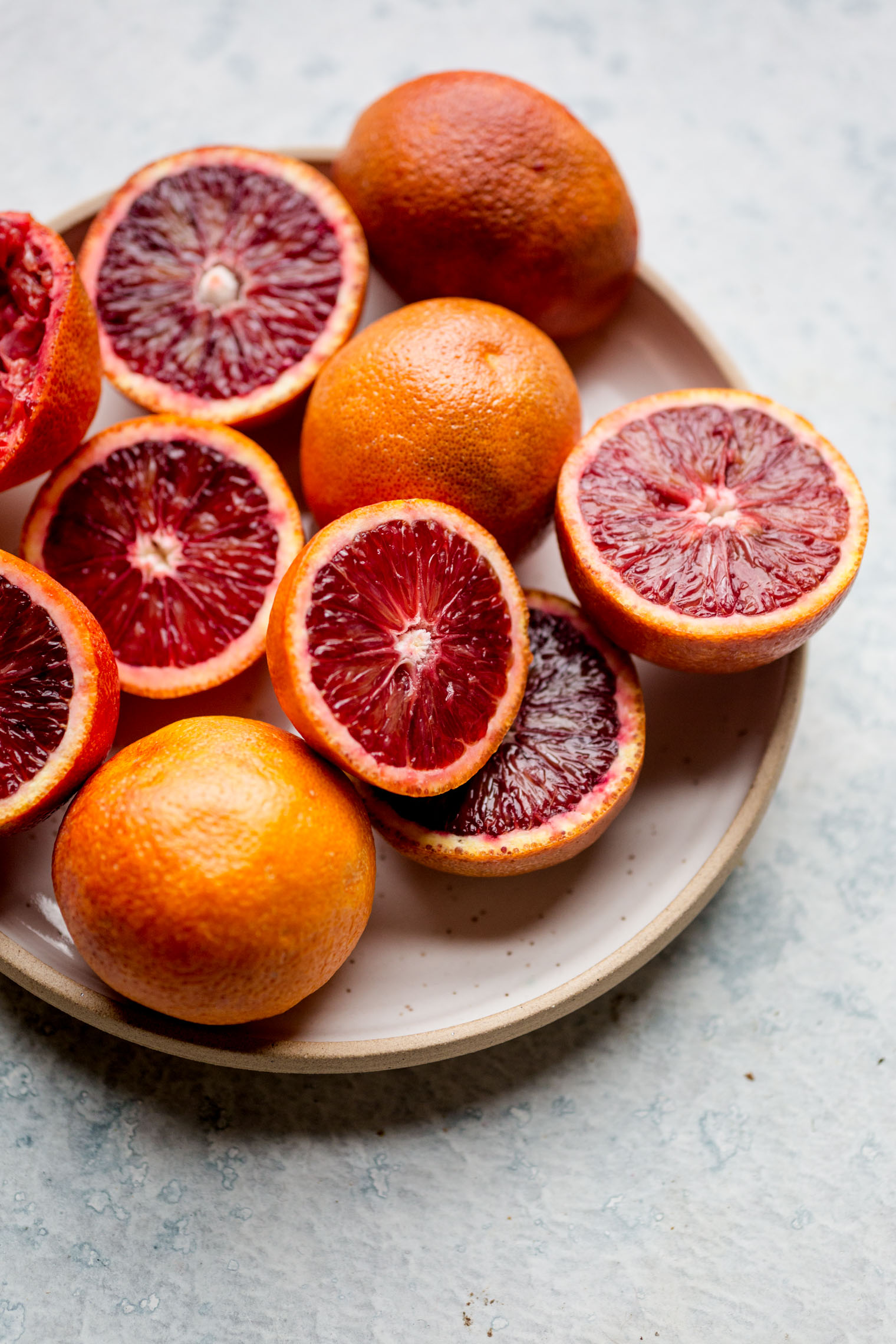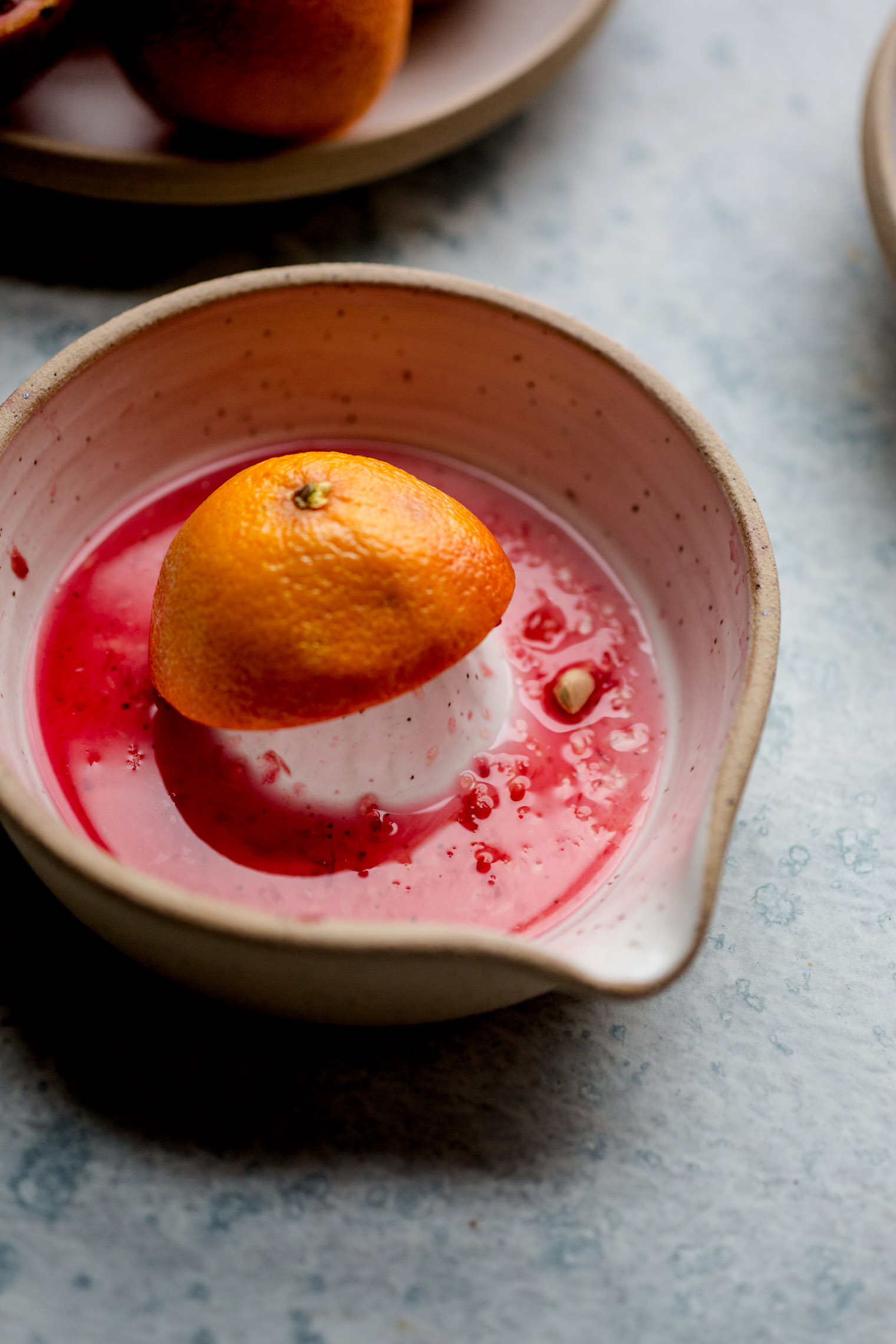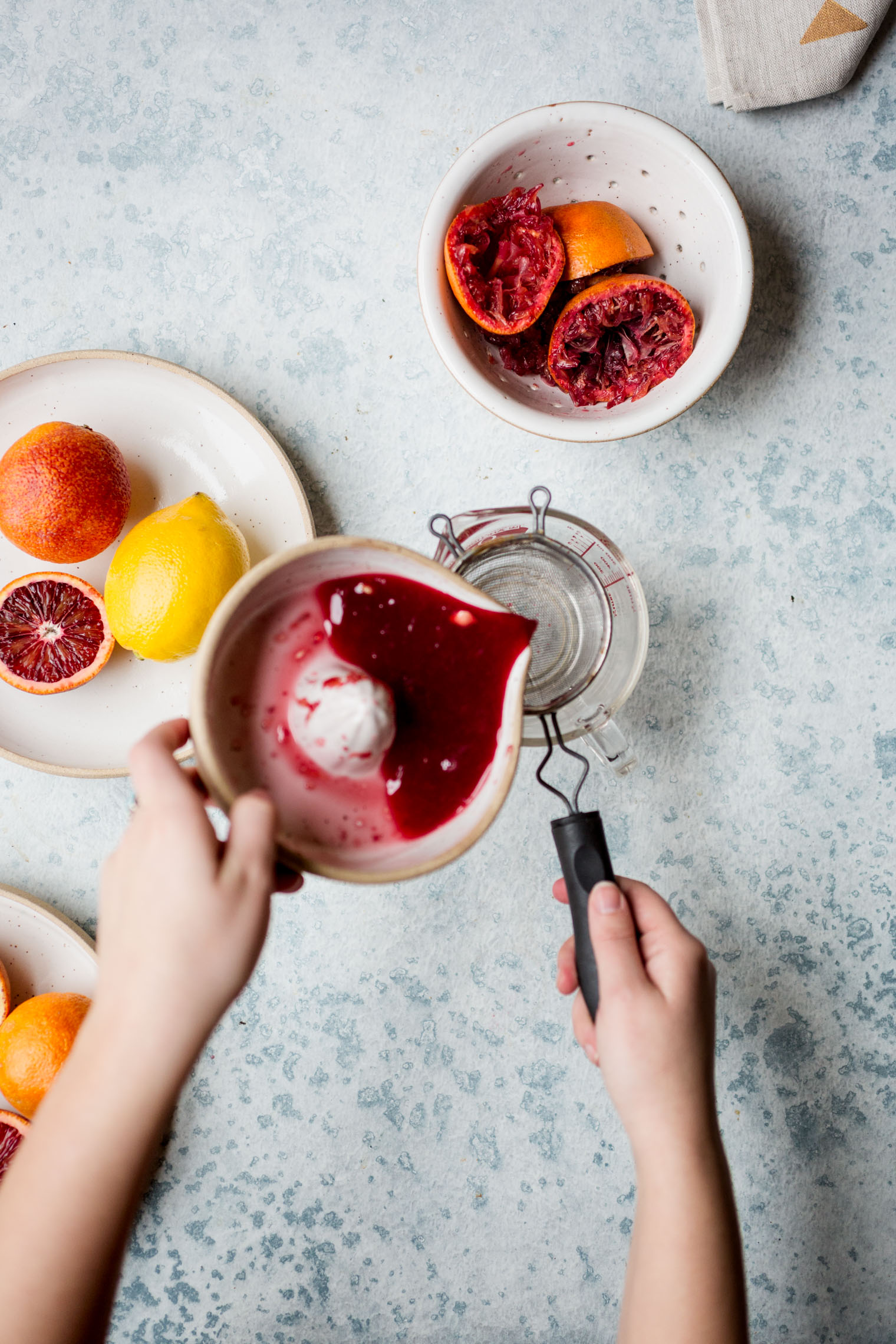 This year I decided to make this blood orange sorbet ahead of time and we'll just be whipping up the red wine chocolate sauce while we wait for the pizza to be delivered. The sorbet is not too sweet and takes on the most beautiful red hue from the blood orange juice. Blood oranges are only in season for a short window so don't forget to take advantage of them while they are around!
As for the fudge, I threw the red wine in to make it feel more like an adult party and less like a kid's sundae bash. The wine gives the fudge an extra depth that compliments the chocolate beautifully. You'll most likely end up with some leftover fudge after enjoying the sorbet – leftovers would go beautifully into milkshakes, cakes, or cookies (or can be eaten by the spoonful without any judgement from me).
Note: You will need an ice cream maker to whip up the sorbet. Don't forget to put the base in the freezer ahead of time!
P.S. I'm in Cali this week exploring the coast – I'd love for you to follow along on Instagram (been posting a ton of stories) if you are into it!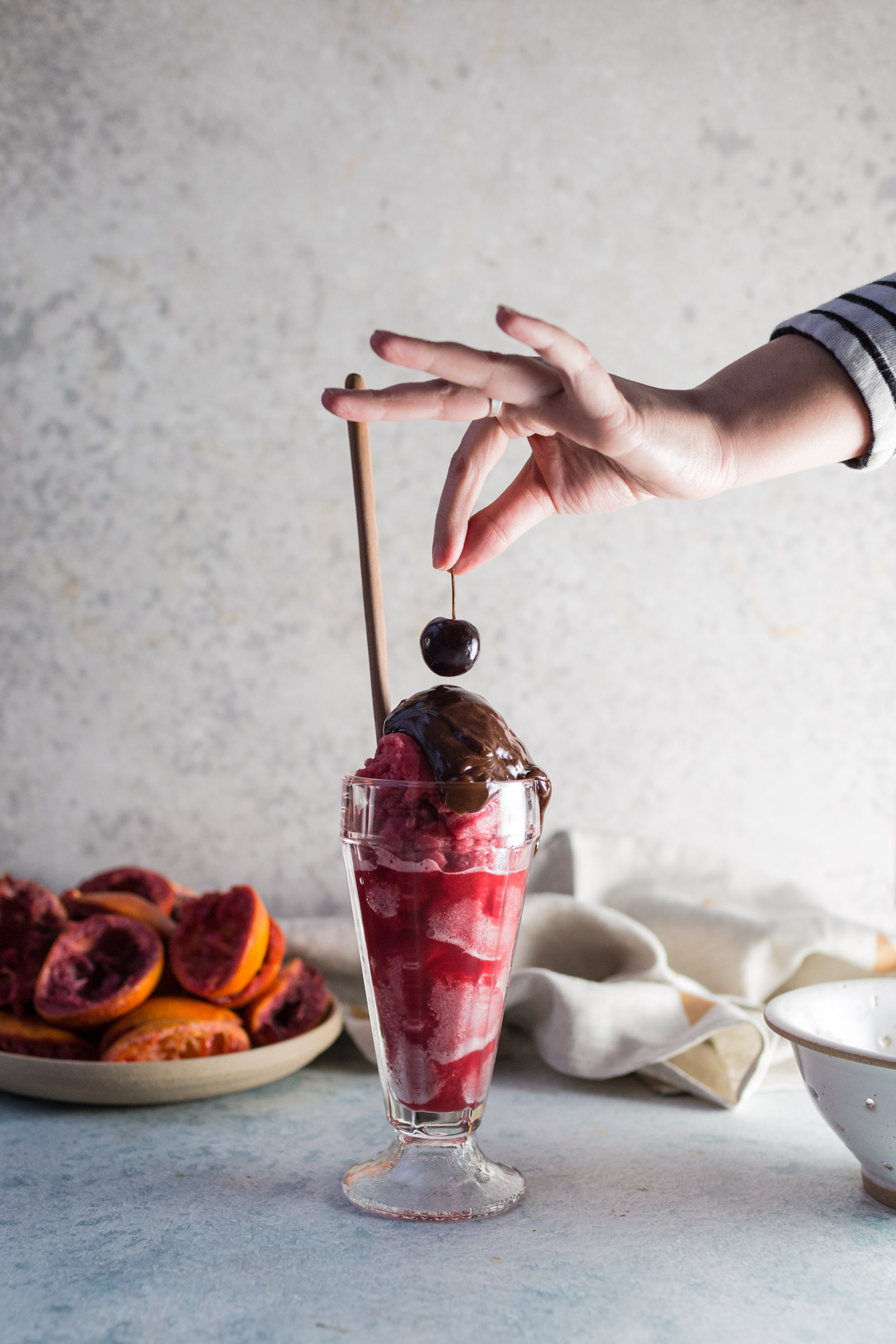 Blood Orange Sorbet with Red Wine Hot Fudge
This Blood Orange Sorbet with Red Wine Hot Fudge recipe is perfect for Valentine's Day or to make after a romantic dinner at home. / Slightly adapted from Leite's Culinaria and The Food Network
Author:
Shelly Westerhausen
Ingredients
For the Blood Orange Sorbet:
¾ cup granulated sugar
¼ cup water
1½ cups freshly squeezed blood orange juice (I needed about 12 oranges to get me this amount)
1 tbsp lemon juice
For the Red Wine Hot Fudge:
¾ cup dry red wine
¾ cup heavy cream
½ cup granulated sugar
¼ cup unsalted butter
8 oz semisweet chocolate chunks
Dash of vanilla extract
Pinch of salt
Instructions
For the sorbet: Combine sugar and water in a medium saucepan over medium heat. Stir often until the sugar has dissolved and the mixture is just starting to boil. Remove from heat and stir in blood orange and lemon juice.
Transfer to the fridge and let chill for at least 2 hours.
Once chilled, use an ice cream maker according to manufacturing instructions. Transfer to an airtight container and let freeze overnight.
About an hour before serving the sorbet, add wine and cream to a medium saucepan over medium heat. Let cook until there are bubbles forming around the edges of the pot and then stir in the sugar. Let mixture come to a boil, stirring often to make sure the sugar is completely dissolved. Once boiling, reduce heat to low and whisk in the butter.
Remove from heat and whisk in the chocolate, vanilla extract, and salt. Serve right away warm or let it sit for about 20 minutes to thicken up.
To serve: Divide the sorbet between two bowls and drizzle with hot fudge.