This Mango Strawberry Pie with Coconut Crumb Topping is a tropical flavored dessert worthy of any celebratory occasion!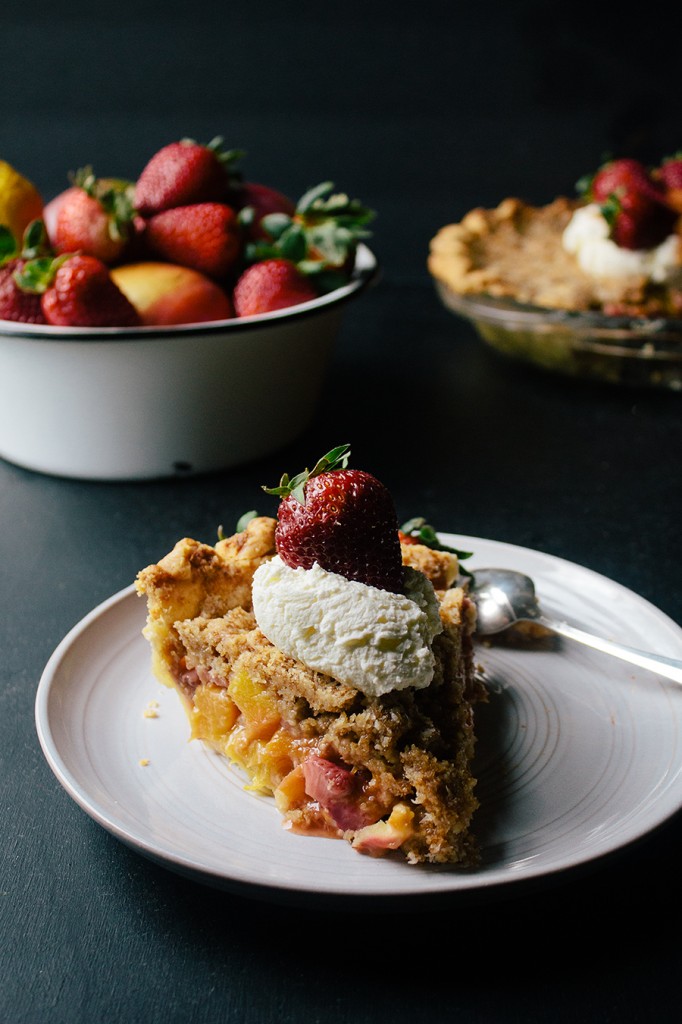 Sometimes you wake up and you realize you are years older than you imagine yourself as. That is what happened to me last weekend when Wyatt's little brother graduated from college. The exact same college I had graduated from several years back. The memories of him being a freshman and showing him the ropes around campus are so fresh. I've known him for four years but I always envision him as that young and naive freshman; I guess that means I always envision myself as that outgoing, a little too judgmental and way too cocky junior. That was a good year – it was the year I lived with two wild friends and it was the year we hosted all sorts of parties with local bands in our basement and it was the year I met Wyatt. It was the year that I got his brother a little too drunk when we went to see Ty Segall and Wyatt wouldn't talk to me for days. It was the year I had come back from living in Nashville and it was the year I finally truly and honestly felt comfortable in my skin. It was the year they banned 4Loko (thank goodness) and it was the year I got hired at my current job. It was the year I always look back on and can picture so clearly when thinking about college.
Bloomington has a way of pushing these memories to the forefront. I guess that is what happens when you decide to stay in the same town you went to college in. For the most part, I feel very detached from my college self with a whole different lifestyle and completely different hang out spots. Hell, I rarely even remember the university is across town until I'm trying to find parking on a Friday night at my favorite local movie store that happens to be very close to a few "bro" bars called 'Sports' and 'Brothers'. But it does seem that graduation weekend and the first week of classes always gets me a little sentimental – I can't help it…maybe I'm a little jealous or maybe a little relieved but mostly I'm just curious where the time goes.
_________
Despite the whirlwind of sentimental thoughts that were going through my mind during the graduation party last weekend, I still made sure to make the day about him. Since Wyatt and I still live in the town that we all went to college in – we hosted his gradation party in our backyard with a big grill out. His mother brought all sorts of wonderful kebobs and dips and left me in charge of dessert.
After at least a week of naggy texts, I managed to finally get out of Zach that he wanted pie for his celebratory dessert. I ended up making a Strawberry Rhubarb Pie (go figure – it is spring) and this tropical Mango Strawberry Pie. The best part about this pie is the coconut crumb topping – its not overly sweet but still irresistible and the coconut will remind you of laying in the sun on spring break.

Mango Strawberry Pie with Coconut Crumb Topping
This Mango Strawberry Pie with Coconut Crumb Topping is a tropical flavored dessert worthy of any celebratory occasion!
Author:
Shelly Westerhausen
Ingredients
For the crust:
1¼ cups all purpose flour
½ teaspoon salt
1 teaspoon sugar
8 Tablespoons cold butter (1 stick)
~1/4 cup ice water

For the filling:
2 cups chopped strawberries, cut into 1 inch pieces
2 cups chopped mangom cut into 1 inch pieces
⅓ cup sugar
3 Tablespoons all purpose flour
1 teaspoon lemon zest

For the coconut topping:
¾ cup all purpose flour
1 cup shredded coconut
Dash of Salt
¼ cup brown sugar
8 Tablespoons (1 stick) of butter
Instructions
To make the crust: combine the flour, salt, sugar, and butter in a food processor and pulse until it resembles coarse ground meal. Slowly pour in the ice water (a tablespoon at a time) while the processor is running until the dough comes together. Wrap the dough in foil and stick in the freezer for 10 minutes.
Preheat oven to 375 degrees and butter the pie pan. Roll out the chilled dough until a circular disk large enough to fit your pie pan and transfer the dough to the prepared pan. Use a fork to poke holes all over the dough.
To make the filling: combine the chopped strawberries, mangoes, flour, lemon zest, and sugar. Transfer filling to the pie pan.
To make the crumb: combine the sugar, coconut, salt, and brown sugar in a bowl. Use a pastry blender or your hands to work the butter into the coconut mixture until it resembles coarse meal. Sprinkle over the pie until its evenly spread across the whole pie.
Cover the pie with tin foil and cook for thirty minutes. Remove the tin foil and cook for an addition 20 minutes or until the crust is browned and the crumb has started to brown. Remove from the oven and let cool completely before serving.
Garnish with whipped cream or fresh strawberries.