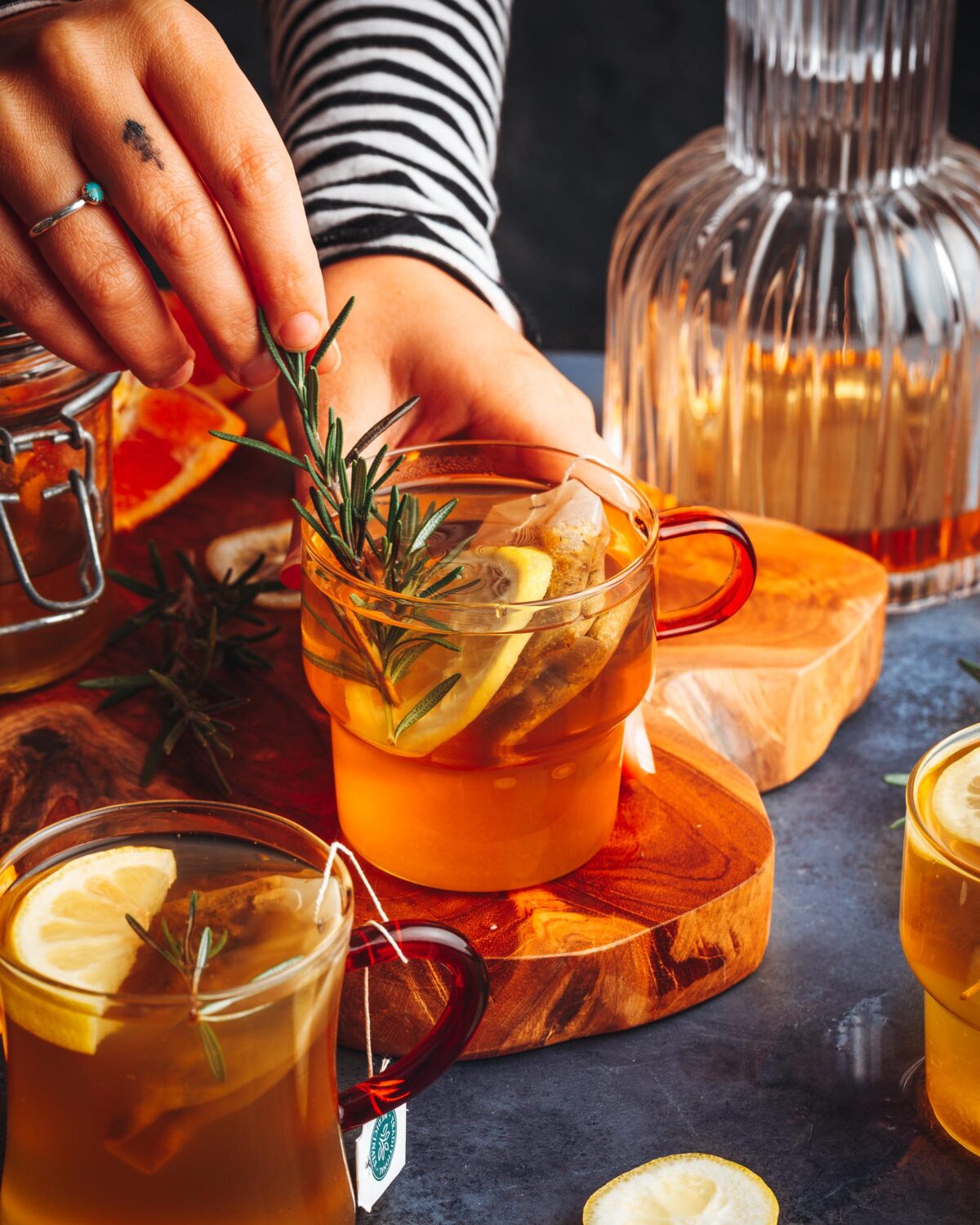 Cara Cara Orange and Chamomile Hot Toddy
This Cara Cara Orange and Chamomile Hot Toddy cocktail is bright and warming drink to enjoy on the porch during these crisp fall nights or with close family during the upcoming holidays.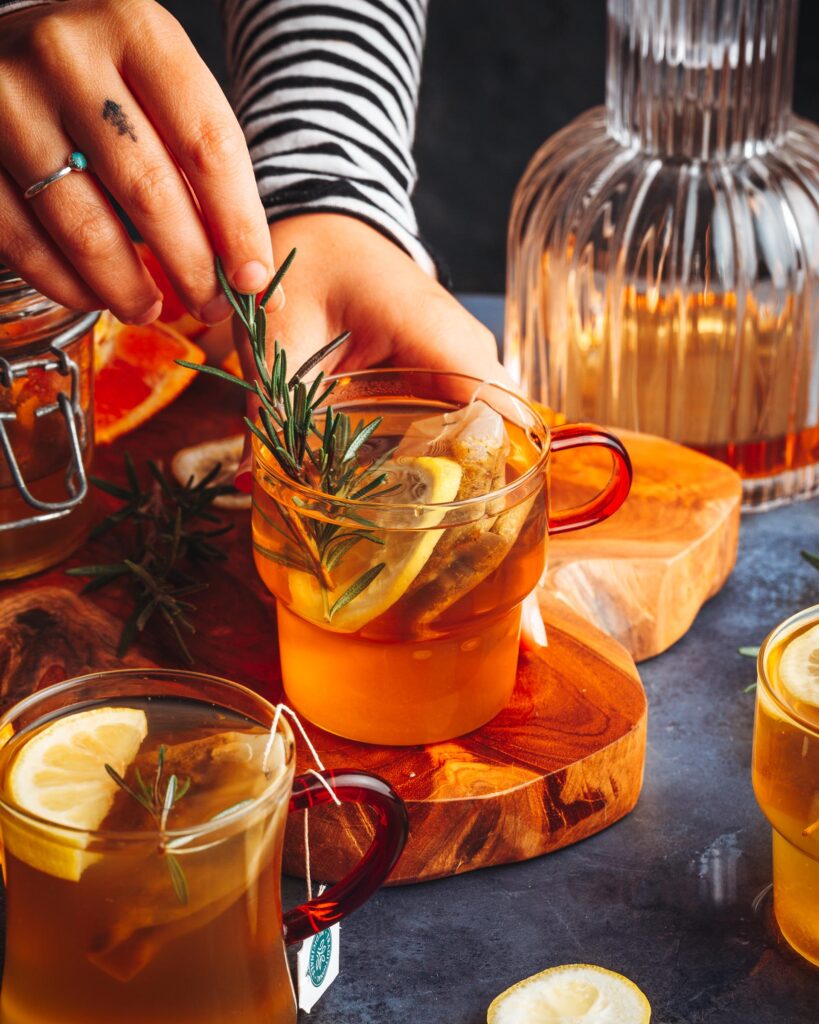 Today's recipe comes from Cassie Winslow's book, Floral Libations, which is filled with cocktail recipes featuring floral notes such as lilac, hibiscus, chamomile, rose, and so much more. Each floral recipe in the book is accompanied by a gorgeous photos that makes me want to both really up my cocktail AND flower game. This book would be a perfect gift for the gardener, cocktail expert, or flower lover in your life. I am also excited to come back to it in the spring when I'm planning my garden because I've been wanting to plant more edible flowers but often times feel at a loss for what to do with them.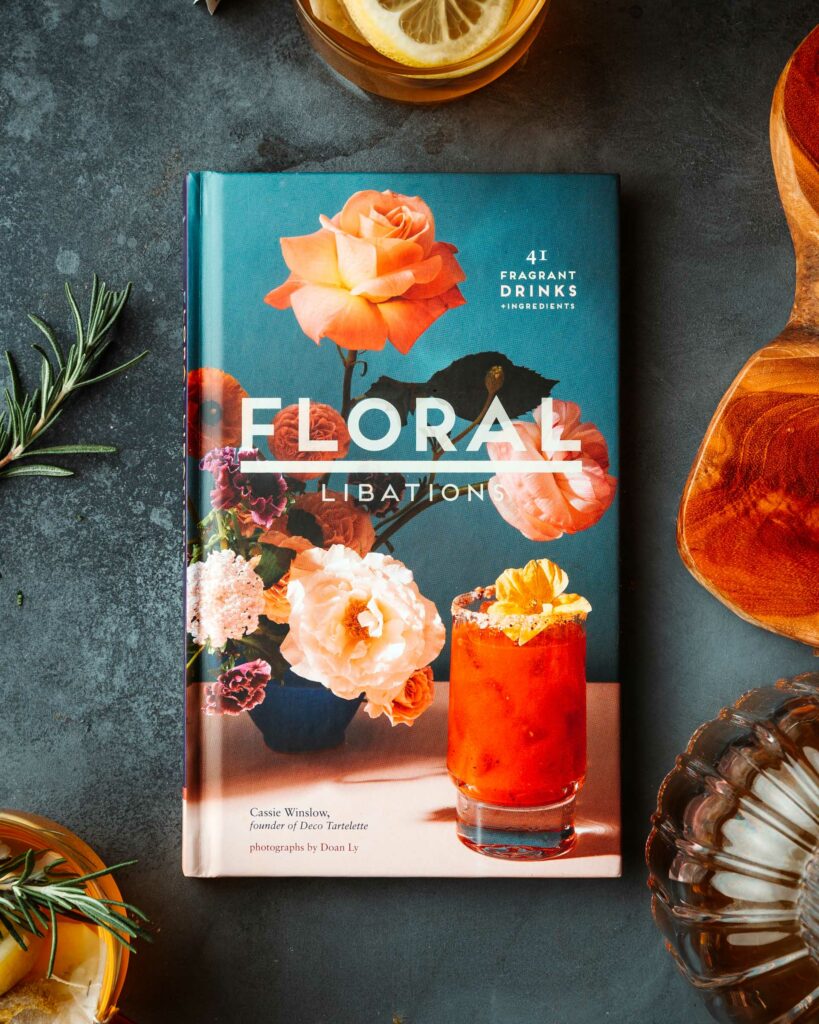 After flipping through the book, I knew immediately that I wanted to make this Cara Cara Orange and Chamomile Hot Toddy. Hot cocktail drinks are something I often times forget about in the winter (instead turning to another bottle of red wine when wanting a drink) but always enjoy so much. There is a spot that Wyatt and I only frequent in the winter because of their amazing hot cocktails and since the virus continues to rage on, we probably won't be going there anytime soon so it's great that I now have this recipe in my back pocket to make a batch of for our chilly bonfire nights.
The recipe starts by making a easy orange and chamomile simple syrup that you can either use right away or store in the fridge for a week. Cara cara oranges are by far my favorite kind of orange but you could use navel if you are having trouble finding them right now (I'm pretty sure their peak season isn't until after the holidays). I made a few simple tweaks to the original recipe to accommodate what I had on hand – instead of using chamomile flowers to garnish, I used rosemary from the garden and instead of using chamomile flowers in the simple syrup, I used a chamomile tea from a tea bag since again that is what I had on hand. Otherwise, this recipe is re-shared as is from Floral Libations – I hope you find a time to treat yourself to this cocktail sometime in these cooler months!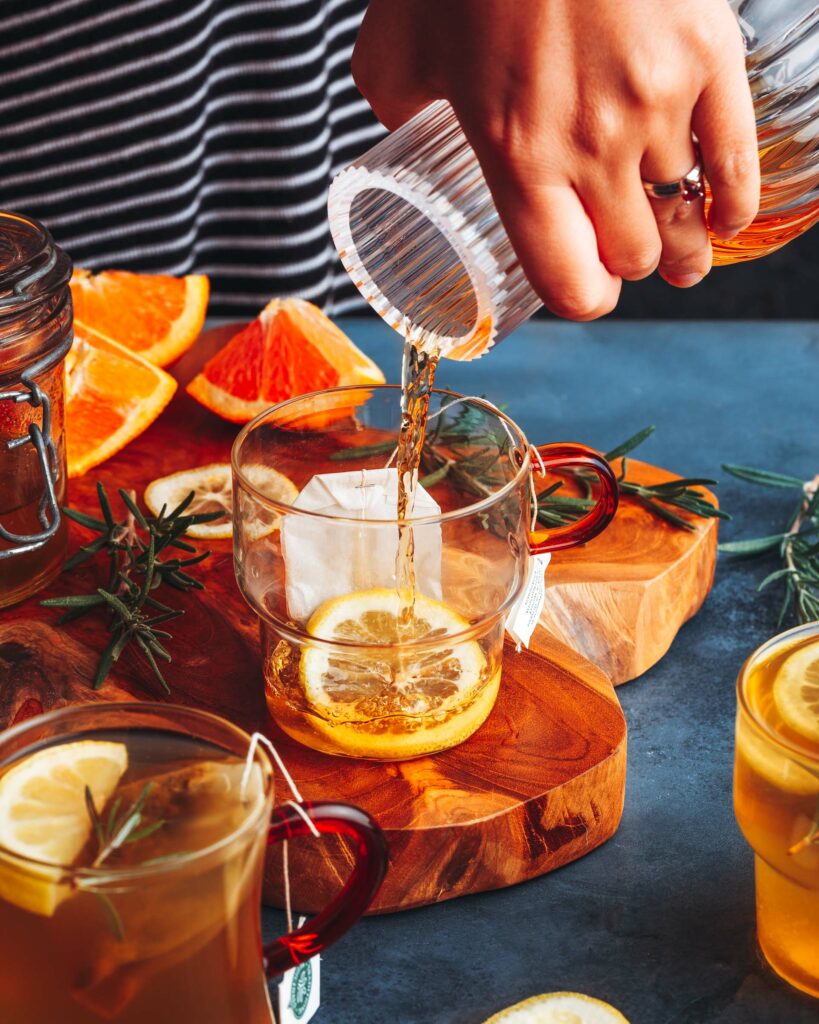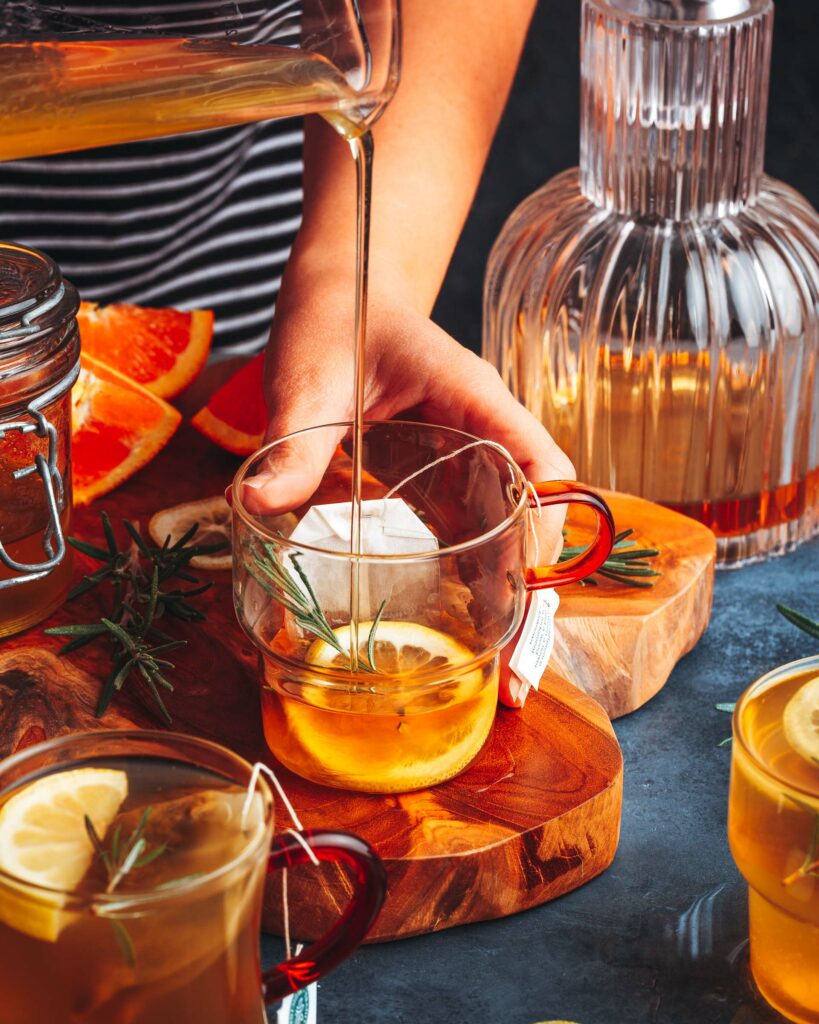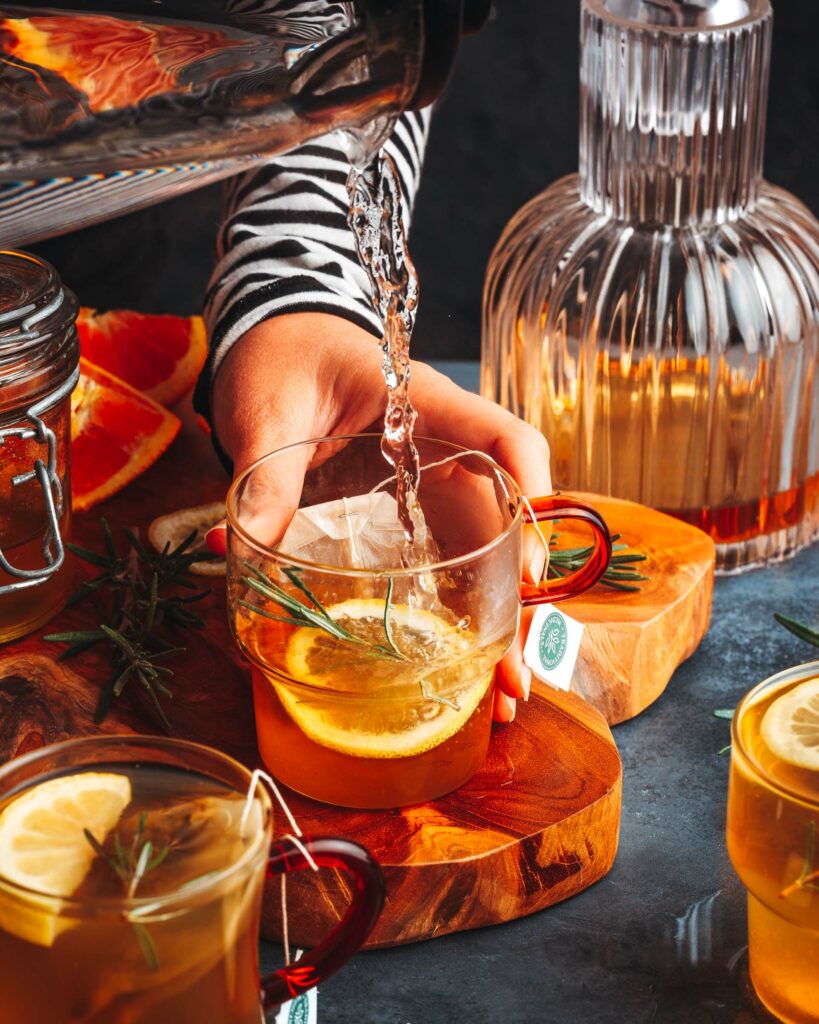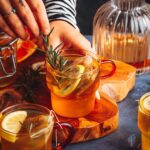 Cara Cara Orange and Chamomile Hot Toddy
Recipe shared from Cassie Winslow's Floral Libations cookbook.
Ingredients
For the Cara Cara Orange and Chamomile simple syrup:
1/2

cup

fresh cara cara orange juice

1

Tbsp

freshly grated cara cara orange zest

1

Tbsp

dried chamomile flowers or 1 chamomile tea bag

1

cup

cane sugar

1/2

cup

filtered water
For the cocktail:
1

Tbsp

Cara Cara Orange and Chamomile Simple Syrup (recipe included)

1/2

cup

boiling water

1/4

cup

brandy

1

Tbsp

fresh lemon juice

1

Tbsp

loose leaf dried chamomile or 1 chamomile tea bag

Lemon slice and/or rosemary sprig,

for garnish
Instructions
For the simple syrup:
In a small saucepan, stir together the orange juice, orange zest, 1 chamomile tea bag (or chamomile flowers, if using), sugar, and 1/2 cup filtered water and cook over medium heat. Simmer until the sugar has completely dissolved and the mixture has thickened, about 5 minutes. Remove from heat and set aside to cool completely.

Once cooled, strain through a fine mesh strainer into a airtight container. This will keep for one week in the fridge.
For the cocktail:
In a large mug, stir together 1 Tbsp simple syrup, boiling water, brandy, and lemon juice. Add chamomile tea bag and let steep for 5 minutes. Remove tea and garnish with a lemon wedge and rosemary. Serve right away.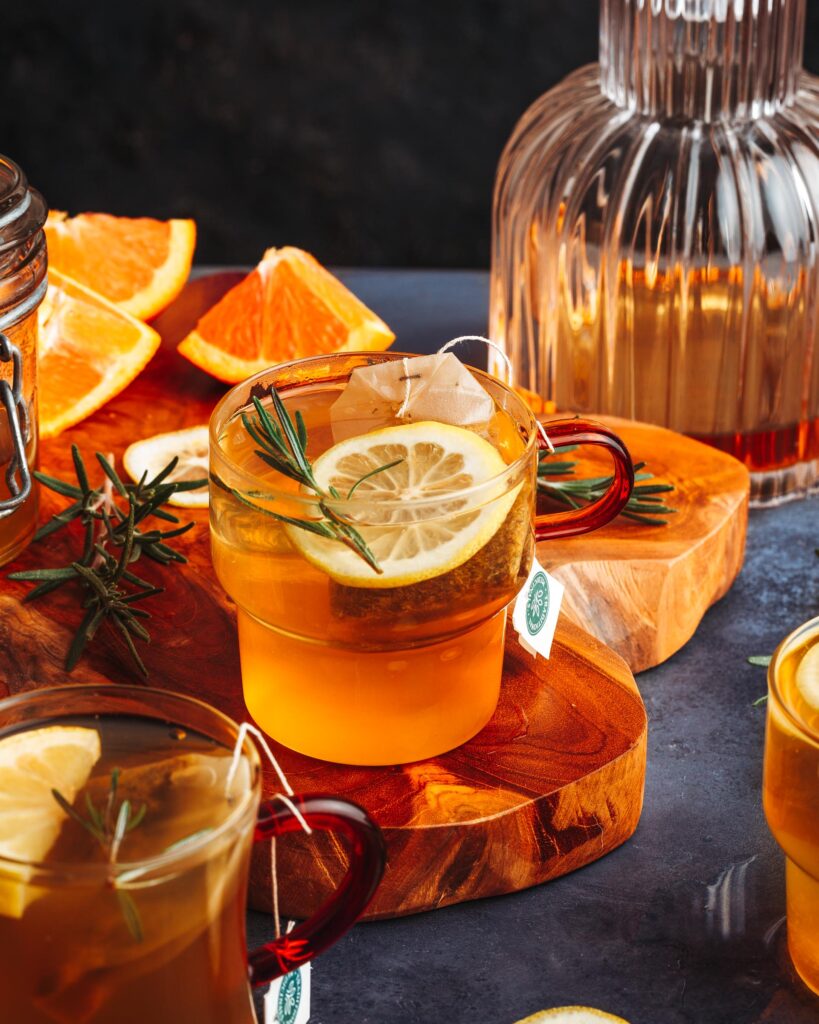 Make sure to tag Vegetarian 'Ventures on Instagram and use #vegetarianventures when trying this dish out!