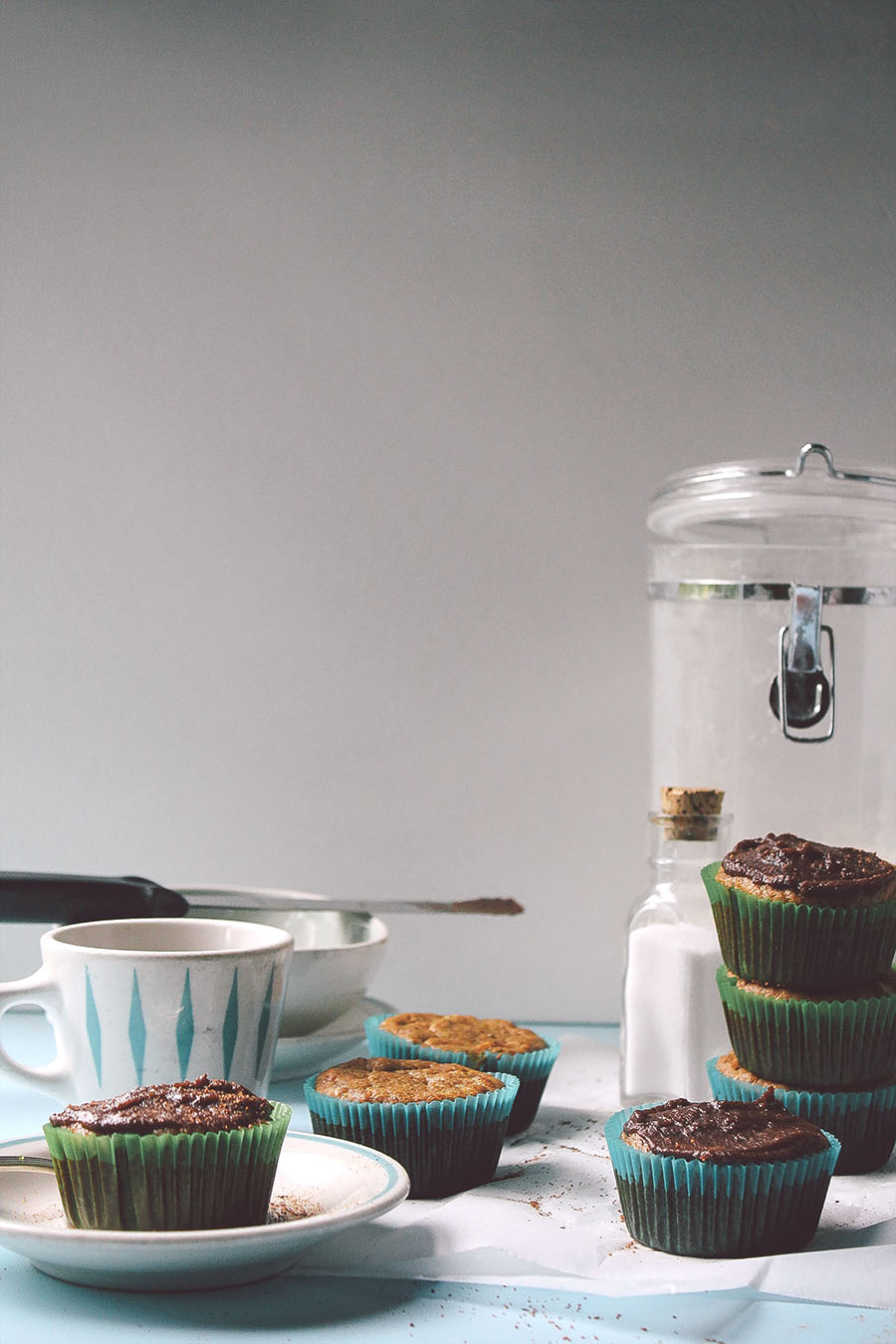 Nutmeg Banana Carrot Muffins /// Some Words on Sugar Substitutes
These banana carrot muffins made with homemade date syrup are nutritious enough for breakfast, but just as satisfying as dessert.
Jump to Recipe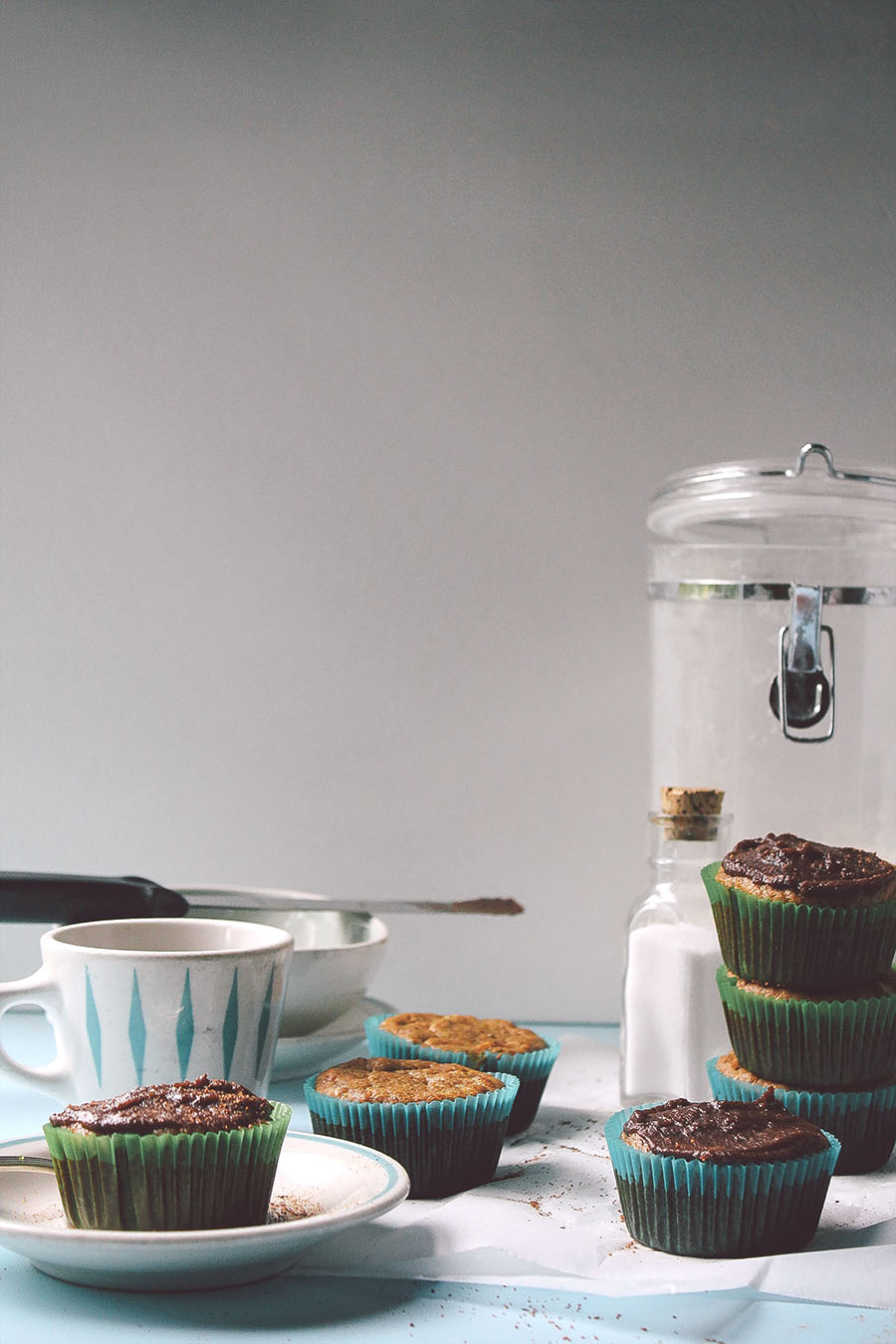 Today is Sunday, September 29th. Today is a very very special day. Or should I say tonight? Yes, tonight is a very very very special night. Tonight is the season finale of Breaking Bad. It is when three (four?!) years of pain-stakingly frustrating tension is finally resolved (or at least we hope it will be). There is only one problem: we don't have cable. How did we watch all the other 61 episodes then, you ask? Well you can stream them on the network's website the followig day after an episode has aired. Which I am usually totally fine with. But this is the season finale of the whole series. And I can't stop thinking about it. I don't want to go into work tomorrow and have to keep my ears shut the whole day. Or spend the next 24 hours avoiding my newsfeeds on facebook and twitter. I want to experience it along with the rest of America.
So, how will I do this, you ask? Well, I'm not sure. But I sure as hell want to be prepared with baked goods when I figure it out. I'm thinking…bribing friends with these banana carrot muffins? Or the bartender to turn it to AMC with these little handheld cakes. Or maybe even going over to our new neighbors house and using these muffins as a 'welcome to the neighborhood' peace treaty right when the show is starting (that way I can peep in the door and see if they are watching it. 'OH! You guys are watching Breaking Bad?! We were just about to put it on. Maybe we should all watch it together. I also have some local cider and whiskey I can bring over, if you'd like….'). You know, those kinds of things.
Oh no. This post was supposed to be a distraction from thinking about Breaking Bad. Okay, what were we talking about before I so rudely changed the subject to a drug-ring-themed-pop-culture-television-drama? Oh yeah, these easy banana muffins. And not just any muffins — muffins exploding with nutritional benefits like dates (fiber, iron, calcium), bananas (potassium, vitamin B6, vitamin C), nutmeg (iron, magnesium, calcium), and carrots (vitamin A). These healthy banana muffins are nutritional enough for breakfast but satisfying enough for dessert. And even scrumptious enough to bribe your friends with.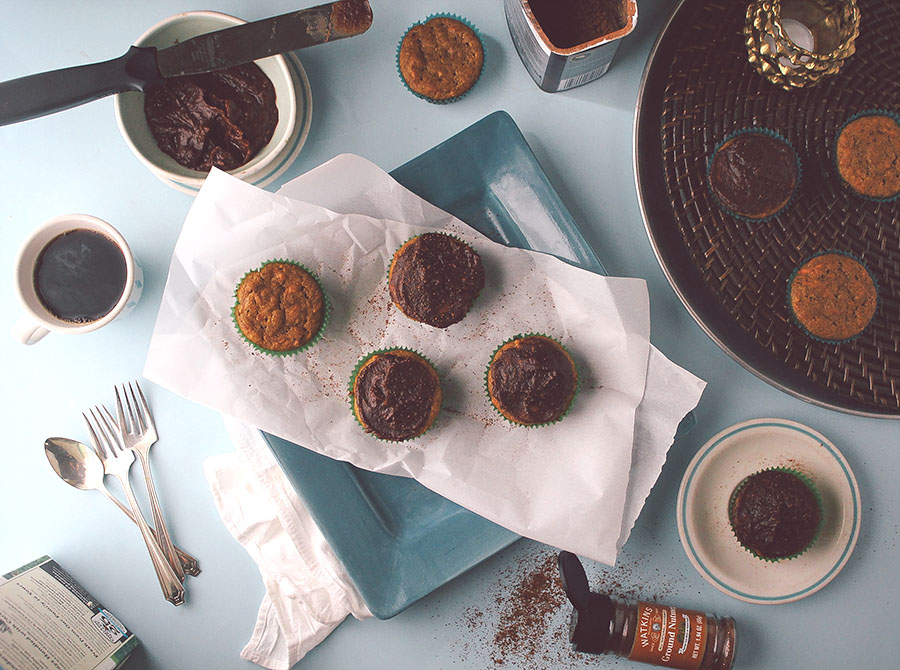 I used a homemade date syrup as my sugar in this recipe. Want to talk about sugar substitutes for a second? Okay, cool — me too. I used to be a pretty die hard agave nectar fan when it came to baked goods. But then there was all that controversy over whether it was even better for you than sugar and how it was just as processed. As you can imagine, this started to really turn me off from agave.
I'll still use a little agave now and then but have replaced it with maple syrup, for the most part. Maple syrup is wonderful — so sweet and so natural. Heck, if you live near the forest (like me!) chances are you've even been to a park where they let you tap your own maple tree and get it straight from the source. But, although its oh so delicous, it is still crazy expensive and a little unrelastic to be using cup fulls in recipes.
There's always the non-dyed cane sugar, which is less processed than the regular stuff you get in the baking aisle but it's not really benefiting us either (I mean…it's still sugar). So, when I found out I could make my own homemade date syrup that works perfectly as sugar in baked goods and taste just as delicious on it's own, I was hooked. I used it in this gluten free tart I made for my friend a few months back and in many other baked goods since.
Date syrup is amazing. It's simple to make, only has 1 ingredient, and will not only make your baked goods sweet BUT will also supply you with several health benefits (energy, fiber, potassium, etc etc). You can substitute it for sugar at a 1:1 ratio; so, for example if you need a cup of sugar to make those cake donuts, you can just soak 8 ounces of dates in water overnight to create enough date syrup for your donuts. Easy. Are you sold yet? Dang, the dates society (does that exist?) should hire me to push their product. I seem to already be doing a fine job of it for free.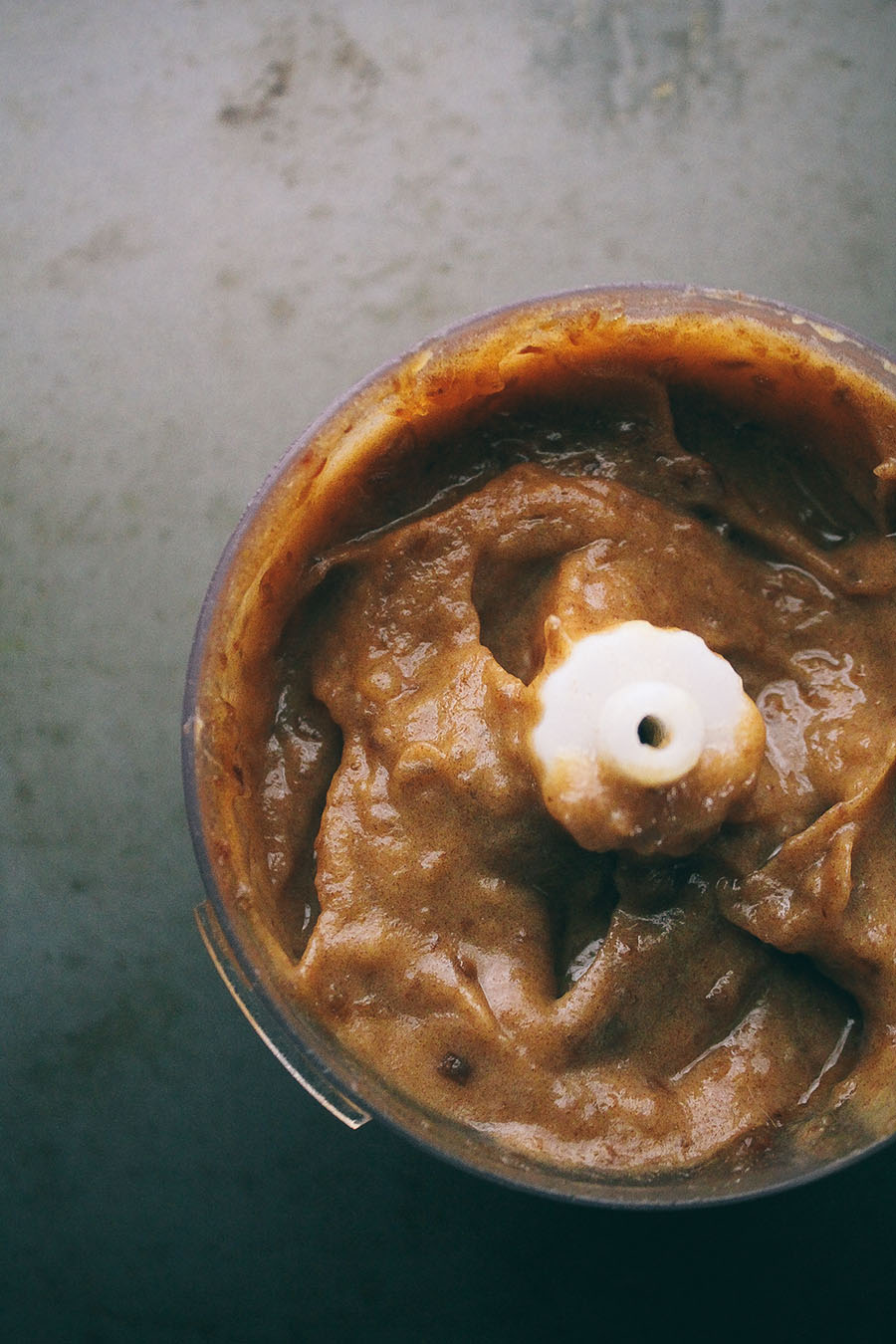 What's Needed for Banana Carrot Muffins?
This healthy banana muffin recipe has three components: the banana carrot muffins, the chocolate ganache topping, and the homemade date syrup that's used to sweeten everything. Here's what you'll need to make these healthy banana muffins:
All-purpose flour
Whole wheat flour
Baking powder
Salt
Nutmeg
Coconut oil
Eggs
Banana
Grated carrots
Vanilla extract
Buttermilk
Cocoa powder
Dates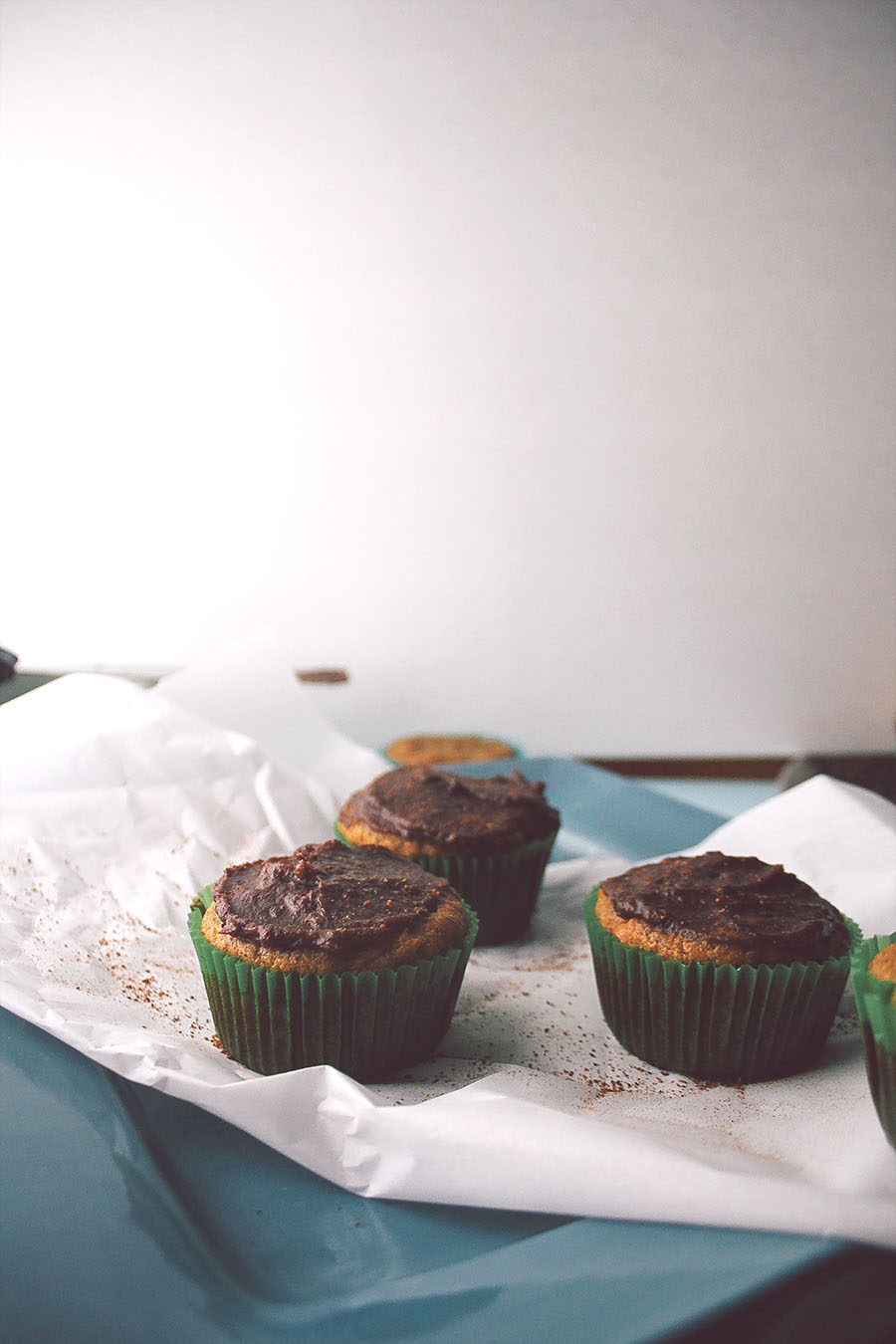 How to Make Banana Carrot Muffins
I've included detailed instructions on how to make these healthy banana carrot muffins in the recipe card below. Here are the basic steps to making these this ultra moist banana muffin recipe:
Let the dates soak in filtered water for 1 hour, then blend until smooth.
Whisk together the banana carrot muffin batter, then distribute between 12 muffin cups and bake.
Once the muffins are cool, make the chocolate ganache frosting. Frost each muffin and dig in!
Can I Use Regular Sugar Instead of Date Syrup?
If you've never used date syrup before than this is the perfect recipe to try it out. I made enough date syrup to put it in both the muffins and the chocolate genache so you can see how to play around with it in two different types of sweet goodies. Cool? Cool!
BUT…if you REALLY aren't sold (which I am totally offended if you aren't), you could *technically* sub in a 1/2 cup of sugar in this recipe and these would be just as delicious. But you better not think about enjoying them for breakfast if you go that route! (Yes, I am judging you).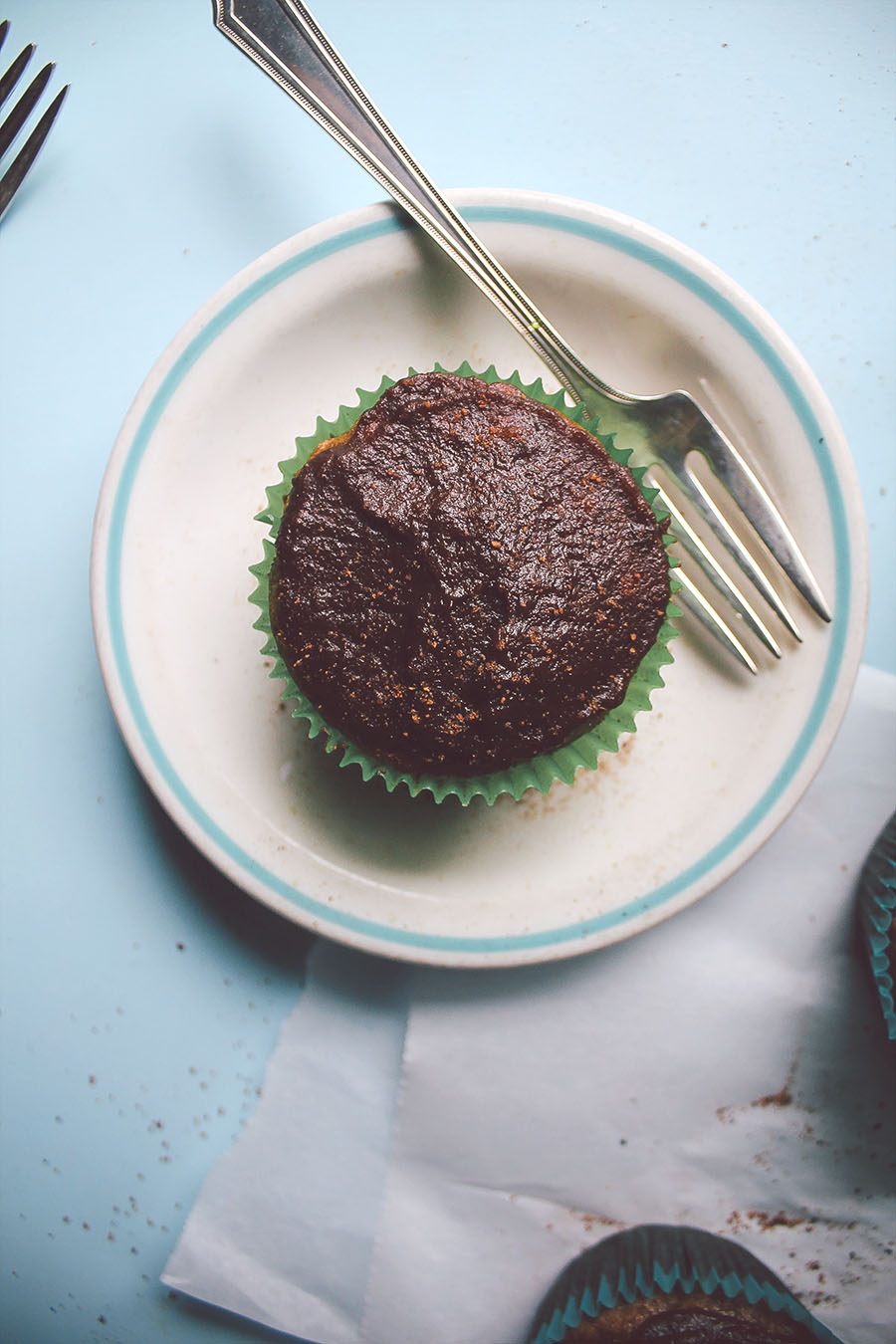 Tips for Making Banana Carrot Muffins
Do not, under any circumstances, skip soaking your dates. The dates need time to soften, otherwise your date syrup won't be smooth enough.
To make this recipe vegan, you can try substituting 1/4 cup applesauce for each of the eggs called for in this recipe (so you'd wind up adding 1/2 cup applesauce total). I can't guarantee this substitution will work, but this is what I always do when I don't have eggs on hand.
These banana carrot muffins freeze well, minus the chocolate ganache frosting. Set them on the counter to thaw or reheat them in the microwave for a quick breakfast!
Want More Easy Muffin Recipes?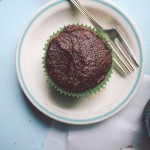 Banana Carrot Muffins
These banana carrot muffins made with homemade date syrup are nutritious enough for breakfast, but just as satisfying as dessert.
Course:
Breakfast, Dessert
Keyword:
banana muffins, muffins
Ingredients
Carrot Banana Muffins:
1/2

cup

all-purpose flour

1/2

cup

whole wheat flour

1

teaspoon

baking powder

1/4

teaspoon

salt

1/2

teaspoon

nutmeg

1/4

cup

coconut oil

, melted

1/2

cup

homemade date syrup

(recipe follows)

2

large

eggs

1

banana

, mashed

1

cup

grated carrots

1

teaspoon

vanilla extract

(or seeds from 1 vanilla bean)
Chocolate Ganache Frosting:
1/2

cup

homemade date syrup

(recipe follows)

2

tablespoons

cocoa powder

1/2

tablespoon

coconut oil

, melted
Date Syrup:
8

ounces

medjool dates

, pitted

1

cup

filtered water
Instructions
Make the Date Syrup:
Stick dates in 1 cup of filtered water and let soak for 1 hour or up to 24 hours (I stick it in the fridge if they are going to be soaking for more than an hour). Once softened, throw the dates in a food processor or blender (with the soaked date water) and process until smooth.
For the Muffins:
Whisk together the flours, salt, baking powder, and nutmeg. Set aside.

In another mixing bowl, whisk the date syrup, vanilla extract, and coconut oil until incorporated.

Next, add in the eggs and bananas and whisk until combined. Finally, fold in the carrots.

Pour half of the flour mixture into date mixture and whisk until combined. Next, add in the buttermilk and stir. Finally, add the rest of the flour mixture until everything is incorporated and you are left with a thick batter.

Evenly distribute the batter between 12 cupcake tins (they should end up about 3/4 full) and bake for 20 minutes or until golden on the top.

Remove from oven and let cool.
For the Chocolate Ganache:
Use an electric mixer to mix all the ingredients until light and fluffy (about 5 minutes). Spread over muffins and enjoy!