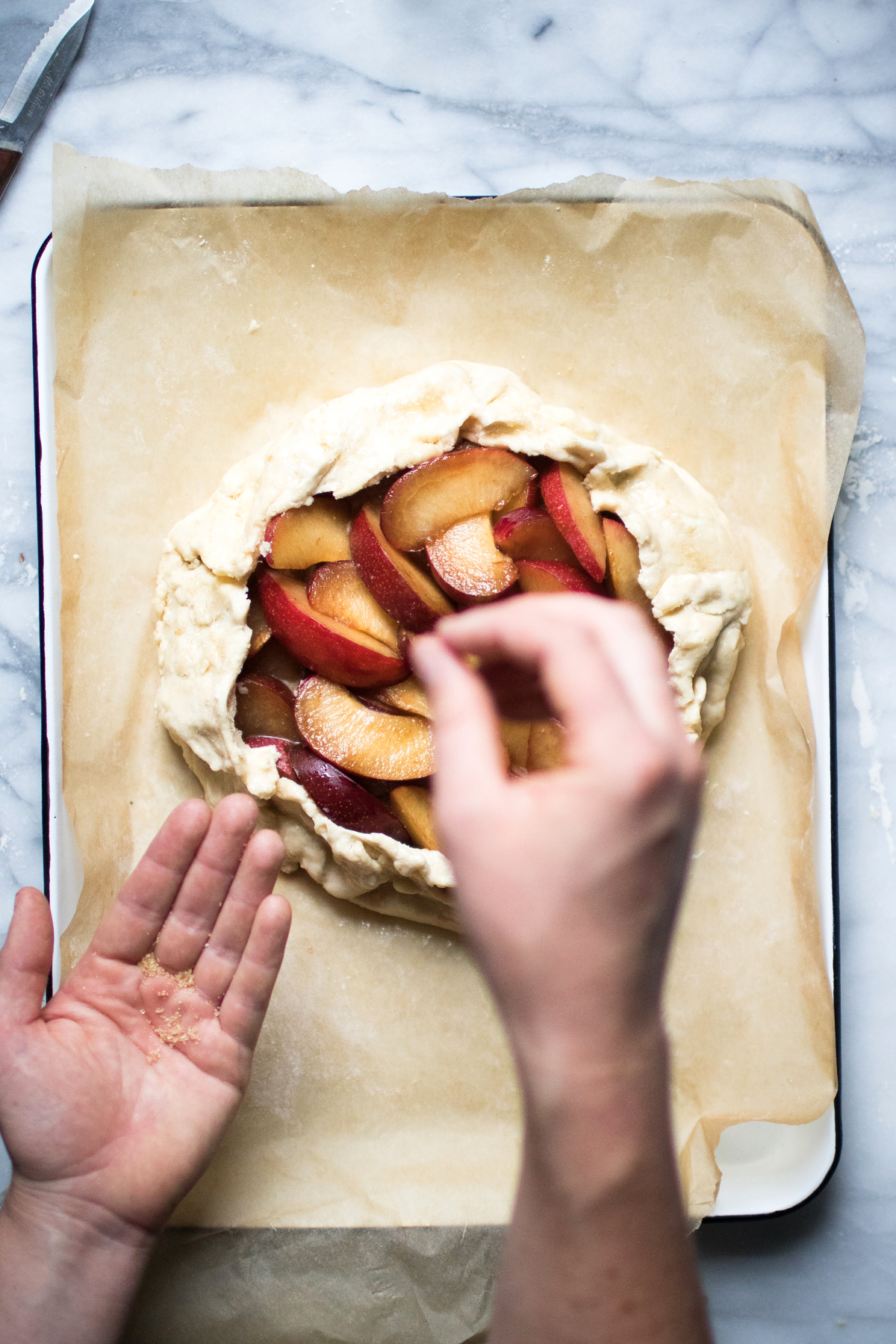 Plum Galette With Hazelnut Frangipane
This plum galette with hazelnut frangipane is a simple and delicious fruit galette with a creamy almond filling! Plus, it's easy to make!
In a hurry? Click here to JUMP TO RECIPE!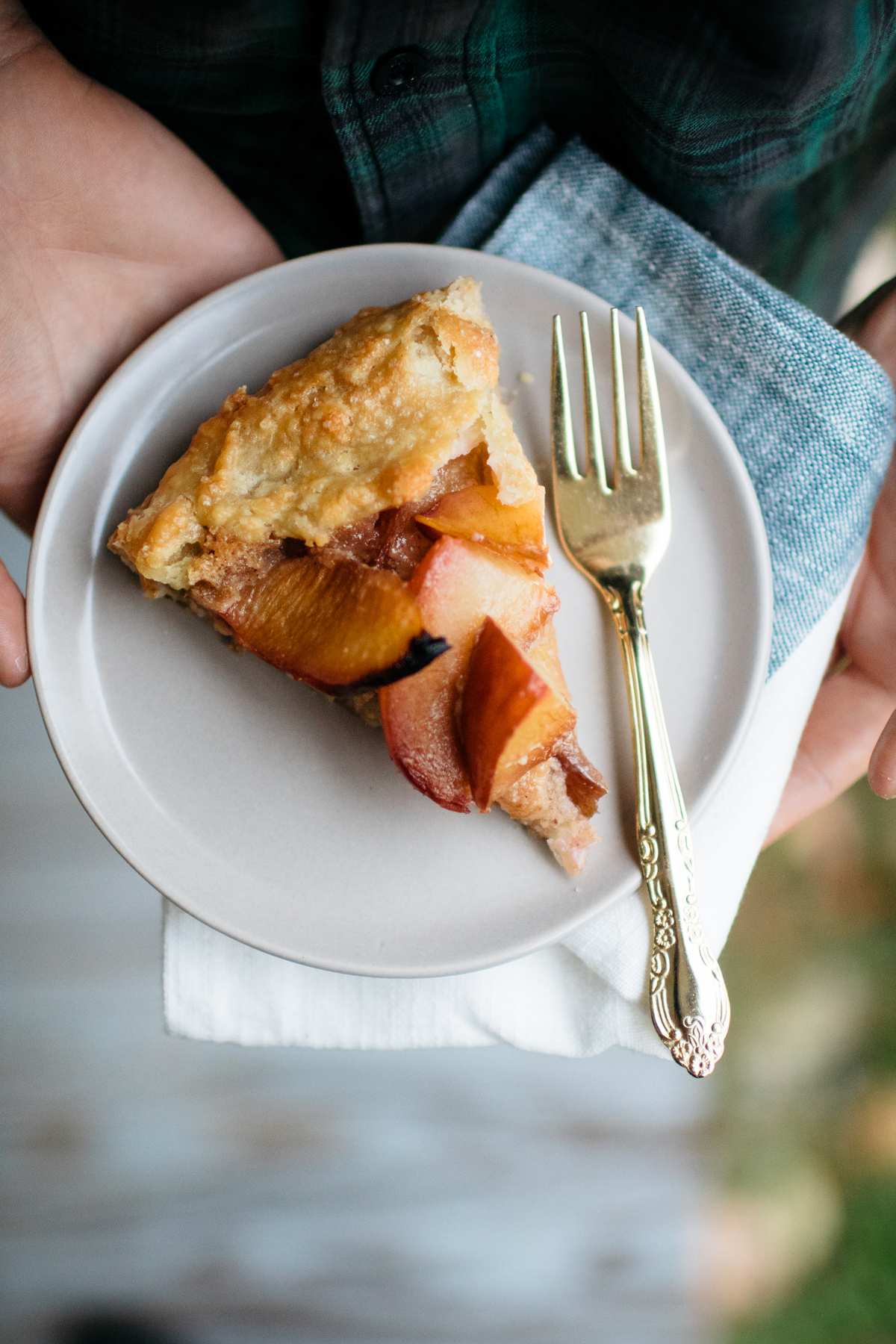 First off, I'm sorry for posting book reviews two weeks in a row but I promise it's only because I've been hard at work getting some holiday recipes together for all of you; I will begin rolling those out over the next few weeks! Plus, this Plum Galette With Hazelnut Frangipane is A-MAZING so what am I even apologizing for?
Can you believe it's already November? I can't. I just can't get over that it's already dark by six PM and that Thanksgiving is only a few weeks away (then again — the 70 degree weather we've been having here hasn't been helping me to believe this whole November thing).
You know what November means, right? It means we (if you are in the U.S.) have to start thinking about Thanksgiving. For the past five years, Wyatt and I have switched off between visiting my family in Northern Indiana and visiting his family in Northern Wisconsin. This year we were scheduled to head up to Wisconsin but after listening to Wyatt complain about the 14 hour drive one afternoon, I go 'fine. We just won't go anywhere for it' and immediately texted my family saying we were going to be hosting Thanksgiving down here in Bloomington (Indiana) if they wanted to come.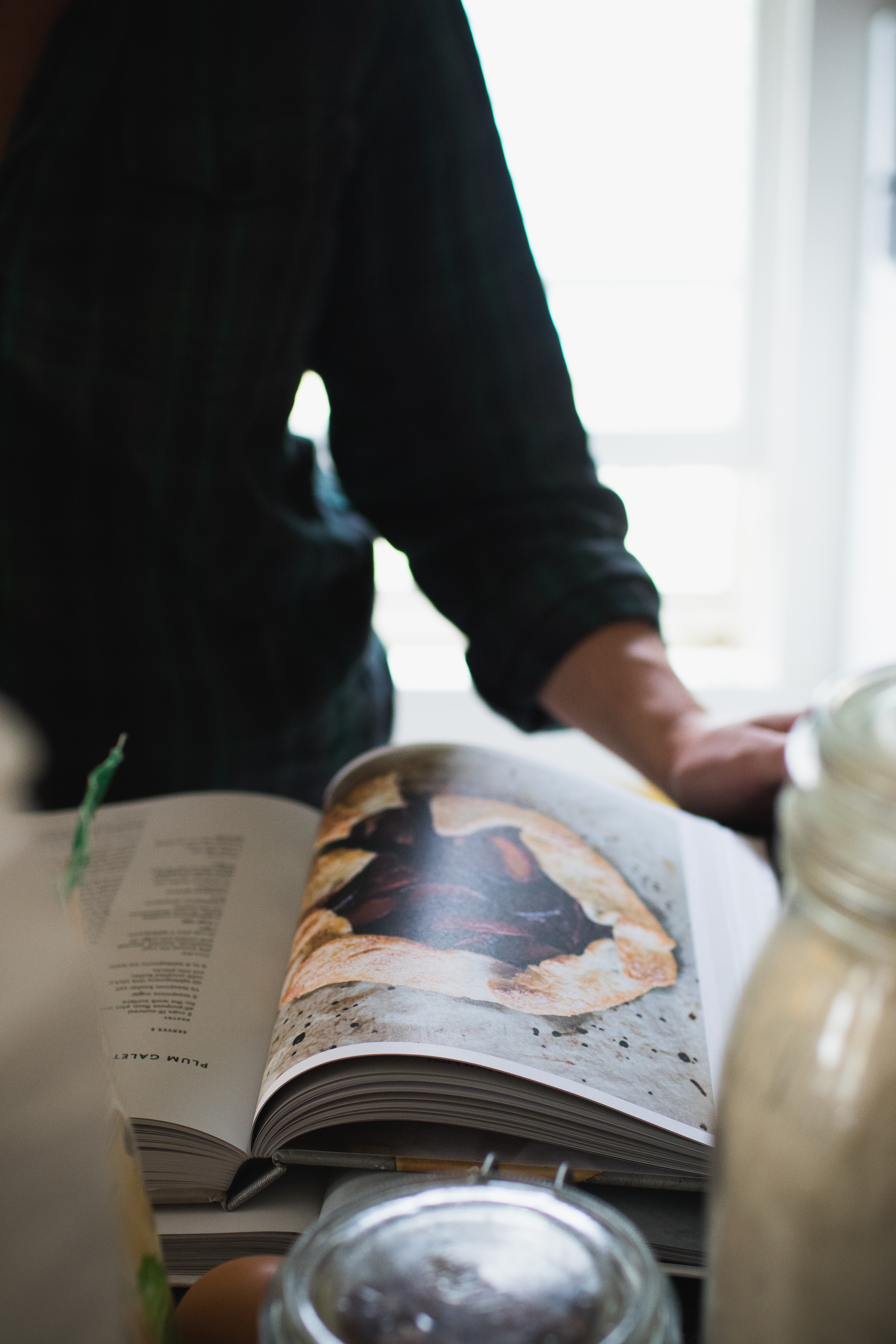 I didn't think they'd agree but I got a text back saying 'sure. we are in' and here we are — I'm about to host my first Thanksgiving! Yikes! Send good vibes (and delicious recipes) my way asap because I have a feeling I had no idea what I was getting myself into.
Changing gears back to this Plum Galette With Hazelnut Frangipane, Samantha Seneviratne's new baking book, The New Sugar & Spice, is about to become my most used cookbook this holiday season. With endless inspiration for sweets, she uses the less known spices (what I call the 'back of the spice cabinet spices') to create unique and bold flavor combinations. I've only tackled this galette and the chili-chocolate truffles, but her hot honeycomb candy is next on my list.
This plum galette has a homemade hazelnut butter filling (also known as frangipane) that is beyond addicting and complements the sweet plum slices perfectly. I had trouble keeping any around for the filling since we kept sneaking spoonfuls of it.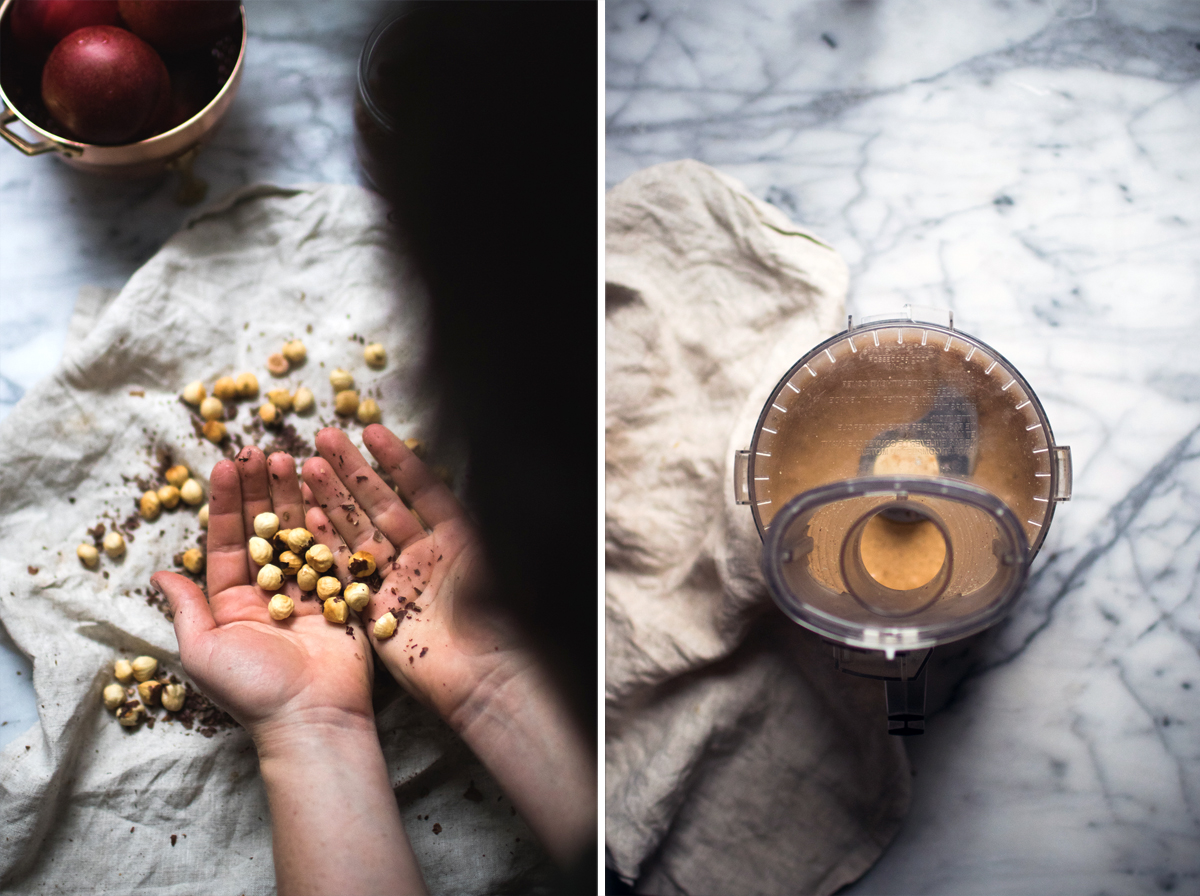 What is a Galette?
Essentially, a galette is a freeform, rustic looking tart. Galettes originated in France and can be made sweet or savory. Unlike a pie, there's no top crust to a galette. All you do is roll out the galette dough, top it with your filling of choice, then crimp the edges up around the filling.
Galettes aren't meant to look perfect, which is one of the many reasons I love making them. If you're scared to make a pie for you next family event but want to make a show stopping dessert nonetheless, try making a galette! They require a little patience (the galette dough has to chill for 2 hours), but otherwise they're a cinch to whip up.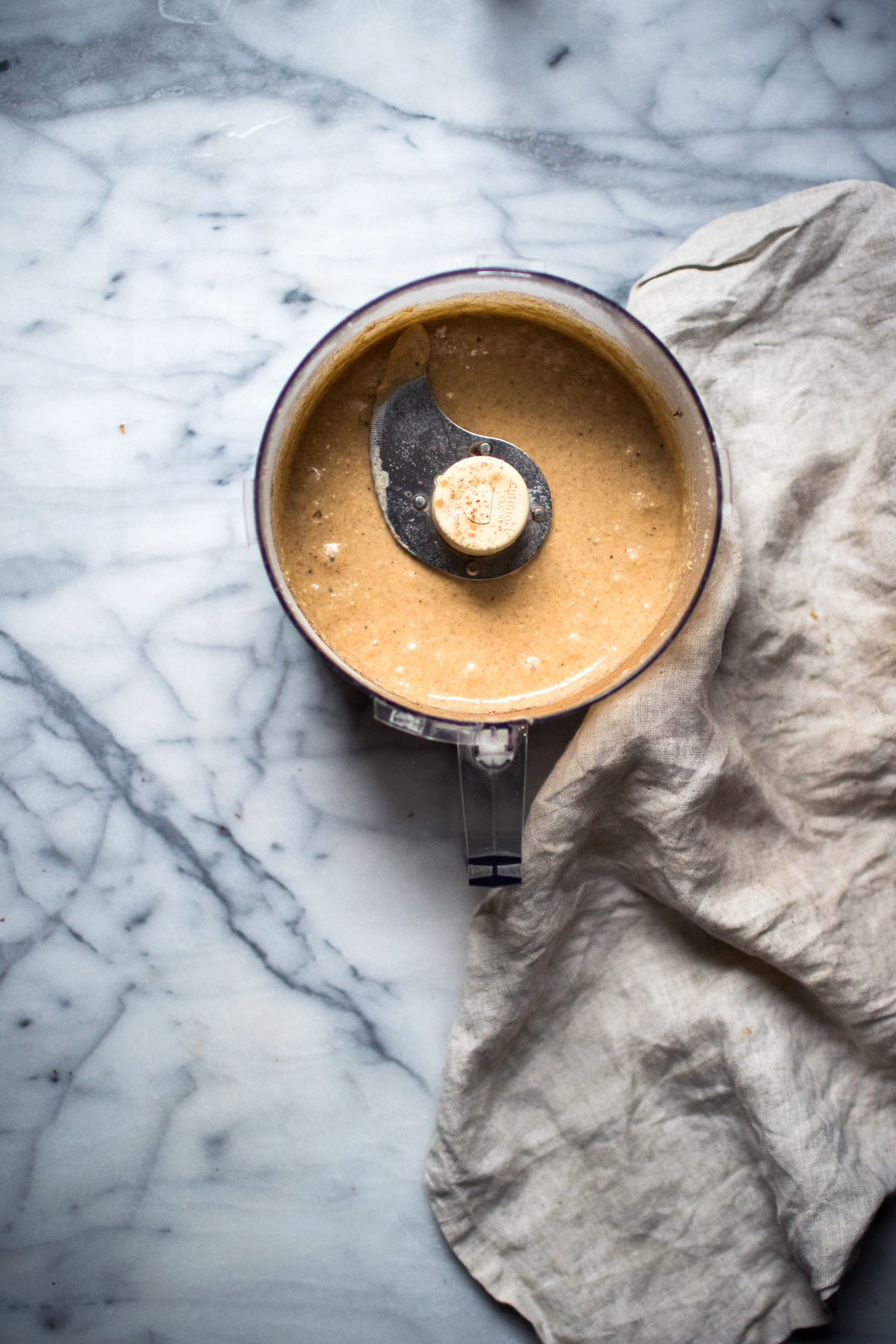 What's in a Plum Galette?
This plum galette recipe has two main components: the galette dough and the plum-hazelnut filling. Here's what you'll need to make this easy galette recipe:
All-purpose flour
Granulated sugar
Kosher salt
Unsalted butter
Ice water
Hazelnuts
Egg
Ground cinnamon
Fresh plums
Sanding sugar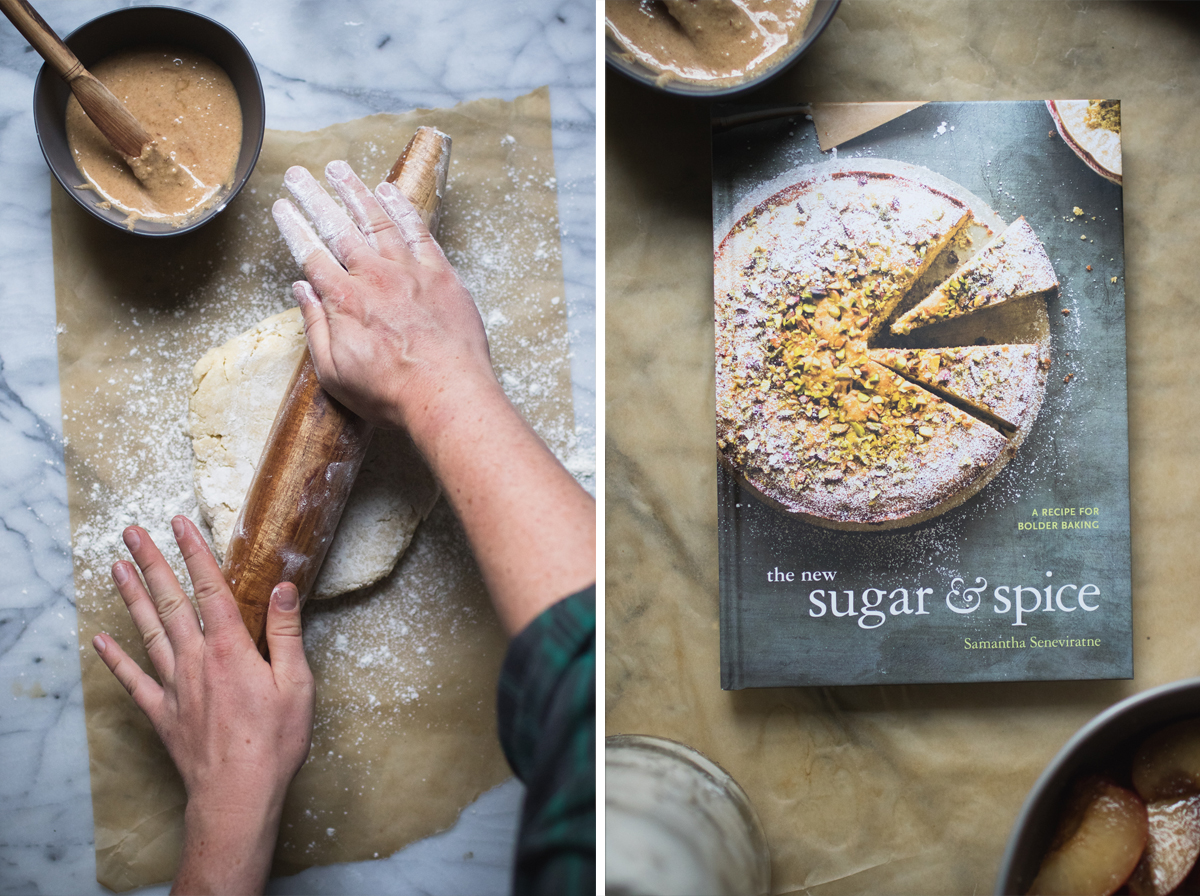 How to Make a Plum Galette
I've given detailed instructions on how to make a galette in the recipe card below, but here are the basic steps:
Make the galette dough. Wrap it in plastic wrap, then chill in the fridge for 2 hours.
Make the plum and hazelnut fillings.
Once chilled, roll out the dough into a 13-inch circle.
Scoop the hazelnut mixture into the center of the dough, then top with plums.
Fold the edges of the galette dough up over the plum filling.
Brush the top of the pastry with egg wash, then sprinkle with sanding sugar.
Bake the plum galette for 45 to 55 minutes at 400ºF.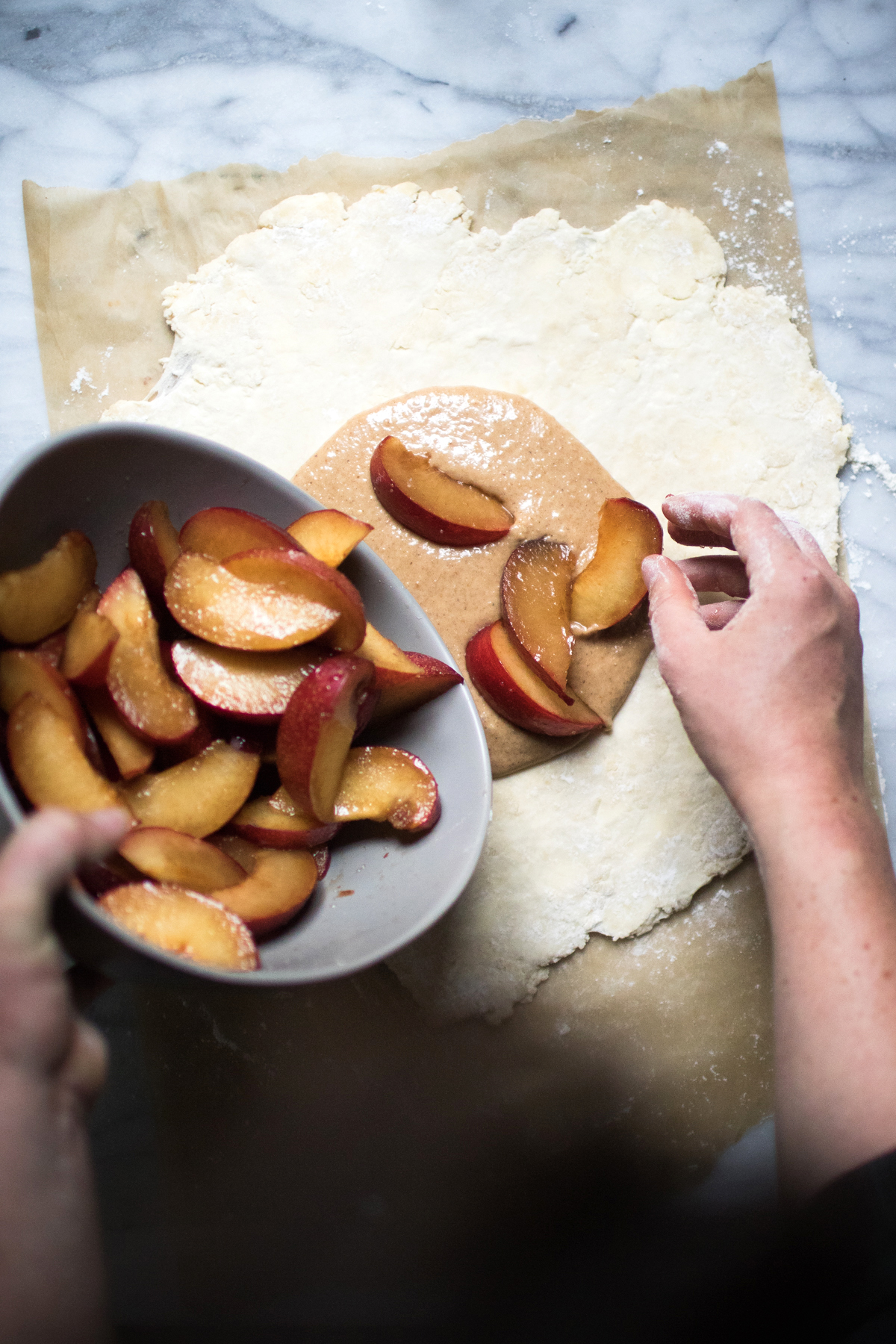 Can I Use Different Fruits in This Galette Recipe?
If the plums are looking sad in your neck of the woods (it is a little bit past their season), then you could try this with apples or pears.
How to Store a Galette
You should store this homemade plum galette at room temperature. It will last up to 2 days, but is best enjoyed the day it's baked.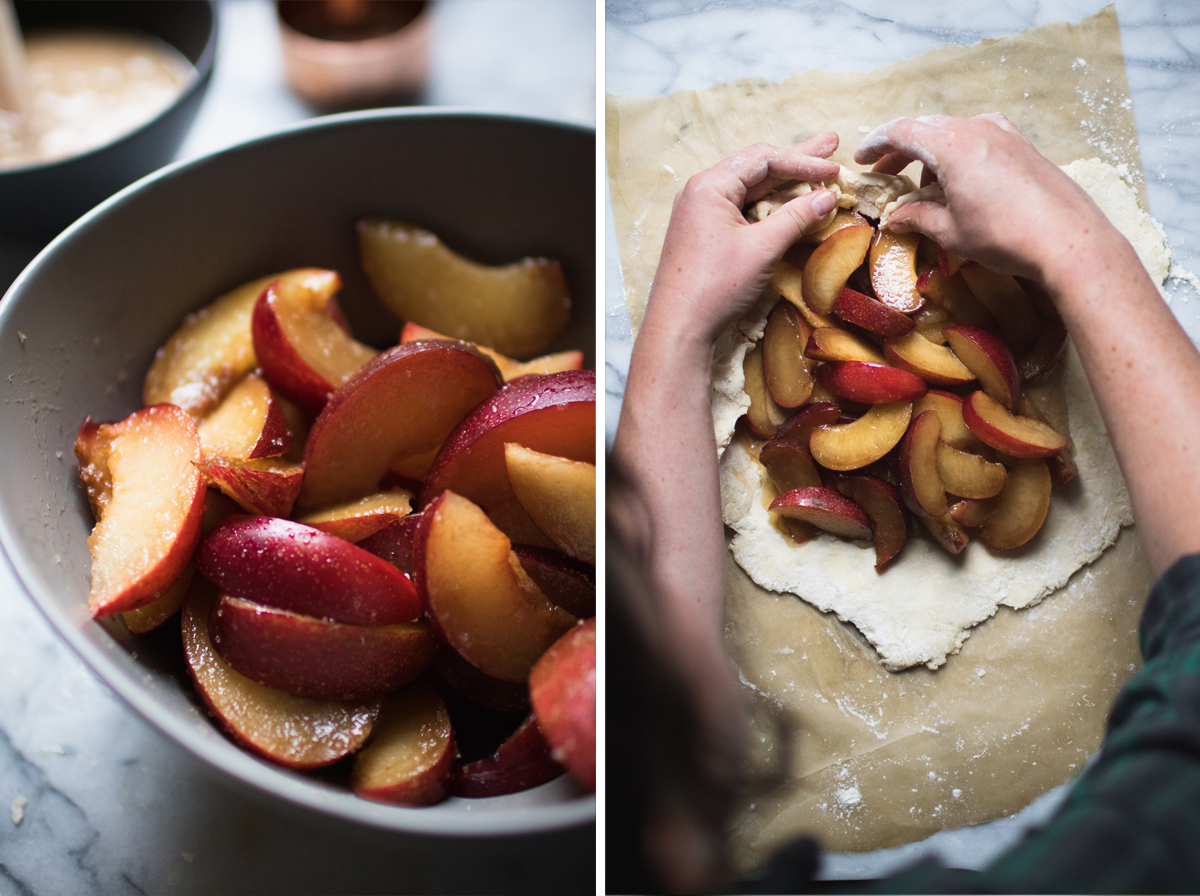 Tips for Making a Plum Galette
Fresh fruit is a must when making fruit galettes. Frozen plums (or apples, pears, etc.) won't yield the same results and will likely make your dough soggy.
Note that you don't need to skin the plums before baking them in the galette dough. Simply slice and remove the pits.
Don't be tempted to overfill the galette. If you add too many plums to the middle, the galette dough won't be able to hold it all in, and your filling will ooze out onto the baking tray.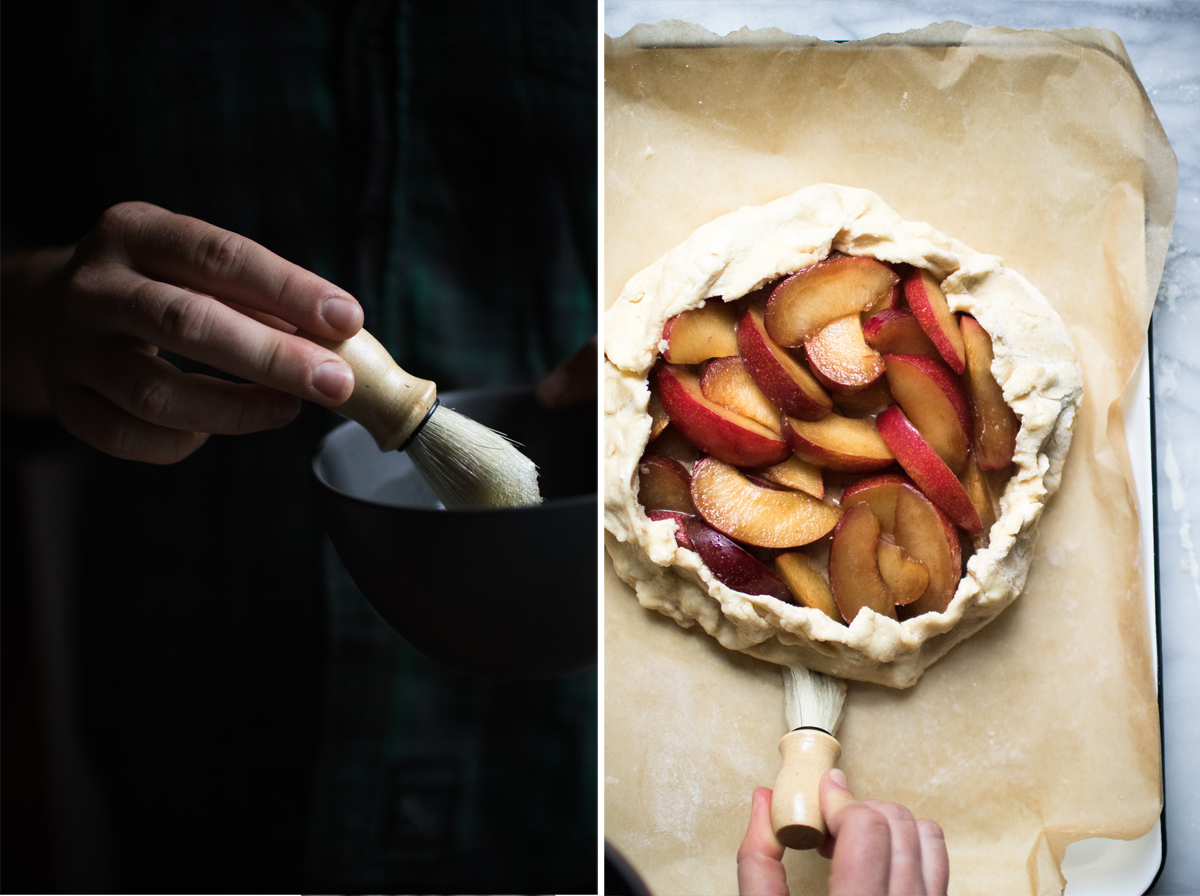 Want More Plum Recipes?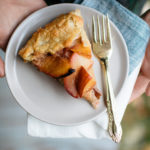 Plum Galette With Hazelnut Frangipane
A sweet and elegant plum dessert filled with addictive hazelnut frangipane and ruby plums.
Ingredients
For the crust:
2

cups

all purpose flour + more for dusting the work surface

2

teaspoons

sugar

1/2

teaspoon

kosher salt

10

Tablespoons

cold unsalted butter

, cut into small pieces

6

to 8 Tablespoons ice water
For the filling:
1/2

cup

hazelnuts

, toasted with the skins removed

1/4

cup

cup plus 3 tablespoons sugar

1

large egg

3

Tablespoons

unsalted butter

, cut into pieces & at room temperature

1

Tablespoons

all-purpose flour

1

teaspoon

ground cinnamon

1/2

teaspoon

kosher salt

1

pound

of ripe plums

(about 4 medium), pitted & cut into 1/2 inch wedges
To finish:
1

large egg yolk

2

teaspoons

water

Sanding sugar

, for sprinkling
Instructions
Make the crust:
For the crust, whisk together the flour, sugar, and salt in a mixing bowl.

Cut the butter into the mixture with a pastry blender or clean hands until the butter are in pea size pieces or smaller.

Add six tablespoons of the ice water and mix just until the dough has come together.

Wrap in plastic wrap and stick in the fridge to chill, about two hours.

Preheat oven to 400 degrees F.
Make the filling:
For the filling, combine the hazelnuts and 1/4 cup sugar and pulse until the nuts are finely ground (make sure to stop before it starts to turn into paste).

Add the egg, a tablespoon of butter, flour, cinnamon, and salt and blend until completely combined.

In a medium bowl, toss the remaining 3 tablespoons sugar with the plums.
Assemble the galette:
On a lightly floured a large sheet of parchment paper and roll out the dough on it into a 13-inch circle.

Scoop the hazelnut mixture over the center of the dough and top with the plums (keeping about 4 inch border of dough).

Fold the bare dough of the pasty up and around the filling, pleating the dough as needed to seal.

Gently transfer the galette (with the parchment paper) to a baking sheet and stick in the freezer to chill for 15 minutes.

In a small bowl, whisk the egg yolk and 2 teaspoons of water. B

rush the top of the pastry with the egg wash, sprinkle with sanding sugar, and top the plums with the last tablespoon of butter.

Bake for 45 to 55 minutes or until the crust is golden brown.

Let cool slightly before serving.
Recipe Notes
It's enjoyed best the same day but can be stored at room temperature for up to 2 days.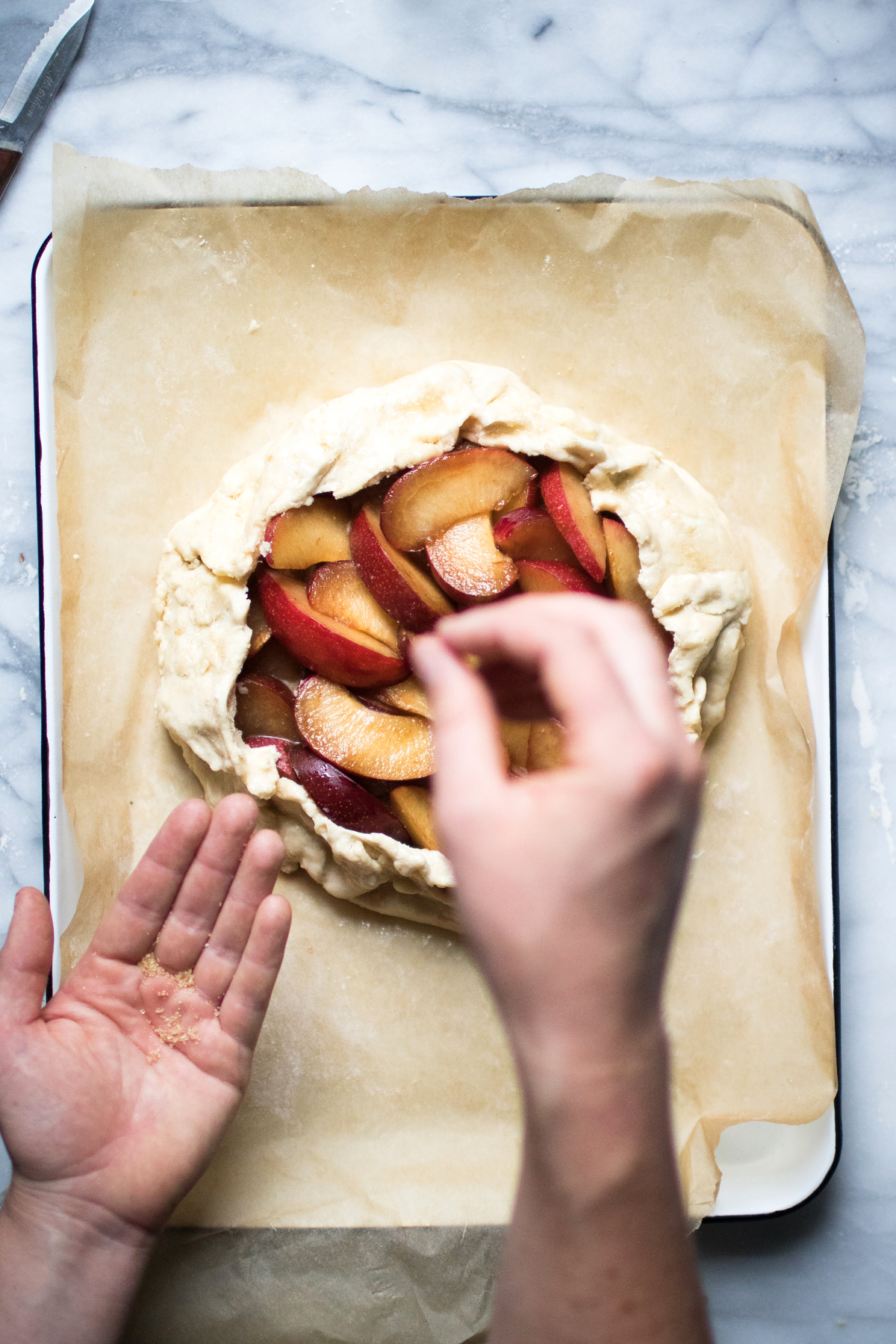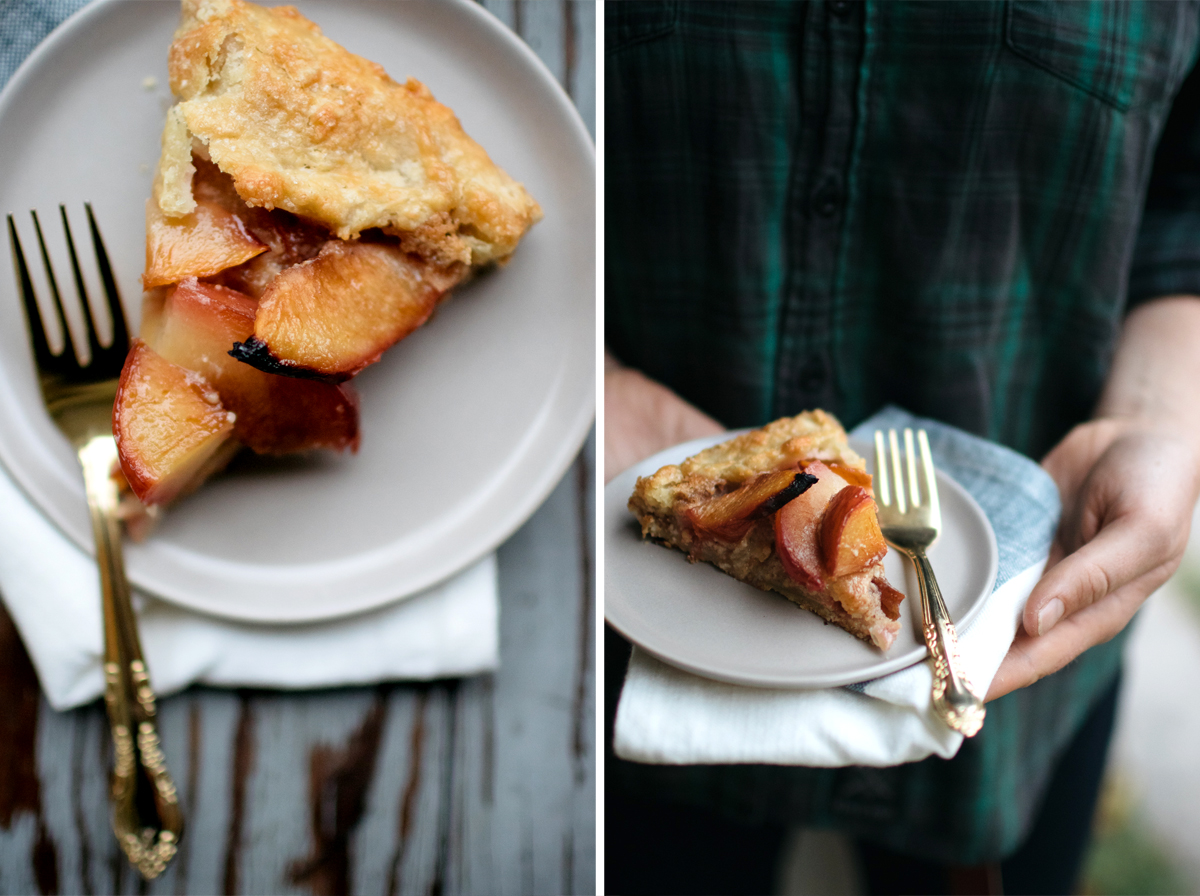 *DISCLAIMER: I received this book from Blogging for Books in exchange for an honest review.