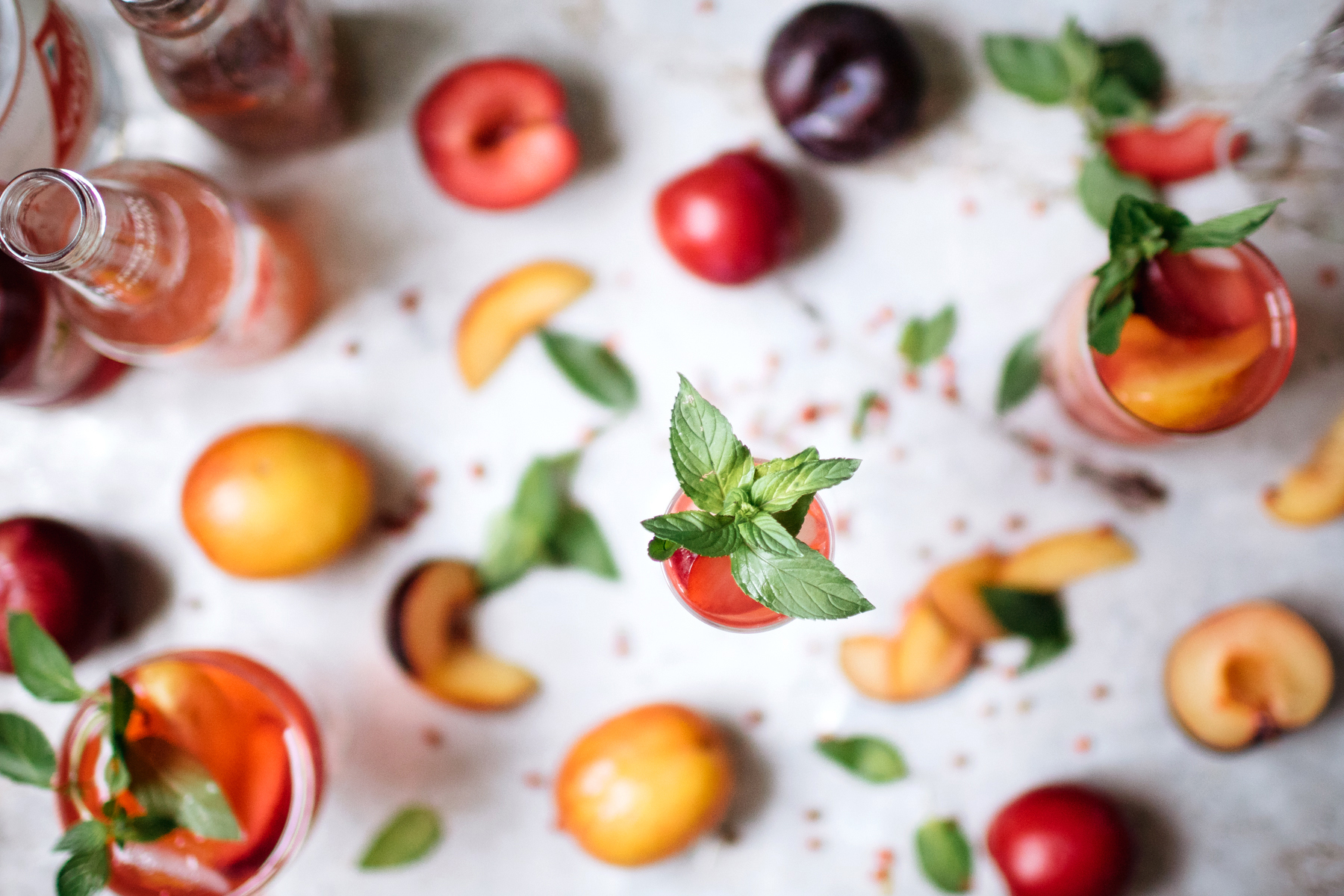 Sparkling Peppered Plum Blush + Let's Celebrate: VV Turns 4!
In a hurry? Click here to JUMP TO RECIPE!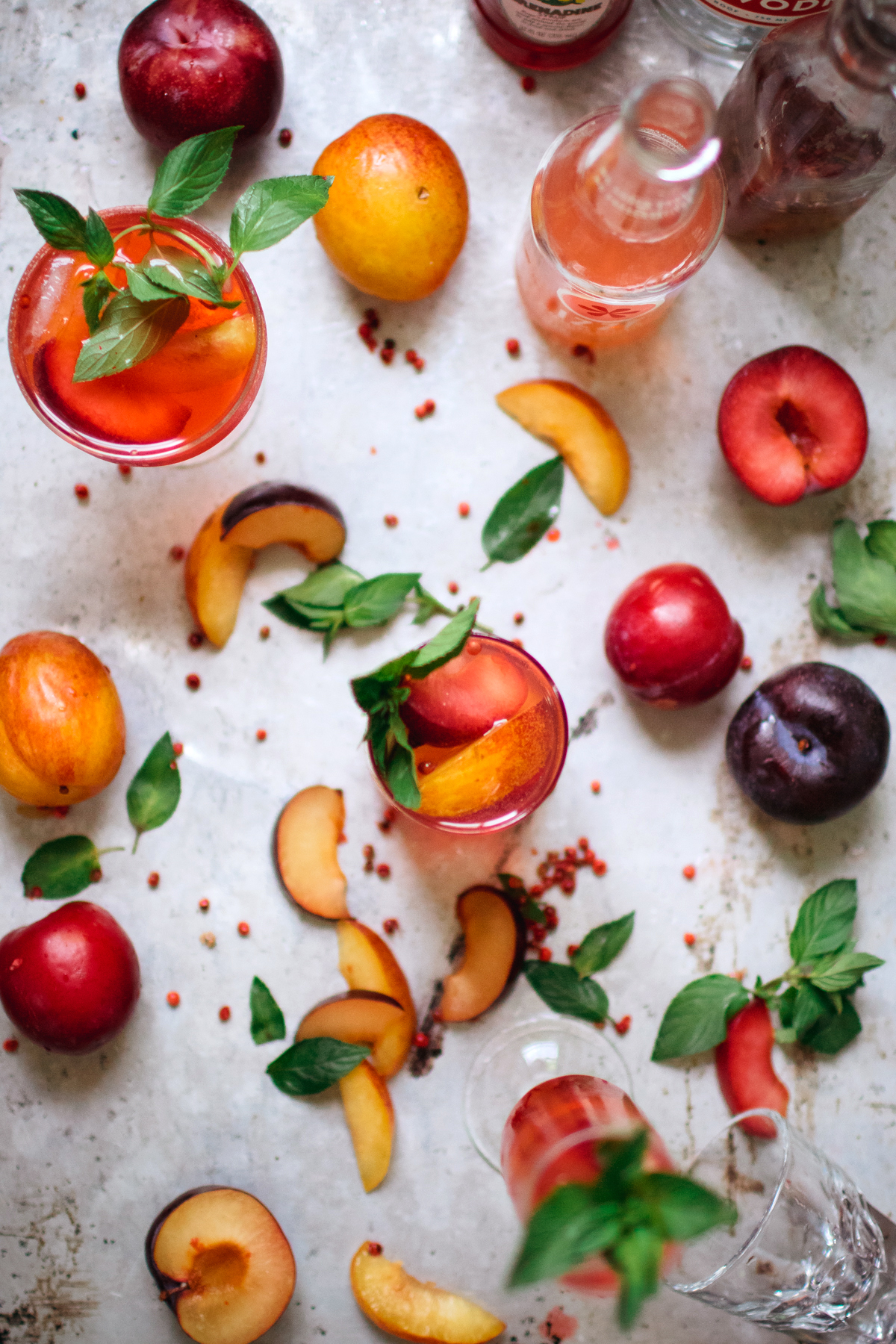 Blogiversary (did I seriously just use that term?), we meet again. This time around it's VV turning four but how has it already been a year since the last one? It's very strange for me to think about – four years doesn't sound like that long but I can't even remember what it was like not to have this little blog around. To shoot photos in my free time. To obsess over new recipes and cookbooks. To sell my photography on the side. To ramble on and on about my dog, boy, and life changes.
Not only am a really grateful for all the amazing opportunities I've been offered from this blog but I'm so grateful I was talked into starting it as a creative outlet. My Ma has recently started talking about moving out of the house that I was mostly raised in and when she was cleaning out the basement, she came across dozens and dozens of my journals. I've kept a journal since I learned to read – some were filled with words, others with sketches, many with magazine clippings, and most with a combination of all those things. She was telling me about all the journals she found over dinner one night and I excitedly asked if she had brought them with her. She gave a nervous chuckle and said she had tossed them as there were dozens of them that she couldn't imagine I'd want to store them. I had to hold back tearing up – I know her intentions were not at all to upset me but I was upset. I'm not sure why I hold those journals so close to my heart or why I even started writing in a journal to begin with but I was beyond bummed. I had always imagined giving those journals to my daughter one day to let her get a glimpse into what I was like at that age and to let her feel a little less alone when she was going through social trouble at school (which is absurd since I don't even want kids).
There is something about reflecting on my old writing and knowing that all the problems I was worried about worked themselves out… that is so relieving. Or reading through and realizing how much my dreams have changed and that is okay. Or stumbling upon an entry of a memory I had completely forgotten and reconnecting with the emotions I felt during that moment. Whenever I start to feel too stressed about how things are currently going, I like to reflect on my old writings to escape to simpler times – maybe it's because I have a terrible memory or maybe it's because the written memories are never quite how I had been keeping them stored in my mind.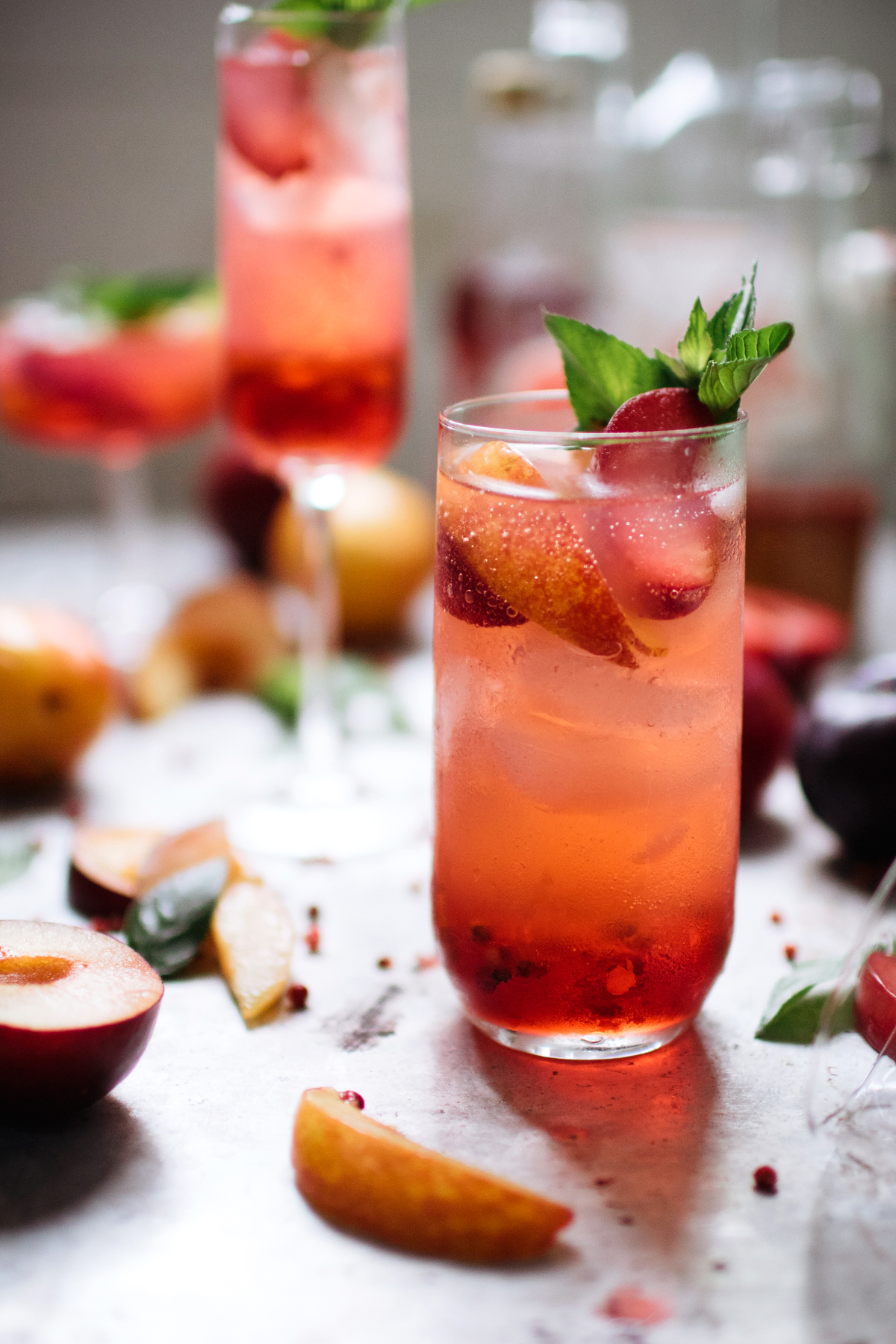 Anyhow, I stopped keeping written journals when I started VV as my writing energy goes into posts like this and I prefer to tell most of my story through photography these days. Here's to always keeping the memories logged somewhere (that your Mom hopefully can't throw away – ha!). Also, here are the past Blogiversary posts because it's fun to reflect:
VV Turns One! // Butterscotch Roll-Up Cake
VV Turns Two /// Spicy Double Chocolate Cookies With Cappucino Frosting
Creamy Peanut Butter Pupsicles (VV Turns Three)
Changing angles a bit, today this drink has a double purpose because it's not only a celebratory drink for another year of VV but also part of the #drinkthesummer potluck! Here are links for other deliciously refreshing drinks that are part of the potluck:
A Brown Table | Fig and Bourbon Summer Smash
Appeasing a Food Geek | Sugar Plum Margarita
Beard and Bonnet | Pineapple and Cilantro Moscow Mule
The Bojon Gourmet | Basil Pluot Pimm's Cup
The Broken Bread | Blackberry, Cucumber & Mint Gin Spritzer
Brooklyn Supper | Bloody Maria Cocktails
Cake Over Steak | Blackberry Bourbon Cocktail
Chocolate + Marrow | Raspberry Thyme Smash
The Clever Carrot | 5 Minute White Peach Margaritas
Cookie and Kate | Watermelon Sangria
Dunk & Crumble | Ginger Peach Whiskey Smash
Earthy Feast | Strawberry, Basil + Pink Peppercorn Negroni
Edible Perspective | Rosé Slushies
Faring Well | Sparkling Melon Coolers w/ Muddled Raspberries + Mint
Feed Me Phoebe | Pimm's Cup Cocktail with Fresh Ginger, Lime and Tarragon
Fix Feast Flair | Berry Peachy Kentucky Mules
Ginger & Toasted Sesame | Blackberry Peach Margarita with Spicy Salt
holly & flora | pimm's cup with blackberry + lemon zest shrub
Hummingbird High | Thyme Lemonade
Hungry Girl por Vida | Peanut Butter & Berry Smoothie
I Am a Food Blog | Thyme Gin and Tonics
Kale & Caramel | Sweet Coconut Slushie with Spiced Agua Fresca de Jamaica
le jus d'orange | Peach Yogurt Soju + Ginger Plum Kombucha Cocktail
Loves Food, Loves to Eat | Coconut Nectarine White Wine Spritzers
my name is yeh | nutella egg cream
O&O Eats | The Long Hope: a Honeydew Cucumber Gin Cocktail
The Pig & Quill | Rasberry Basil Gingerade Fizz
Salt & Wind | Watermelon Aperol Spritzes
She Eats | Fizzy Lime & Blackberry Shrub
Snixy Kitchen | Sparkling Asian Pear and Mint Iced Tea
The Pancake Princess | Strawberry Balsamic Shrubs
Tasty Yummies | When Figs Fly // Spiced Rum Fig Kombucha Cocktail
Tending the Table | Plum Spritzer with Ginger and Kafir Lime
Vigor and Sage | Peachy Tomato Basil Gin + Tonic
what's cooking good looking | Watermelon Basil Colada
Will Frolic For Food | The Sugar Hollow: Watermelon Gin Cocktail with Cardamom and Lime
With Food + Love | Fresh Heirloom Bloody Marys with Old Bay + Spicy Pickles
This cocktail was made with plums but any stone fruit would do (I threw in a few other stone fruits in mine, if you couldn't tell). I also used sparkling grapefruit juice because it's beyond delicious and I'm a bit addicted but you can use a combination of grapefruit juice and soda water if you are having trouble finding it (you may need to add a bit more simple syrup though since the sparkling grapefruit juice is already pretty sweet).
Hope you try this cocktail soon and find an excuse to celebrate whatever is making you happy at the moment!
Sparkling Peppered Plum Blush & Pink Peppercorn Simple Syrup recipe below: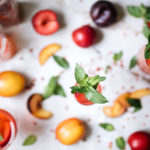 Sparkling Peppered Plum Blush + Let's Celebrate: VV Turns 4!
This Sparkling Peppered Plum Blush is a refreshing and thirst quenching cocktail.
Ingredients
4

cups

sparkling grapefruit juice

(I used this brand)

4

ounces

of vodka

4

ounces

of grenadine

2

ounces

of Pink Peppercorn Simple Syrup

(recipe follows)

Ice

Plums

, sliced (for garnish)

Mint

, for garnish
Instructions
Fill four cups with ice.

Pour 1 ounce each of the vodka and grenadine into the glasses.

Add in 1/2 ounce of the simple syrup into each glass and fill with sparkling grapefruit juice.

Garnish with plum slices and mint.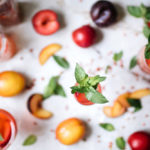 Sparkling Peppered Plum Blush + Let's Celebrate: VV Turns 4!
This Pink Peppercorn syrup is a spicy and colorful addition to any cocktail!
Ingredients
1/2

cup

sugar

1/2

cup

water

2

Tablespoons

pink peppercorn
Instructions
Combine all the ingredients in a small saucepan and bring to a boil.

Let boil for one minute and then turn the heat off.

Cover and let steep for twenty minutes and then strain out the peppercorn for another use.

Transfer the simple syrup into an airtight container and keep in the fridge until ready to use.