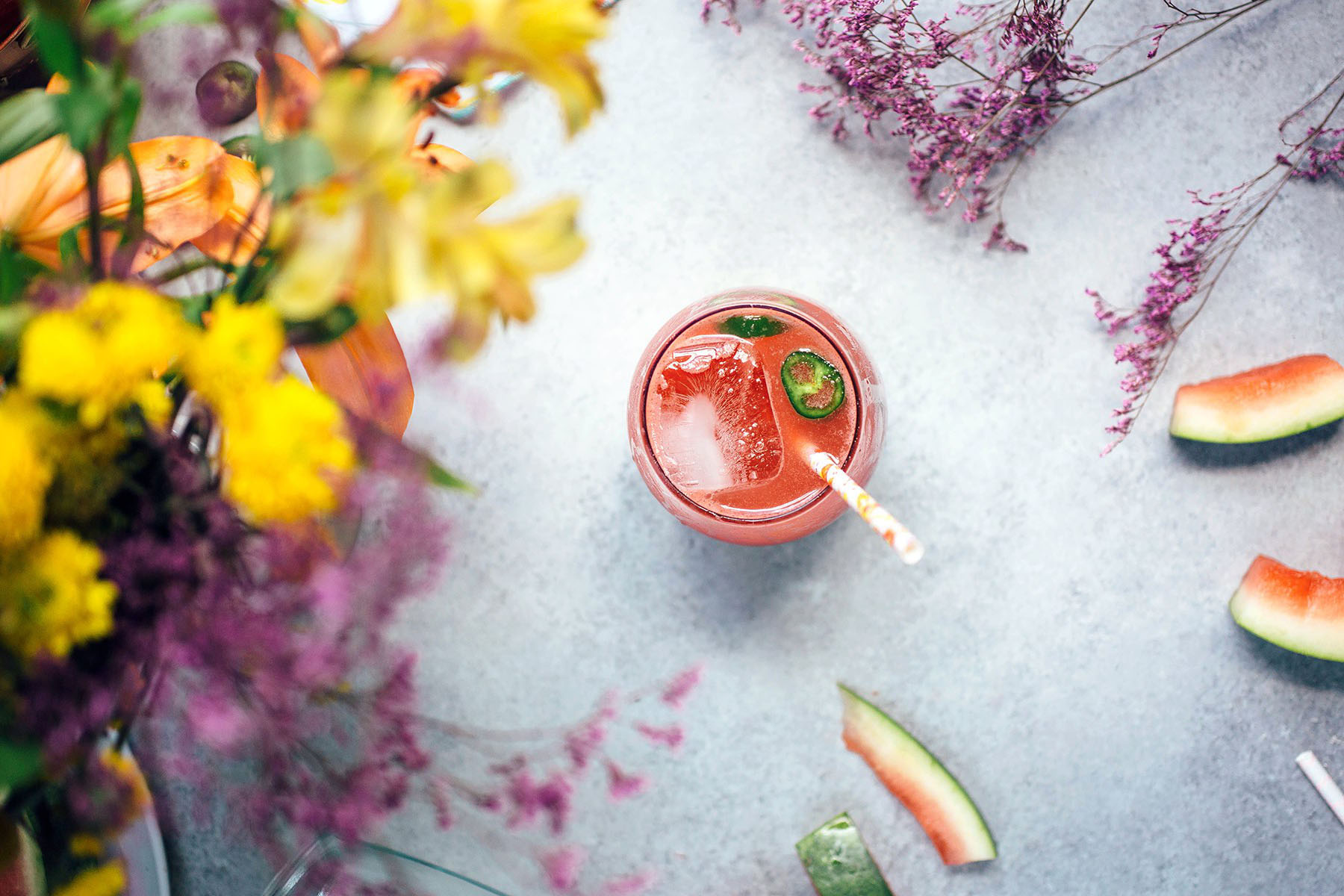 Spicy Watermelon Soda [Vegan]
In a hurry? Click here to JUMP TO RECIPE!
This homemade sweet and spicy watermelon soda is the perfect fizzy non-alcoholic drink recipe to quench your thirst on a hot day.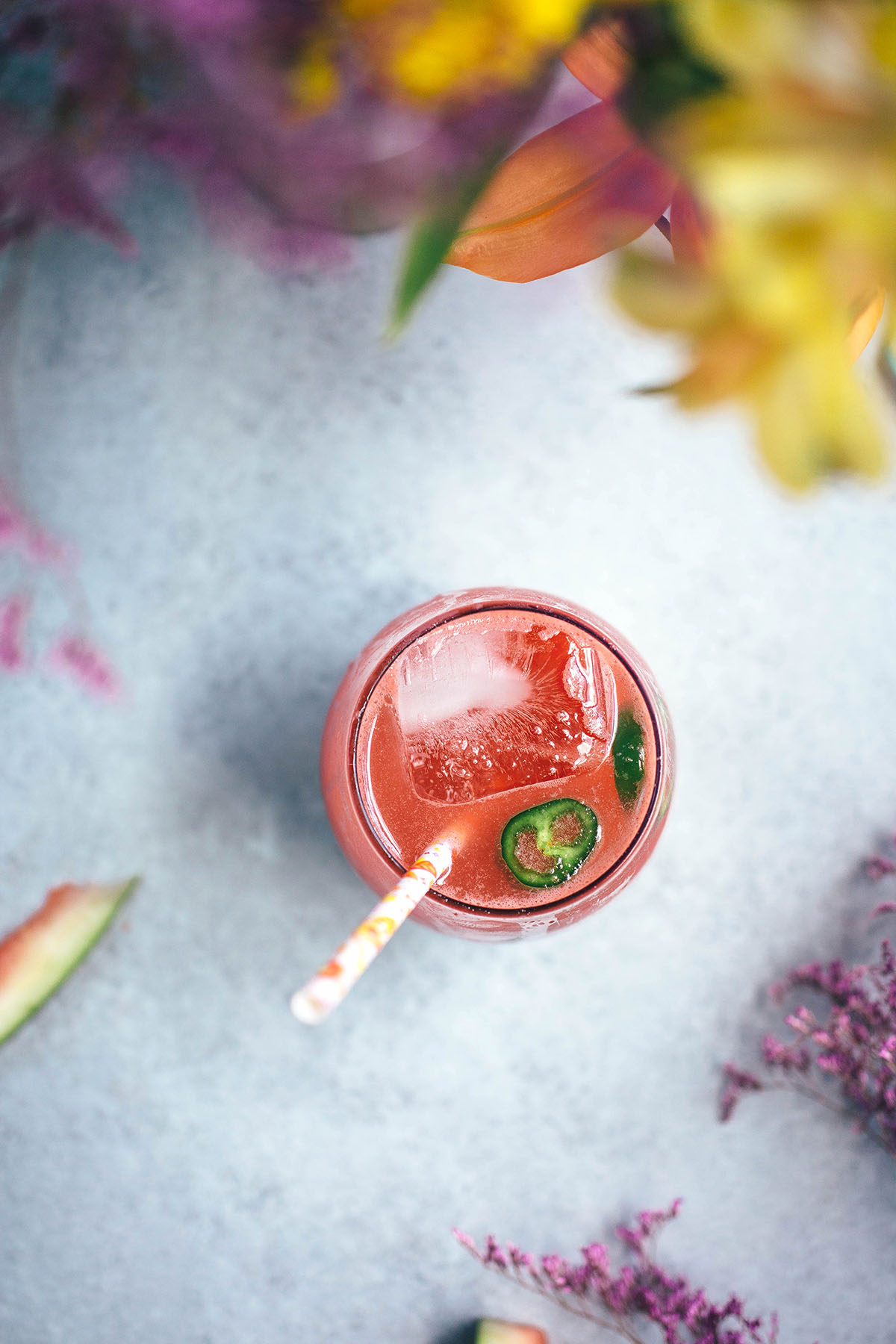 When anyone asked me where my favorite restaurant was when I was a kid, I always said The Root Beer Stand (our local drive-up diner). There was something about that drive-up experience that made me go crazy with excitement, like a dog waiting for his first walk of the day. Maybe it was the gallon (yes, gallon. Not liters — gallon!) of homemade root beer they brought out along with frosted mugs, or the little trays that hooked onto your car window perfectly, or that fact that we were allowed to eat in Mom's car (for once) that made the unique experience so excitingly unforgettable.
This novelty didn't just get me when I was a kid either. Our local root beer stand closed down when I was in middle school but there was one in the town over that was a hot spot due to it being right by the beach on Lake Michigan. My two older cousins lived with us on and off when I was growing up and there were a few times where I'd convince my cousin, LM (her real name is Linda-Marie but we call her LM for short), to call into my high school pretending to be my mom and say I was sick.
Back then, I was dating this really fun troublemaker of a boyfriend who ditched often (without even bothering to have someone call him in) so he was totally down to hang out with us on those day hangs. We'd go to the town over and to the beach to avoid bumping into anyone we knew. We'd spend hours walking around the lake, bowling, and wandering antique malls. I remember demanding that we had to go to the root beer stand for a root beer float after hanging out at the beach and them teasing me for being so obsessed with the novelty of it.
I can go all winter without touching soda but as soon as the weather starts to warm up, I begin to crave root beer because of those root beer floats. Despite the New York Times putting out an article this week about the negative effects of sugar (and soda in particular), my body still craves it. I decided to compromise and make my own homemade soda mostly made out of natural sugars (juice from the watermelon) to please my craving without totally throwing in the towel to sugar. This spicy soda is subtly sweet with a punch of spice for an insanely delicious and thirst-quenching refreshment.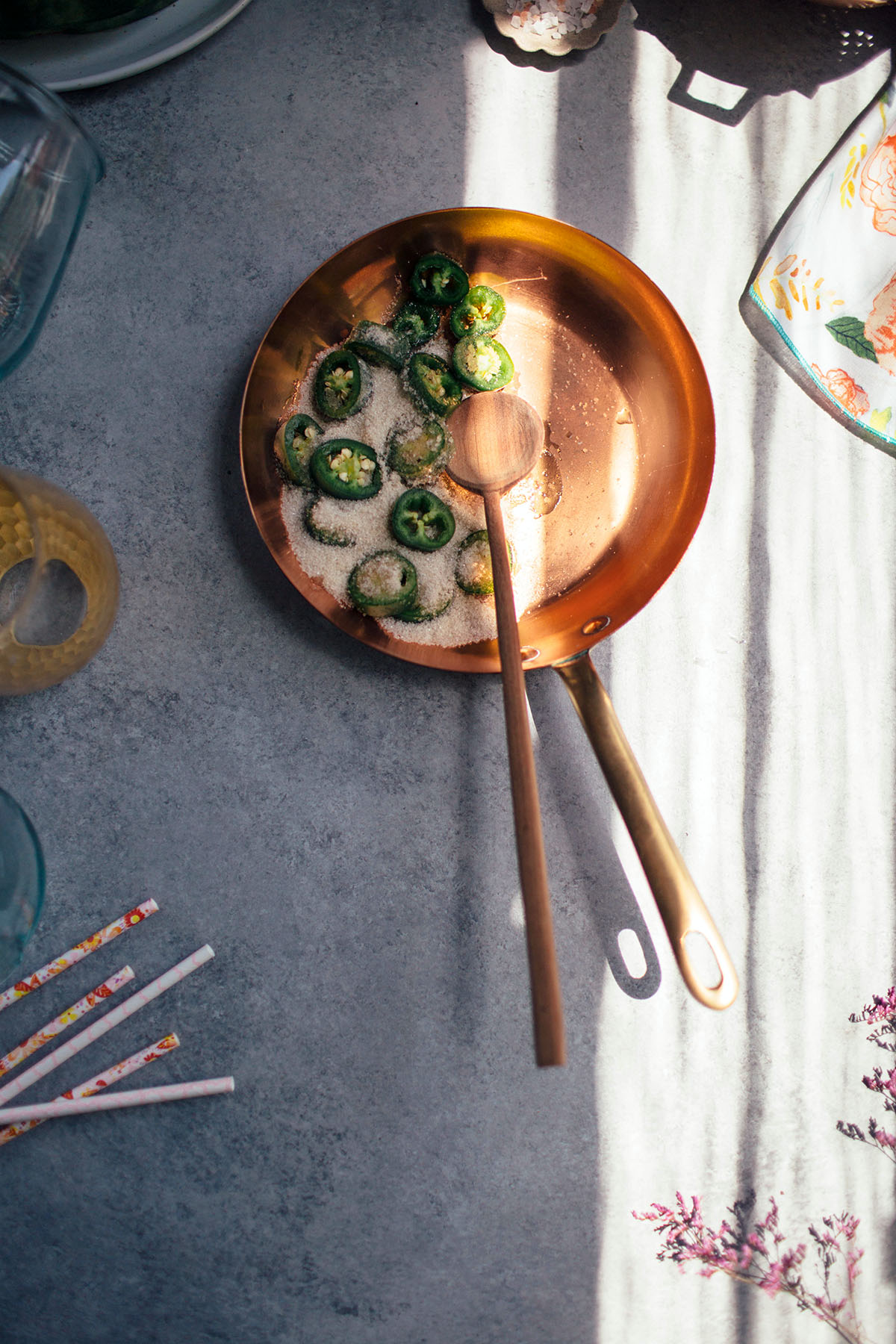 What's Needed for Watermelon Soda?
You don't need any special equipment to make this refreshing watermelon drink. And the ingredients are minimal, to boot!
Granulated sugar
Water
Jalapeño
Watermelon
Lime juice
Soda water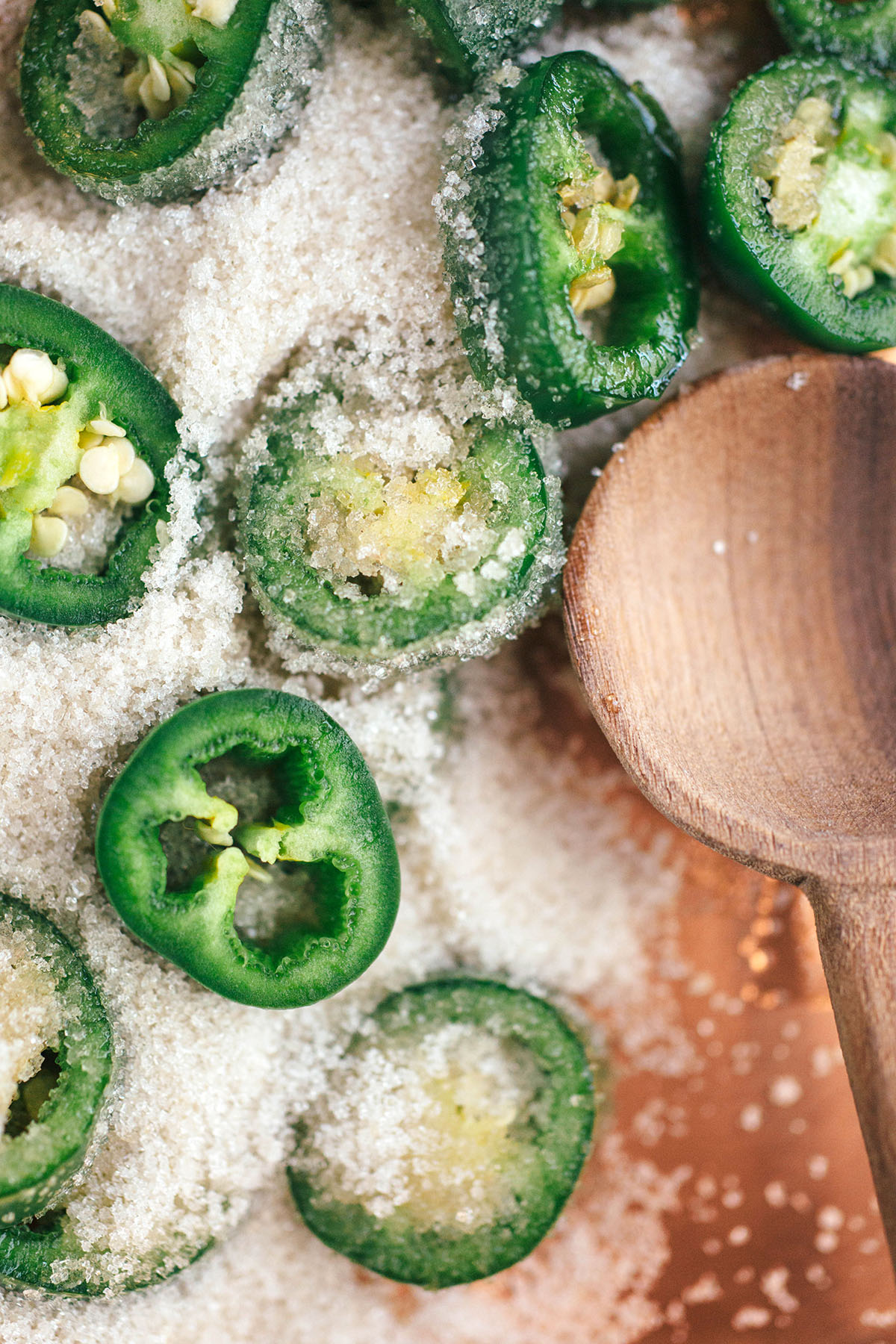 How to Make Watermelon Soda
I've given detailed instructions in the recipe card below on how to make this easy homemade soda. Here are the basic steps to make this watermelon soda from scratch:
Make the jalapeño simple syrup (it needs to steep for 1 hour).
Puree the watermelon in a blender, then strain.
Stir the lime juice into the strained watermelon puree.
Transfer the watermelon mixture to a pitcher. Top with soda water and ice.
Add jalapeño simple syrup to taste.
Can I Omit the Jalapeño?
If you don't like sweet and spicy sodas, you're probably fine to omit the jalapeño. Make a regular simple syrup instead (just sugar and water) and add it to taste.
How Long Does Watermelon Soda Last?
This spicy watermelon soda is best enjoyed the day it's made as it loses its carbonation over time. However, it'll probably last up to 2 days in the fridge (it'll just become less bubbly over time).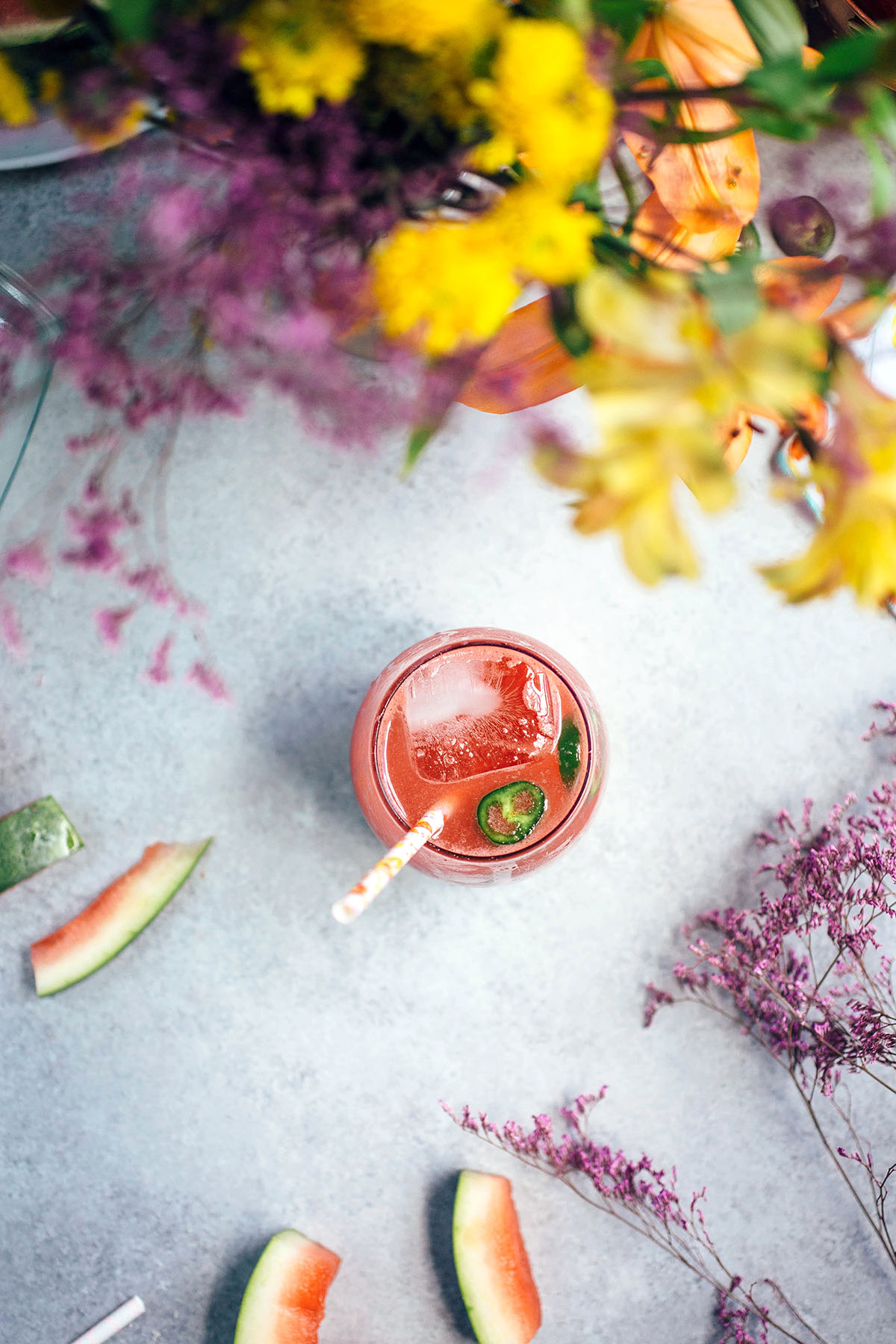 Tips for Making Homemade Watermelon Soda
You can use any variety of watermelon for this homemade soda. However, seedless watermelon will be easier to work with.
For a spicier watermelon soda, leave the seeds in the jalapeño when making the simple syrup. For a less spicy soda, remove the seeds.
I don't like my drinks very sweet and I'm a total wuss when it comes to spice (lame, I know), so I kept the simple syrup level rather low. Feel free to start with that amount and add more to taste.
Want More Summer Drink Recipes?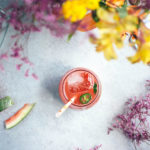 Spicy Watermelon Soda
This homemade sweet and spicy watermelon soda is the perfect fizzy drink to quench your thirst on a hot day.
Keyword:
soda, watermelon
Ingredients
For the jalapeño simple syrup:
1/2

cup

granulated sugar

1/2

cup

water

1

jalapeño

, diced (seeds removed if you don't like things super spicy)
For the watermelon soda:
5

cups

diced watermelon

1

lime

, juiced

2

cups

soda water

Jalapeño simple syrup

(using recipe below)
Instructions
Make the jalapeño simple syrup:
In a small saucepan over medium heat, add sugar and water. Let cook until sugar has dissolved and then remove from heat.

Add in jalapeño and let steep for at least 1 hour.

Strain out jalapeño and transfer syrup to a sealable jar. Stick in fridge until ready to use.
Make the watermelon soda:
Working in batches, puree the watermelon in a blender and then strain through a fine mesh strainer.

Stir in lime juice. Transfer to a pitcher and add soda water and ice.

Add in 1/4 cup jalapeño simple syrup and taste. Add more simple syrup if desired.

Serve chilled right away.