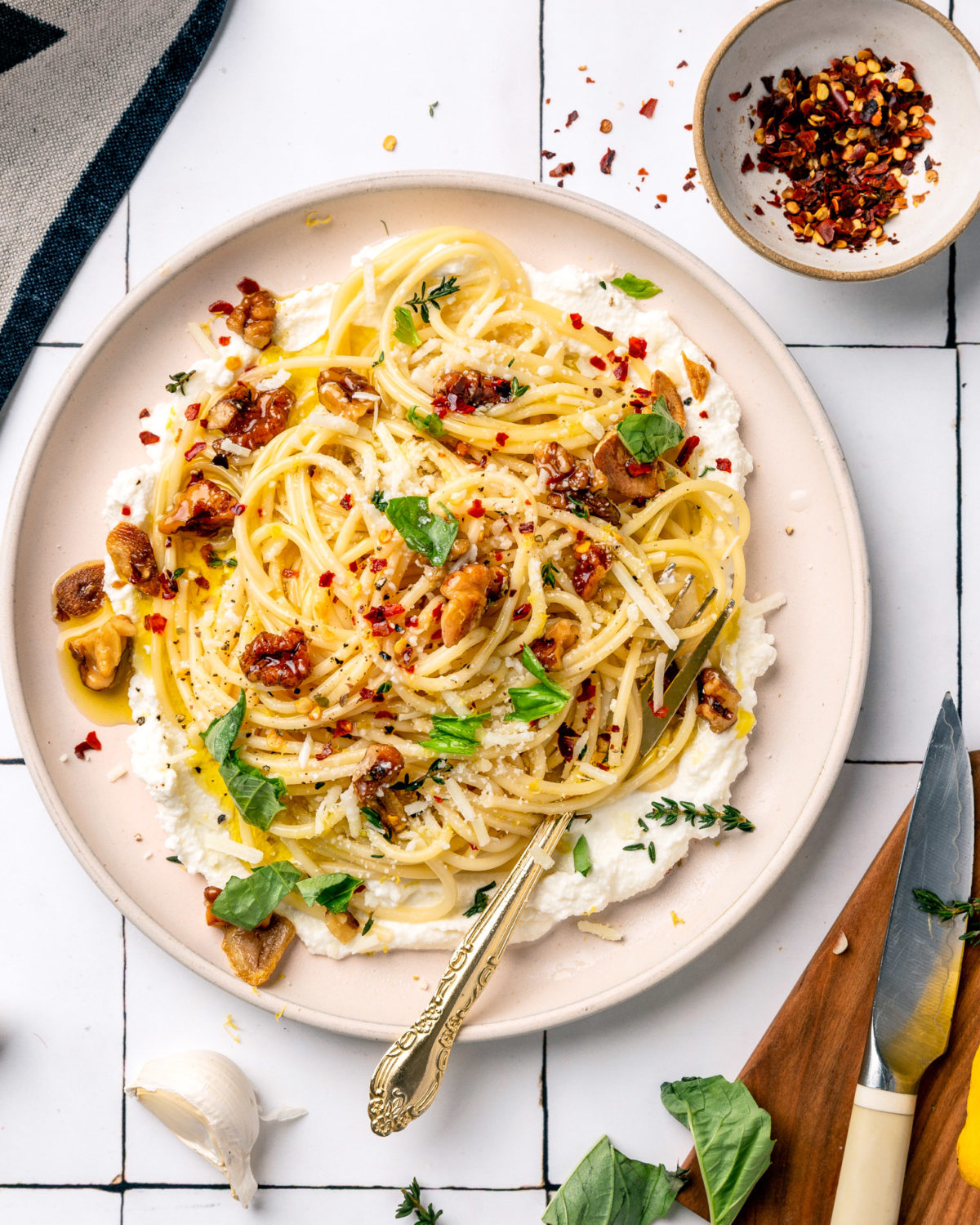 Walnut Ricotta Lemon Pasta + A Site Make-Over
This Walnut Ricotta Lemon Pasta is a light and simple vegetarian pasta dish that comes together in under 30 minutes!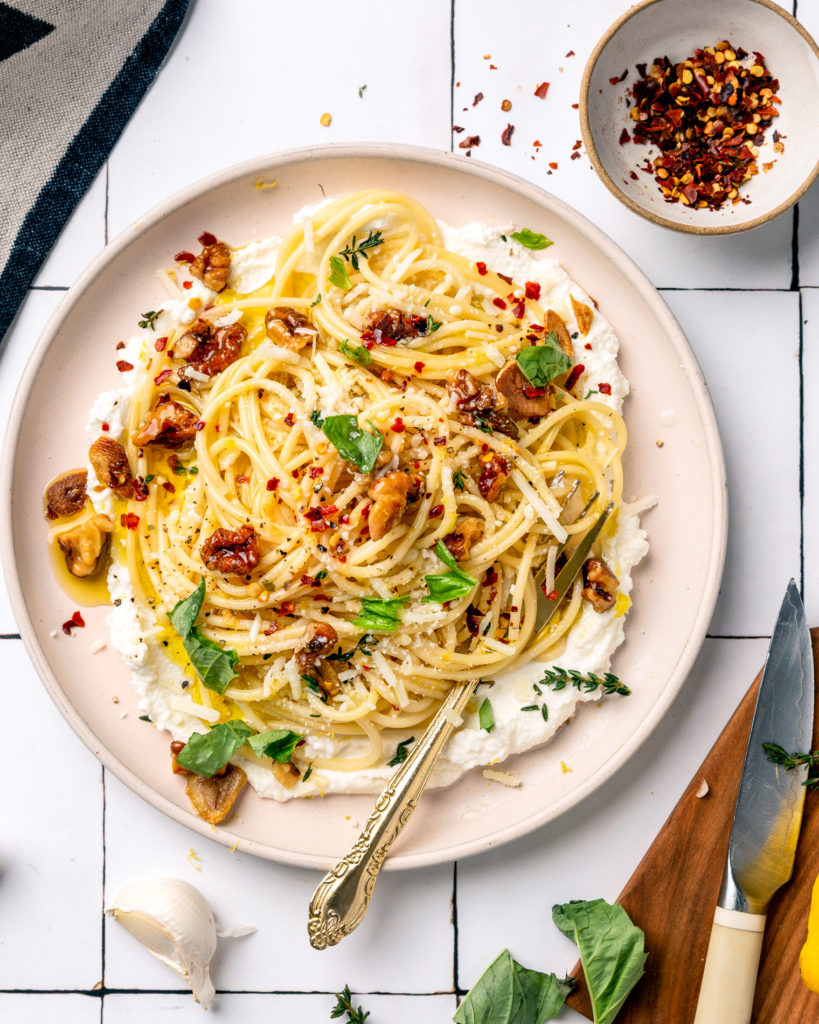 Hiii – anyone else have cooking on their schedule this weekend? I've got some bananas that are very ripe so hit me up with your favorite banana bread recipe if you see this today! Earlier this week I gave you a very veg-heavy recipes so I kept it simple with this one in case you are also running low on fresh veggies. This carb-y nutty pasta is also a nice break from the large amounts of beans I've been consuming lately as my protein source. If you aren't totally sick of beans yet (guilty!), feel free to check out this post I did on Wednesday of some of my favorite recipes that features canned beans.
Alsoooo can we talk about the little face lift VV got? She has a cute little new logo and homepage in addition to the usual blog page. This new layout has been a long time in the making and I'm so excited that it's finally finished so take a look around! Now that we have the visual part of it all sorted, I'll be working on back end things (like speeding up the site) so please please please let me know if you run into anything that seems wonky and should be looked at – feedback is always appreciated!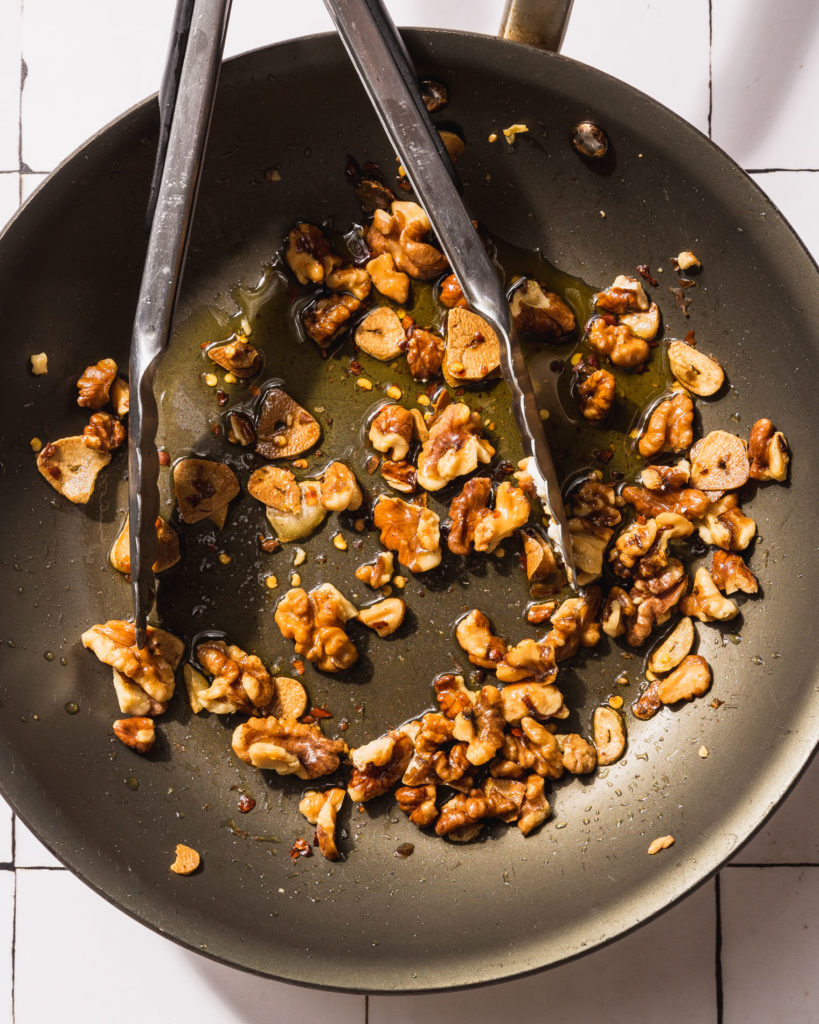 Here is a list of substitute suggestions for this Walnut Ricotta Lemon Pasta recipe in case you don't have certain ingredients on hand:
Walnuts – Pecans or pistachios will also work here as they all have a sturdy but buttery texture.
Dried pasta – You could substitute fresh pasta if you don't have any dried on hand. Alternatively, I'd imagine this could be good (although I haven't tried it to confirm 100%) with quinoa or farro.
Ricotta – Most creamy cheeses like mascarpone, crème fraîche, or even cottage cheese could work here. Plain Greek yogurt might also work but I'd cut down on the pasta water if you go that route.
Parmigiano-Reggiano – Any salty cheese could finish this dish off such as feta or Manchego. If needing to skip altogether, consider adding more salt at the end.
Fresh basil – Fresh thyme or oregano would also work. If you don't have any fresh herbs, dried oregano or basil would also be good options.
Garlic – The garlic really adds flavor to this dish but you could consider leaving it out and substituting a few teaspoons of garlic powder if needed.
Red Pepper Flakes – Consider adding other things that add heat like a diced hot pepper or a dash of hot sauce.
Olive oil – You could use butter here instead but note that it will add a nuttier flavor and change the flavor profile pretty significantly.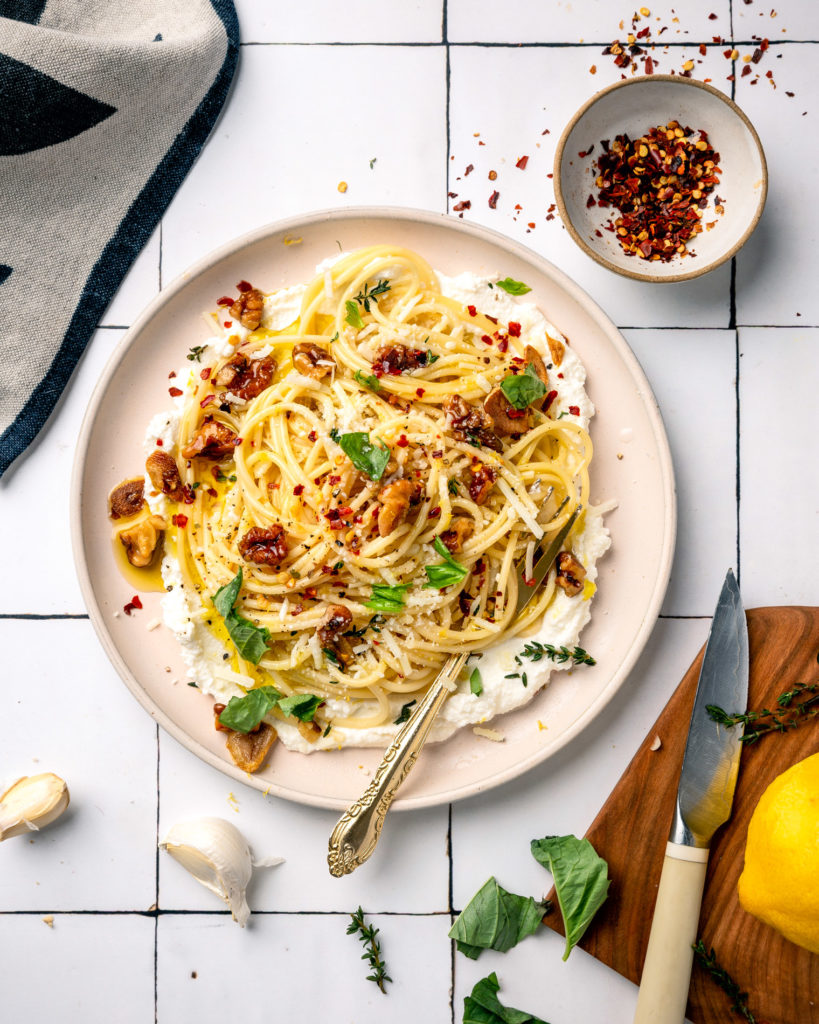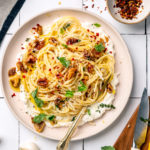 Walnut Ricotta Lemon Pasta
Servings
:
2
hefty servings (or 4 with a small side salad)
Ingredients
1/2

pound

dried pasta (I used spagetti but any shape will work)

2

Tbsp

olive oil

2

garlic cloves

thinly sliced

1/3

cup

chopped walnuts

1

tsp

red pepper flakes (+ more for serving if you like it with some heat)

1

Tbsp

freshly squeezed lemon juice + zest from 1 lemon

8

oz

whole milk ricotta

1/4

cup

shredded Parmigiano-Reggiano (look for a vegetarian version if you can find it) or any hard salty cheese will work here

Fresh basil or thyme for serving (can also use a sprinkle of dried oregano)

salt / pepper

to taste
Instructions
Cook the pasta according to the package directions. Strain the pastsa, holding back 1 cup of pasta water and set everything aside.

Meahwhile, heat oil in a large skillet over medium-low. Add garlic cloves and saute for about 3 to 5 minutes or just until starting to get some color (if they start to turn dark before 3 minutes, turn your heat down). Add walnuts and red pepper flakes and saute for another 2-3 minutes or until the nuts have started to turn darker and everything is very fragrant. Remove from heat and sprinkl in 1/2 tsp salt.

Add the ricotta to a serving platter and pile the pasta over it. Pour the garlic-walnut mixture (including any remaining oil over the pasta), along with the lemon juice, lemon zest, Parmigiano-Reggiano, and 2 Tbsp pasta water. Toss until combined and a thick sauce has formed. Add more pasta water, 1 Tbsp at a time, if the sauce doesn't thicken up.

Taste and season with more salt and pepper. Serve with some torn fresh basil or thyme leaves or a dried sprinkle of oregano flakes. Serve right away.
Make sure to tag me on Instagram and use #vegetarianventures when trying this dish out!
8