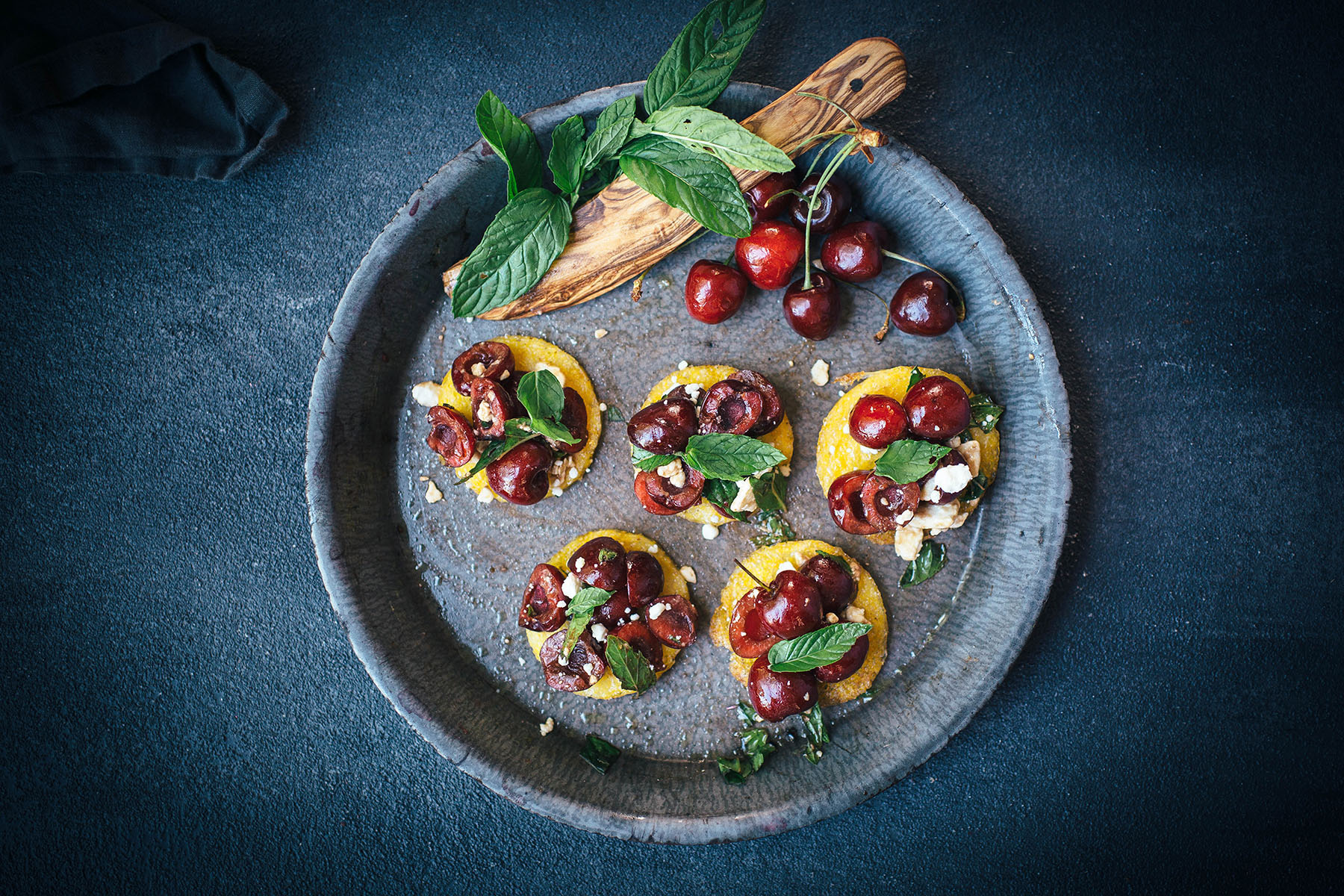 Cherry Mint Polenta Bruschetta
In a hurry? Click here to JUMP TO RECIPE!
This Cherry Mint Polenta Bruschetta is the perfect appetizer or starter to feed a crowd. The tart cherries and salty feta works perfectly on top of the savory polenta rounds.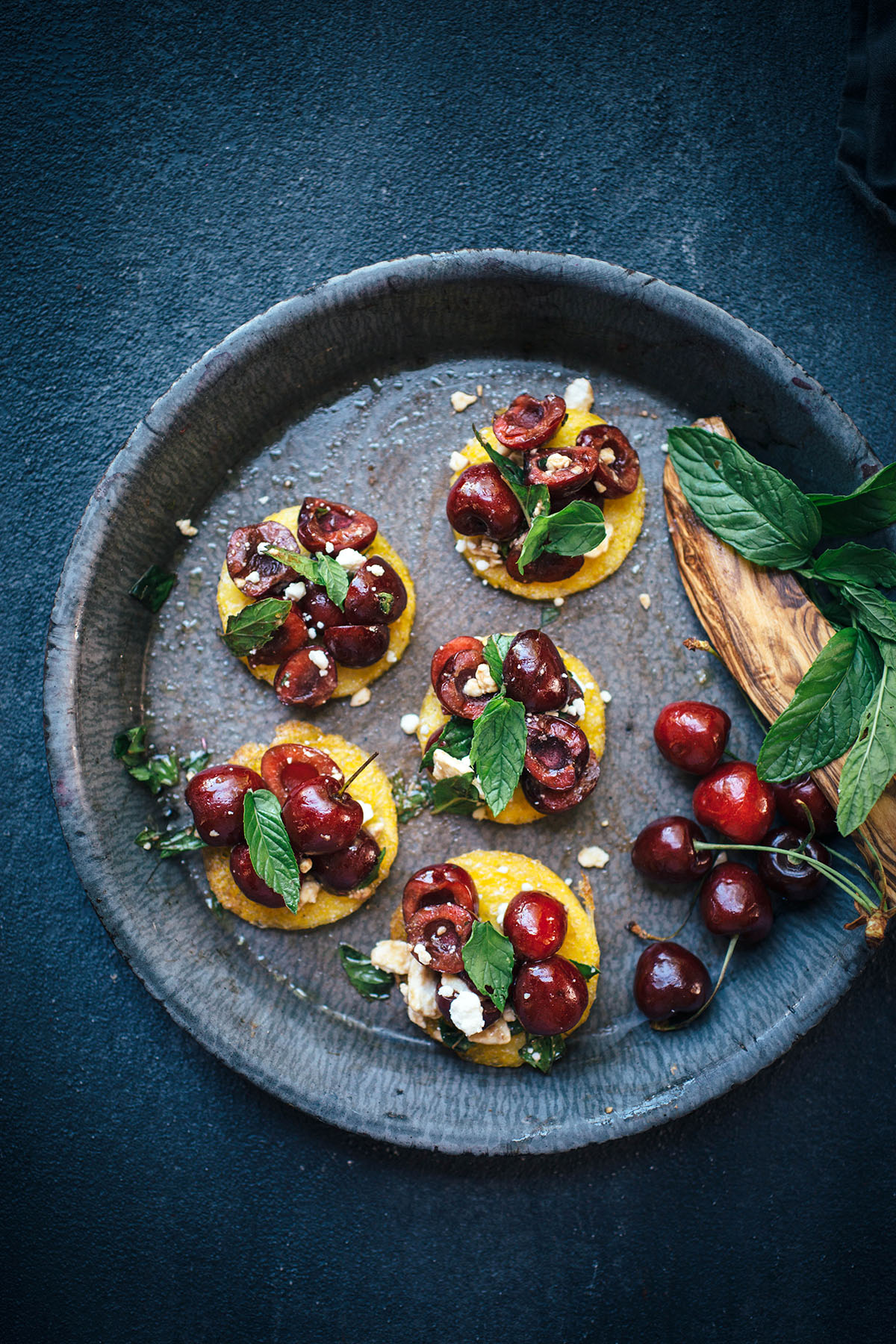 Good ol' Father's Day. I've been fortunate enough to always have a wonderful father in my life. We've haven't always agreed on everything and it's taken him a long time to come around to my creative lifestyle but we've found a good grove for ourselves over the years. I'm proud to say I received my wanderlust from him taking us all around the country to National Parks when I was a child and my goofy way of teasing people endlessly with sarcastic lies and jokes.
My mom and dad divorced before I was one but the one thing I've come to realize they shared in common (and probably what also ruined their relationship) is their struggle to show intimacy. We were never a touchy feely family growing up and I was taught, through watching them, that the best way to express emotion in any form is to hide it (the good old modest passive-aggressive Midwest mentality).  I still remember the first time I cried over a boy in front of my father. I was sulking on the couch and he came from work and started asking how my day was. When I refused to engage in the conversation, he frustratingly barked "what is wrong with you?" and I burst into tears. He got up and right when I thought he was going to come over and give me a big hug, he walked past the couch I was sitting on and left the room. When he returned a few minutes later, he sat down close to me and goes 'Want a piece of gum? Will that make you feel better?' and I remember smiling through tears at how far off from the solution that question was. It was an absurd response to the situation but I know now that was his way of dealing with a crying teenager.
Through the years since I moved out at 18, I've noticed him softening more and more. Perhaps it's because I'm not around as much or maybe I've learned to navigate his passive way of saying "I'm proud of you" but the "I love you"s come more frequently and the time spent together cherished more. I wasn't able to get you on the phone today, Father, but I know that is just because you are out exploring the woods just like we did when I was a kid and knowing you are doing that makes me just as happy as having a quick phone chat with you. <3
__________________
And now let's quickly talk about this Cherry Mint Polenta Bruschetta. I went to the store the other day with full intentions of picking up some strawberries for a strawberry-bruchetta situation but found these gorgeous cherries gleaming at me instead. I added a touch of honey to them as my cherries were extra tart but you can skip that part if you have sweeter cherries on hand. Enjoy these Cherry Mint Polenta Bruschetta as an afternoon snack or as a starter at your next gathering.
Cherry Mint Polenta Bruschetta recipe below: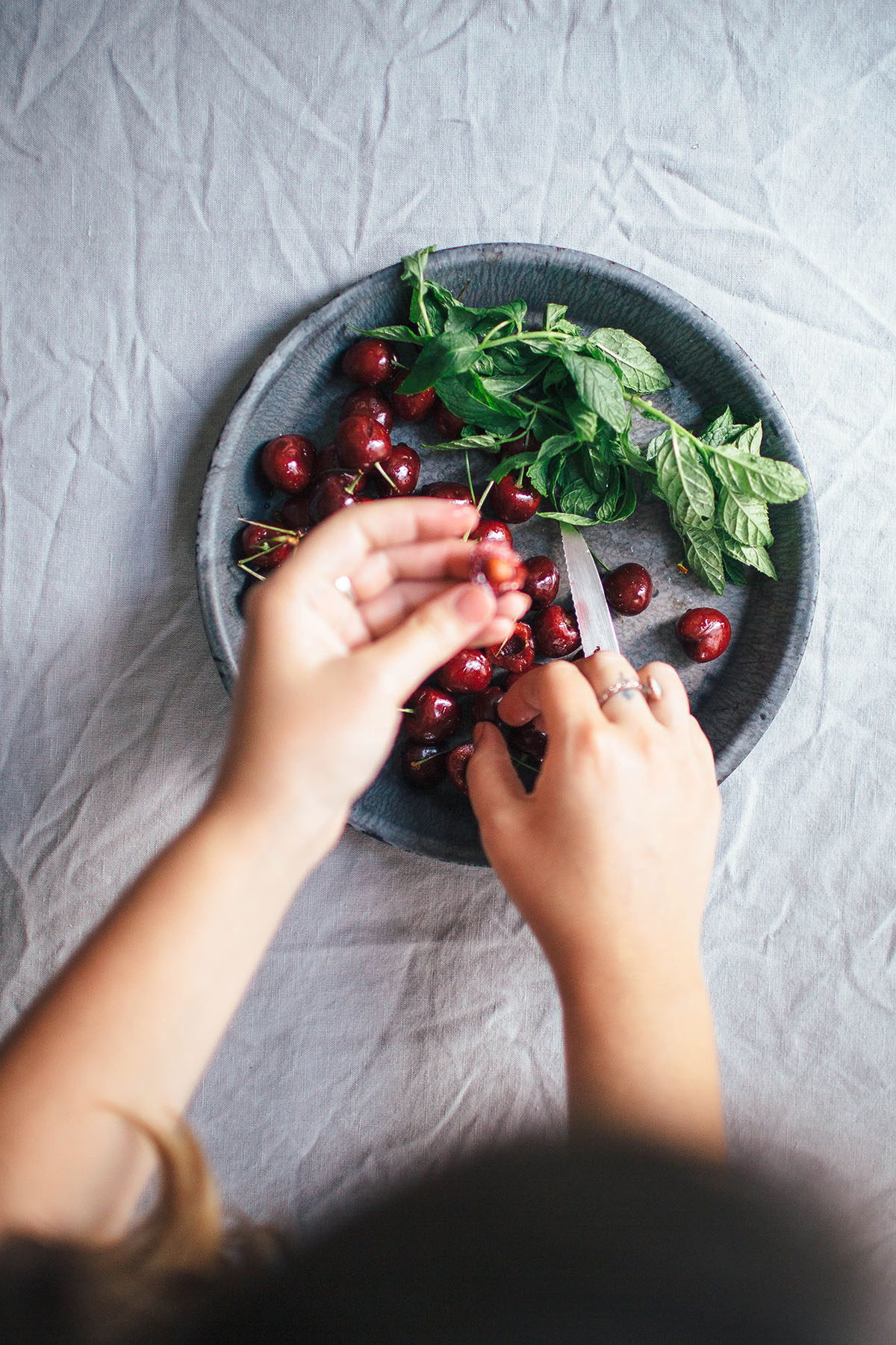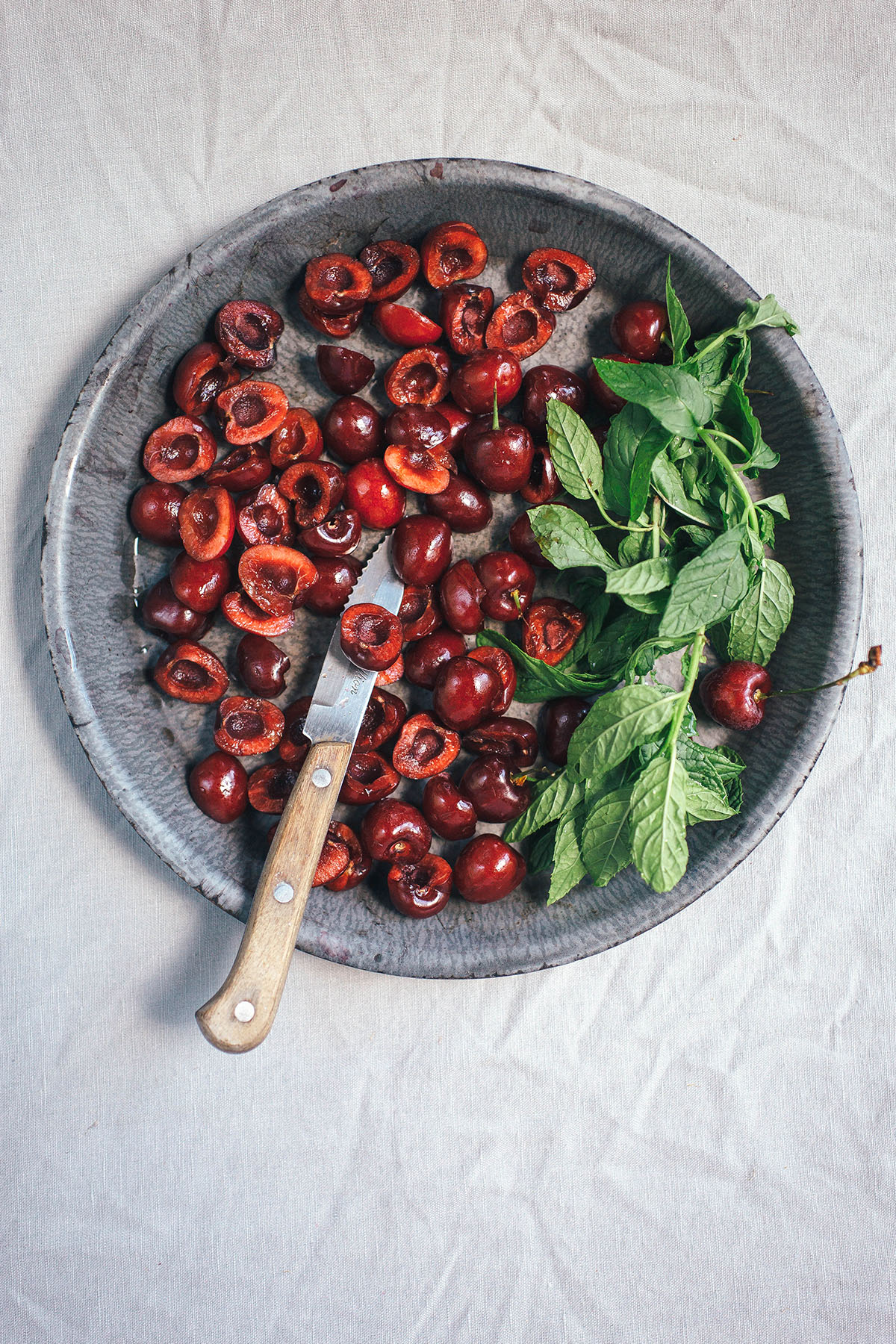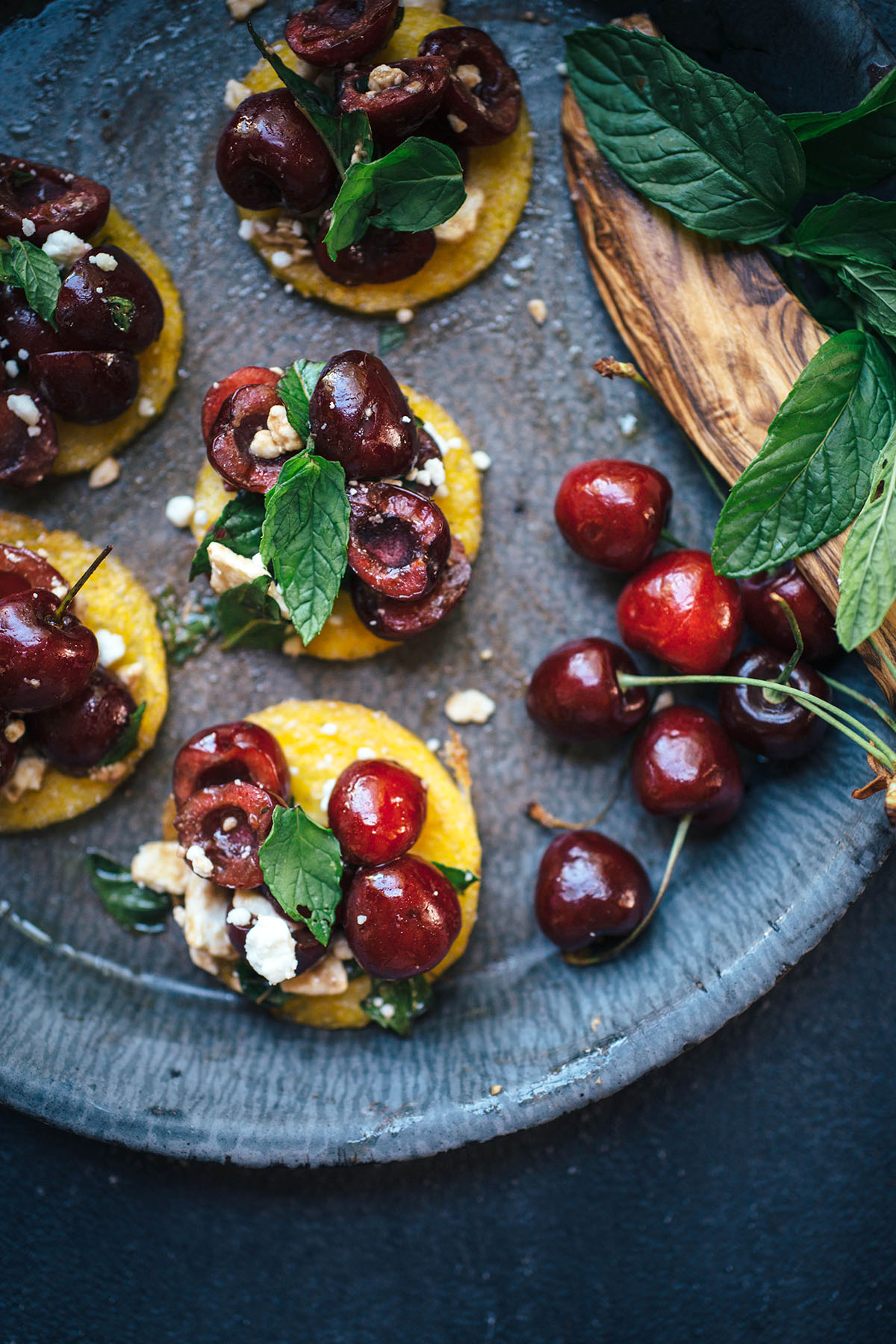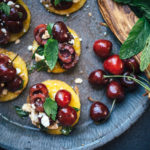 Cherry & Mint Polenta Bruschetta
This Cherry & Mint Polenta Bruschetta is the perfect appetizer or starter to feed a crowd. The tart cherries and salty feta works perfectly on top of the savory polenta rounds.
Ingredients
1 18

oz

round tube of cooked polenta

1

Tbsp

olive oil

salt / pepper

1

pound

dark cherries

(like bing), pitted and sliced in half

2

tsp

chopped mint leaves

1/2

cup

crumbled feta cheese

1

Tbsp

olive oil

2

Tbsp

balsamic vinegar

1

tsp

honey

Dash of pepper
Instructions
Preheat oven to 375 degrees and line a baking sheet with parchment paper. Slice polenta into 12 even rounds and place in a single layer on baking sheet.

Brush 1 Tbsp olive oil on both sides of the polenta rounds and sprinkle with salt and pepper. Bake for thirty minutes, flipping halway through, or until the ends begin to crisp up. Remove from oven and let cool.

Meanwhile, in a mixing bowl, toss together cherries, mint, and feta.

In a small bowl, whisk together 1 Tbsp olive oil, balsamic vinegar, honey, and a dash of pepper.

Drizzle over cherry mixture and mix until the mixture is evenly coated.

Divide and top the cherry mixture evenly over the polenta rounds and serve right away.
Other Vegetarian 'Venture appetizer ideas: