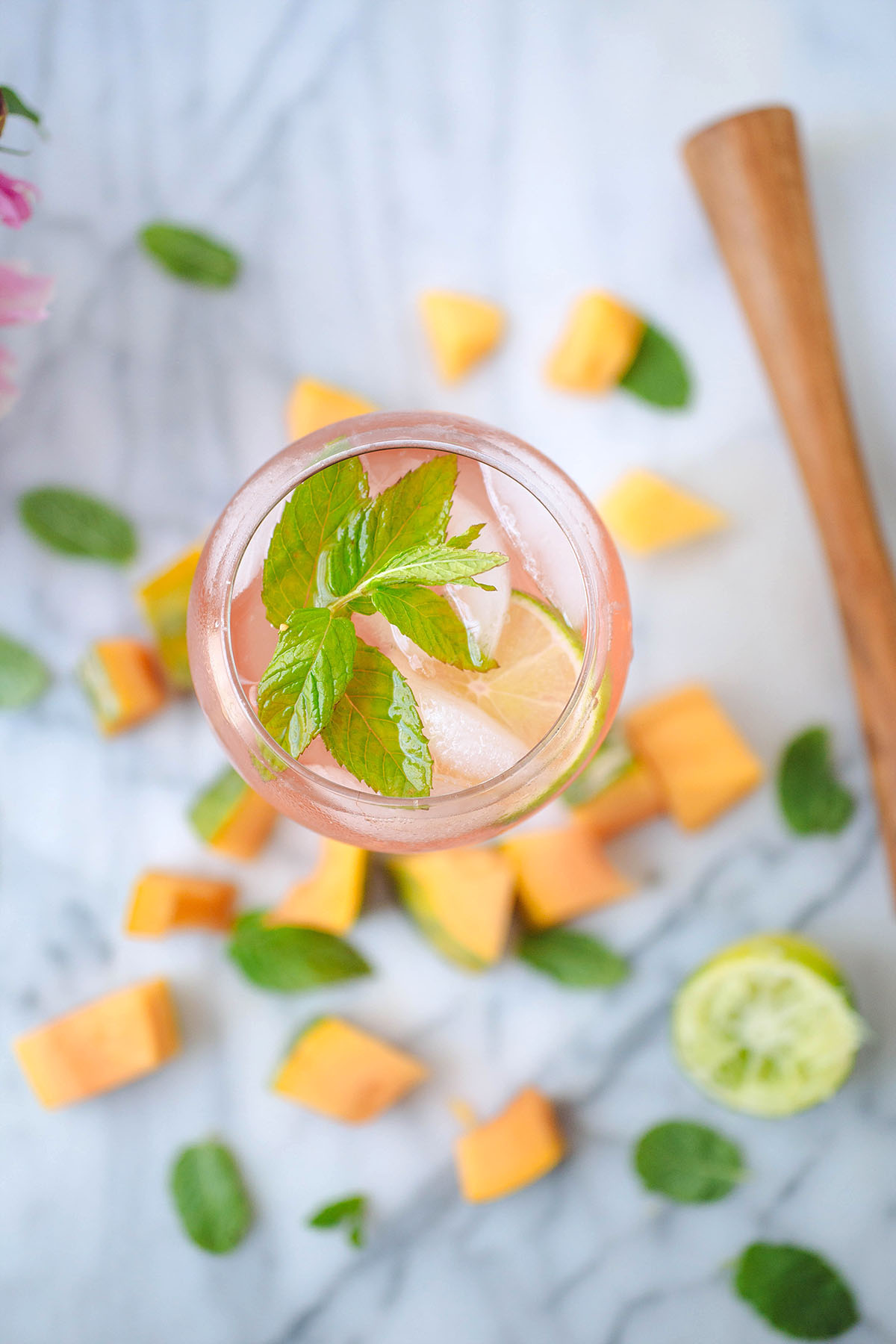 Rosé All Day Spritzer
This rosé spritzer is a tropical spritz cocktail perfect for a humid summer evening on the porch or for sipping by the pool.
In a hurry? Click here to JUMP TO RECIPE!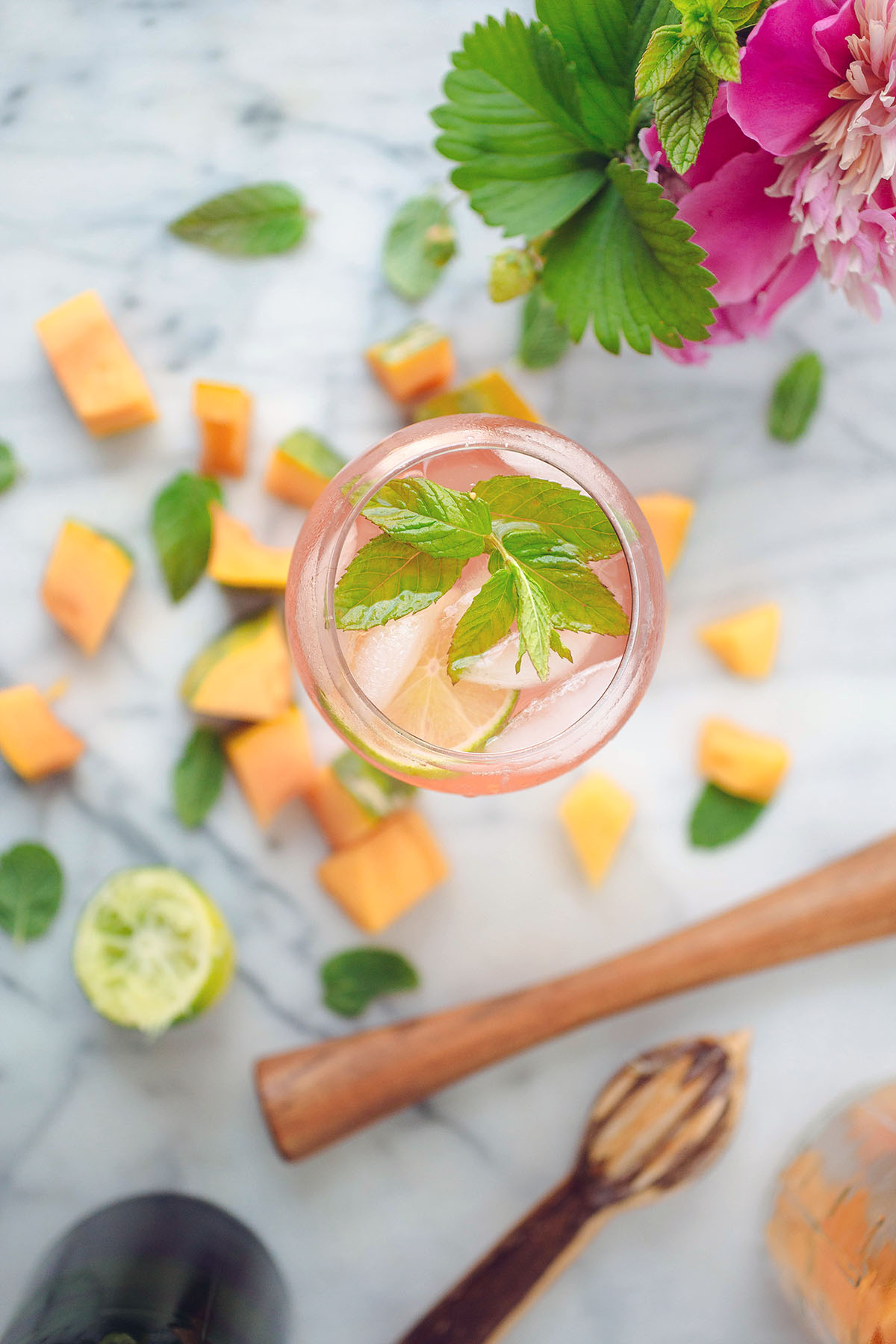 My love for bubbly alcohol runs much deeper than I probably need to admit. Honestly, I wish someone had introduced me to wine spritzers a long time ago. Back in college, I was obsessed with the $4 bottles of champagne you could buy at the local liquor store. I'd pick one up before heading out to a basement show or house party and everyone could count on me always being there with a big warm grin on my face, much too short skirt on, and a bottle of Andre in hand.
I'd wear it like a handy purse that, no matter how intoxicated I'd get, I'd never lose the bottle or forget it in another room. They were college parties so no cups were required and I'd drink straight from the bottle all night long — offering a swig to anyone who I struck a conversation with like I was offering up a sip of the finest wine on the market. I'd sip on it like for hours straight, like many of my friends would do with a 40, until it was warm and the carbonation was gone.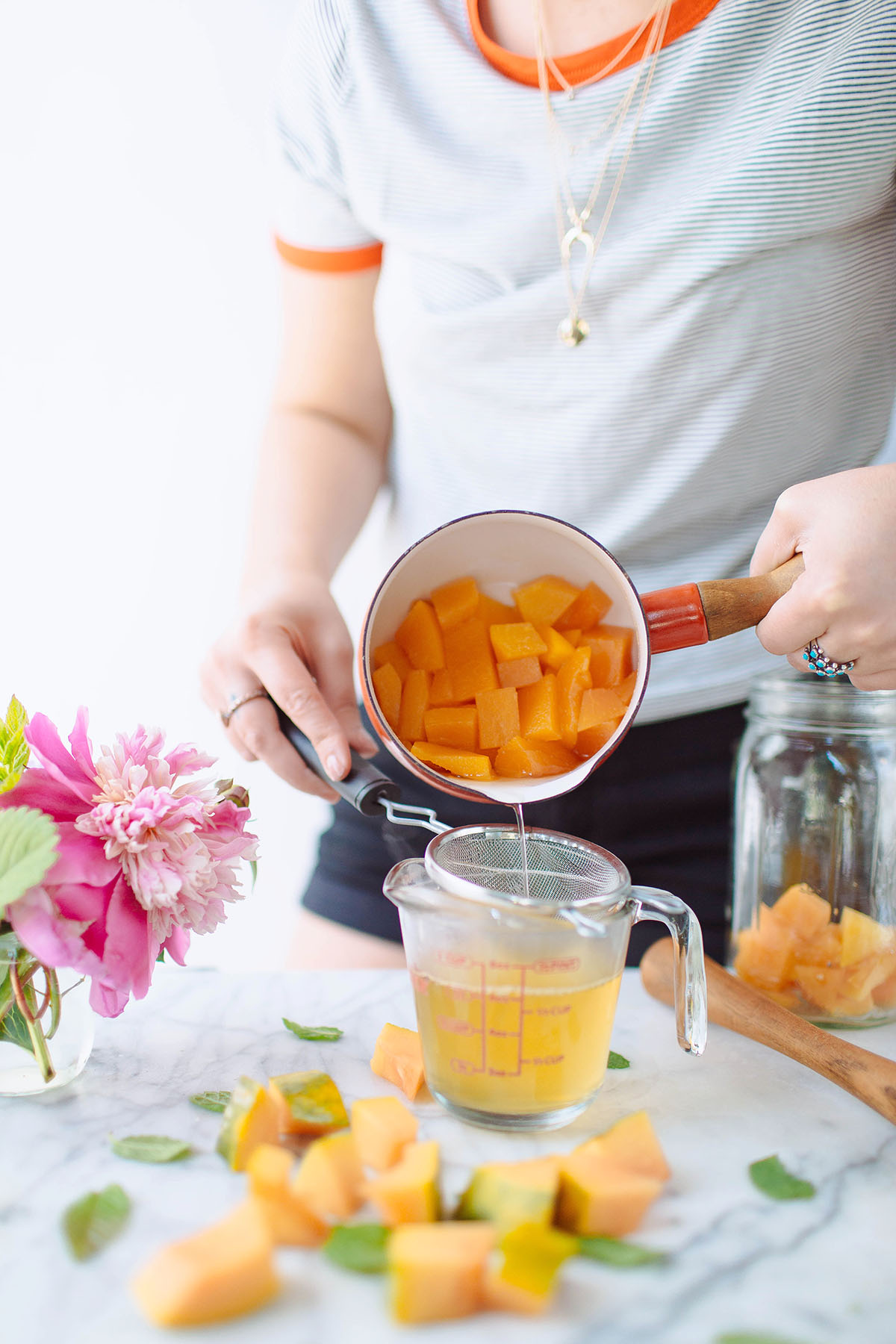 This went on for about three years until my body discovered a little thing called hangovers. Remember that champagne-induced New Years day hangover you had last year? Yeah, well imagine that on every Friday, Saturday, and Sunday morning. I eventually, and grudgingly, had to say no to drinking an entire bottle of $4 bubbly in an evening (to be fair, this was also right around my 4Loko phase which not only gave me hangovers but also the only heartburn I've ever experienced).
I stopped drinking champagne completely for a few years after getting so burnt out on it. I've since brought it back into my "diet" but in much smaller quantities. So when I was given this book Spritz, I was thrilled to find out there is a fancy drink that cuts your champagne with other ingredients. This is the only drink book I own and, to be completely honest, I was surprisingly impressed with it. It's not only filled with an array of drink recipes but also a handful of inventive simple syrup recipes, gorgeous photos, and an in-depth history of the spritz. Everything in it sounds refreshing and is just waiting to be made for the next barbecue, lake day, or porch hang.
I'm already dreaming of what I'm going to make from it this weekend for our Memorial Day boat trip!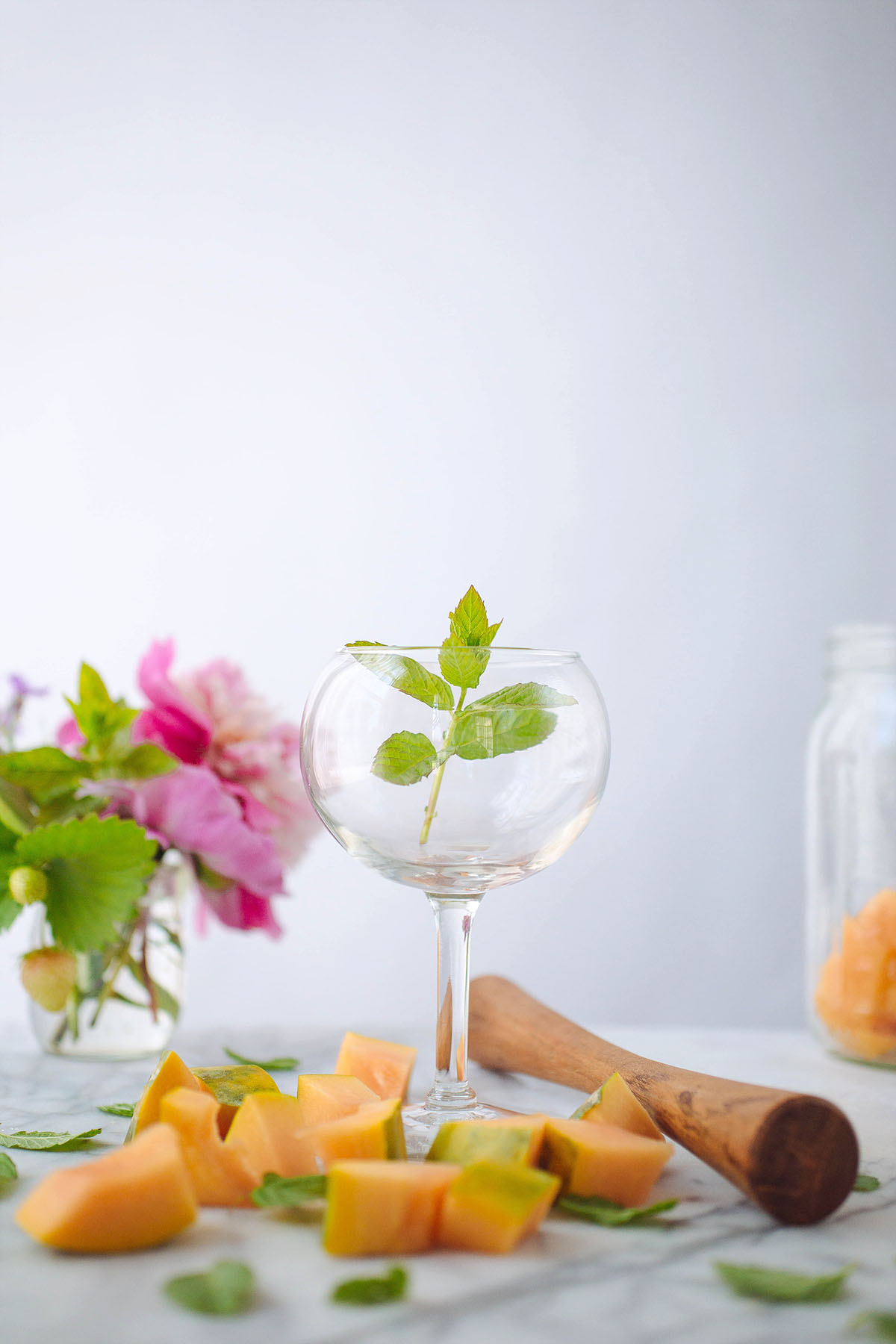 What's Needed for a Rosé Spritzer?
All you need to make a refreshing rosé wine cocktail spritzer is:
Rosé
Cocchi Americano
Homemade papaya shrub (a mixture of fresh papaya, rice wine vinegar, & sugar)
Lemon juice
Prosecco or Champagne
Fresh mint leaves
How to Make a Wine Spritzer
This rosé wine spritzer is incredibly easy to make, but it doesn't require a little prep work:
Prepare the homemade papaya shrub. It needs to simmer for 20 minutes, and then chill for 30 before you can use it.
Fill a wine glass with ice.
Add the rosé, Cocchi Americano, papaya shrub, and lemon juice into a shaker.
Shake well, then strain into the wine glass.
Top with prosecco or Champagne, and garnish with fresh mint.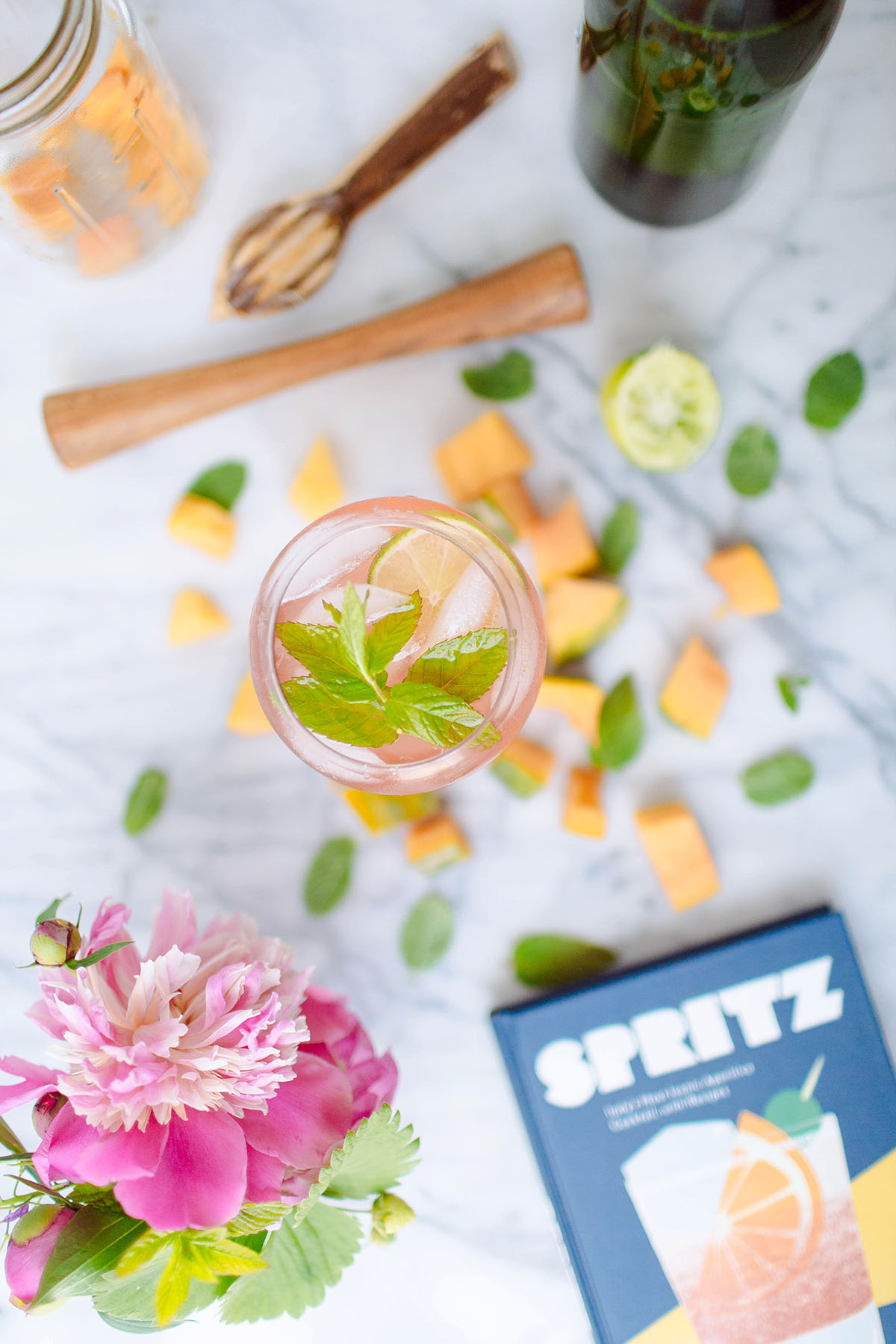 Can I Prep Rosé Spritzers in Advance?
If you plan on making this rosé wine cocktail for visitors, I recommend waiting to assemble the drinks until you're ready to enjoy them since the prosecco loses its bubbles easily. However, you can certainly prep the homemade shrub in advance and keep it in the fridge for up to 1 month.
Can I Make This as a Batch Drink?
You likely could, although I've only ever made one or two rosé wine cocktail spritzers at a time.
Tips for Making a Rosé Spritzer
Be sure to buy a good quality rosé and prosecco for this wine spritzer recipe. You don't need to splurge on the best of the best, but you don't want the cheapest stuff either.
Freshly squeezed lemon juice is best for this easy cocktail. Avoid the pre-bottled stuff.
I like the pop of flavor the fresh mint garnish adds to this rosé spritzer, but feel free to use different herbs to suit your own tastes.
Want More Easy Cocktail Recipes?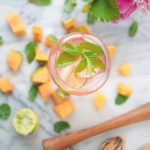 Rosé All Day Spritzer
Rosé All Day Spritzer is a tropical spritz cocktail perfect for a humid summer evening on the porch or for sipping by the pool. / Recipe from Spritz by Talia Baiocchi & Leslie Pariseu
Ingredients
2

ounces

Rosé

1

ounce

Cocchi Americano

1

ounce

papaya shrub

(recipe below)

1/2

ounce

lemon juice

1

ounce

champagne or prosecco

Mint
Instructions
Fill a wine glass with ice.

Add Rose, cocchi American, papaya shrub, and lemon juice into a shaker.

Shake well and strain into wine glass.

Top with champagne or prosecco and garnish with mint.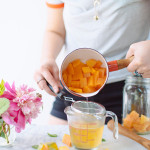 Papaya Shrub
Ingredients
1

cup

chopped fresh papaya

1

cup

rice wine vinegar

1/4

cup

granulated sugar
Instructions
Add ingredients into a small saucepan and spring to a simmer over very low heat. Let simmer for 20 minutes. Remove from heat and let cool for at least 30 minutes. Strain, bottle, and refrigerate for up to one month.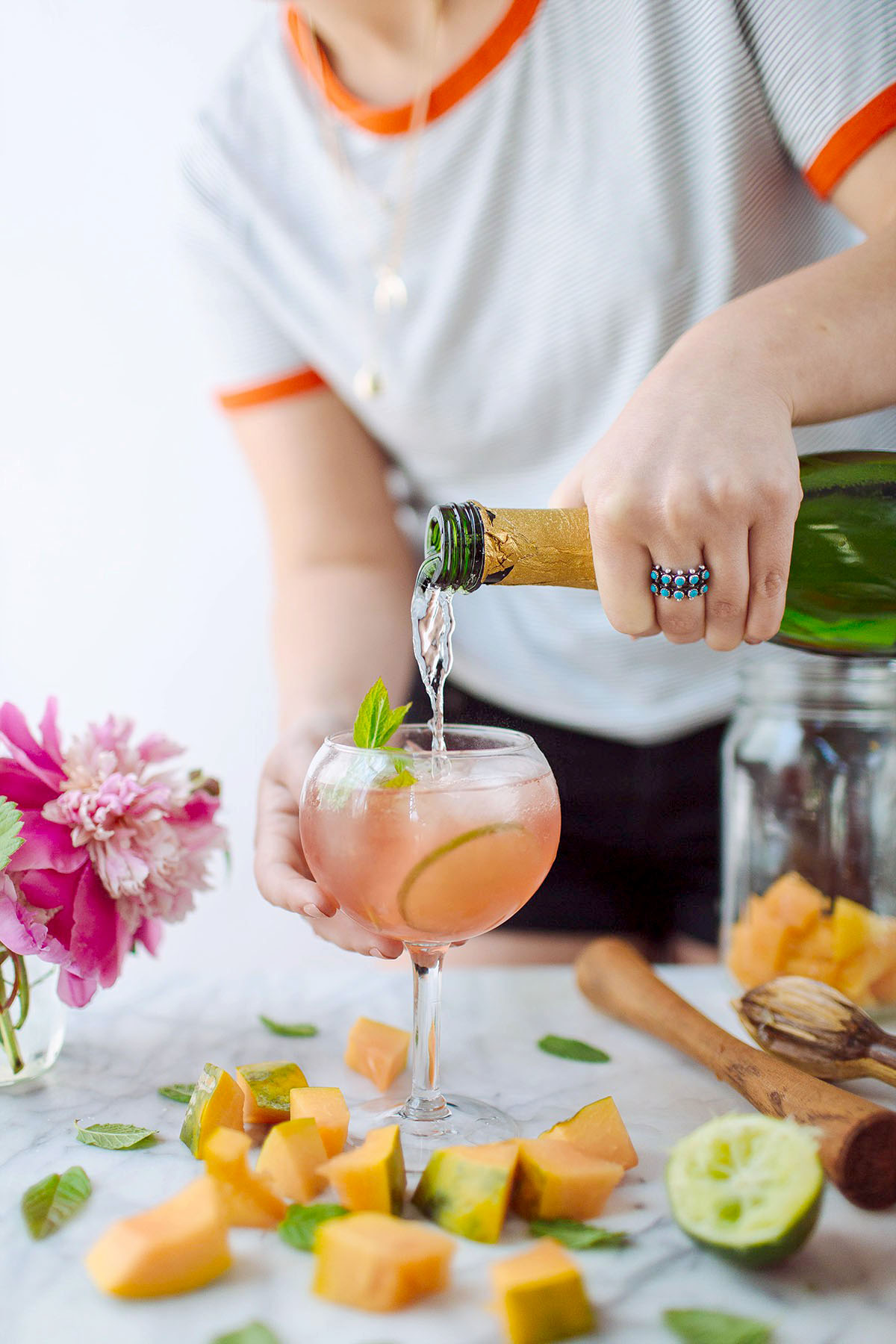 *DISCLAIMER: I received this book from Blogging for Books in exchange for an honest review.