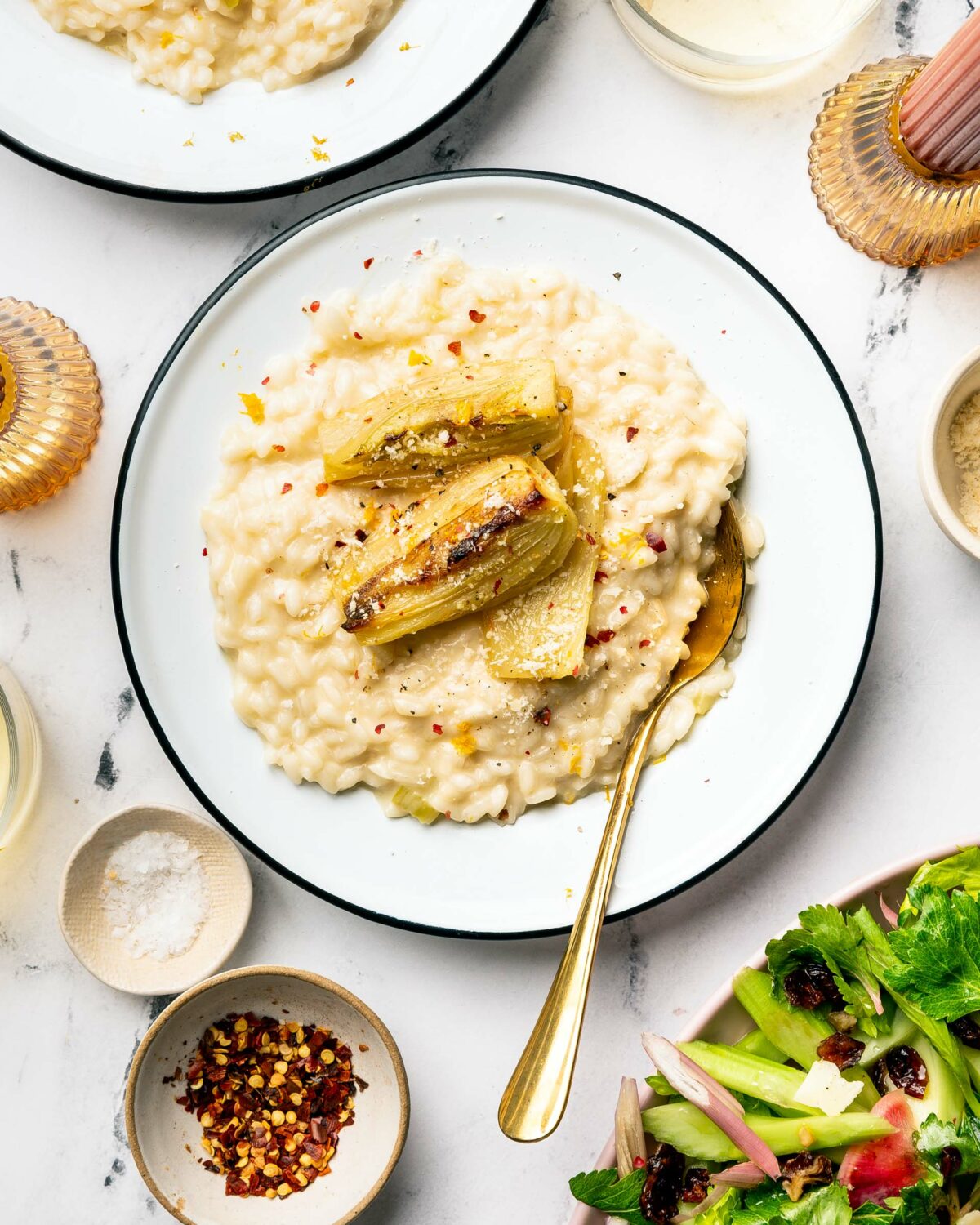 Mascarpone Risotto With Orange and Fennel
This Mascarpone Risotto with Orange and Fennel is a delicious vegetarian main – perfect for date night or when you are craving hearty Italian food.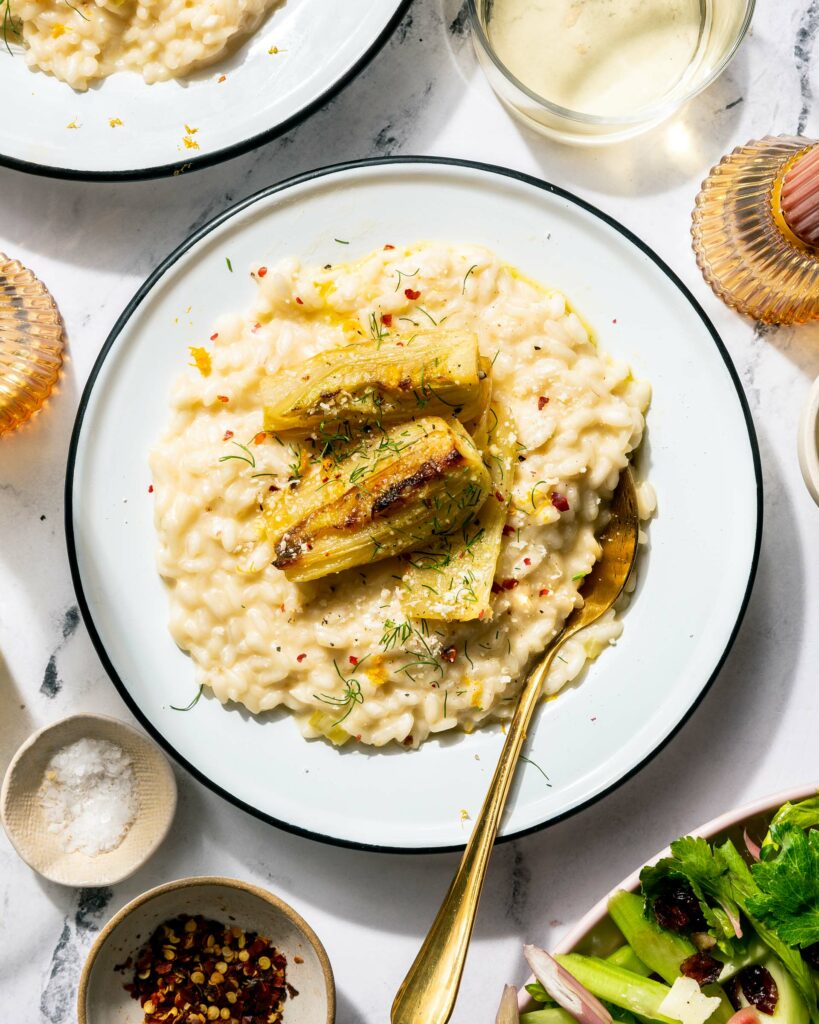 I've been sitting on the idea of this risotto for a few months because I knew I wanted to save it for this time of year since it would make such a perfect Valentine's Day dinner. I'm sure Valentine's Day will be looking very different for a lot of you out there this year but I'm here to reassure you that you don't need to go out to eat to have a fancy special occasion dinner. This risotto enjoyed with a salad by candle light is an easy way to make an intimate meal feel special without having to leave the house. I served this with my Celery and Radish salad but any green salad would be a great accompaniment.
What's Needed For To Make Vegetarian Mascarpone Risotto?
You'll need the following ingredients to make this mascarpone risotto:
olive oil
fennel
vegetable broth
oranges
salt
butter
shallot
garlic cloves
celery
dry white wine
vegetarian Parmesan or another salty cheese
mascarpone
freshly ground black pepper
How To Make Risotto
To make this Orange Fennel Mascarpone Risotto, I have you start by braising the fennel in some orange juice and vegetable broth to give it a punch of flavor. Then we cook the risotto, ladling in wine and a a little bit of broth at a time, until the rice has softened and is al dente. We then finish it off by folding in the mascarpone, fennel, cheese, and spices to create a luxuriously silky risotto that is sure to set the mood for a delicious date night at home.
What Can I Use Instead of Mascarpone In Risotto?
If you are having trouble finding mascarpone at your local grocery store, you could swap it out with cream cheese mixed with a little heavy creamy. Although it will change the flavor slightly to give the final dish a bit more tang, you could also swap it with Greek yogurt.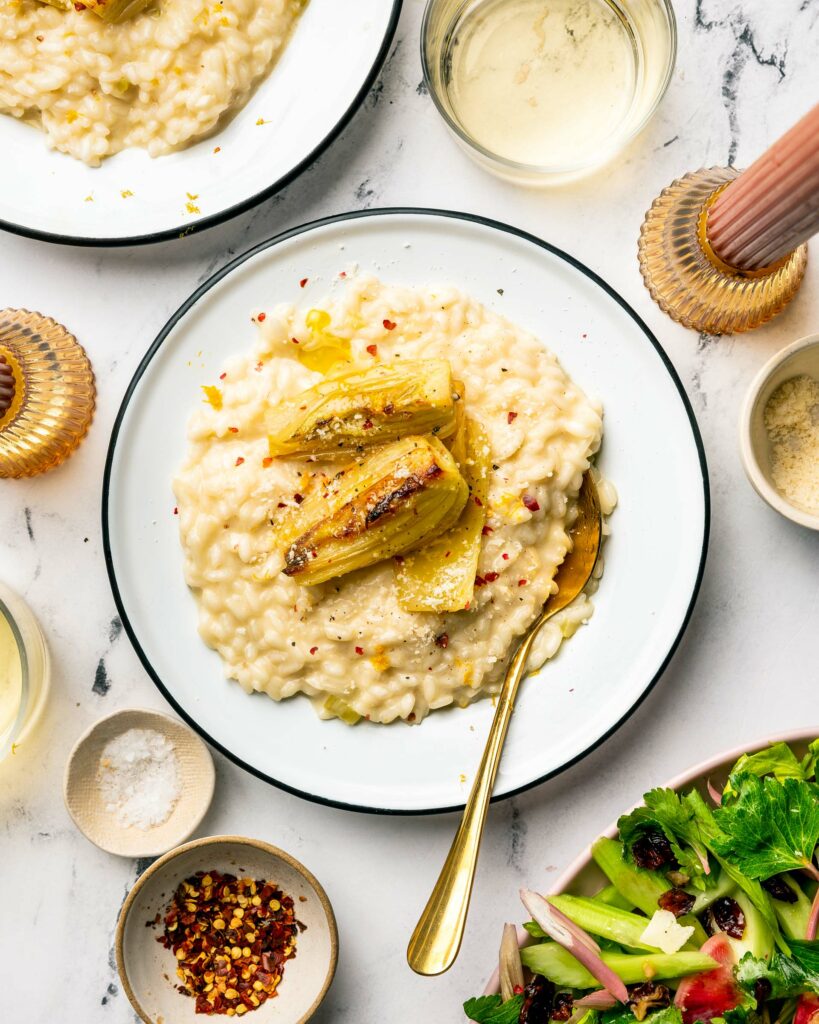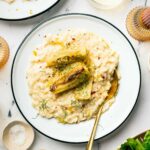 Orange Fennel Mascarpone Risotto
This Mascarpone Risotto with Orange and Fennel is a delicious vegetarian main – perfect for date night or when you are craving hearty Italian food.
Cuisine:
Italian, Vegetarian
Ingredients
For the braised fennel:
1

Tbsp

olive oil

2

fennel bulbs,

quartered (green parts of the fennel removed and saved for garnish)

1/2

cup

low-sodium vegetable broth

1/2

cup

freshly squeezed orange juice (from about 2 oranges)

1/8

tsp

salt
For the Risotto
3 1/2

cups

vegetable broth

1

Tbsp

olive oil

3

Tbsp

butter,

divided

1

medium shallot,

finely diced

2

garlic cloves,

minced

2

celery stalks,

finely chopped

1/8

tsp

salt (+ more to taste)

18

oz

package of arborio rice

1

cup

dry white wine

1/4

cup

grated vegetarian Parmesan

8

oz

mascarpone cheese

zest

of

2 medium oranges

freshly ground black pepper,

to taste
Instructions
Heat olive oil in a medium saute pan. Add quartered fennel bulbs and brown on all sides, rotating every 3-4 minutes.

Add in 1/2 cup vegetable stock, orange juice, and 1/8 tsp salt. Turn the heat up to high to bring to a boil. Once boiling, turn the heat down to lower, cover, and simmer for 15 to 20 minutes, or until the fennel is tender.

Meanwhile, warm the remaining vegetable stock over medium in a small saucepan.

In a large sauce or saute pan, warm 1 Tbsp butter and 1 Tbsp olive oil over medium. Add shallot, garlic cloves, and celery and saute until softened, 5 to 8 minutes. Add 1/8 tsp salt.

Turn the heat up to medium-high and add the rice. Toast the rice by stirring it around constantly until slightly translucent, about 1 minute. Add the white wine and, stirring often, cook until it is almost absorbed.

Add about 1/2 cup of vegetable stock and stir until most of that has been absorbed. You want the stock to be at a simmer but not a boil so turn the heat down to medium at this point if it's past a simmer. Repeat with more 1/2 cup ladles full of the warm broth, waiting until they are mostly absorbed between each ladle, and stirring often. This whole process should take about 15 minutes.

To check if the risotto is done, it should have a bite to it but be mostly cooked through (it will also continue to cook slightly afterwards so you'll want to keep that in mind when tasting).

Once all the broth has been used and it's al dante, reomve from heat and stir in the remaining butter, braised fennel bulbs (along with any lingering juices in the pan), Parmesan, mascarpone, orange zest, and some fresh black pepper. Taste and add more salt or pepper, if needed.

Divide into bowls and garnish with fennel fronds. Serve right away.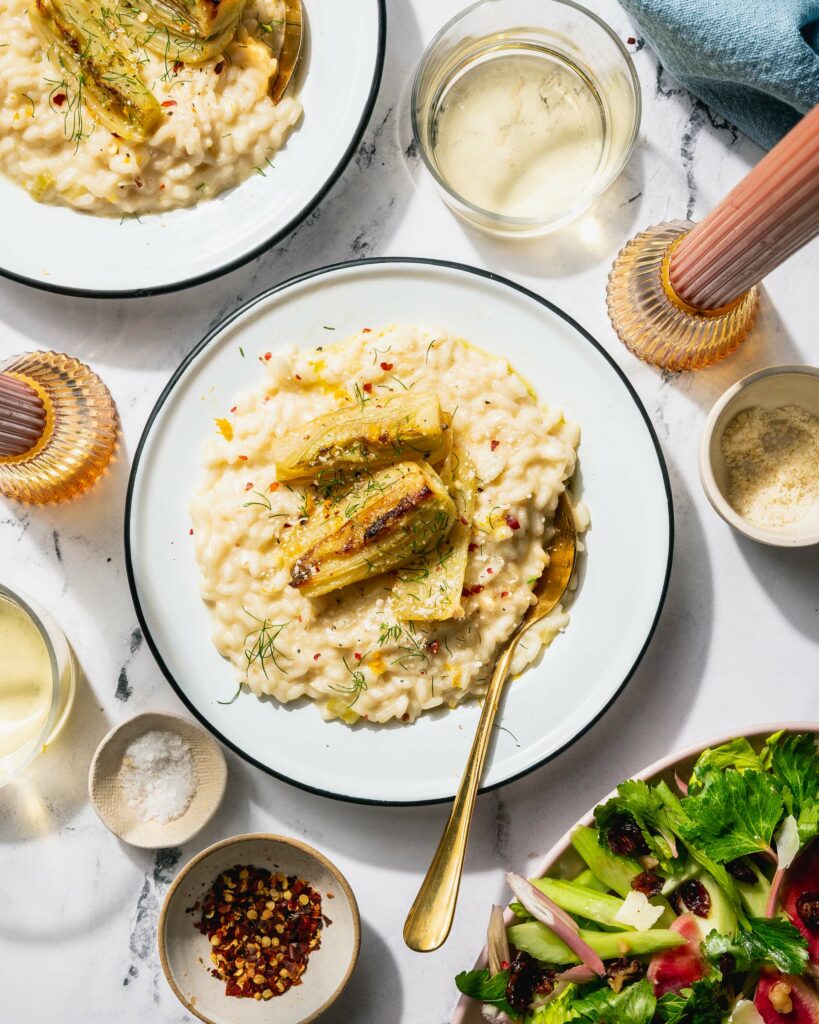 Other Date Night Recipe Ideas
Here are a few more vegetarian date night recipe ideas to get you inspired: