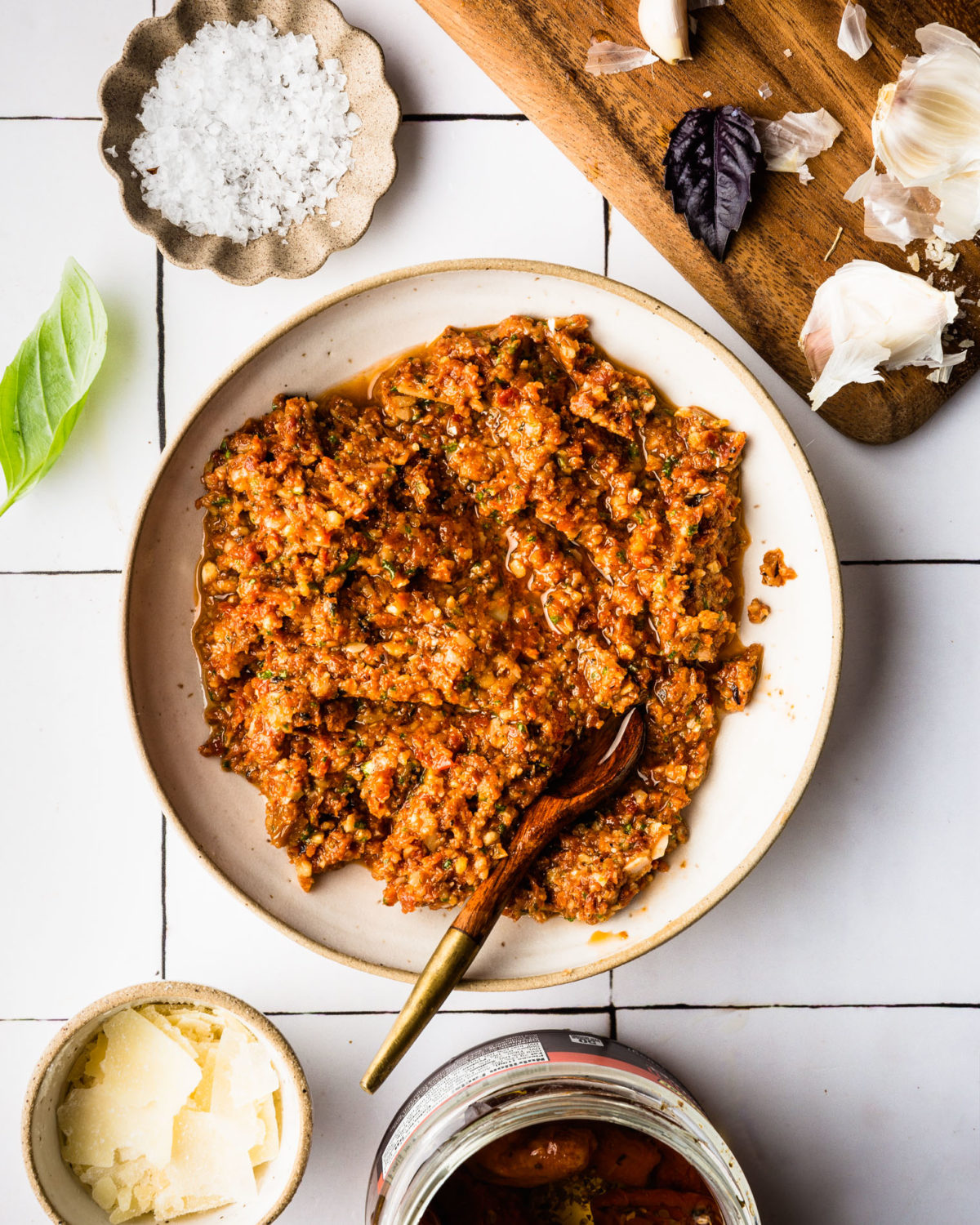 Sun Dried Tomato Pesto
This Sun Dried Tomato Pesto recipe only requires 8 ingredients and comes together in less than 5 minutes. It works great as a pasta sauce or even served as a dip with crackers and veggies.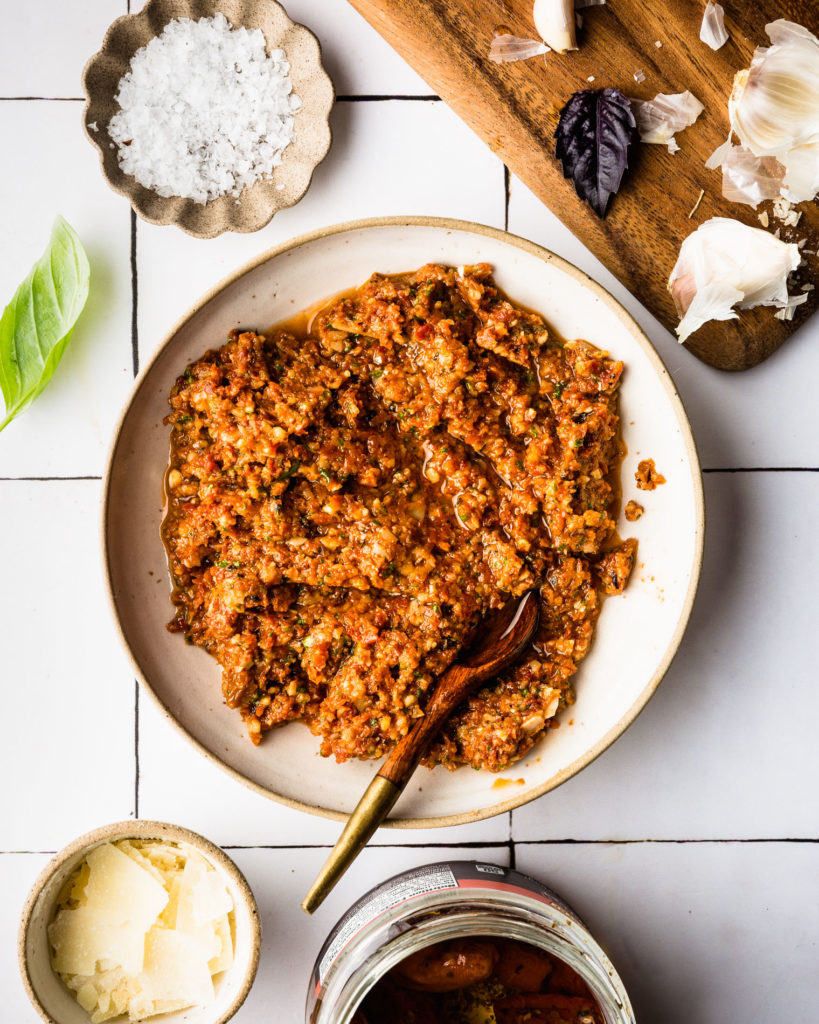 For today's Simple Sunday post, I wanted to share this sun dried tomato pesto recipe because I've got a recipe that I'll be sharing later this week that uses it (hint: we use this as a sauce to enjoy with one of my favorite German foods). Regular pesto is great and all, but this sun dried tomato packs an extra punch of umami that the regular just doesn't compare with.
For this recipe, I used sun dried tomatoes that are packed in oil so that I can then use the same oil in the recipe. If you'd rather use a nice olive oil, then that is also an option but the oil in the sun dried tomatoes is already flavored from having the tomatoes sit in it that I find it really complements the pesto.
Sun Dried Tomato Pesto Ingredients
This sun dried tomato basil pesto comes together with minimal ingredients. Here's everything you'll need to make this easy red pesto:
Sun dried tomatoes packed in oil
Fresh basil
Oil
Walnuts
Garlic
Parmesan
Salt and pepper
How to Make Sun Dried Tomato Pesto
It doesn't get much easier than this tomato basil pesto recipe! Simply add everything a to a food processor and pulse until your desired consistency is reached.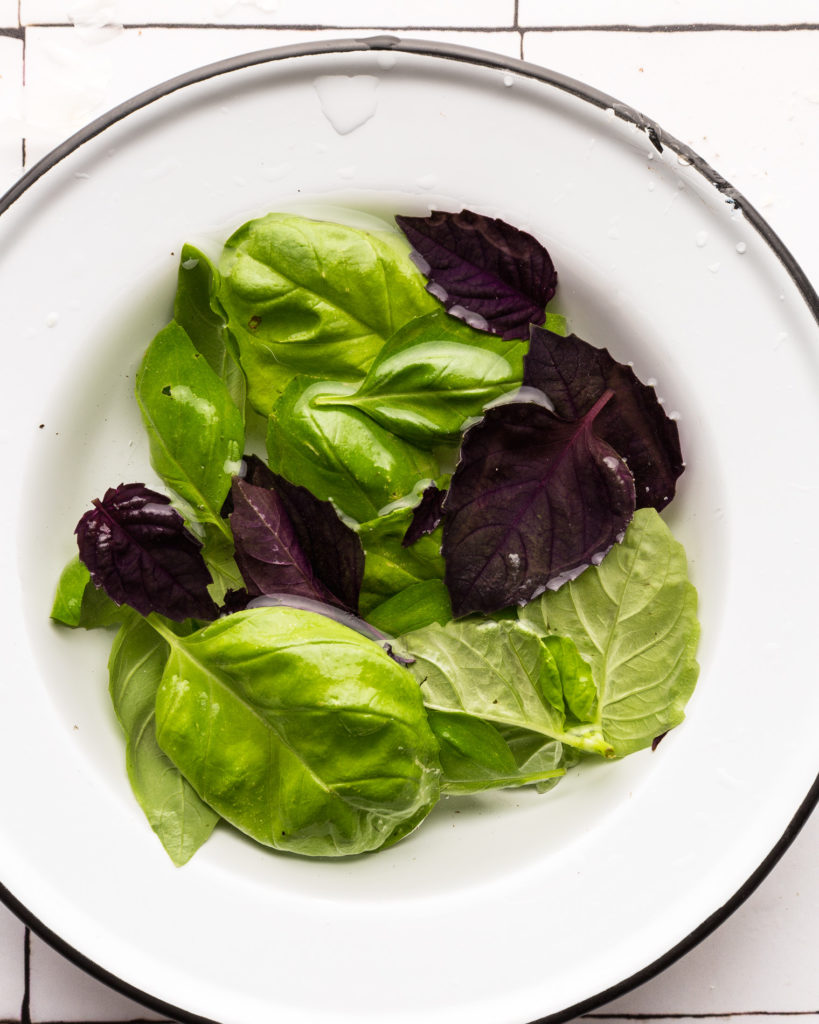 How Long Does Pesto Last?
This red pesto without pine nuts will last up to 5 days in the fridge.
Can You Freeze Pesto?
Yes! You can freeze this sun dried tomato pesto in a large container, or you can freeze it in an ice cube tray. Once frozen, pop the pesto cubes into a freezer bag and throw into pastas and sauces one at a time.
Sun Dried Tomato Pesto Uses
As with classic basil pesto, this red pesto can be used so many different ways. Here are a few of my favorite ways to use sun dried tomato pesto:
Atop spaetzle
Atop pasta
As a sandwich spread
As a chip or cracker dip
Mixed into salad dressings
As a pizza sauce
Slathered onto crostini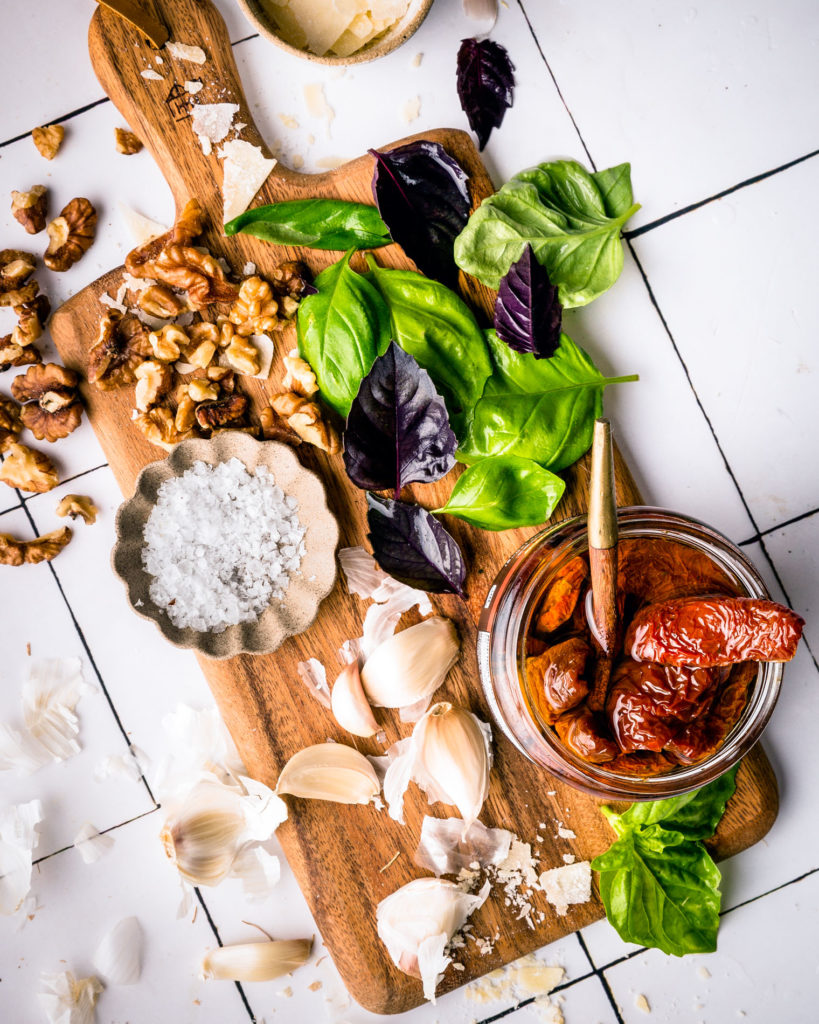 Ingredient Substitutions
With the ongoing pandemic, I plan to give as many substitution suggestions as possible so you can continue to cook without having to run out to the store. Although some of these suggestions may vary the end result, I only make suggestions if I think it will still be delicious. Please note that for this recipe I do not recommend substituting the sun dried tomatoes as they are the main focal point of this recipe, so I'd recommend you research a different pesto if you don't have them on hand.
Here is a list of substitute suggestions for this sun dried tomato pesto recipe in case you don't have certain ingredients on hand:
Basil – Any leafy soft herb would work here such as parsley or cilantro but note that it will change the flavor pretty significantly if you stray from fresh basil. Also, I would not suggest swapping for dried basil in this recipe as I don't think the flavor will translate well with bits of dried herbs.
Walnuts – Feel free to swap in whatever nuts you might have on hand but I'd recommend pistachios, pecans, or pine nuts if you have any of those available.
Vegetarian Parmesan – Vegetarian Parmesan can sometimes be hard to find but any hard and salty cheese will work just fine here (think Manchego, etc).
Oil options – I'd recommend either using the oil that the sun dried tomatoes come in or olive oil but you could use a neutral oil such as vegetable oil.
Garlic cloves – 1/4 tsp garlic powder would work in a pinch here if needed.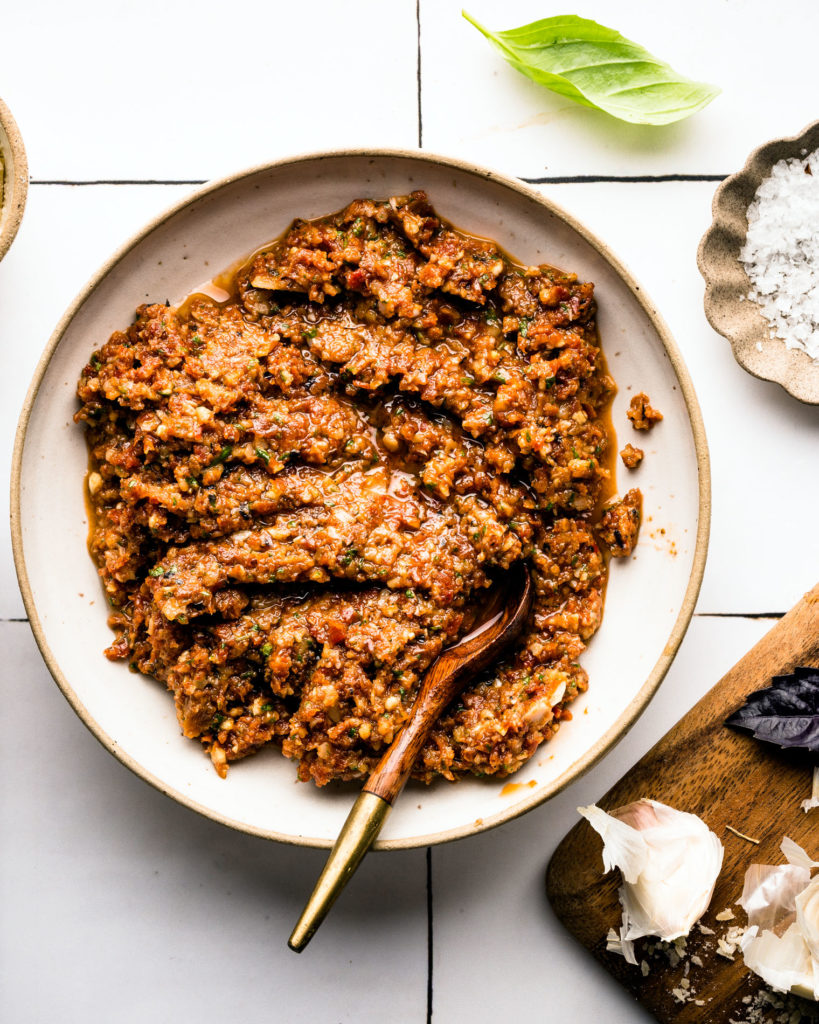 Want More Pesto Dishes?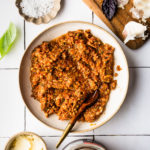 Sun Dried Tomato Pesto
This Sun Dried Tomato Pesto recipe only has 8 ingredients and comes together in less than 5 minutes. It's delicius on pasta sauce or served as a dip.
Ingredients
1/2

cup

sun dried tomatoes

, packed (from about 8.5 oz jar)

1/4

cup

basil leaves

1/4

cup

oil

(either from the jar of sun dried tomatoes or olive oil)

1/4

cup

walnuts

2

garlic cloves

, peeled

1/4

cup

grated vegetarian Parmesan

1/2

tsp

salt

dash of pepper
Instructions
In a food processor fitted with the blade attachment, pulse together the sun dried tomatoes, basil leaves, oil, walnuts, garlic cloves, parmesan, salt, and pepper until everything is finely chopped. Taste and season with more salt and pepper, as needed.