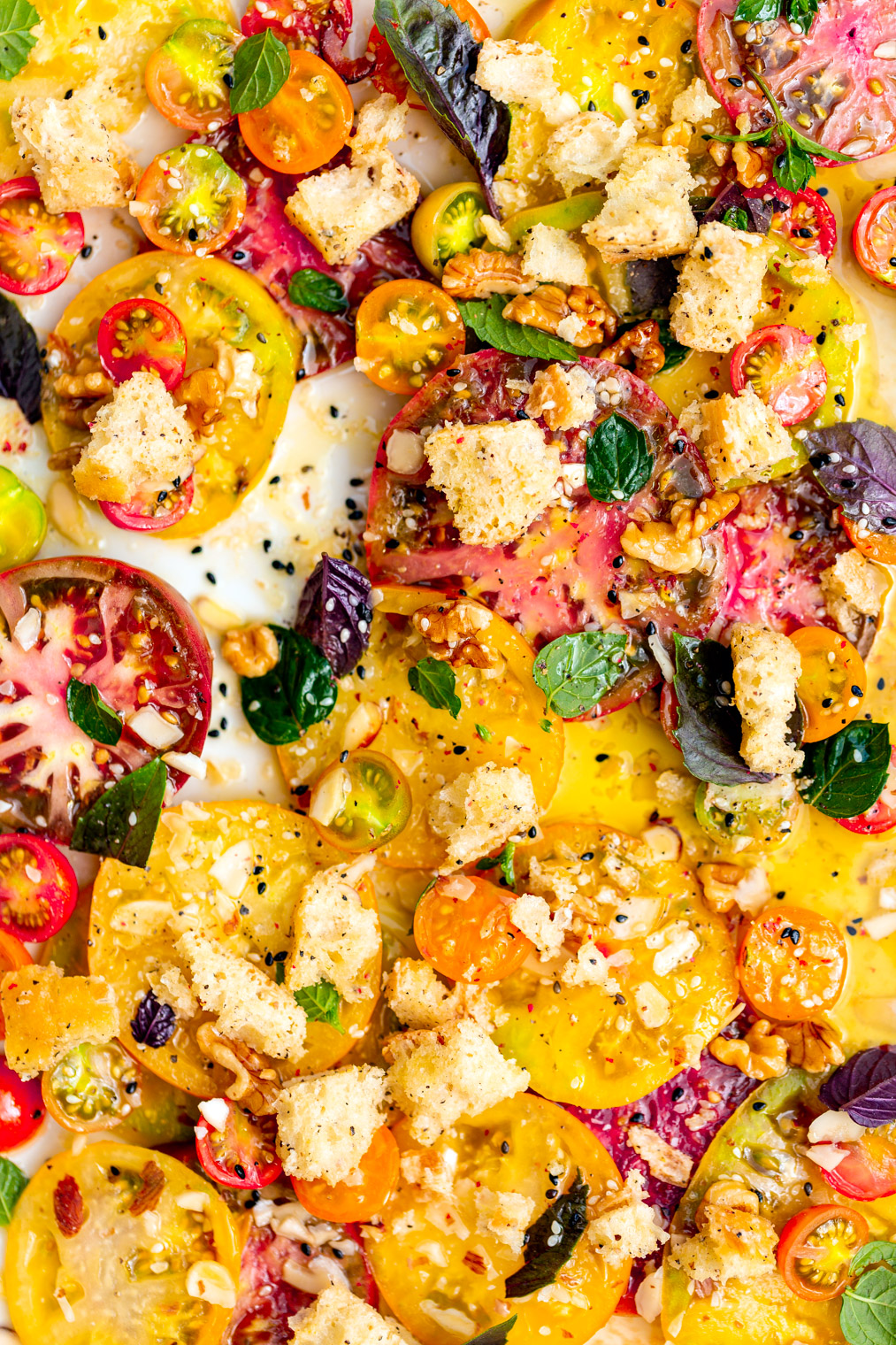 35 Vegetarian Summer Recipes To Make Before Fall
Can you believe it's already the end of August? I'm already getting targeted ads for pumpkin spice everything and while I 100% think it's wayyy too soon for that, I do know we only have a few weeks left of all the best summer produce (corn! peppers! zucchini! peaches! tomatoes!) so here for 35 of my favorite vegetarian summer recipes to make before the weather shifts:
This Smoked Gouda Pimento, Lettuce, and Tomato Sandwich is a delicious vegetarian main (perfect for lunch!) to enjoy during peak tomato season! Think of this as a vegetarian's BLT with smoky cheese sauce instead of bacon to compliment the crisp lettuce and juicy tomatoes
These No-Bake Cherry Cheesecake Cups with Amaretto are the perfect single serving desserts to feed you and your friends during the hot days of summer. Make these when cherries are in season and you don't feel like turning your oven on.
These vegan Chocolate Chip Shortbread Ice Cream Sandwiches are a delicious sweet treat to keep you cool this during these hot and muggy days!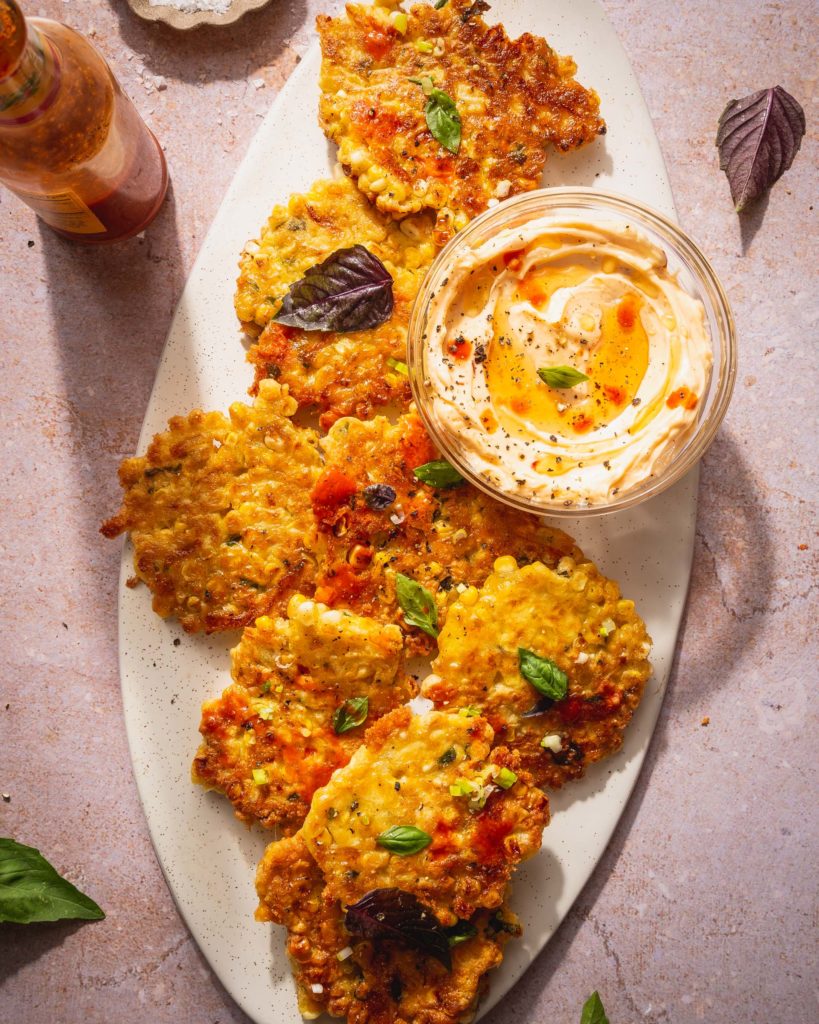 These Corn Fritters with Whipped Hot Honey Butter are my favorite way to enjoy corn when it's in season. These can be served as a meal or as a snack and the fritters are elevated with a sweet and spicy butter which melts over the fritters to create an even more flavorful end result.
This Tomato & Cherry Kale Salad with Lemon Vinaigrette recipe is light but filling and ideal for a quick late summer starter or side.
This Chocolate Zucchini Snack Cake recipe is a simple and delicious cake perfect for everyday baking! It's less sweet than traditional chocolate cake and filled with vegetables. Why not treat yourself?
These Spiked Frozen Lemonade with Blackberry & Mint cocktails are a refreshing way to keep cool this summer and enjoy an easy and homemade mixed drink. They can be whipped up in minutes if you make the concentrate beforehand so happy hour can become your new favorite time of day.
These Honey-Pickled Peaches are from Smoke, Roots, Mountain, Harvest by Lauren Angelucci McDuffi. These pickled peaches are perfect on salads, in cocktails, and enjoyed by themselves! 
This Heirloom Tomato Salad with Sweet Lemon Dressing recipe is a great way to use up those heirloom tomatoes currently ripening on the vine in your garden.
This Cherry Fudge Ice Cream Pie is the perfect summer dessert to serve at your next gathering! A chocolate graham cracker crust is topped with delicious Hudsonville Dairy-Free ice cream, fudge, homemade whipped cream, and more chocolate. What's not to love?!
This Peach Burrata & Tomato Pizza is the ideal summer pizza pie. The sweet peaches compliment acidic tomatoes and creamy burrata perfectly for an addictive flavor combo.
Meet your new summer drink: homemade Peach Iced Tea Lemonade! Simple to make, packed with in-season peaches, and bound to keep you cool during these humid summer days!
Get your ice cream fix in with this Cookie Lover's Sundae! It's a huge chocolate chip skillet cookie that is then topped with Hudsonville Ice Cream's Caramel Cookie Dough Ice Cream, sprinkles, and cherries!
This Thai Quinoa Salad is a perfect side for a cook-out or picnic — it's refreshing, packed full of flavor, and can easily be made ahead of time!
This Savory Zucchini Cheese Bread With Whipped Goat Cheese & Dill is the perfect quick bread for summer when zucchinis are in abundance. This savory zucchini bread is delicious on it's own but made even better with a simple whipped goat cheese spread on it.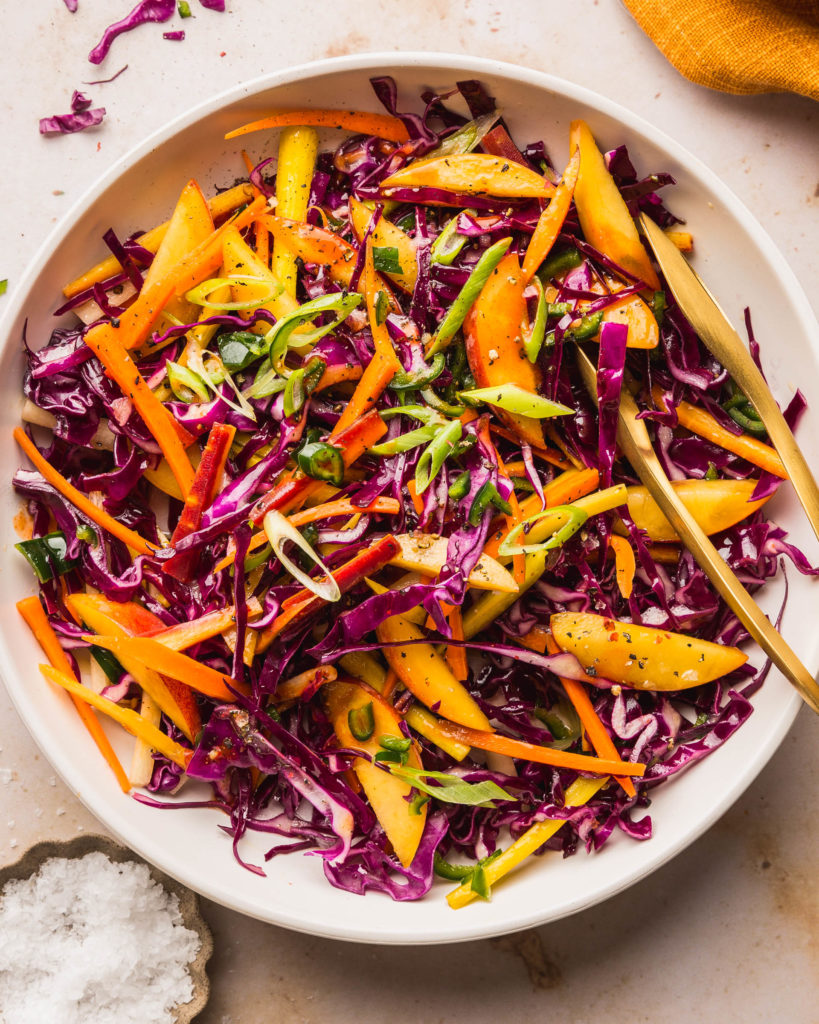 Make this Sweet and Spicy Peach Poblano coleslaw to bring your next taco night, grill out, or sandwich party to the next level! This coleslaw hits on so many notes – it's bright, tangy, a bit spicy and just a touch sweet!
This delicious Mac Salad is from the gorgeous Aloha Kitchen, a cookbook by Alana Kysar with recipes from Hawai'i. It's perfect for summer cookouts or picnics.
This Cucumber Salad Recipe With Strawberry Yogurt & Pistachio Za'atar is a refreshing easy and delicious summer salad! Made it to use up leftover cucumbers from your garden or market.
This Lemon Blueberry Pie recipe has a flaky crust and juicy filling perfect for a summer treat when blueberries are in abundance.
Is your garden or farmer's market overflowing with herbs and tomatoes? It's time to make these quick and easy Fresh Greek Nachos with Herbed Tahini Sauce! I eat it for lunch all the time but it would also be great to serve to a crowd.
This Burrata Caprese with Plums, Tomatoes, and Mint-Basil Oil recipe can be whipped up in under 15 minutes and requires zero cooking time. Perfect summer entertaining appetizer? I think so.
This Seedy Blueberry Banana Bread recipe is a great way to use up overly ripe bananas and to get a boost of fruit in your diet! It's less sweet than most banana bread recipes making it an ideal choice for breakfast or an afternoon snack.
This versatile Roasted Plums and Blueberries with Cardamom and Vanilla recipe comes together in under 15 minutes and is the ideal summer breakfast or dessert when fruit is thriving at your farmer's market.
This Grilled Veggies with Cilantro Yogurt Sauce & Grilled Pita vegetarian grill recipe is simple enough for a weeknight meal while bursting with flavor.
This Sweet Beet Strawberry & Tarragon Vodka Smash is a unique and fun summer cocktail. The savory sweet beet tarragon simple syrup blends perfectly with juicy strawberries. 
This Roasted Miniature Eggplant with Tahini Yogurt and Plum Salsa is a great vegetable side dish for any weeknight meal.
This Green Matcha Sangria recipe is a flavorful mix between earthy matcha and sweet white wine.

White Bean Caprese Panzanella is the perfect solo simple summer meal. This six ingredient recipe takes less than 10 minutes to make & serves one.
This easy Almond Peach Blueberry Crumble Slices recipe needs added to your to-do list while peaches are in peak season.
This Tomato and Stone Fruit Crostini with Whipped Feta is an easy summer entertaining appetizer perfect for any type of get together.
Fruit & Yogurt Granola Tarts recipe from Vegetarian Heartland Cookbook + an all vegetarian picnic spread worthy of any lazy afternoon!
This easy vegetarian Dill Pasta Salad is the perfect accompaniment to your summer grill outs. Serve it Nicoise Salad-style or toss everything together for a more traditional serving option.
These Crostini with Macadamia Ricotta and Corn-Zucchini Succotash are a great meat-free picnic food! They are light, delicious and easy to transport!
This homemade sweet and spicy watermelon soda is the perfect fizzy non-alcoholic drink recipe to quench your thirst on a hot day.
This Garden Harvest Vegetable Bread is ideals for sandwiches, thick toast, or to eat fresh by the slice while still warm out of the oven. This yeasted bread is packed with carrots, zucchini, olives, smoky paprika, and oregano to create a loaded savory homemade bread